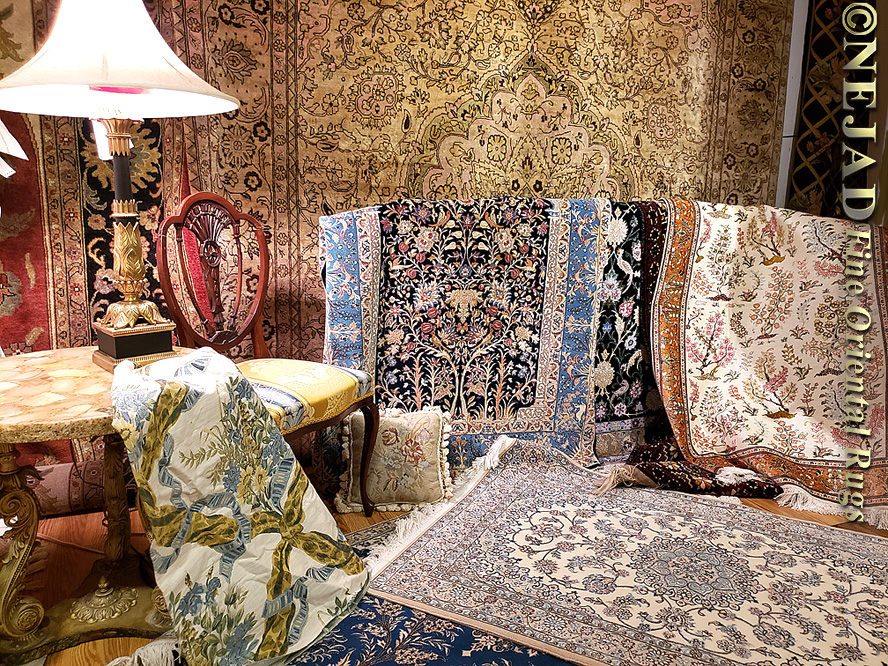 Furniture, Fabrics & Floor Coverings
Interior Decorating & Coordinating with Oriental Rugs
It's fundamental principles - emphasis, balance, rhythm, contrast, proportion and harmony - notwithstanding, the art of interior design is concerned with the interrelationships and functionality of objects within a given space - and specifically in terms of style, type, size and color. Additionally, the coordinating and arrangement of those elements in any interior typically involves the selection and placement of furniture, fabrics and, last but not least, the Oriental rug.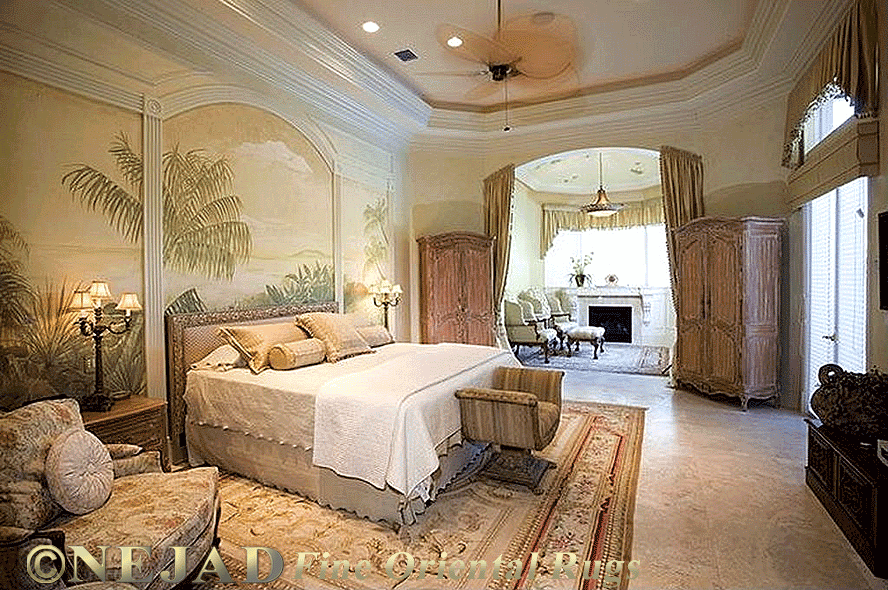 Voilà! This impressive use of furniture, fabric and floor covering not only preserves but enhances the spaciousness
of this magnificent interior - and features Nejad's Elegant Aubusson Rug #NP003GOCR
Perhaps the most practical way to decorate a room is to start with the oriental rug - especially if the rug will occupy the majority of the room's floor space - be sure to leave at least two feet of floor space around the perimeter of the rug. Choose a dominant color, a secondary color and an accent color from the carpet, an entire color and design scheme can thus be derived from the rug - including the upholstery, wall coverings, and window treatments. Similarly, a rug's pattern can inspire the particular furniture style to be used.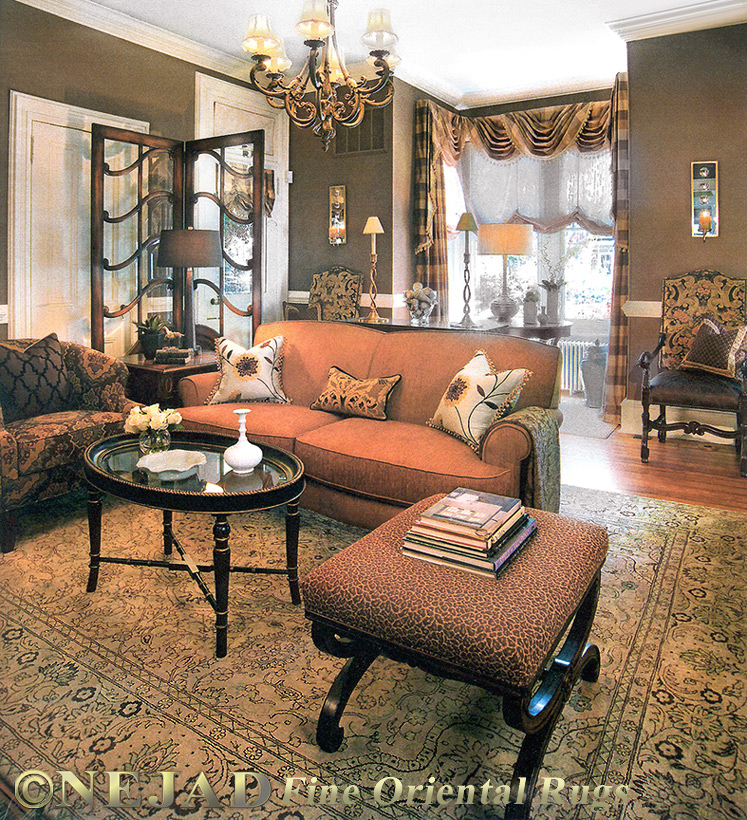 With respect to color and style this interior provides a virtual tutorial in the orchestration of fabric, furniture and floor covering - featuring Nejad's Golden Sivas Rug #M042GOGO
For either residential or commercial decors, an Oriental area rug helps define, enhance and anchor a room - serving as a focal point - plus they are a great way to add color, texture and comfort to your home. Just as an Oriental area rug makes a definitive floor covering fashion statement, Nejad, with an inventory of over 30,000 rugs in stock, offers a definitive source of Oriental rugs - available in an endless array of styles, patterns, shapes, colors and color combinations. Presented here are examples of Nejad's extraordinary rugs showcased in fabulous interior arrangements - a winning combination! It's difficult to imagine these room settings without the gorgeous rugs!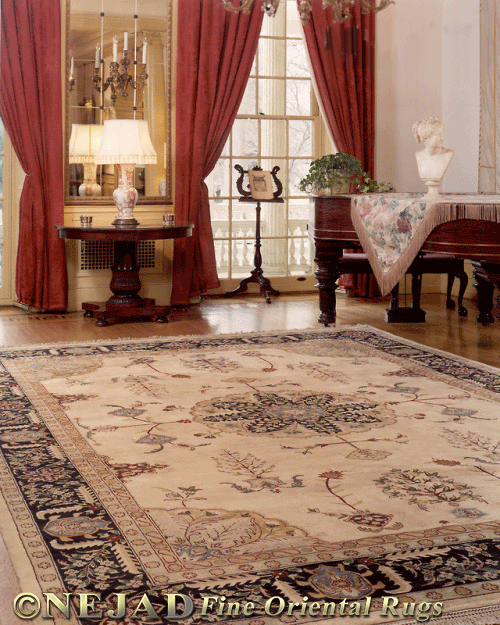 Ultimately classical and idyllic interior space that features rich period fabrics and furnishings -
fittingly showcasing Nejad's elegant and finely-detailed Signature Tabriz rug
The above practical tips and suggestions being stated, there is no hard and fast design rule that requires doing things in a particular way or order. Yes the room-sized carpet can certainly be introduced into the mix at any stage of the process - even last. Incorporating the modern area rug into an existing decor is now virtually problem-free thanks to the infinite variety available. And most importantly, imagination and the freedom to be creative are first and foremost. Experiment!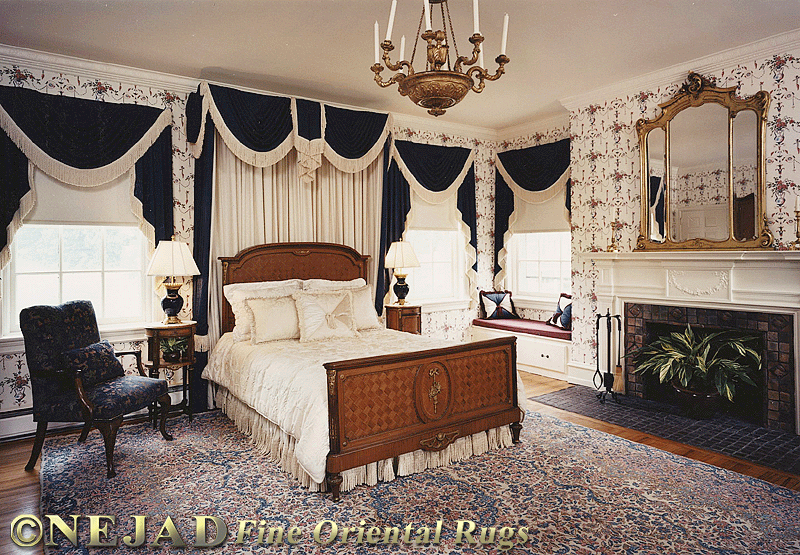 Nejad's room-sized Hunt Tabriz rug coordinates particularly well with wallcovering in traditional bedroom setting -
while the darks of the bed furniture and window valances provide a rich counterpoint



Harmonious use of color and style in this classic dining room from the Francesco Molan Catalog -
featuring Molon's classic table and chair set and carpet from Nejad Rugs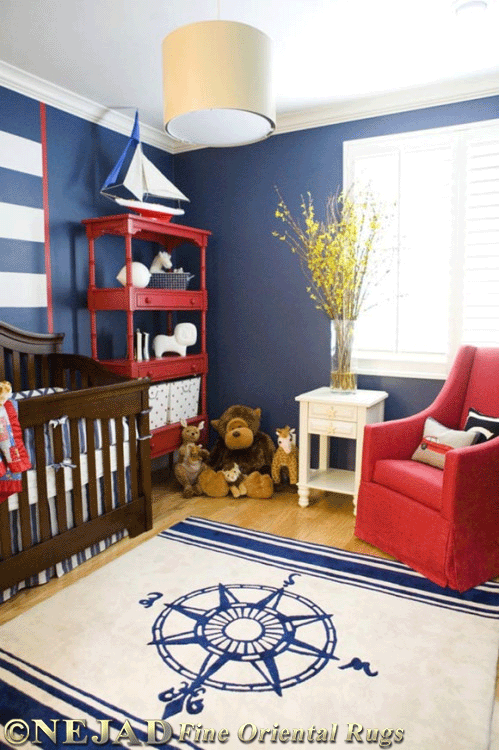 Wonderful contemporary red, white & blue themed children's bedroom with perfectly balanced use of color
between the rug, furniture and window treatments - featuring Nejad's Compass Rug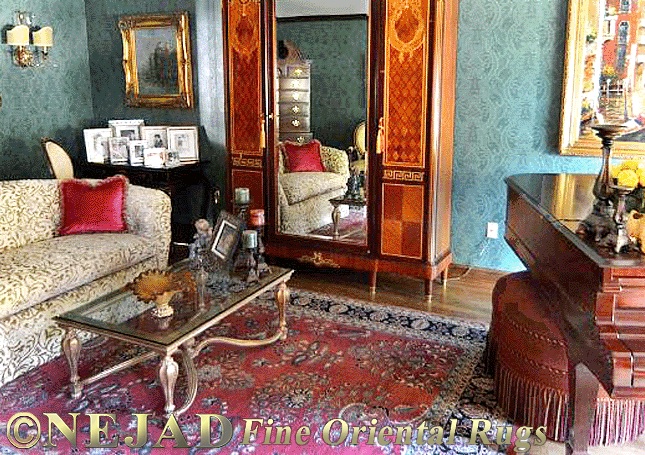 Outstanding use of color and design confers on this space an inviting intimacy and timeless elegance -
Nejad Sarouk Rug #M052RSNY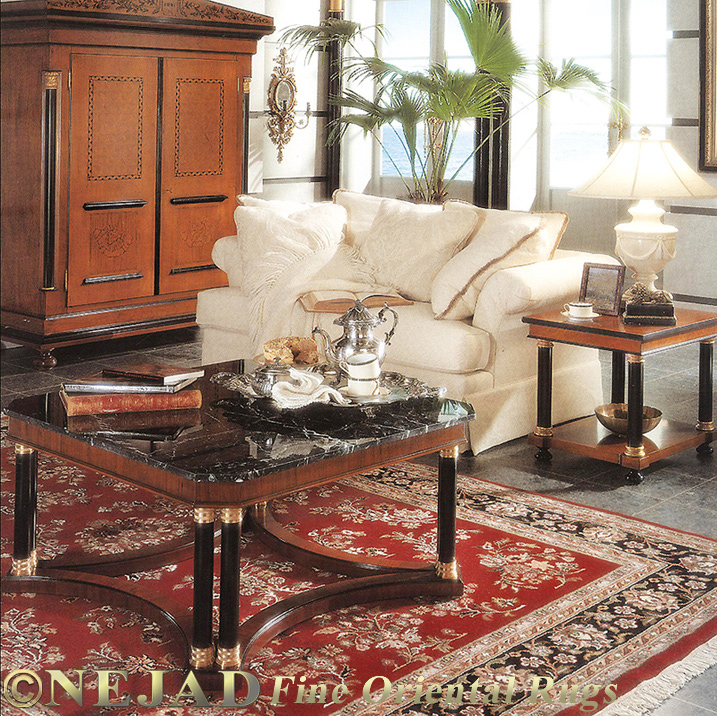 Perfect together! Classic Italian luxury Furniture by Francesco Molon - Heirloom Persian Sarouk Rug by Nejad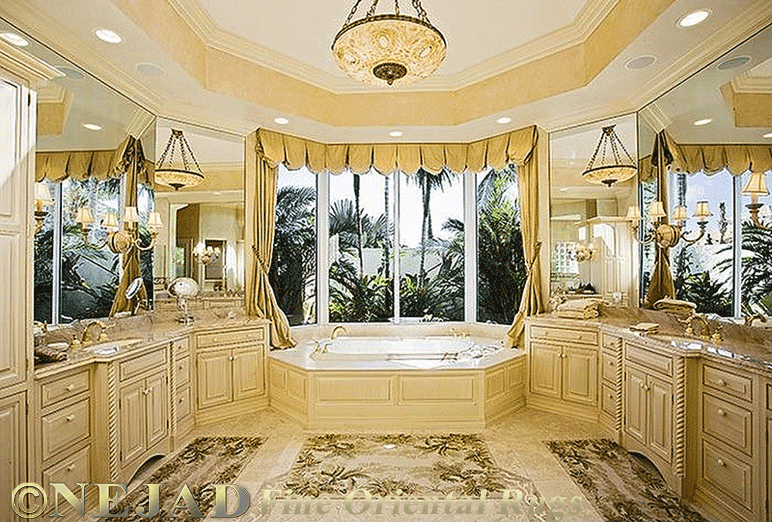 Tropical-themed mostly-monochrome bathroom featuring a decorating Pièce de résistance -
in the form of Nejad's Tropical Needlepoint Rugs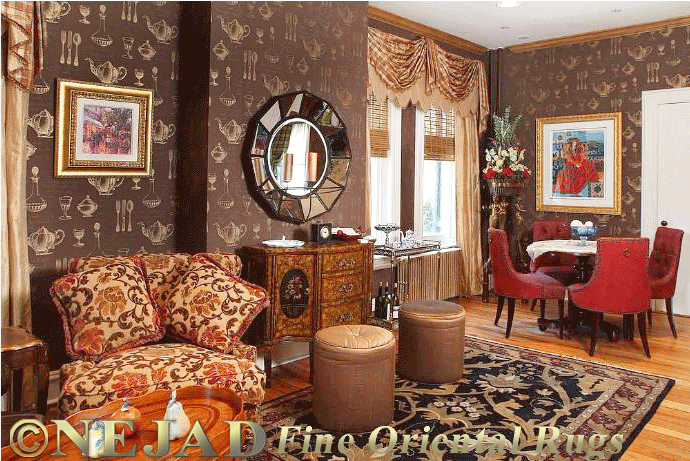 The rich earth tones that dominate this living space are perfectly complemented with lighter furnishing and fabric accents - making this a successful interior design project [T027BKBR Arts & Crafts Rug by Nejad]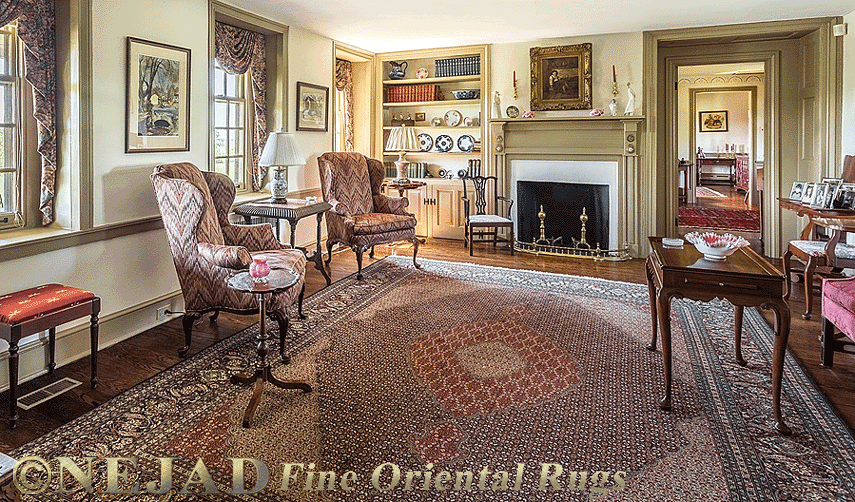 Perfect leading on the perimeter of this room-sized authentic Persian Mahi Tabriz Rug from Nejad -
the furniture impressively anchored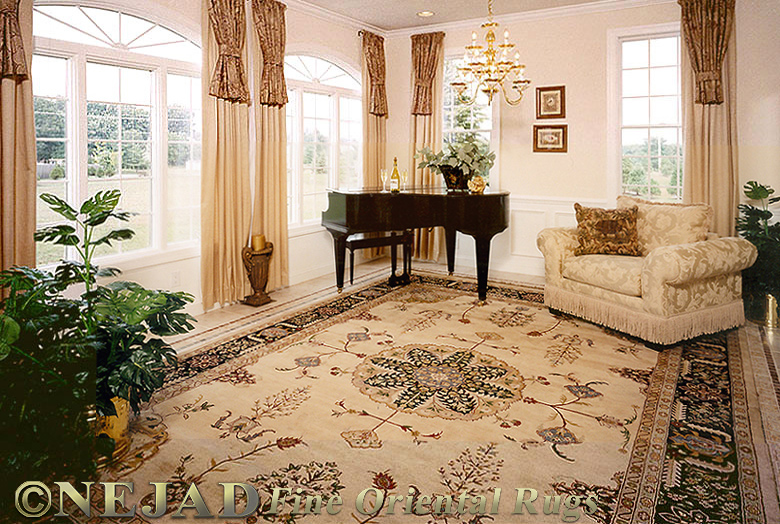 Nejad's Signature Tabriz Rug M022GOBK provides a perfect centerpiece for this wonderfully balanced space -
even the rug's medallion seems in perfect alignment with the chandelier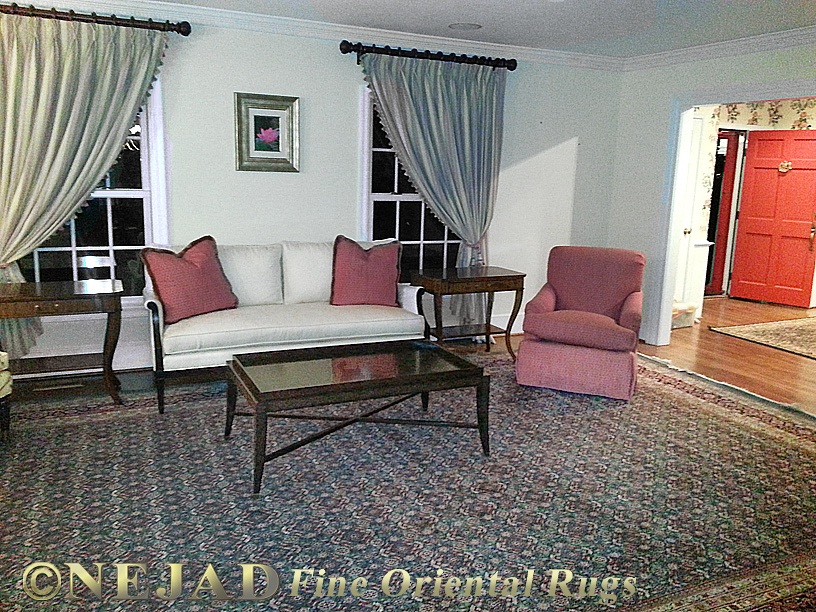 This traditional Herati Rug [Nejad #M011TLNY] coordinates perfectly with the contemporary living room space
Brief List of Popular Design Styles
Minimalist - reductive design elements without ornamentation or decoration. In a nutshell, it's design that is stripped-down - think simplicity
Contemporary - what's new or what's the latest! Trend that is completely of the moment while so-called modern decor is usually fixed around squared, graphic lines
Traditional - Classically-detailed and inspired by 18th and 19th century European decor - a timeless style that exemplifies elegance and comfort.
Transitional - refers to a period or style from the 20th century between traditional and modern
Rustic - taking inspiration from the outdoors and farm or rural life with an emphasis on natural and weathered finishes, raw woods, stone and leather
French Country - a hybrid mix of antique French and farmhouse interior design motifs that includes roosters, olives, sunflowers, grapes, lavender, and beetles
Coastal - seaside-inspired nautical decor featuring light, bright, and airy environs often in vibrant neutrals with color palettes in shades of light blues and greens
Scandinavian - Fully functional style that emphasizes clean and serene simplicity, featuring all-white or monochromatic spaces with color introduced via a single textile or hanging work of art
Urban Modern - design associated with metropolitan living - a compilation of contemporary, modern, and industrial influences
Eclectic - borrowing and combining from different time periods, styles, trends, or a decor that comprises heterogeneous elements
Art Deco - glamorous and sleek, graphically-inspired style popularized notably through visual arts and architecture of the 1920's.
Top Resources For Fabrics and Furniture


As a tapestry-weaving mill, Brunschwig & Fils has evolved into one of the interior design world's most prestigious sources for exclusive fabrics, wallpapers and trimmings. For over a century Brunschwig & Fils has been a world-renowned brand that features a premium selection of designer fabrics and wallpapers.


Croscill Fabric features a wide assortment of fabrics and floral & scroll prints for drapery, bedding, upholstery, slip covers and valances.
Croscill Home - Luxury Bedding, Bath, Window and Home Decor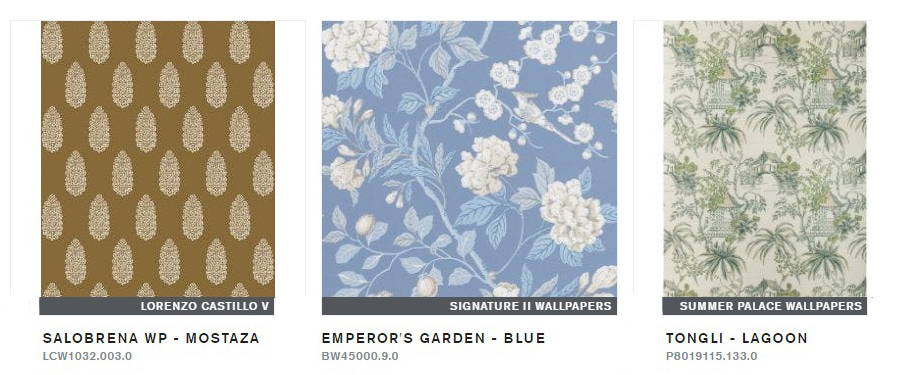 Through their brands Kravet, Lee Jofa, Brunschwig & Fils and GP & J Baker, Kravet Inc. offers a comprehensive product line making it a one-stop resource for all home furnishings - including a full range of performance fabrics featuring more than 3,000 guaranteed In-stock residential and contract fabrics.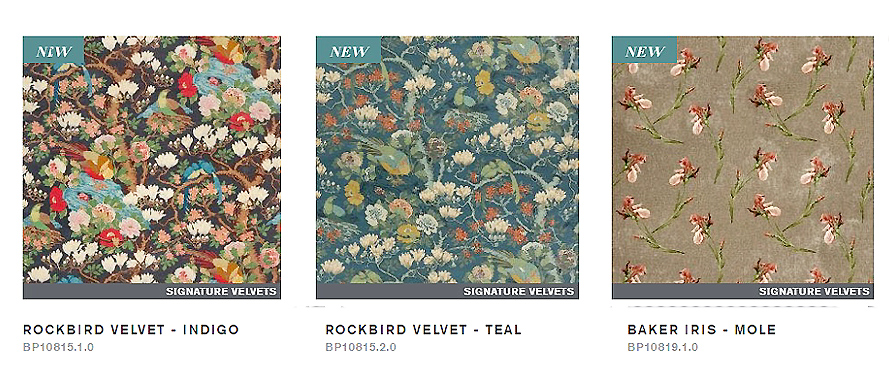 As an industry leader for more than 100 years, Kravet Furniture offers an expansive selection of exclusive decor and furnishings through CuratedKravet featuring a full range of custom capabilities, including by-the-inch scale, fabric, frame and finish.


Kravet - Industry Leader To the Trade Home Furnishings


Francesco Molon offers a full line of quality classic Italian luxury furniture. Established over forty years ago in Romano d'Ezzelino, near Venice, Italy, the company employs over a hundred specialized artisans committed to the creation of unique high-end heirloom furniture.

Italian luxury furniture creations that feature varying artistic styles from purely classical to imaginative and unique - all of exceptional quality. The name Molon represents the embodiment of classic Italian luxury furniture.

Francesco Molon Italian Luxury Furniture


A ninety-year-old heritage brand dedicated to developing custom textiles and creating unique fabrics for some of the most extraordinary properties around the world. In 2017 Scalamandré and Stark Fabric & Wallcovering partnered to create The House of Scalamandré.


A designer's resource For luxury fabrics, wallcoverings, trimmings and furnishings, Schumacher Fabrics and Home offers 1000's of fabric choices as well as designer brands featuring a premium selection of designer fabrics and wallpapers.

Schumacher - A Designer's Resource For Fabric, Wallpaper, and Trim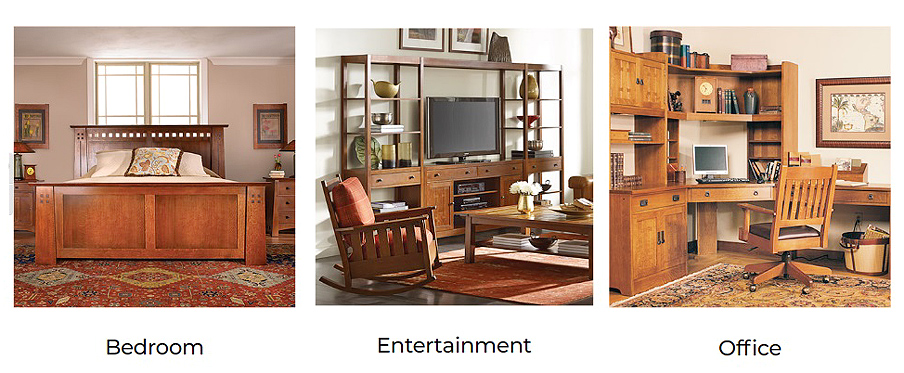 Top quality American made furniture - Stickley is focused on building furniture that gets passed from generation to generation. Gustav Stickley marked his product with the phrase: To the best of my ability! - to assure clients that Stickley furniture was of the finest quality. Construction features include the finest quality woods and meticulous joinery, painstaking craftsmanship and exceptional design.