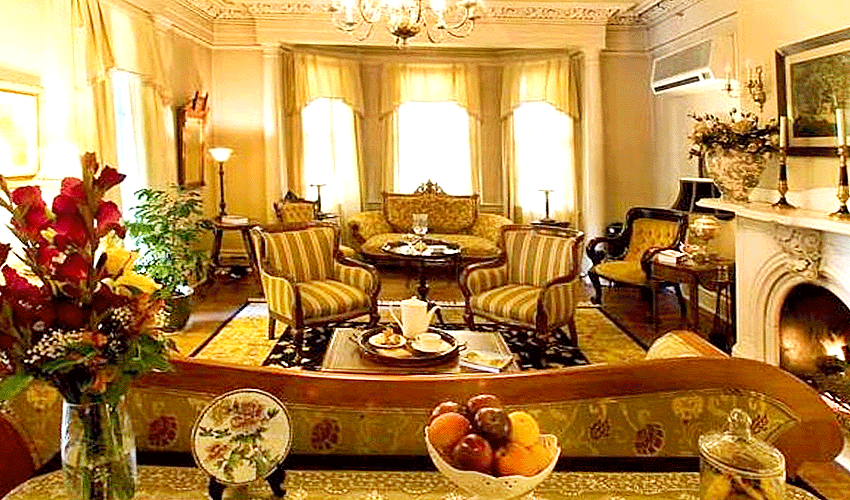 Nejad Oriental Rug is a perfect complement to Sayre Mansion Living Room, Bethlehem, PA in Lehigh Valley
Lehigh Valley Bethlehem PA Oriental Rugs
In the center of the Lehigh Valley lies the historic city of Bethlehem PA. A place that could be described as idyllic, a cultural mecca ... a place steeped in tradition. Featuring historic buildings, beautiful architecture, famous hotels, arts & crafts, textiles and hand-woven rugs. plush landscapes and gardens ... Yes, Bethlehem has it all - Something for everyone ... Shopping, entertainment, recreation, sports, education, classic hotels and restaurants - even a gambling casino. Historic mansions that feature expansive interiors lit by breathtaking arched-transom windows and decorative chandeliers, with hardwood floors that showcase impressive antique and mansion size rugs - some with entire oriental rug collections ... Interiors with beautiful free-standing sculptures and paintings hung on plaster walls, elaborate wood moldings and railings on winding staircases perfectly-fitted with classic oriental rug runners.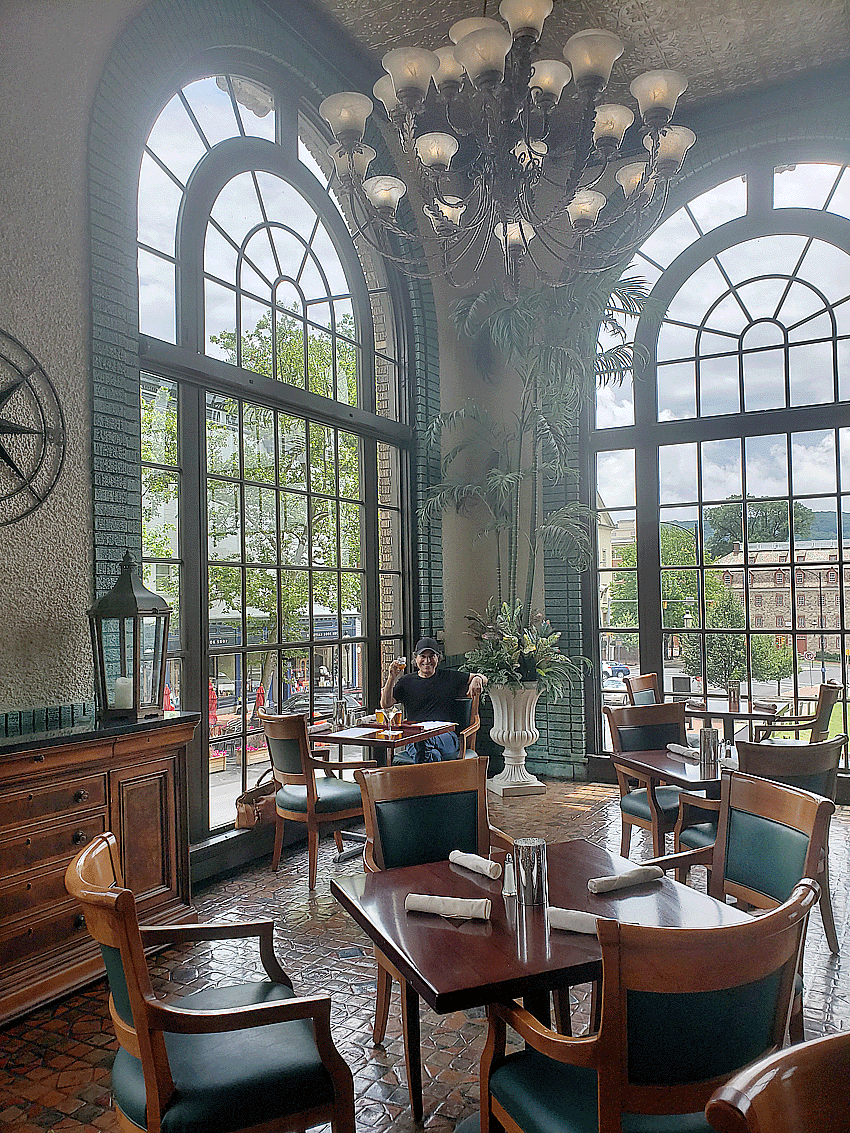 Ali Nejad of Nejad Rugs meeting a client at Bethlehem Hotel's famous On The Terrace Restaurant [07/2021]
From the hotel's dining room, with its beautiful Moravian Tile floor and soaring Palladian windows, one can only admire the charm of downtown Bethlehem - with buildings and history dating back to 1741. Selected as the #1 Best Historic Hotel by USA Today's 10 Best Readers Choice Awards, the historic Hotel Bethlehem (1922) features luxurious accomodations as well as banquet and meeting facilities including a new executive conference center. The Sayre Mansion, a historic hotel with several uniquely-appointed rooms, is footsteps away from Lehigh University, St Lukes Hospital, the Steel Stacks Performing Arts Center and the excitement of the Wind Creek Casino - and close to several corporate headquarters, Lehigh Valley Airport and the area's best restaurants. Sayre Mansion is located at 250 Wyandotte Street, Bethlehem, PA 18015. Call 610-882-2100 for reservations.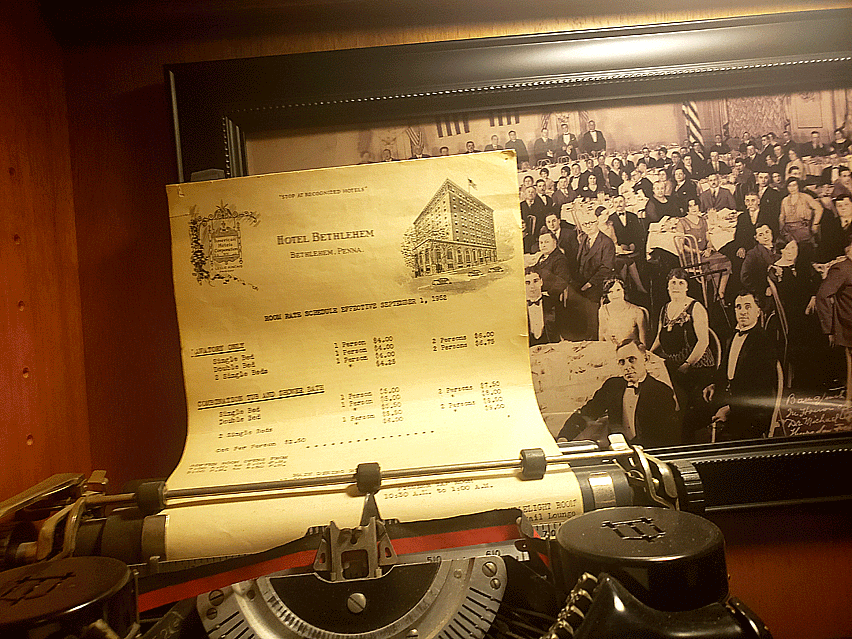 Vintage Photo from September 1, 1952 showing the Price Schedule of a Single bed at Bethlehem Hotel ... $4.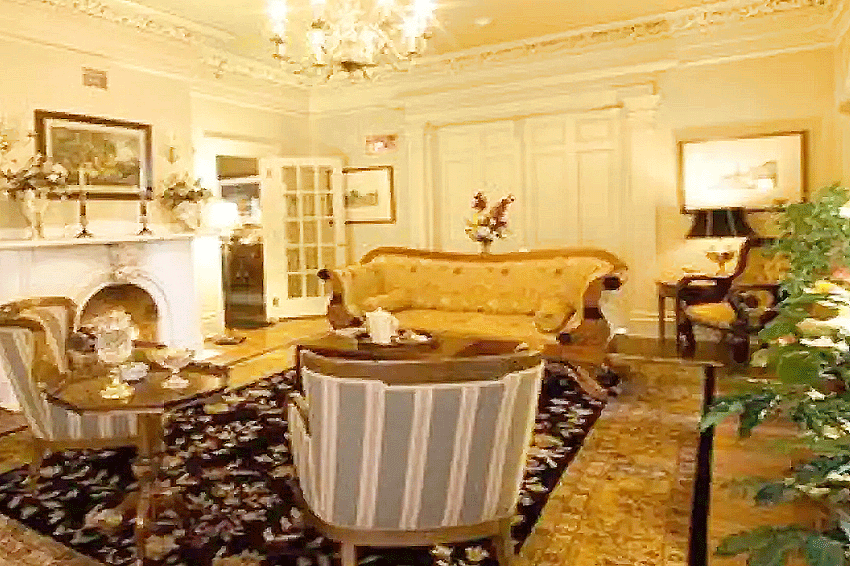 Nejad Oriental Rugs featured in Sayre Mansion Living Room, Bethlehem, PA in Lehigh Valley
Founded on Christmas Eve, 1741, by German Moravians (a Protestant sect), the city of Bethlehem, PA was named after the city of the birthplace of Jesus, and has also become known, appropriately enough, as Christmas City. Bethlehem is located along the Lehigh River in Northampton and Lehigh counties - in the Lehigh Valley region of eastern Pennsylvania - approx. 30 miles northwest of Doylestown, in Bucks County, PA. Situated in the center of the Lehigh Valley, Bethlehem is the 7th largest city in Pennsylvania, comprising Pennsylvania's 3rd-largest metropolitan area - a region of over 700 sq mi and with a population of approx. ¾ M. Together with Allentown and Easton, the Valley includes Lehigh, Northampton, and Carbon counties in Pennsylvania, and Warren County in the adjacent state of New Jersey.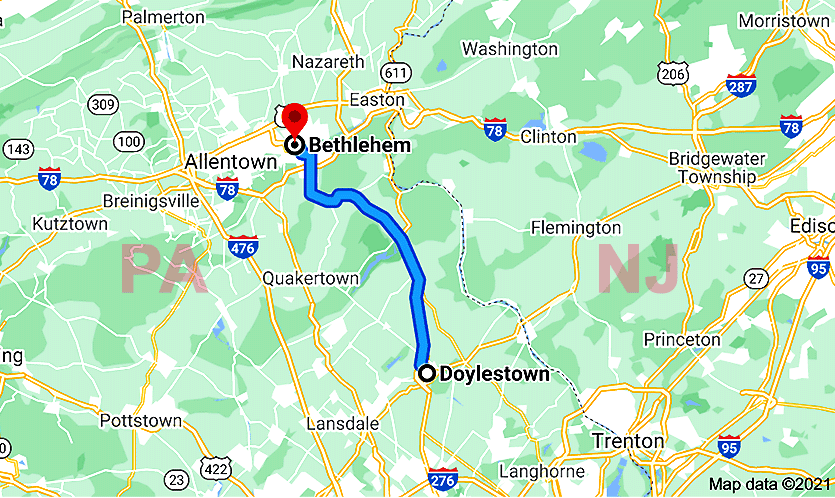 From: Doylestown, PA 18901 northwest To: Bethlehem, PA 54 min (31.5 mi) via PA-611 N and PA-412
Bethlehem became well known throughout the country primarily for its industrial history. For almost 100 years, the city's economy revolved around the production of steel, which made Bethlehem an important part of America's industrial development and economy. The Bethlehem Steel plant closed permanently in 1995 and was transformed into a cultural center. Though steeped in history, Lehigh Valley has also developed into a region known today for its nightlife, entertainment, arts, and outdoor activities. Music, and the arts, is very much alive. Bethlehem is renouned for it's musical tradition - most-notably the oldest musical group in America - the Moravian Trombone Choir - founded in 1754. The Bach Choir of Bethlehem performs annually at the Bethlehem Bach Festival - held on the campus of Lehigh University. For more modern tastes the city is famous for its annual Musikfest, a 10-day music festival that draws over a million people each August.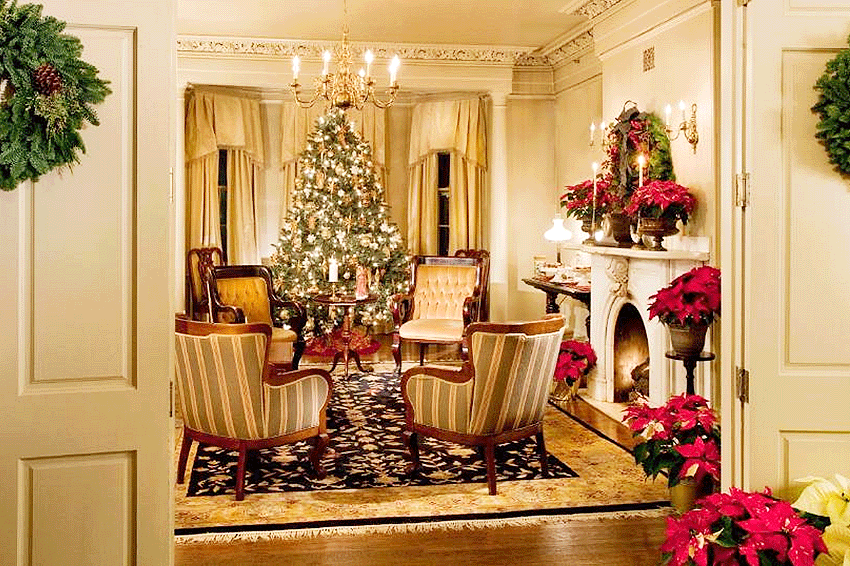 Nejad Oriental Rugs featured in Sayre Mansion Living Room at Christmas, Bethlehem, PA in Lehigh Valley
Retail business in Bethlehem has experienced something of a renaissance. Stores, including several malls, galleries, restaurants and the opening of the Sands Casino offers a long list of options for the many tourists and visitors. A formidable shopping area is bordered by Moravian College, the Bethlehem Commons Mall and the historic Sun Inn (1758). Numerous boutiques have opened, offering artwork, clothing, antiques, oriental rugs, jewelry, hand-cut crystal, holiday decorations, gourmet foods and crafted beverages - including a number of distilleries, wineries and breweries from across the region. The 150K sq ft Wind Creek (Sands) Bethlehem is a 4-star casino hotel featuring more than 3,000 slot machines and 180 live table games including blackjack, craps, and roulette as well as nearly 40 live poker tables in their popular Sands Poker Room. In 2016 Sands donated 18K sq ft of carpet to local organizations which was made into 11 rugs.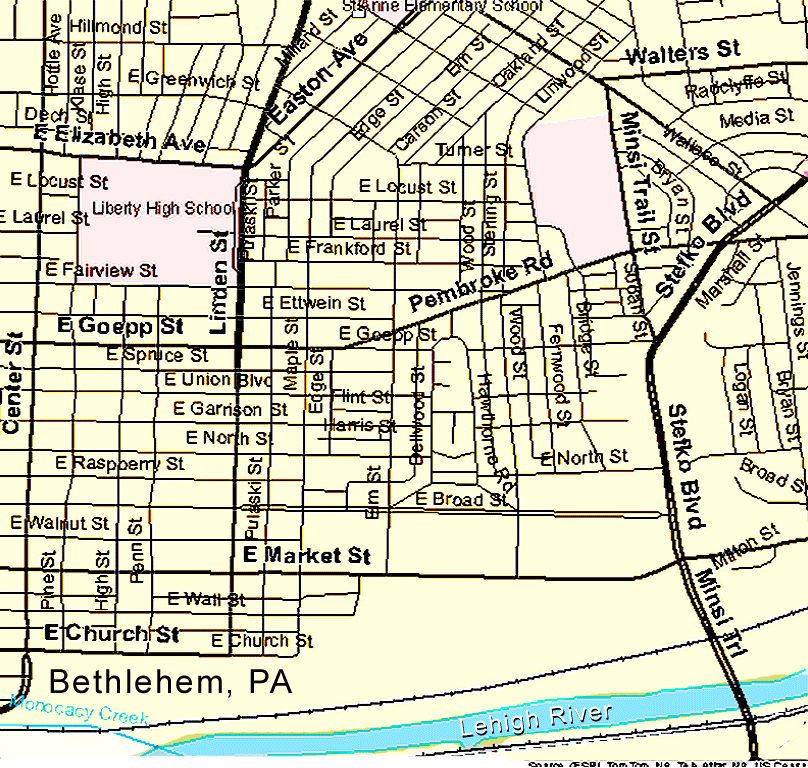 Street Map of Bethlehem, PA city center and Lehigh River
Just down the street from Wind Creek Bethlehem is the ArtsQuest Center at SteelStacks - a cultural center that contains both indoor and outdoor venues spread across a 10-acre campus, and is home to such famous events as Musikfest, Oktoberfest, and more. The center occupies the site of the former Bethlehem Steel plant, which has been reallocated as a community space dedicated to the arts, culture and education. In addition to several different annual festivals as well as a large number of private and public events, there are more than 1,000 concerts held here each year,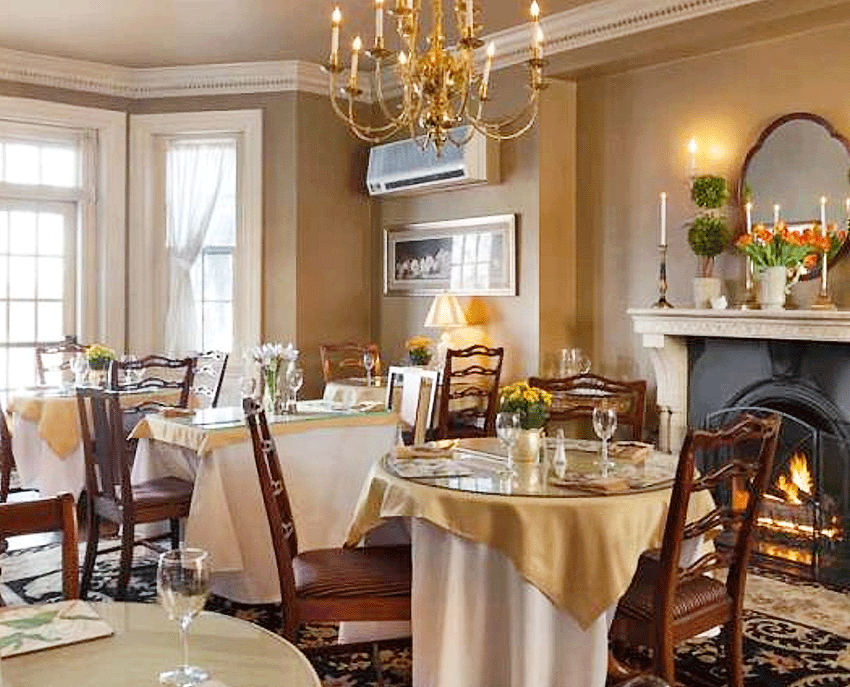 Nejad Oriental Rugs featured in Sayre Mansion Dining Room, Bethlehem, PA in Lehigh Valley
Bethlehem National Historic Landmark District
Each of the four sections of the city - central Bethlehem, the south side, the east side, and the west side - contains areas recognized under the National Register of Historic Places: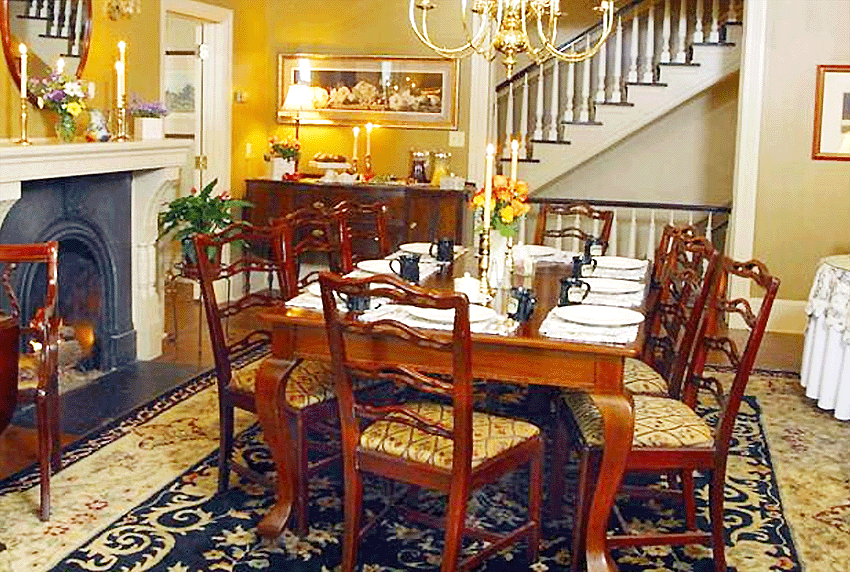 Nejad Oriental Rugs featured in Sayre Mansion Dining Room, Bethlehem, PA in Lehigh Valley
Nejad Rugs has worked over the past three decades with several of the areas top interior designers on past Society of the Arts (SOTA) events with the Allentown Art Museum Project. SOTA selects local homes to transform into a designers dream of a Show House as a fundraiser for the museum. Additionally Nejad Rugs has participated in fundraising events with PBS39 Public Television including several times that Ali Nejad has served as guest host on Great On Air Auction.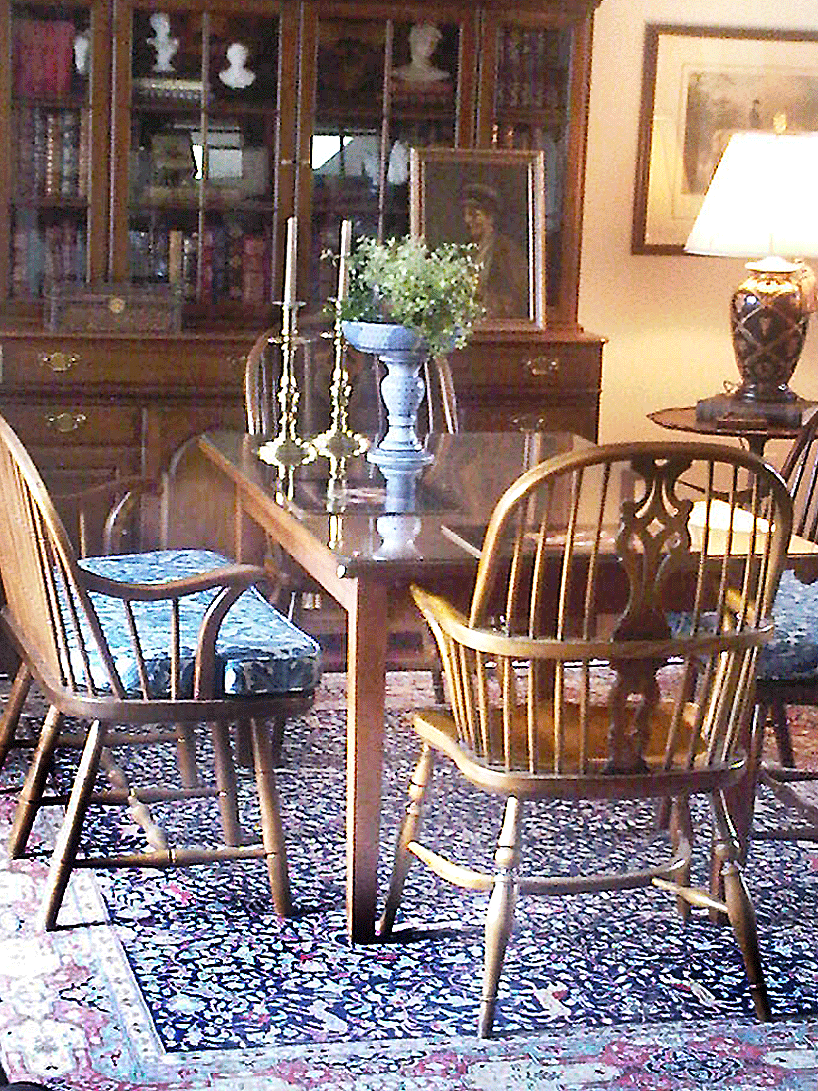 Nejad M013 Hunt Tabriz rug in Bethlehem client living room with antique wood card table and Windsor chairs
Nejad Rugs, Designers, Manufacturers & Importers of Fine Oriental Rugs, has served the Lehigh Valley for many years from it's previous location in Allentown - MacArthur Rd, Whitehall - PA, and across from Lehigh Valley Mall. From their current gallery showroom location at 1 North Main St, (the corner of Main & State Streets), Doylestown, PA. Nejad offers the best deals on an unsurpassable inventory of new & antique, investment-quality area rugs including genuine Persian new and antique rugs, antique Asian and tribal rugs, European & antique French tapestries, room-size and oversize rugs, round rugs, square rugs, oval rugs as well as hallway and stairway runners featuring expert rug runner installations. Shop Nejad for the perfect rug at the guaranteed best price!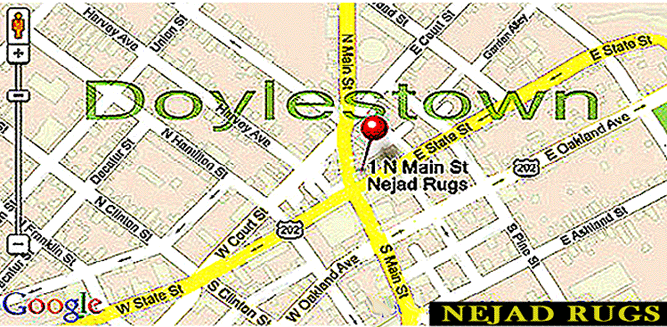 Street map showing Nejad Rugs Showroom at 1 North Main Street in Doylestown, PA
View Nejad Rugs in Philadelphia Homes
Visit Nejad's Doylestown showroom at 1 North Main Street where you will find an impressive selection of classic antique, semi-antique, traditional new and contemporary rugs. Shop our vast inventory of round rugs, square rugs, mansion size rugs and rug hallway and staircase runners. Nejad is open Monday through Thursday by appointment, call 215-348-1255, and Fridays and Saturdays 10 - 5 and Sundays 12 - 5.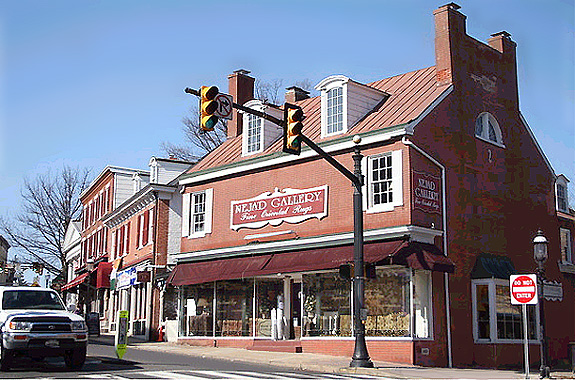 Nejad Gallery Fine Oriental Rugs showroom - Nejad is located at 1 North Main St
at the corner of North Main & East State Streets in historic Doylestown, Pennsylvania.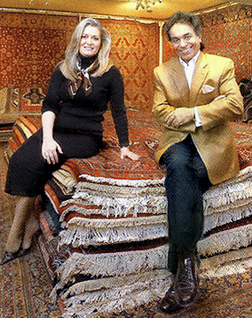 "We've built personal relationships all over the world. We
import, we design and we oversee production and every
step of the journey to bring the rugs to your home."

Theresa & Ali Nejad


Nejad Rugs · 1 North Main Street · Doylestown, PA 19301 · 215-348-1255