T

HE

I

LLUSTRATED

R

UG

- Part 3

THE RUGS & WEAVINGS OF AFGHANISTAN

Although Afghanistan shares its western border with Iran, its carpets have more in common with the tribal weavings of Central Asia in terms of color, design, and weave than with their more sophisticated Persian counterparts. The Afghanis are a nomadic, tribal population constantly traveling from one place to another. Their rugs, woven on small portable looms, are mainly produced for use in their homes, namely to adorn their tents. Therefore, it is not surprising that Afghan weavings are available in limited quantities and generally in small rug sizes. Many feature vegetable-dyed handspun Afghan wool. Various qualities of pile carpets are available, ranging from coarse to medium in weave, in addition to kilims.

AFGHANISTAN
BOKKARA
Afghanis strictly observe the principles of Islam, which forbid the depiction of human and animal forms. Therefore, Afghan carpets are characterized by easily identifiable geometric patterns. Several types of Afghan rugs exist. Most prevalent is the "Afghan Bokkara," characterized by the gul motif, a large, quartered octagon also called "elephant's foot," generally displayed in columns or rows and framed within a border.

AFGHANISTAN
AFGHAN
Of all the carpet types available today Afghan rugs are probably the most truly authentic expression of a weaver's culture. They hold a special appeal for buyers seeking truly original ethnic expression in Oriental rugs.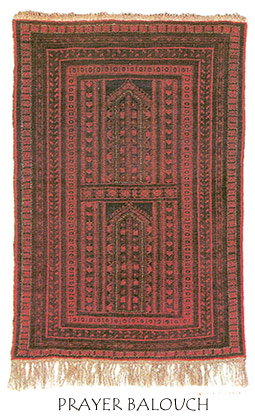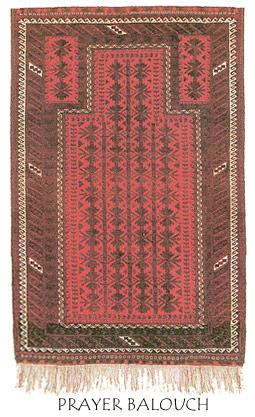 Also popular are the nomadic Belouch rugs, generally prayer rugs with geometric motifs. Most Afghan rugs fall into the dark red hues (occasionally blue) with black or blue motifs and sometimes with touches of ivory or green. Balouch rugs are more varied in style than Afghans, but most have geometric designs with dark brown, charcoal, rust and black as main colors. Balouchi weavers produce many prayer rugs in scatter sizes.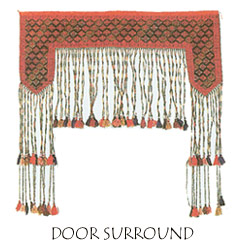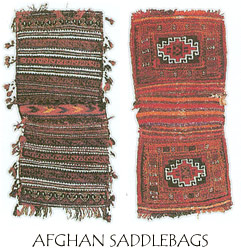 The past decade has seen a much larger and more interesting supply of Afghan and Balouch weavings than in previous years. Weavers in Afghanistan make saddlebags, tent bands, and purely decorative wall hangings in addition to a wide variety of small and medium-size scatters.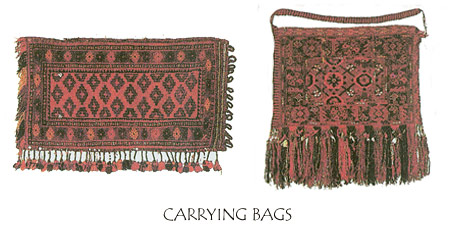 The best Afghans are very desirable rugs - tightly woven and heavy, with extremely dense and solid construction.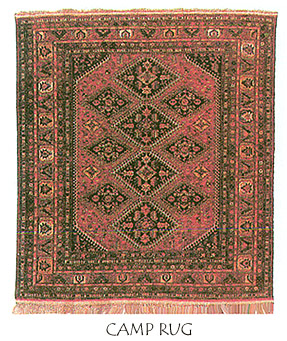 Most Afghans use old Turkoman-derived designs and are woven on wool warp and weft Colors are usually madder red, ivory, and black with accents of rust and sometimes green, Some very fine rugs in south Persian Qashgai designs made in the refugee camps in Pakistan are more colorful and even more intricate in pattern.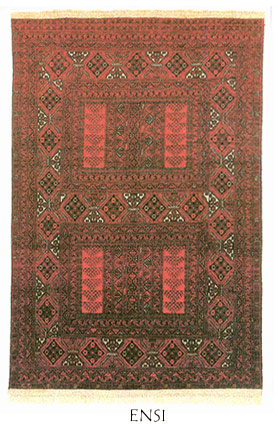 HISTORICAL PERSPECTIVE
Afghanistan, strategically located along the ancient "Silk Route", and geographically situated between the Middle East and the Indian subcontinent at the crossroads of central, west, and south Asia, has been described by British historian Arnold Toynbee as "a roundabout of the ancient world" - and from that fertile and well travelled yet turbulent ground has sprung a rich mosaic of ethnic and linguistic groups. Despite it's rugged and forbidding terrain, and the threat of fierce military resistance on behalf of it's populace, Afghanistan has nonetheless suffered numerous invasions over the centuries - present history included. This phenomenom is no better illustrated, perhaps, than by the so-called "Great Game" - as (czarist) Russia and the British (Empire) vied for influence and control of Afghanistan over 100 years ago.
It's recent history - in the latter part of the twentieth century and the early twentyfirst century especially - has been marked by both political and religious instability and controversy as well as civil war and military occupations. Such developments have forced many skilled carpet weavers to attempt to carry on their occupation in refugee camps and has driven others to the point of desperation in finding new ways to market their products while compensating for an inflation rate of near 200%.
Not surprisingly, perhaps, Afghan weavers have recently produced an interesting selection of "war rugs" exhibiting stylized depictions of military paraphernalia such as tanks, grenades, and guns which are a vivid reflection of the war-torn environment that has reigned throughout the 1980s. Such trends, however, are dictated predominantly by a marketplace where, often-purchased as novelties by occupying military officers, these types of rugs fetch a much higher sum than traditional products - so in essence if any statement, in fact, is being made - it is a financial one rather than a political one.
The infrastructure of the country - including the textile and carpet production capability - is again in need of re-building following the most recent military actions imposed in 2001. Despite international aid pledges to the country of more than $10.5 billion, a BBC interview of people living just north of the capitol, Kabul, conducted as recently as June of 2007, indicated an inabilty on the part of these local inhabitants - one, a carpet weaver who happens to be a widow (life expectancy is now near 46 years) - to obtain employment of any kind due to a lack of industry and/or available jobs.
Introduction | The Illustrated Rug - Part 1 | The Illustrated Rug - Part 2 | The Illustrated Rug - Part 3