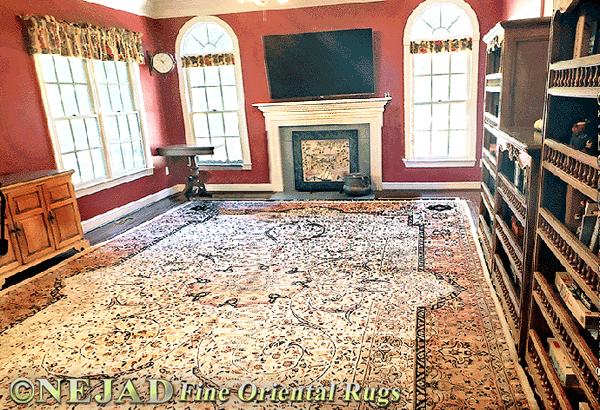 A room sized oriental rug can effectively help to insulate your home during both hot and cold months
Rising high heating costs and overall average increases in the cost
of energy have become a growing concern for the American homeowner.
During 2021 US retail electricity prices increased at the fastest
rate since 2008 and again from the period 2020 to 2022 have
increased nearly 5% while the price of gas has nearly doubled in
most areas across the country. Additionally the price of a barrel
of oil has virtually skyrocketed in a relatively brief period driving
gas prices to unprecedented levels. Most Americans will be looking
for ways to save on energy costs especially when it comes to heating
and cooling their homes. Although rugs – and Oriental rugs in particular
– are selected primarily for aesthetics and comfort, in these days of
rising energy costs they can provide some savings for homeowners on
their heating and even cooling bills.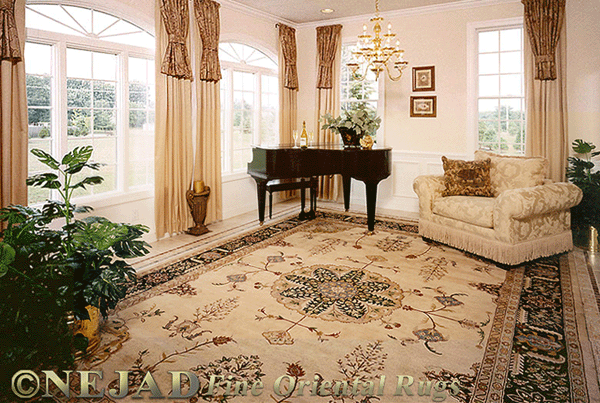 Nejad's Signature Tabriz #M022GOBK room sized rug helps to insulate and warm this
interior space while balancing the architectural elements
Insulation, and more specifically, efficient insulation,
is an important consideration in the design and fabrication of any home,
especially with regard to cost-efficient cooling and heating.
Insulation of walls, windows, ceilings and doors are the most obvious
areas of concern, but insulation of flooring is, not only, just as
important, but is an area that can be improved or enhanced without
the need of hiring any contractor or home improvement specialist,
Each flooring material from hardwood to laminate, tile – either
porcelain, ceramic or other composite material – has its own
listed insulating value, depending upon the type and thickness.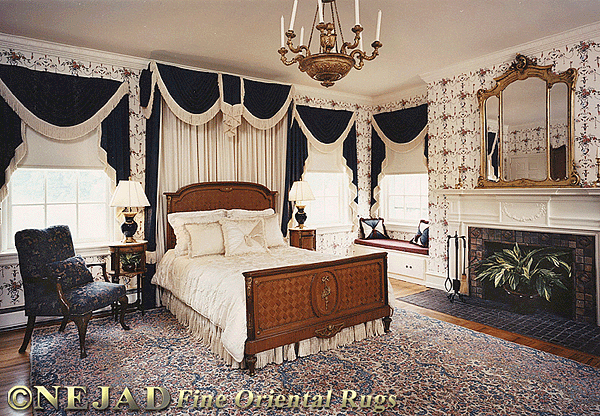 A large fine weave wool rug and padding can have an R-value of 2.0 – or more –
equating to a savings on your energy bill of up to 5% or more
Before the relatively-recent developments in building technology, and
with respect to insulation and residential heating methods specifically.
at least as far back as medieval times large wool area rugs and
tapestries were hung from the interior walls of castles, churches
and residences for the express purpose of providing insulation from
the weather – using heavier rugs in fall and winter and lighter rugs
in spring and summer. These rugs were often aesthetically and
artistically rich even portraying elaborate pictorial scenes.
The shelters of nomasic middle eastern and Caucaian
nomadic tribes consisted primarily of colorful hand-woven rugs that
served insulation as well as decorative requirements.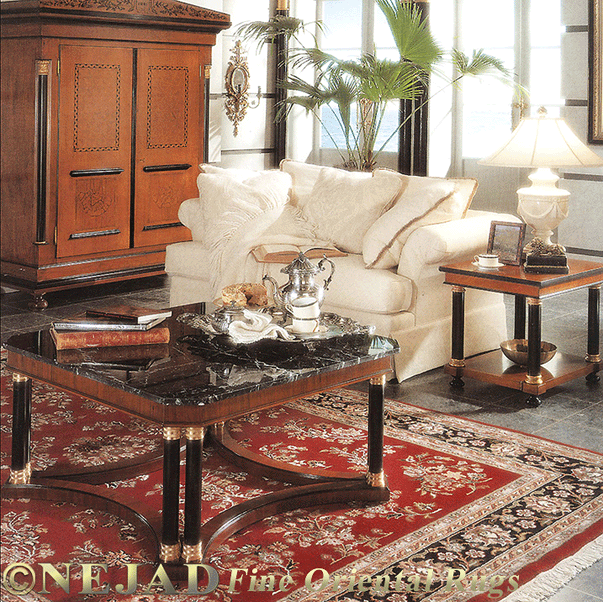 This elegant, plush and finely-woven heirloom Persian Sarouk area rug
by Nejad offers both insulation and comfort as well as aesthetic appeal
R-value (R-factor) is a numeric indicator (.2 – 2) of how well a
2-dimensional barrier, such as a layer of insulation, resists
heat conductivity – or, more specifically, based on the material
thickness, density and type. the thermal resistance rating or
insulating value. This value is often indicated on the product label
– the higher the value the better insulating property. Basically,
R-values vary based on the type, thickness and density of the
insulation material.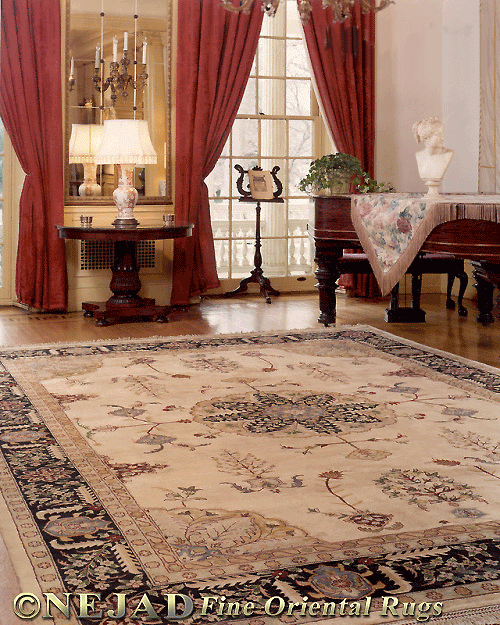 An oriental area rug perfectly complements wood flooring and improves comfort
and quality of life
To optimally increase the warmth of a room with an area rug,
choose a rug based on its material – preferably wool, thickness –
preferably a rug with dense, plush pile, and the overall size in
relation to the size of the room it occupies – preferably room size.
Generally, larger-size, thick rugs provide better insulation
than smaller-size, thin rugs. Also, higher knot-density wool rugs
increase the insulating effect and help to lower utility bills.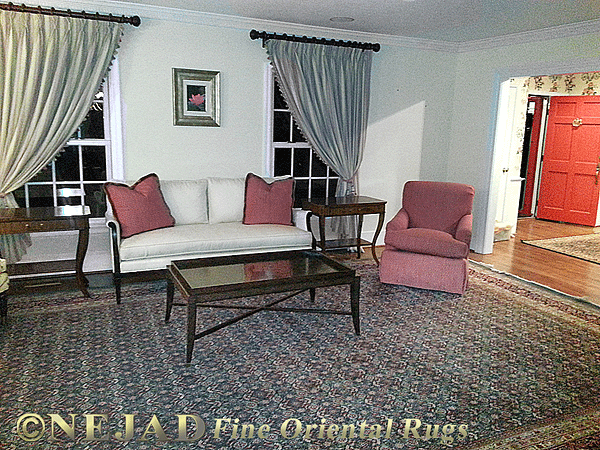 This traditional room size Herati Rug – Nejad #M011TLNY – helps to insulate and warm
this contemporary living room space
Another way to optimize room insulating properties of your Oriental
rug,especially for larger rugs, is the type and density of the rug
padding you use. Types of Rug Padding vary in material thickness
from less than a quarter inch to a half inch and feature several
brands with a range of properties from non-slip, dual-surface,
eco-friendly, low-profile, Indoor/Outdoor and cushioning