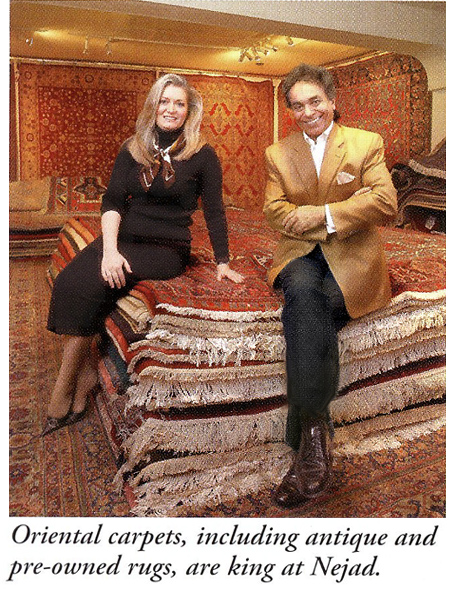 Lehigh Valley Living Magazine
Theresa Nejad is one of the owners of the Nejad Gallery
and heads Nejad's rug design department. During most of
her 23 years in the business, Nejad says "traditional
rugs outsold modern designs, about 90 percent to 10
percent – until about five years ago." Now she
estimates that modern designs comprise 25 percent
of her sales.
Among her dozen or so lines are numerous whimsical
and transitional collections: Beach; Florals; Brights
with blocks, confetti, large dots; Bucks County hook
rugs; and Kids' themes of puzzle pieces, gumballs
or stripes, among others. "Popular 8 x 10 transitionals
might retail in the $600 -$800 range," she notes.
"Incredibly big these days are our animal skin designs,"
says Nejad, "featuring beautiful solid centers and
perhaps black/ivory hide or beige/brown zebra borders."
"Not only do rugs serve as floor art," she adds, "But
in the 4 × 6 or 6 × 9 sizes, they're also being hung
in great rooms, where their warmth and texture provide
fresh alternatives to mirrors and paintings."
"The quality of the wool used, even more than the
number of knots per square inch, and the skill of
the weavers are among the factors that distinguish
fine quality rugs," Nejad says. She has partnerships
with weavers in China, Iran, India and Pakistan, and
contracts with those indigenous workshops for colors
to coordinate with fabrics made by Schumacher, Waverly
and Kravet, among others. "It can take a year or 18
months to weave a very fine rug," notes Nejad, "costing
$5,000 to $6,000."
There's a category very unlike the transitional rugs
that consumers use for a number of years and then
move or discard. Nejad has an entire floor devoted
to antique (over 100 years old) and semi-antique
(50 – 100 years old) previously owned rugs. "A
Serapi loose weave could be worth between $50,000
to $100,000," she notes. Nejad handles repairs and
even invites e-mailed photos for estimates.