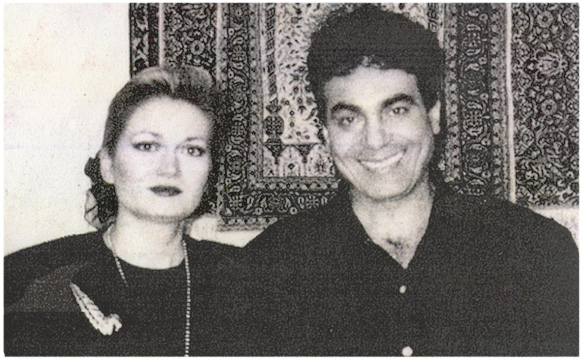 Magic Carpets are 'Down to Earth' in Doylestown
Theresa and Ali Nejad of Nejad Gallery Oriental Rugs
by Lorraine Weller – the Doylestown Patriot
Sitting in a chair covered in small red oriental rugs,
I notice the desk facing me is also covered in small
oriental rugs – these ones green and under glass.
Just one step away is a showroom full of exquisite
carpets from India, Pakistan, Persia, Turkey,
Afghanistan and China. It is a cozy place to sit
and talk with Ali and Theresa Nejad of the Nejad
Gallery in Doylestown.
The Nejads are a striking couple, she is a young
American woman from Pennsylvania with beautiful
long blond hair, he is a young man from Tehran
with black curly hair and snapping dark eyes.
Both are warm in spirit. They smile a lot – not
only at each other, but at their customers as
well.
In the midst of the phone ringing, fax machine
jangling, and customers coming into the gallery,
they seemed completely at ease in their business
world and with each other.
This 13-member family business has galleries in
Germany, Iran and the United States. Ali is in
charge of the retails stores and their expansion
in the entire U.S.A. He has opened four stores:
Doylestown, Highland Field and Princeton N.J and
Whitehall, PA.
Their gallery on Main and State Streets in Doylestown
was their first retail store and dear to their hearts.
As Ali says "we are very fond of the Doylestown People
– they hold a very special place – they were so
receptive and supportive of us from the beginning."
After graduating from college, Theresa worked as
a color coordinator for a cosmetic firm. She is
now enrolled at Temple University on the MBA program.
Ali received his early education in Tehran and then
came to Michigan State University for his college
years. He then stayed on in the United States,
coming to live with a brother who was already
residing in Doylestown.
Mutual friends had a party and invited both Ali
and Theresa. That first meeting led to a courtship
and then marriage.
As for coming into the business as both a family
member and an employee, Theresa feels she had a
tremendous advantage by beginning her job part-time.
By the time she came aboard full-time, she and Ali
had discovered each other's strengths and preferences
in the business and knew what they each could do and
wanted to do. Now they both wear many hats and still
know what the other is doing. On top of that, other
family members became used to her being in their
midst.
Asked how a couple is able to survive 23-hours-a-day,
Theresa gives a mischievous grin and says "maybe we
have an advantage – Ali has to be at the other stores
several days a week and on those days we only see each
other at night."
They are members of the chamber of commerce in each
city where they have a store and try to be supportive
of the each community as possible.
Locally, they are members of the Central Bucks
Chamber of Commerce and the Doylestown Business
Alliance.
Ali gives one-hour lectures at schools, taking
along a loom, a weaver, and a sample of an oriental
rug. He feels young people should know what goes in
to producing a lasting thing of beauty.
For relaxation, Ali is a gourmet cook. Theresa
says he is so good, they don't have to have a
party to show off his cooking, people just call
up and invite themselves over for dinner.
As importers, Ali and Theresa recently enjoyed
a trip to China and in the fall will be jetting
off again – this time to Iran on business.