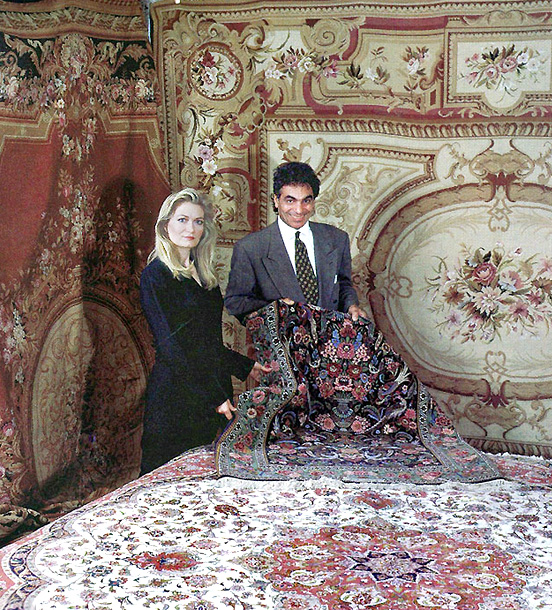 Bucks County Town & Country Living
INVESTING IN BEAUTY … By Bob Waite
Exquisite rugs, designed in Bucks County and woven
in remote corners of the earth, can both beautify
rooms and make good investments.
Nejad Gallery in Doylestown is known for its investment
quality Oriental rugs. This interesting shop filled
with hundreds of heirloom rugs is only a small part
of A. R. Nejad, Inc., Manufacturers & Importers of
Handmade Oriental Rugs. Owner, Ali Nejad, who loves
to talk about his business said, "We are emerging
as a major player in the national market. Our designs
and the quality and quantity of what we do are having
a real impact."
It's no wonder that this business would become a
national distributor of fine rugs. Born into a
family tradition of fine carpentry, Ali Nejad,
understands the international rug market from
the vantage of generational knowledge. His wife,
Theresa, who was drafted into the business,
brought some generational knowledge with her
in that her grandmother was a collector of
fine Persian rugs.
Another quality that Theresa Nejad possesses
is the ability to design rugs, often using
flowers from Bucks County gardens. Nejad now
has a hooked rug collection, designed by
Theresa, called the Bucks County Collection.
Her background in cosmetics and her appreciation
for color make her the perfect person to pick
colors that will fill the geometric designs of
classical Persian rugs.
Classical Persian rugs are made to scale according
to the size of the field. So, a small Persian rug
isn't a piece of a larger one. The geometric and
floral designs that appear on a small rug appear
smaller than they would on a bigger rug. This is
where the consummate skill of the weaver comes
into play.
Although rugs are designed by Theresa Nejad,
they are made by weavers. In remote villages
half way around the world, skilled artisans
are weaving Oriental rugs in classical Persian
designs. These rug makers must dye the yarn by
hand, using dyes that they mix themselves.
Weavers use wooden looms to make the rug's
foundation. The weaving is done by hand.
Making Oriental rugs is a meticulous operation
that can take several months to over a year to
complete. A Persian rug can have 300 or more hand
tied knots per square inch of material. It is a
skill that has no counterpart in the United States.
The intricacy, workmanship and beauty of an
Oriental rug are what make it so valuable.
Their ability to both add color and to bring the
disparate colors of a room together is well known
by designers. The truth is, that such rugs are in
themselves a work of high art. So, they act to unify
the decor and they are by themselves on display.
Ali Nejad maintains that a fine rug is worth much
more than its ability to enhance the beauty of a
room. "These rugs," Nejad said, "are investments."
The reason they are investments, according to Nejad,
is the simple fact that they appreciate in value over
time. "Antique rugs are much more expensive than new
rugs," Nejad explained. "The longer you keep a rug
the more it is worth. The older a fine rug gets the
more valuable it becomes."
Investing in rugs, of course, is like investing in
art. While the piece of art is yours, you can enjoy
it. It enhances life and creates beauty. The handmade
rugs that are made by skilled artisans in the Orient
are beautiful. They add value to life by their
presence and it's nice to know that when and if
they are sold, they may repay their owner more
than the original investment.
A.R. Nejad is a leading designer and manufacturer of handmade
rugs.