INTRODUCTION
This guide is designed to simplify your purchase of an Area or Oriental rug to enhance the beauty of your home.
Getting Started
On a room to room basis, determine how you use your room, the look and feel you want to create, and a budget per rug. There is a wide variety of rugs from which to choose at many price points.

DESIGN & COLOR
Start with your rug first – fabric and wall-coverings should be selected after you have made your rug choice.
Determine the mood you want for a room e.g. formal or casual. The design personality and color of the rug chosen will help to create the desired feeling for the room.
Formal rugs can anchor a room with a calming effect.
Elegant fine lines and subdued colors have a quiet pleasing effect.
Pure colors are more formal and elegant.
Bold medallions make a dramatic statement.
Abrash (blending of two or more colors) creates a broader color palette and can be easier to decorate with.
Casual and fun elements are great for a family room.
Rug patterns can work with the existing designs and fabrics in your room.
SIZE
Big Rugs First
Prioritize your rug purchases according to room size and importance.
Each rug acquired will influence your choices for future rug selections.
Accent rugs and runners are easier to coordinate with the main rug than vice-versa.
Room Size
Room layout will limit rug dimensions.
Note the max/min length and width in feet and inches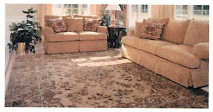 Furniture
A furniture setting suggests the minimum size rug that will create an island effect to visually hold the pieces together.
There are no  rules about on or off the edges. Simply, what feels right and functions best.
Traffic
Foot pathways should avoid pivot points at the edges of rugs.
Template
Use a tarp or sheet folded to size to determine your preferred rug sizes, or – Mark the rug size on the floor with masking tape.
Some areas can use a room size rug or an assortment of smaller rugs.
Types of Rugs
There are three types of handmade rugs to consider for purchasing:
Handmade Knotted
Handmade Flatweave
Hand Tufted
Factors that influence price
Materials – wool, cotton, silk or synthetic fibers
Complexity of design
Number of colors used
Dying technique (vegetable or synthetic)
Knot count
Age and condition of antique and semi-antique rugs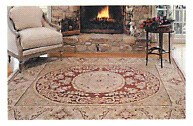 Use of Room & Rug
Are you looking to purchase a rug as an investment that can be passed down through the generations or as a decorating accessory to use and enjoy now?
Consider the amount of traffic and soil to which the rug will be exposed.
Texture
Handmade weavings from natural fibers have an inviting soft appeal.
Pattern Clarity is achieved by using tight smooth finishes.
Rugs used as wall hangings, made into pillows, or used as tabletop coverings add warmth and texture to a well appointed room.
Investment
Area rugs are movable from room to room and house to house.
Quality materials and construction will insure the longevity of both the look and the value of a fine rug.
Handmade Oriental Rugs will last for generations with proper care and maintenance.
Standard Rug Sizes
Handmade rugs will vary slightly
2'×3′  4'×6′  8'×10′     12'×15′
2'×4′  5'×7′   9'×12′   12'×18′
3'×5′  6'×9′  10'×14′  14'×24′
Runners: 2'3″, 2'6″, 2'8″, 3′ wide and come in lengths of 6′, 8′, 10′, 12′, etc.
Staircase Runners: Average length is 1'6″ per step
Rounds: 6′, 8′, 10′, 12′ diameters
Squares: 6′ and 8′
* Many rugs can be custom made to your size specifications
Color Swatches
It is always best to start decorating with your rug first. However, if you are using existing fabrics and wall-coverings, bring these and any other samples with you when shopping.