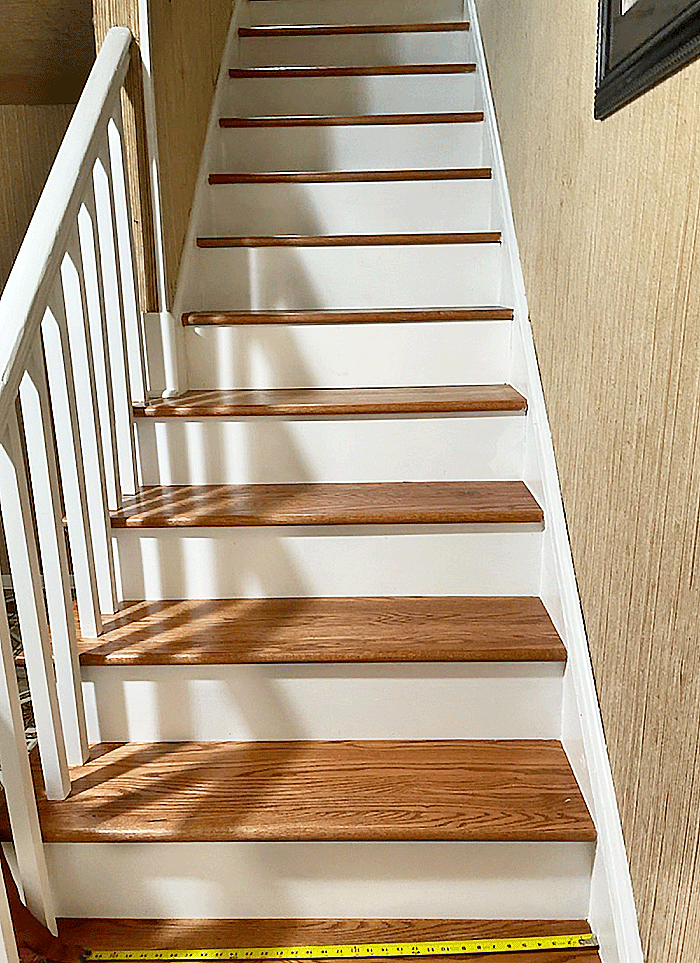 Philadelphia Staircase Handmade Wool Runner Installation by Nejad with
Phillip Jeffries textured wall paper – Before Installation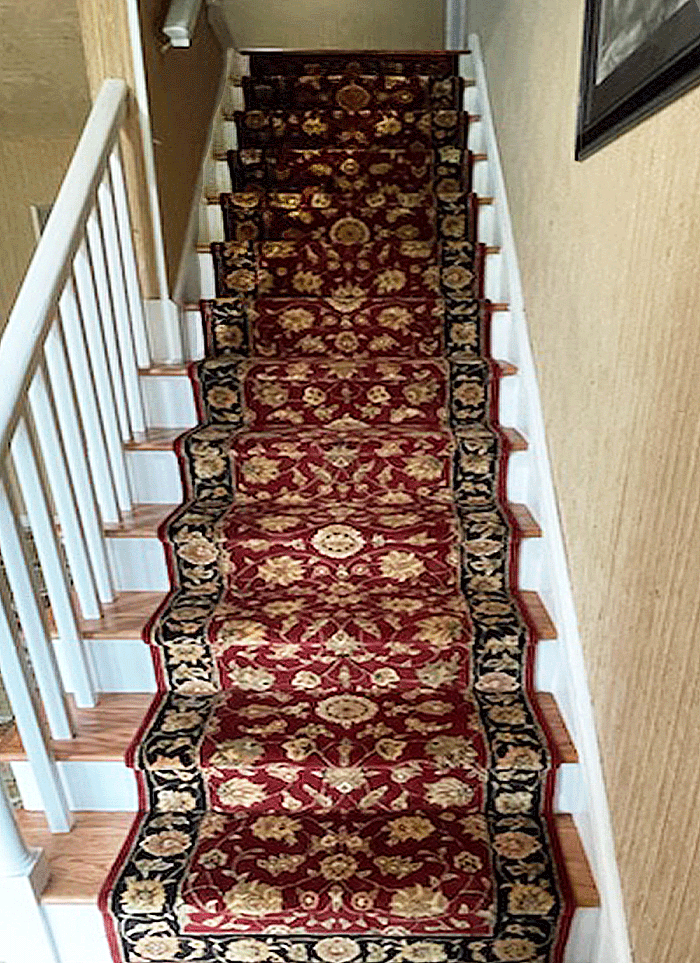 Philadelphia Staircase Handmade Wool Runner Installation by Nejad with
Phillip Jeffries textured wall paper – After Installation
Nejad is the Expert in custom Stair and Staircase Rug Runner Installation
– serving a wide area including Philadelphia, Lehigh, Montgomery, Delaware,
Bucks, Chester, Northhampton, Lancaster, Hunterdon, Mercer and Warren County.
Nejad offers a huge selection of Persian-design handmade wool rug runners
including Tabriz M002, Tabriz M037, Tabriz SP015, Herati M011, Kashan T005,
Sultanabad T041, Mahal M006 and many more in several color options – also
including padding used underneath to prevent slippage or to prevent the
runner from moving over time. Call Nejad at 215-348-1255 for a Free Estimate
on any type of stair runner installation.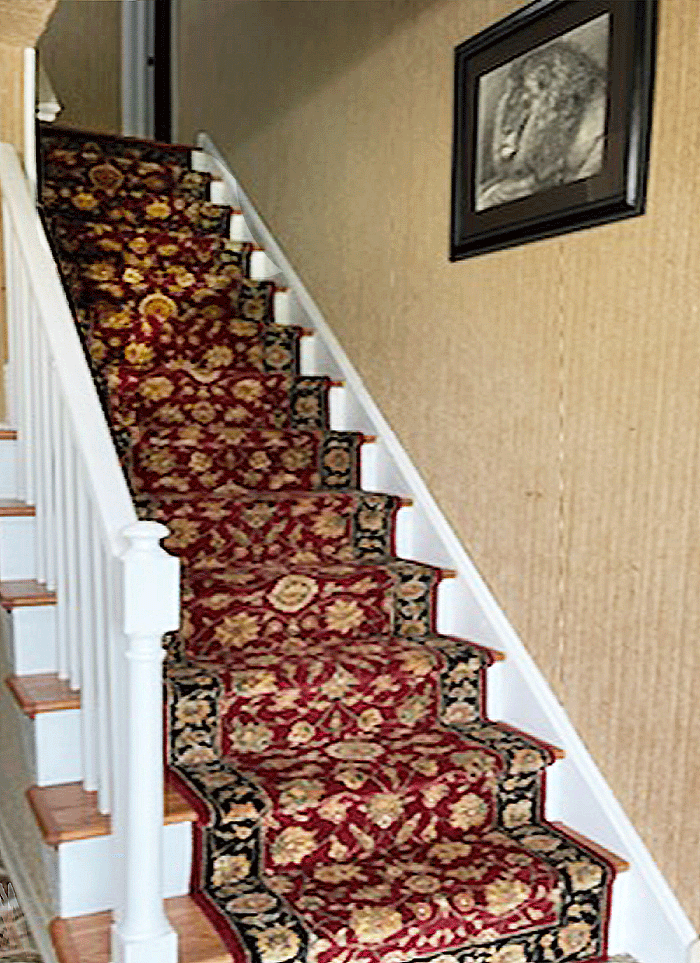 The standard runner width of 2 feet 6 inches conforms perfectly with
the standard 36 inch tread (stair) width and required 2 inch leading
on either side. To determine the total length of stair runner (+ padding)
needed, simply add riser-height plus tread-depth plus the distance around
the nosing to the point of convergance with vertical riser and multiply
by the actual number of steps i.e. 7 1/2 inches + 9 1/4 inches + 1 1/4
inches × 15 = 22 1/2 feet of stair runner to cover 15 steps.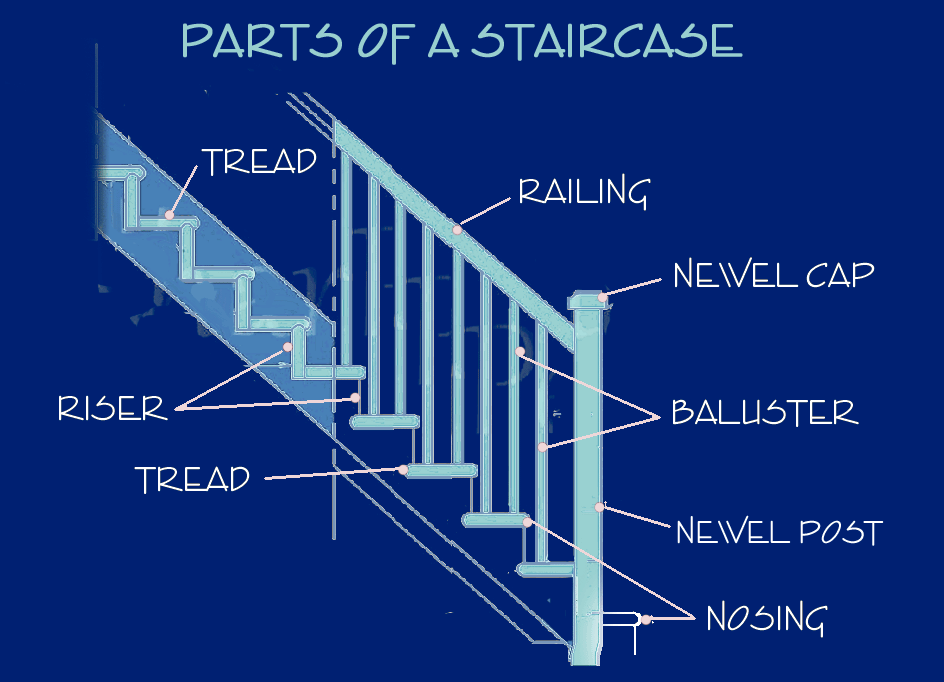 The total area required for a contemporary residential staircase is
typically going to be 100 square feet (approx.) – to determine the
exact area multiply the length times the width. According to the IRC
(International Residential Code), a staircase should have a maximum
vertical rise of 12 feet 7 inches and should also have a minimum of
6 feet 8 inches of headroom above every stair and/or landing.
For the typical contemporary residential stairway, American architects
will usually specify a staircase angle of around 37° with an average
stairway width of 36 inches, a standard stair height (riser) of 7 1/2
inches and an average stair (tread) depth of 9 inches. Though 36 inches
is the most common tread width in modern homes and townhouses, stair
treads can be much narrower in homes older than 100 years, notably
those in Pennsylvania and New England homes esp Massachusetts.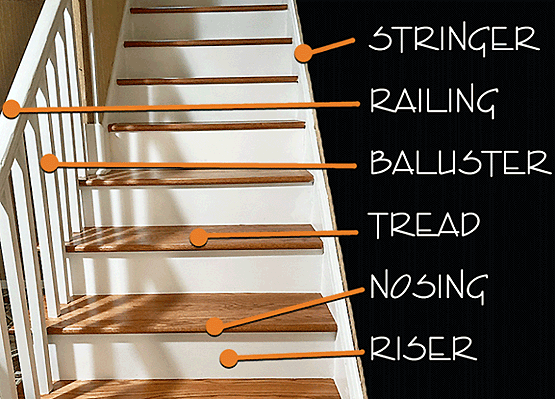 Stair risers are the vertical elements that alternate with the horizontal
treads on a staircase – and together they compose a complete step. The
maximum stair riser height is 7 3/4 inches. The treads – at a minimum depth
of nine inches – are the horizontal boards that you place your foot upon
when climbing a staircase. Projecting out approximately an inch or so from
the front of the tread is a contoured – rounded – lip called the nosing.
According to the IRC code, all stairs must have nosing that extends a
minimum of 3/4 inch and a maximum of 1 1/4 inches on each step.
Don't forget to include the nosing when measuring.
According to the IRC, any flight of stairs with four or more risers must
have a handrail on at least one side. Handrails, typically supported on
a uniform row of spindles – called balusters – must be between 34 and 38
inches tall and must be continuous over the entire staircase span. At the
top and bottom of every staircase, there must be a landing or a floor.
When the direction of the stairway transitions – typically 90 – and there
is no landing, winder treads are used. Winder treads have a fan-like
configuration – the outer tread depth no less than 10 inches while the
inner depth is no less than 6 inches at any point.
formula for Calculating Stairs:
1. Divide HEIGHT (106″/floor-to-floor distance) by 7″ = 15 steps
2. Divide HEIGHT (106″) by #STEPS (15) = EXACT TREAD HEIGHT (7.06)
Nejad is the Expert in Stair Runner Installations!
Curved Staircase Runner Expert Installation
Nejad Staircase Runner Installations – Before & After