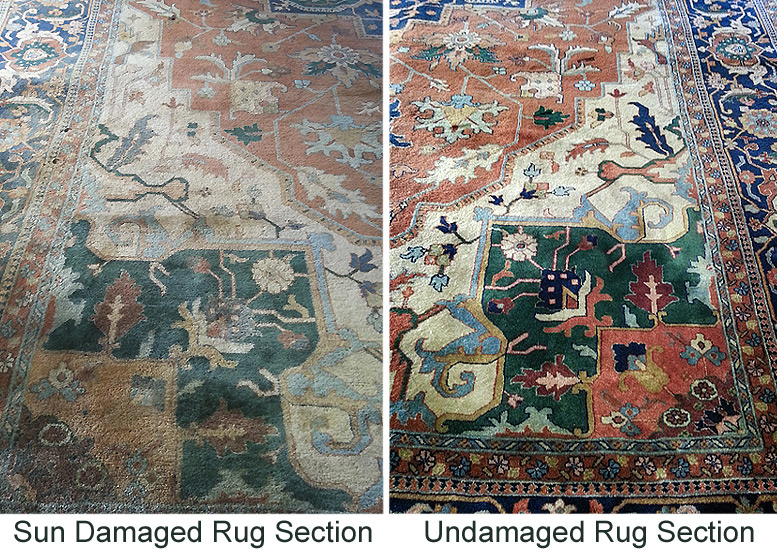 As an oriental rug owner you need to be aware of the sun's ultraviolet rays effect on your rug's dyes. In the above photos (Compare: Sun-Damaged section, Undamaged section) a 12′ x 18′ hand-knotted Heriz rug in Pipersville, PA has been exposed to UV sunlight over an extended period of time. The UV sunlight has washed out the dyes and stripped the rug of its color over time.
Periodically Rotate Your Oriental Rugs
In order to preserve your rug's character and color, rotate the rug 180 degrees every few months. In the upcoming Summer months it is recommended rotating rugs in sun-exposed areas as often as once per month. As you rotate your rug you are accomplishing two things at once: preventing sunlight damage, and moth damage. A rug that has furniture on top of it in the same spot for a long time is suceptible to moth damage underneath the furniture, in the darker, cooler areas. By rotating the rug, you control for both of these factors.
Methods of filtering harmful UV-Rays to prevent color fading:
Window Films(transparent/semi-transparent):
Modern UV window films can now provide UVA and UVB filtering without "tinting" – or darkening – your windows – thus preserving the transparency of your glass while affording protection from the damaging rays of the sun.
– Carefully compare available products / installation methods etc!
(NOTE: Not only the dyes in handmade rugs, but any 2 or 3-dimensional artworks, as well, are susceptible to fading or color fading when exposed to direct sunlight)
Window Treatments, Blinds, Curtains, Shades:
Blinds and curtains afford very effective protection but also darken the interior environment and block the outside view – especially in more-traditional design homes where rooms are more compartmentalized (less ambient lighting).
Awnings/Retractable Awnings:
Awnings are similar to above – the advantage of retractable awnings is that they can be retracted or opened as desired; but the downside is the possibility for periods of intense sunlight even in overcast weather and/or the need to frequently open and close etc.
How much direct and prolonged sunlight your rug is exposed to and determining the need for any corrective measures are the relevant concerns. Although window film is an efficient – and non-intrusive – method for resolving the threat of harmful UV ray damage, the issue of heat retention associated with this product needs to be considered. Suction Held Solar Screen Panels are a possible alternative and provide the convenience and transparency of window films but without the heat build-up.
Restoring Your Damaged Rug
Nejad can restore the appearance of your rug to like-new condition with the same level of expert service and repair that has made us an industry leader for nearly 30 years. Our expert craftsmen can selectively re-dye any faded areas and return your rug to it's original color. If you have a color-faded Oriental rug that needs to be restored or if you have any questions please give us a call at 214-348-1255.