Hand woven 100% silk Oriental Rugs from Iran, Turkey, China, India and Pakistan have been prized for centuries throughout the world for their spectacular radiant beauty, intricately woven patterns and magnificent range of colors. If you are lucky enough to own such a splendid piece of art, at some point you will need to have your silk rug professionally cleaned and choosing the right Oriental Rug cleaning company makes all the difference.
Because of the delicate nature of silk fibers, Persian Silk Ghoum rugs,
Turkish Silk Hereke rugs, Chinese Sino Silk Ghoum rugs and India Silk Kashmir rugs all need high level expert knowledge in the very special care to properly hand wash these hand woven treasures.  The cleaning techniques and solutions used for silk rugs are different and more involved than the cleaning process for wool oriental rugs.   If done correctly, a properly cleaned silk oriental rug look as vibrant and lustrous as when it was first woven. 
Unfortunately many Oriental Rug cleaning companies do not have the knowledge or facilities to correctly clean 100% silk Oriental Rugs.  Below is a photo of one such example.  This ruined Turkish Silk Hereke rug was brought to me last week by a Montgomery County client. The rug was permanently damaged by a rug cleaning company and I was engaged for my appraising service to assist with the clients' insurance claim.  Unfortunately over the years I have seen too many beautiful silk rugs ruined by inexperienced or ill equipped Oriental Rug cleaning companies.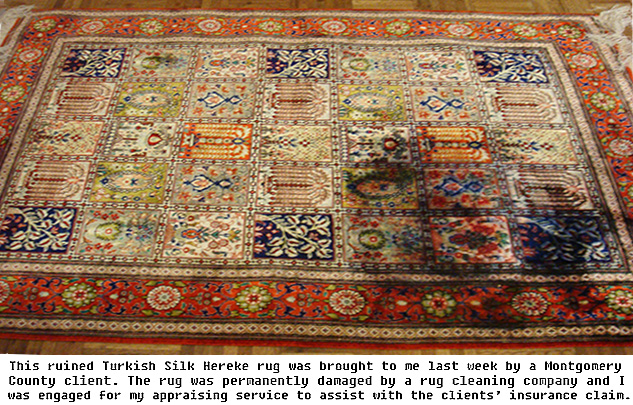 For over 28 years, Nejad Gallery at 1 North Main Street in Doylestown Bucks County PA has provided the Philadelphia and New Jersey areas with the slow, labor intensive, meticulous, oriental rug hand washing process needed to ensure that your silk oriental rugs will be returned to you in the best possible condition.  Please view our Oriental Rug Cleaning video on Youtube at http://www.youtube.com/watch?v=FG_eLUX4Mao and call (215) 348-1255 for all of your Oriental Rug needs.
Ali R. Nejad, President & CEO
"Let the beauty we love be what we do. There are hundreds of ways to kneel and kiss the ground."
 – Rumi    Thirteenth Century Persian Poet