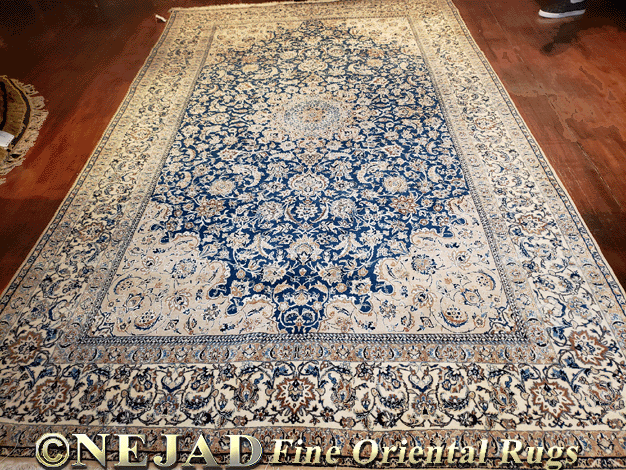 Nejad Rug #987849 Persian Nain in gorgeous blues Silk & Wool room-size
7′ x 11′ 6″ purchased by clients in Reading PA. This finely hand-woven
Nain Persian rug is just part of Nejad's extensive inventory of fine
Persian area rugs.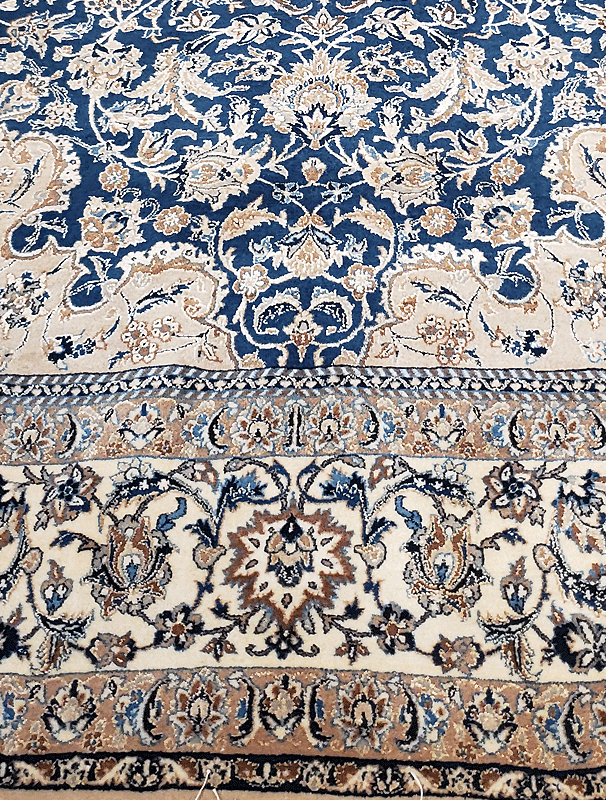 The Nain carpet typically consists of elaborate and finely-detailed curvelinear,
repeated, symmetrical floral patterns that feature a network of scrolling and
interlacing foliage with an often-present center medallion. The arabesque patterns
are often interspersed with other repeated naturalistic elements such as
animal or fruit motifs.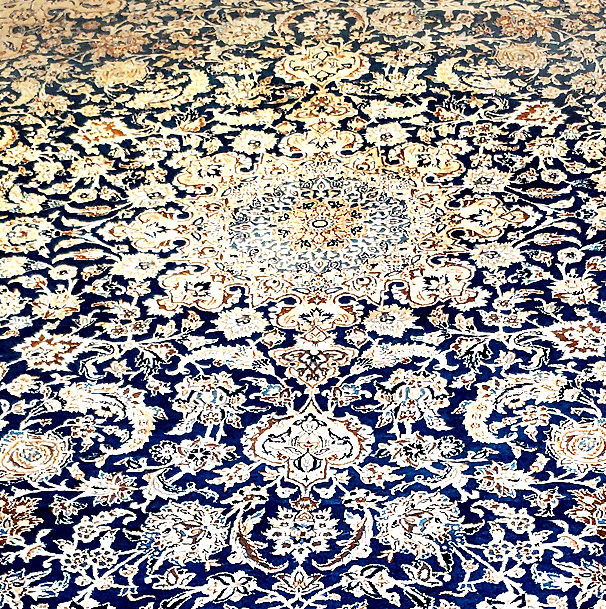 A few of the distinguishing characteristics of the Nain carpet are
not only the use of silk thread to highlight the detail in the design but
the high knot density and close-cropped pile – both of which add to the overall
quality and aesthetic appeal of these rugs. With regard to color the Nain
carpet typically consists of either earth red or muted blue highlights on a
background of ivory or cream, though occassionally this scheme may be
reversed.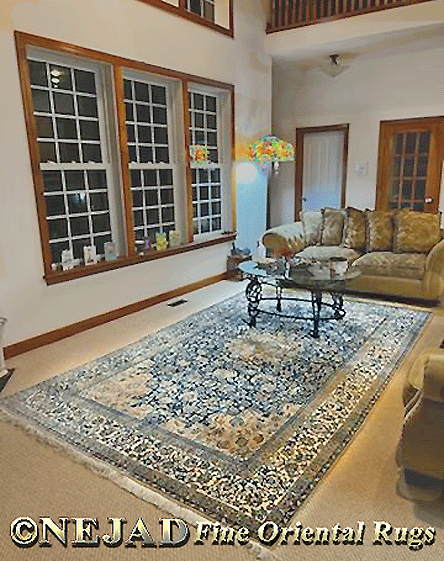 Nain rugs are woven with the Persian-type asymmetric knot using high quality wool
and silk accents. The materials used in theconstruction of the finer grade Nain
carpet consists of wool on a silk warp or silk in the warp as well as in both the
weft and pile. The pile is usually clipped short and the knot density can
range up to 700 KPSI (knots per square inch), which is very fine quality. The
number of thread layers that have been used in each warp-thread during
manufacture determines quality: The lower the number the finer and higher
the knot density. It is possible to check how many layers have been used in
a carpet by counting the number of threads in one of the fringes of the
carpet.
A rather detailed and somewhat technical description of a Nain rug from Christie's
of London … "the oatmeal field with linked scrolling leaf and palmette vine
around an indigo cusped medallion filled with wine-red and sky-blue palmettes
with scrolling vine enclosing a sky-blue floral centerpiece, in a wine-red palmette
and scrolling leafy vine border between triple floral meander stripes, a
signature cartouche at one end, finely woven with full pile throughout" …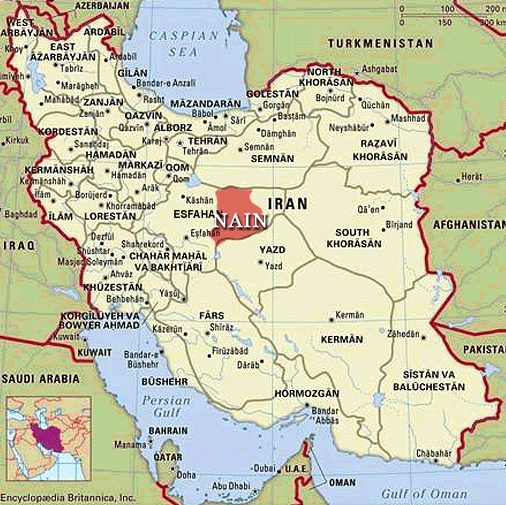 Nain is a city and capital of Nain County, centrally-located in Esfahan
Province, Iran, Nain became a carpet producing center in the 1930's.
At the 2011 census, its population was over 25,000. At 100 mi north of
Yazd and 80 mi east of Esfahan, the city of Nain is
nearly at the center of the country. Like much of the Iranian plateau, it
has a desert climate and harsh terrain. Except for some desert-type mountains
that surround the western and north-eastern parts of the city, the terrain
surrounding Nain is a desert with moving sand dunes.
The Old Bazaar is one of Nain's notable, historic attractions. Extending
nearly a quarter-mile in a curved line and connects main alleys as well as
tributary passages to neighborhood centers. Parts of the now-deserted
bazaar that had been renovated were active until just a few years ago. Built
in the pre-Islamic era, the Castle of Narenj is thought to have been an
integral part of the network of fortifications around the city.
With its deep gardens, silo room and up-to-date facilities the Pirnia
traditional house comprises a working model of a self-sustaining environment in
a harsh desert climate. Constructed in the Safavid Period and later renovated in
1994, the house has been converted into the Desert Ethnology Museum. The Mosallah
edifice is another remarkable monument featuring a vast garden and self-cooled
reservoir. Surrounded by pistachio trees encompassed by a military fort with thick
high walls, the turquoise-domed octagonal-shaped mausoleum – is
characteristic of the architectural style of the Qajar dynasty.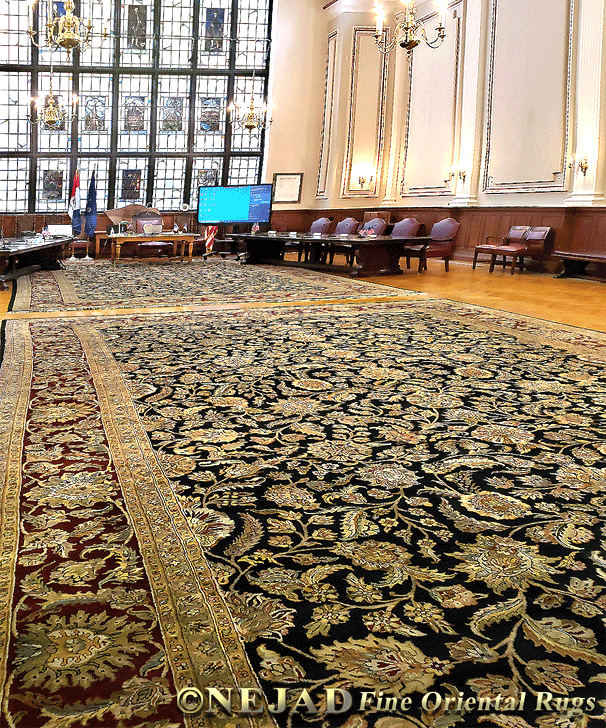 2 mansion-size 16 ft. x 26 ft. Persian Agra Rugs from Nejad Rugs of Doylestown
installed in City of Reading Chamber Council Meeting Hall.
Reading is a small city in east central Pennsylvania 60 miles northwest of
Philadelphia in Berks County PA with a population of nearly 100,000.
Points of interest include The Reading Public Museum which features Egyptian
artifacts, historic and scientific displays and artworks by Degas.
There is also GoggleWorks Center for the Arts. Both the Golden Age Air Museum
and Mid Atlantic Air Museum feature an impressive collection of vintage military
airplanes from WWI and WWII. The Reading Railroad Heritage Museum
maintains the heritage of the famous railroad including many railcars
engines and memorabilia. Koziar's Christmas Village – open during
the holiday season – is one of the best Christmas attractions in the state of PA
and offers an impressive hpliday light show. The Hopewell Furnace National
Historic Site operated for over 100 years and where weapons were made during the
revolutionary and civil wars. Neversink Mountain, Hawk Mountain
Sanctuary and Nolde Forest – offer hiking trails, camping, bird watching
and outdoor activities. Visible from almost everywhere in the
city, the Reading Pagoda is an impressive structure which includes a museum, gift
shop and viewing area that is open seasonally on the wekends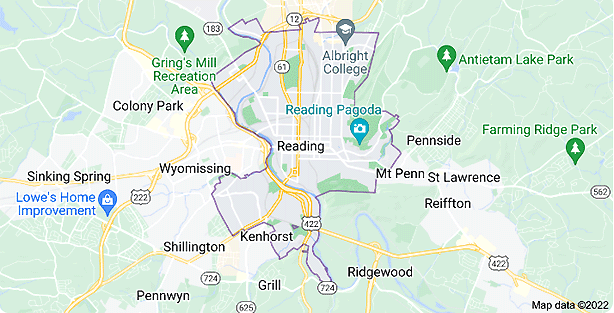 Wyomissing is a borough in Berks County PA adjacent to Reading with a population
of under 11,000. It is most noted for its shopping malls – such as Berkshire
Mall, restaurants and entertainment. The Works is a large multi-acre entertainment
complex for 'kids of all ages' offering a range of activities such as game room,
indoor play land, go-karting plus food and beverage. Additionally Wyomissing has over
350 acres of park land to explore.