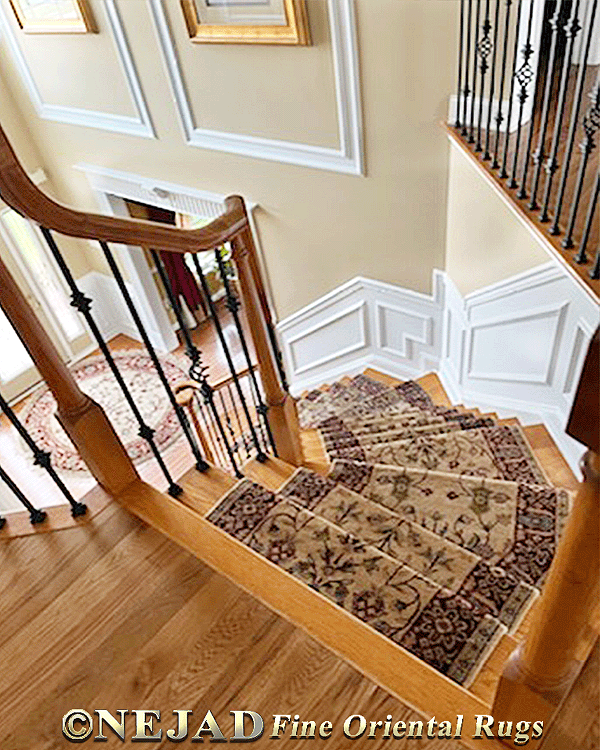 Classic Nejad Oriental Rug Runner Installation on Curved Wood Staircase in Luxurious
Mount Holly NJ Home
Nejad is the Expert in Stair Runner Installations! The addition of a runner
can dramatically improve the look and feel of your bare wood staircase –
improved comfort, improved safety and improved aesthetic appeal! For the
best runner selection and guaranteed satisfaction call Nejad Rugs at 215-348-1255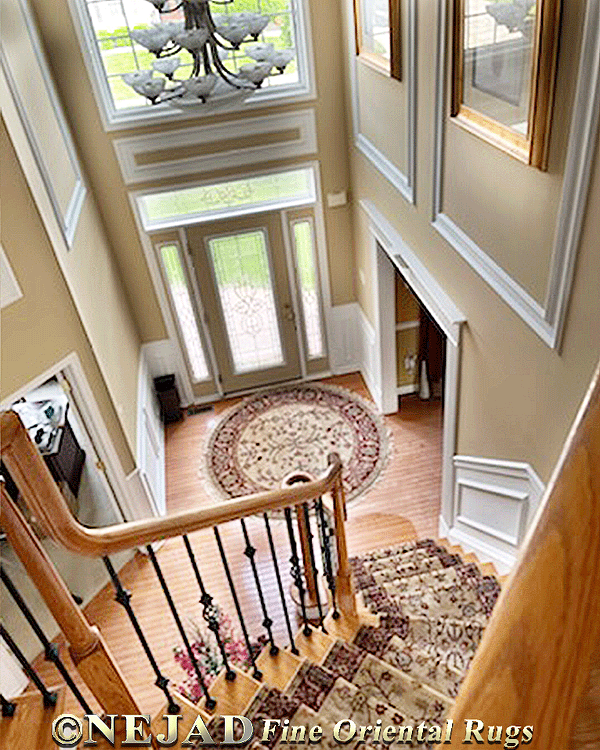 Impressive Aerial View of Nejad matching M023GOBR Stair Runner and Round Rug
in foyer of Mt. Holly, NJ luxury home. This Elegant Tabriz Gold / Burgundy
Rug Runner design perfectly enhances the individual interior design
elements and elevates the overall atmosphere as well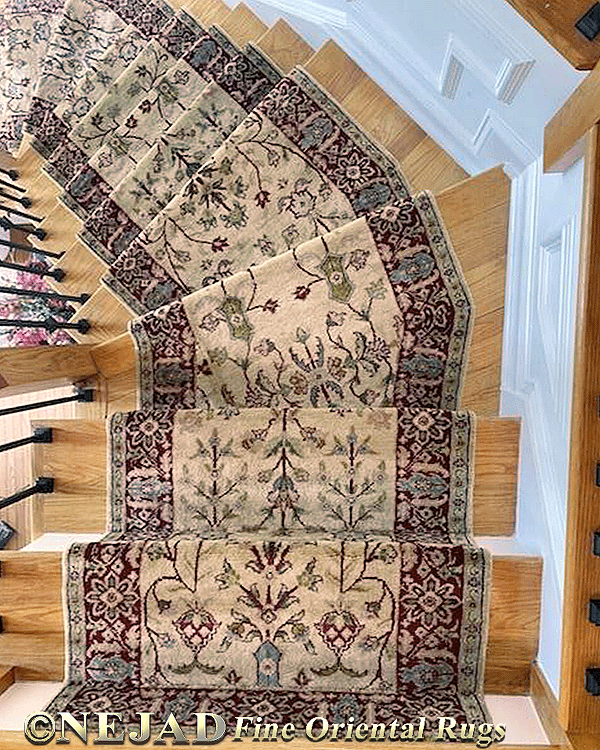 Nejad is a qualified Expert installer with over 35 years experience with Staircase
Runner installations – Customer Satisfaction Guaranteed!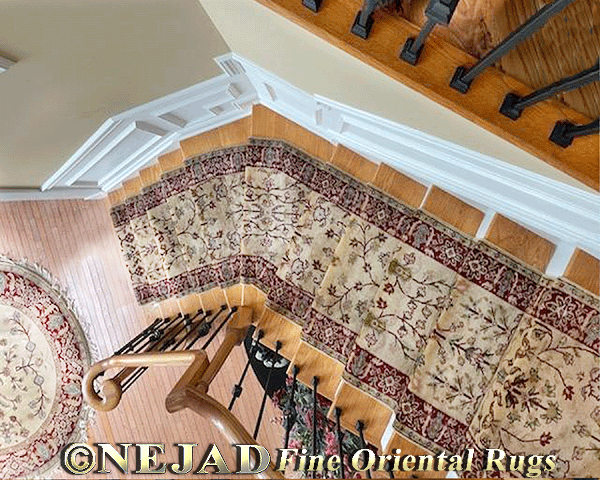 Home Improvement project that is a win/win for the client – Improved Comfort
improved Safety – as well as improved home beautification!
This M023 Stairway Runner 2′ 6″ width by any custom length required to
custom-fit your staircase measurements! This M023 design is available in
5′ Round, 8′ Round and 10′ Round as well as Hallway Runners in 2′ 6″ width
by either 6′, 8′ or 10′ Length. This M023 design is also available in standard
(rectangular) rugs in an array of sizes up to 12′ x 15′ and 12′ x 18′ and up to
14′ x 24′ (in this Tabriz M023 model)
Nejad's huge selection allows you to choose the similar rug design in
different shapes and sizes and/or colors -easilymatching different
sizes and shapes using the same rug design. Additionally you can select
the same design in contrasting or complementary color schemes or select
different designs in complementary colors.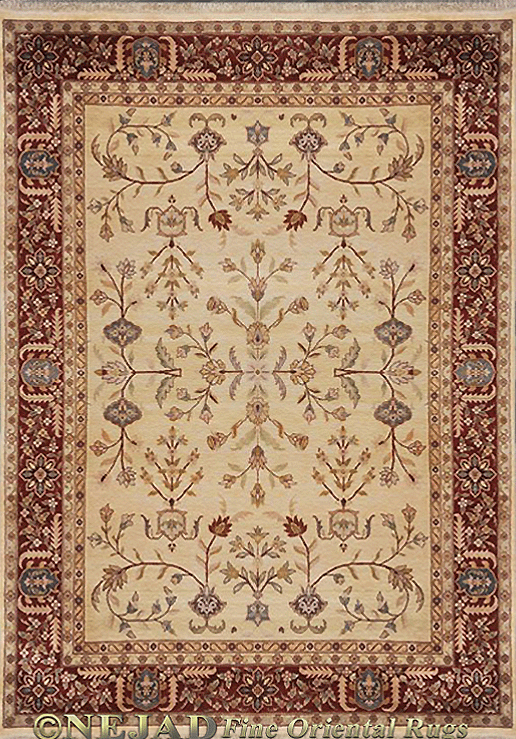 Nejad Signature Masterpiece Rug Collection #M023GOBR Tabriz All-over Pattern
M023 – Gold / Burgundy
The Signature Masterpiece Collection features strikingly
beautiful high quality hand woven rugs in traditional and
transitional design.
Each rug is masterfully hand made, knot
by knot, using superior quality New Zealand
Semi-worsted
Wool and the best rug dyes available.
These high fashion designer rugs can
transform any living space into a fabulously
inspired interior.
Hand-Knotted. 100% Wool Pile.
Imported from India.
Link to M023 Tabriz all-over design
Link to M022 Signature Tabriz with Medallion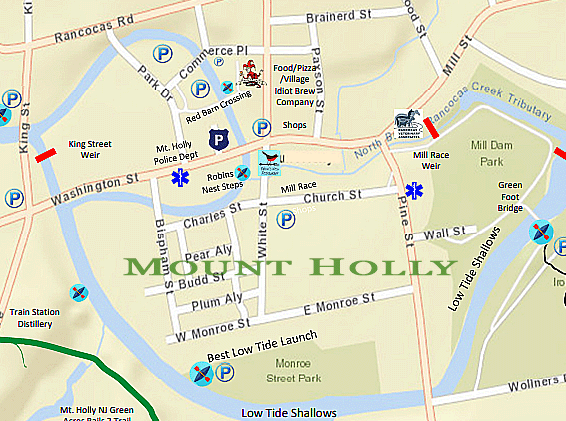 Map of Mt Holly NJ and Historic District showing Streets and Rancocas Creek
Founded in 1677, Historic Mount Holly, New
Jersey, located in Burlington County, is a thriving South Jersey community
of under 10K. By the early 18th century development began in earnest with
construction of a dam on the Rancocas Creek to power a grist mill. Houses
and commercial buildings were erected on High, Church, White, Mill and
Pine streets.
On December 23rd, 1776 the Battle of Iron Works Hill took place in Mount Holly
in which thousands of Hessian mercenary troops were strategically diverted
from Trenton, as George Washington – after famously crossing the Delaware River
on Christmas Eve – would secure a victory at the Battle of Trenton.
Important Mt. Holly historic landmarks include The Burlington County Lyceum of
History and Natural Sciences (formerly the Mount Holly Library), which was
chartered by King George III of England in 1765, and the Burlington County
Prison Museum – a National Historic Landmark.
Today Mt. Holly offers a wide variety of shops, restaurants and eateries, galleries
and pubs featuring fine food, craft beverages and wine tasting, live music and
karaoke, as well as a variety of annual events including Holly Stock, the Fire &
Ice Festival and the Car Show.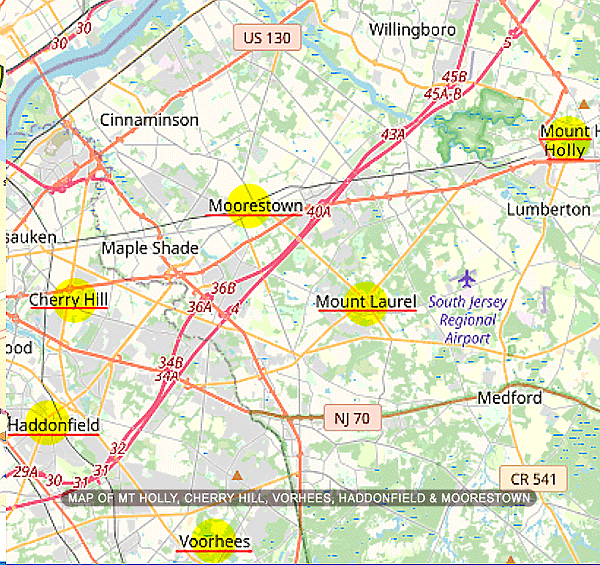 The New Jersey towns of Haddonfield, Cherry Hill, Voorhees and Moorestown, NJ are
in close proximity to – and located to the south and west of – Mt Holly.