About Persian Heriz Antique Oriental Rugs
Overview
In the harsh climate of the mountainous northwest corner of Iran, on the southern slopes of Iran's 3rd highest volcanic (inactive) mountain, lies a virtual cottage industry spanning several small towns and villages - the network of independent weavers who produce the much-sought-after rug known for the area that it originates from, Heriz. Easily one of the most distinctive and readily-identifiable of the Persian or Turkish styles of rugmaking, the carpets made in and around Heriz are typically large, heavy and notably-durable and feature bold and dramatic color and design. With regards to the Heriz rug's noted longevity, the consensus is that the copper-rich water around Mt Sabalan produces a more-durable, more-resilient quality of sheep's wool used for the rug pile.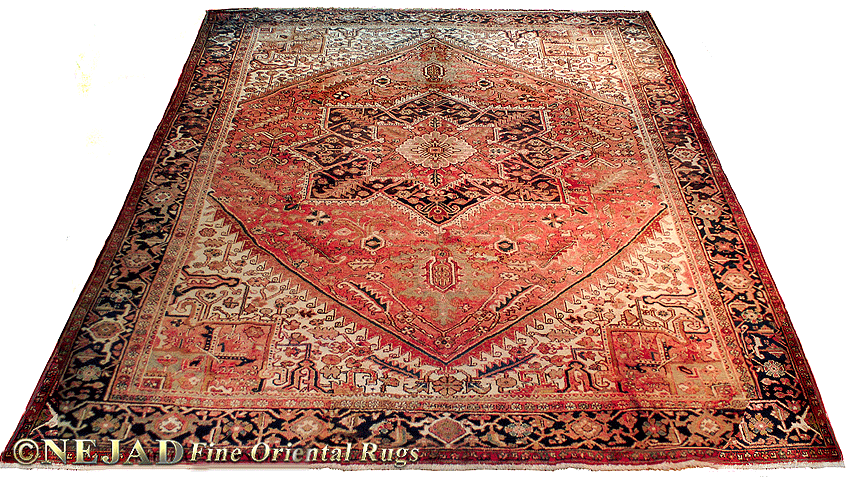 A spectacular antique Persian Heriz 9' 7" × 12' 8" #987497 carpet currently being offered by Nejad Rugs of Doylestown, PA.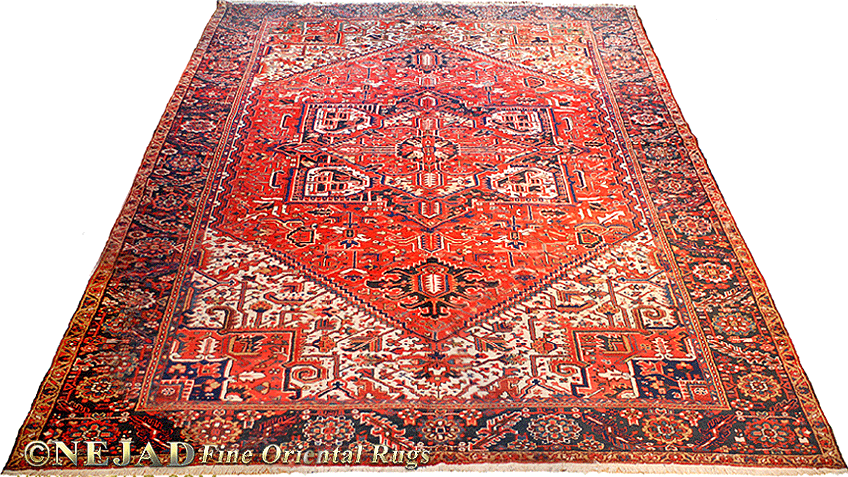 Another gorgeous and rare antique Persian Heriz oriental carpet offered by Nejad Rugs - 10' × 13' rust-red / navy Nejad #13461.
The Heriz Rug Style
The Heriz Rug Style - the typical theme for Heriz carpets - consists of basic geometric or nature-derived patterns set in vibrant color palettes ranging from monochromatic (reds) to strongly-contrasting, multi-colored (primary colors) fields featuring highly-saturated reds and brilliant greens (often with a blue background color in the spandrel) and typically with black, white or gold outlining, and last, but certainly not least, a prominent medallion - usually featuring an 8-pointed star (star-like figure) inside a diamond-shaped hexagon occupying up to 50% of the entire rug. These older rugs were produced in large sizes (up to 26') with a knot-density of considerably less than 100 KPSI (using a Turkish knot at usually around 30 + knots per square inch) - attaining their color brilliance through the use of natural vegetable dyes.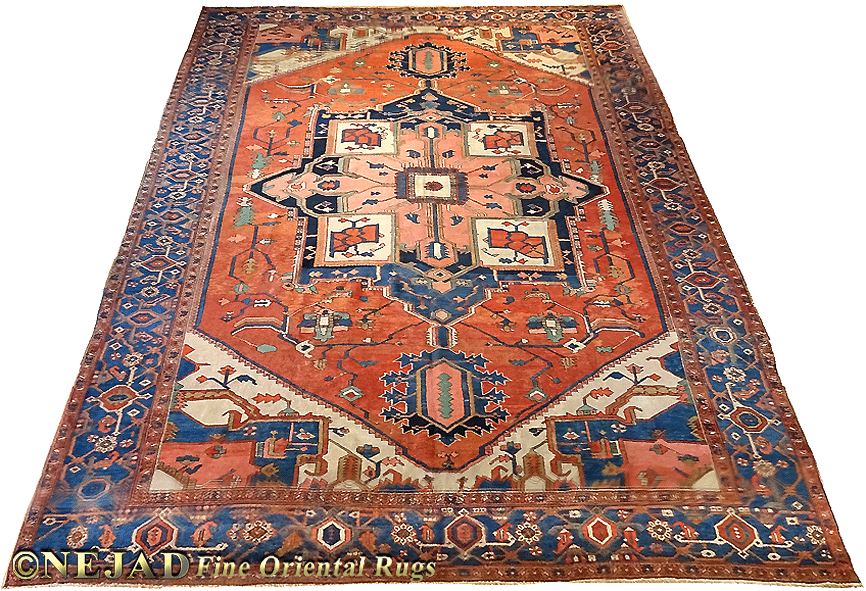 Another impressive, uniquely-patterned, large ( 9' 9" × 12' 8" ) antique Persian Heriz rug c. 1900 - offered by Nejad Rugs of Doylestown.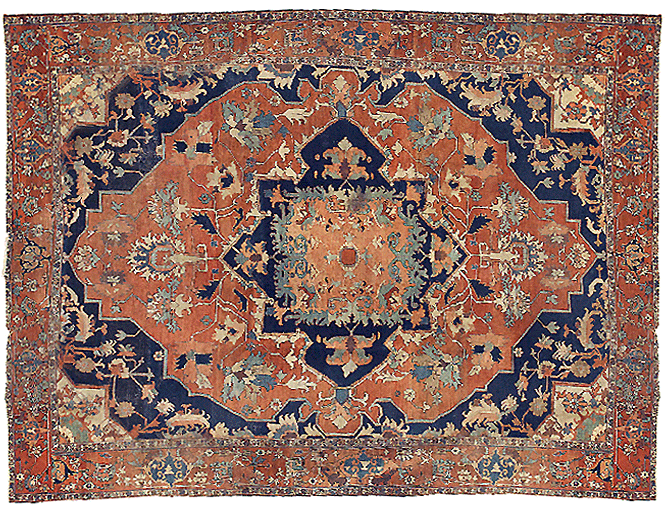 A Heriz Carpet - North West Persia, Circa 1890 11 ft. 8 in. × 9 ft. 8 in. (356 cm. x 295 cm.) Christie's, London

A Heriz Carpet - North West Persia, Circa 1920 approx: 11ft.11in. x 9ft.1in.(363cm. x 276cm.) Christie's, London
The Austere Beauty of Heriz
Heriz, located approximately 60 miles northeast of Tabriz in the East Azarbaijan Province of Iran, sits on the southern slopes of Mount Sabalan. A mecca for tourists, the popular hot springs located near the base of the volcanic peak provides a welcome counterpoint to the lake at the very summit - which, but for just a few weeks of the year - remains frozen! Although hot and dry in summer, the climate features extreme cold with heavy snow and high wind for most of the year. This region - the northernmost area of Iran and East Ajarbaijan in particular - due to its strategic location as well as natural resources, has been both a politically and economically sensitive region in modern history, having come under the sphere of influence of both Soviet and western governments.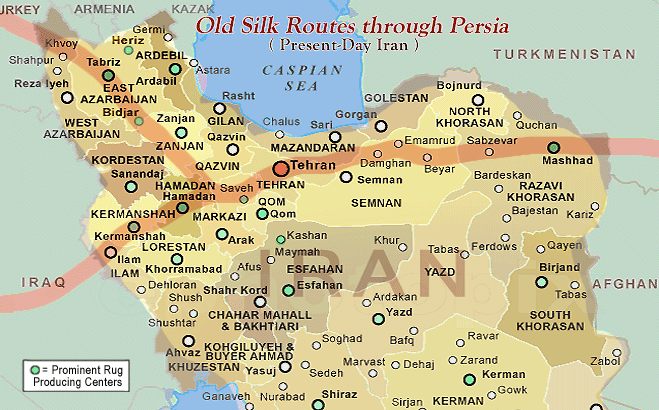 The Old Silk Routes (from Istanbul to Xian, China) through Persia showing the prominent rug-producing cities of Iran today.
Consumer Notes

Heriz carpet, Northwest Persia c. 1890 approx. 14 ft. 6 in. by 11 ft. 4 in. Estimate 20 - 30,000 USD Sotheby's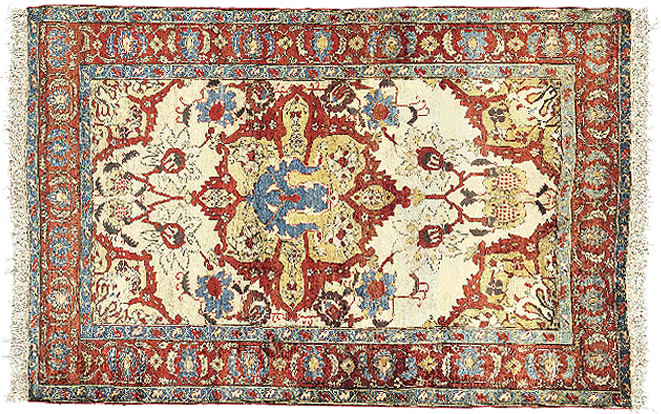 A Silk Heriz Rug - North West Persia, Late 19th Century 6ft. 5in. × 4ft. 2in. (195 cm. x 127 cm.)
Estimate GBP 8,000 - GBP 12,000 | Price realised GBP 9,375 Christie's London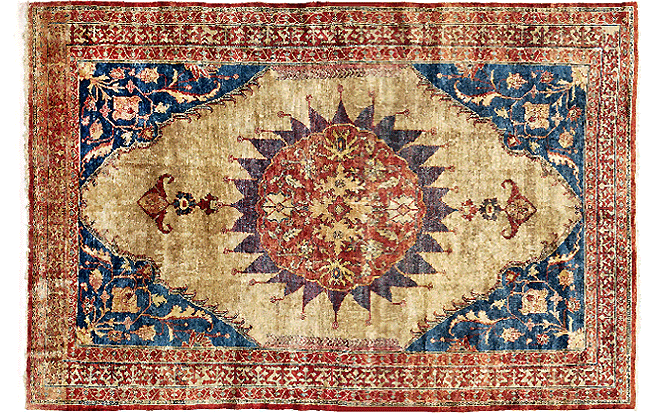 A Silk Heriz Rug - North West Persia, Circa 1870 6ft. 1in. × 4ft. 4in. (185 cm. x 131 cm.)
Estimate GBP 8,000 - GBP 12,000 | Price realised GBP 10,000 Christie's London
As in the case of the more-refined Tabriz rug, it was not until 1880 and afterward, that production was increased to meet the steadily-growing western, mostly US, demand. The Heriz rug has continually gained in popularity in the west over the last hundred years due not only to the attractive handsome design and much-touted longevity and durability of the wool but the investment-potential in owning a substantial rug that is likely to continue to appreciate in value over time. It is not uncommon to find 19th-early 20th century examples of Heriz carpets in very good condition offered for sale by the major auction houses in both the United States and Europe.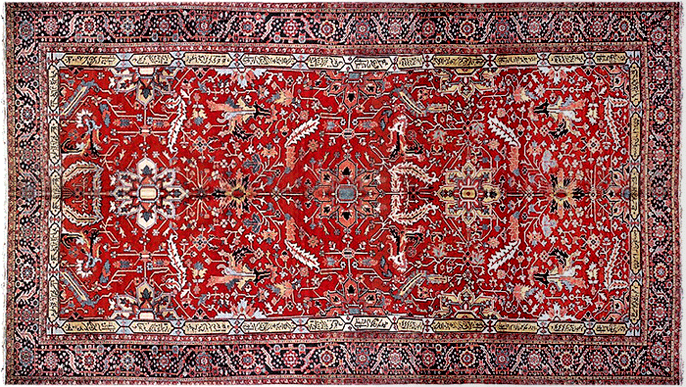 This large, richly-decorated Heriz carpet, circa 1900, was recently sold at auction by Christie's in London.
Nejad Rugs is a member of the Oriental Rug Importers Association and is a manufacturer, importer and designer of an extensive line of new and antique oriental rugs including several Heriz rugs in an array of sizes and colors.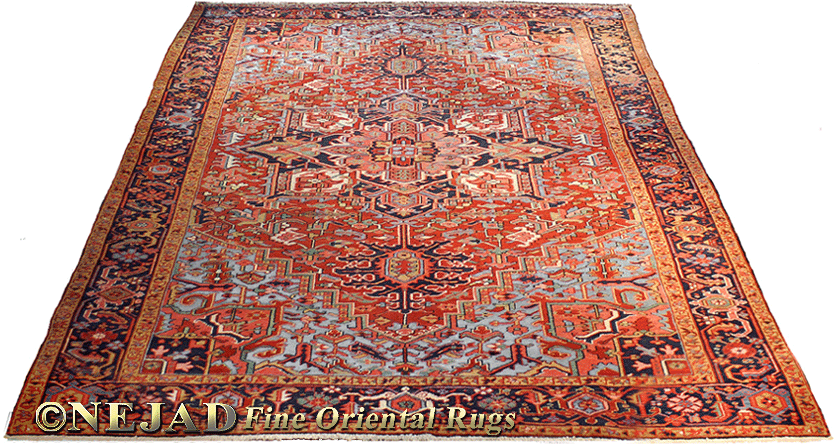 SOLD. This large-size spectacular antique Persian Heriz carpet was recently sold by Nejad Oriental Rugs of Doylestown, PA.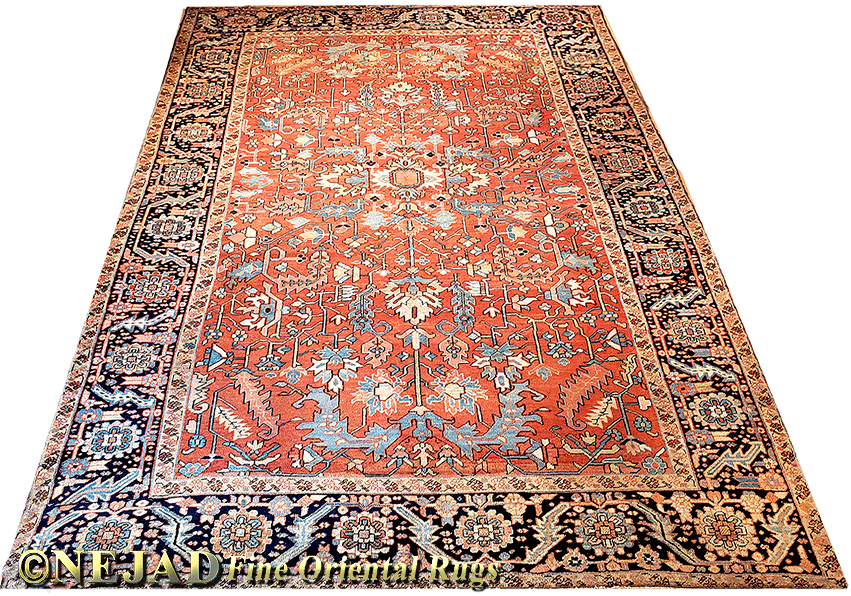 Yet another genuine Persian Heriz carpet of exceptional quality approx: 9 ft. × 12 ft. - Nejad Rugs of Doylestown, Bucks County, PA
Currently Nejad is offering the following antique Persian Heriz rugs for sale:
#987497 Antique Heriz | #987915 Antique Heriz | #987929 Antique Heriz | #987446 Persian Heriz c. 1920 | #13461 Antique Heriz

About: Tabriz Antique Rugs | Heriz Antique Rugs | Mashhad Antique Rugs | Sarouk Antique Rugs | Kashan Antique Rugs
Kerman Antique Rugs | Serapi Antique Rugs | Bidjar Antique Rugs | Karabagh Antique Rugs | Kazak Antique Rugs
Turkeman Antique Rugs | Kurdish Antique Rugs | Farahan Antique Rugs | Darjazin-Hamadan Antique Rugs
Hereke Antique Rugs | Akstafa Antique Rugs | Mudjar Antique Rugs | Chichi Antique Rugs | Dagestan Antique Rugs
Senneh Antique Rugs | Shirvan Antique Rugs | Beluch Antique Rugs | Peking Antique Rugs | Qum Antique Rugs
Nain Persian Rugs | Ming Chinese Rugs | French Aubusson Antique Tapestry