About Persian Kashan Antique Oriental Rugs
Overview
The city of Kashan in North Central Iran, with a population of approximately ¼ million, is the capital of Kashan County in Isfahan Province. Internationally famous both for the manufacture of carpets and the style of rug that bears its name, Kashan - once known in the 17th and early 18th century for hand-producing Persian carpet at Royal workshops - today houses most of Iran's mechanized carpet-weaving factories. According to L. M. Helfgott Ties That Bind Kashan became a major carpet center from 1870 - 1914 and that in the mid-to-late 19th century there was a transition in the textile market and the local industry went from the production of fine wool cloth for the garment industry - to the production of fine wool carpets.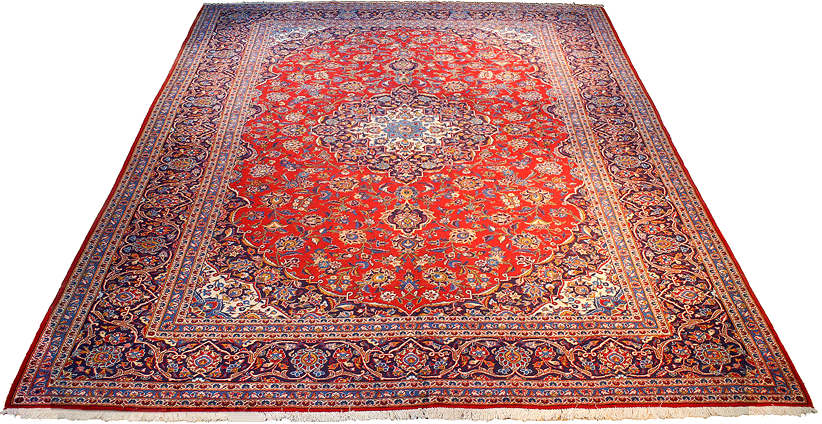 Nejad offers this magnificent 10' × 13½' finely-woven carpet produced in the city of Kashan around the turn of the 20th century.



Nejad's 4½' × 7' Garden of Paradise Persian Kashan carpet c. 1920 featuring the Tree Of Life motif - now available!
The Kashan Rug Style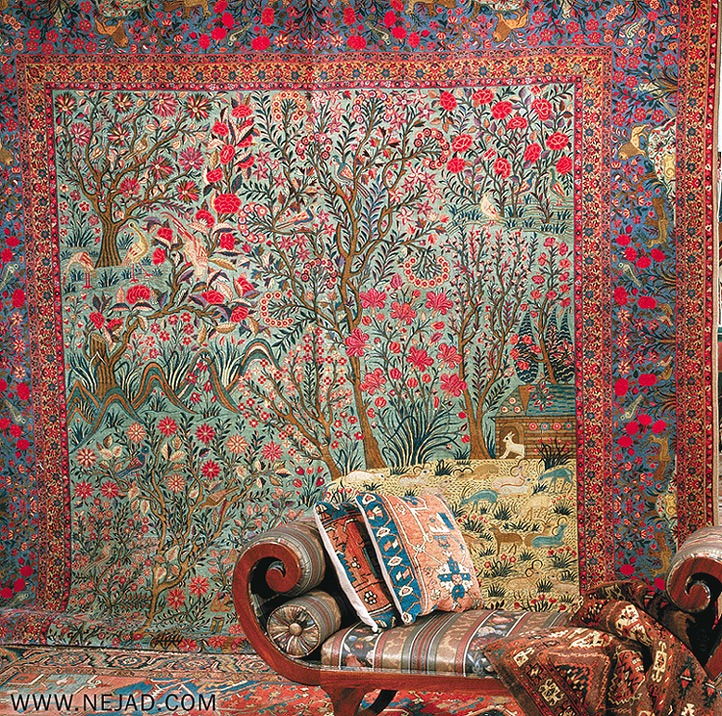 This unique 10' × 13' treasured heirloom Kashan Dabir Rug circa 1920 is from the Nejad family private collection.
The Kashan Rug Style - the typical theme for Kashan carpets - according to Walter A. Hawley in Oriental Rugs Antique and Modern, consists of "fields of graceful foliated stalks and floral forms resting on concentric medallions. with a fine firm texture of weave, short velvety nap and dark rich colours." He goes on further to state that "Kashan is the best of the Perisan rugs with the closest and finest woven texture." It could also be said that Kashan rugs are the most conservative of all Persian carpet designs and adhere more-consistently to a traditional format. All sizes of rugs were made there including large rugs (10' × 13' and larger) that featured, until 1930, the superior-quality wool sourced from Manchester, UK - typically with a knot density of 200 - 250 KPSI using the Persian-type asymmetrical knot.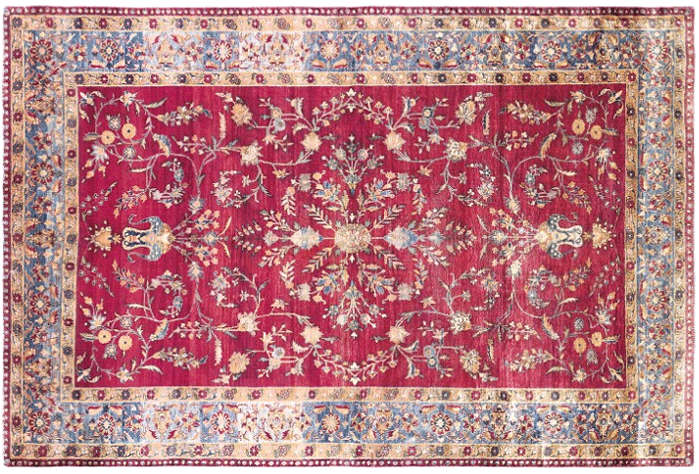 A very fine 6' 9" × 4' 5" Silk Kashan Rug Circa 1900 - Christie's.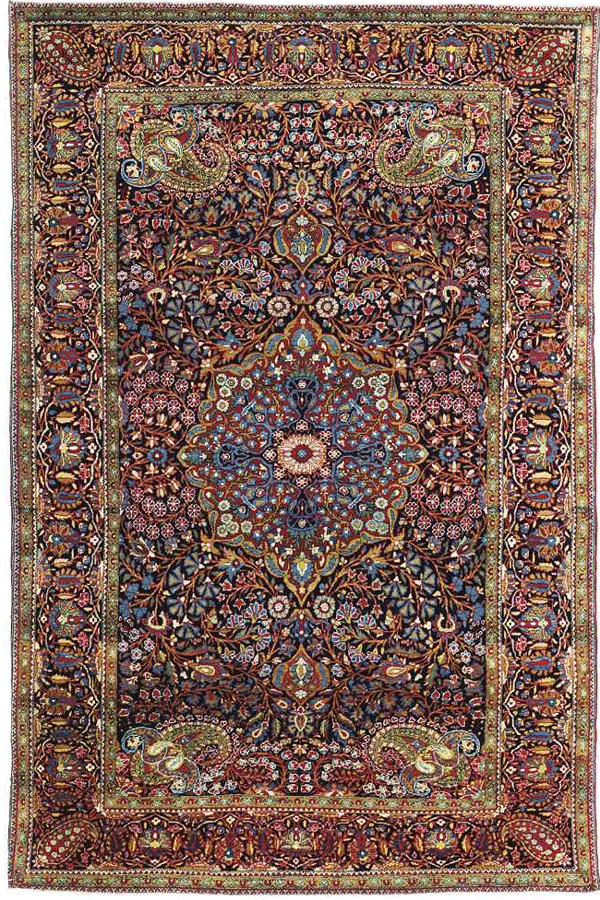 A Kashan Rug, Central Persia, circa 1910 - 6 ft. 7 in. x 4 ft. 4in. (201cm. x 132cm.)
Overall good condition; Estimate: 2,500 - 3,500 GBP Price realised: 3,250 GBP - Christie's
Kashan
Surrounded by the snow-covered Karkas mountain range to the west, and the expansive Maranjab Desert to the north & east, the landscape of Kashan is a study in extreme - though impressively scenic - contrasts. A popular tourist destination, Kashan and nearby Abyaneh (to the south) feature ancient villages with a number of beautiful homes dating from the 18th and 19th century - some having been transformed into museums or even a World Heritage Site. The 300 year-old Bagh-e Fin Garden (pictured below) is one of the most famous of these and features the near-perfect merging of lush landscape and spectacular architecture.
Consumer Notes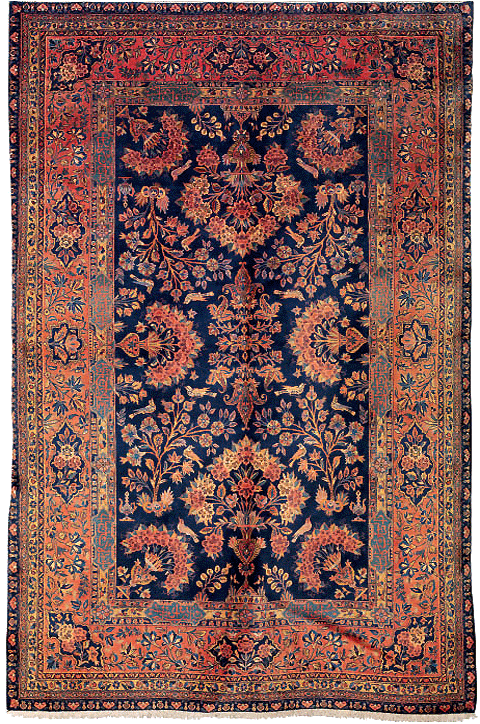 A Manchester Kashan Rug, Central Persia, circa 1910 - 9 ft. 1 in. x 5 ft. 11in. (276cm. x 180cm.)
Very good condition - Estimate: 6,000 - 8,000 GBP; Price realised: 7,500 GBP - Christie's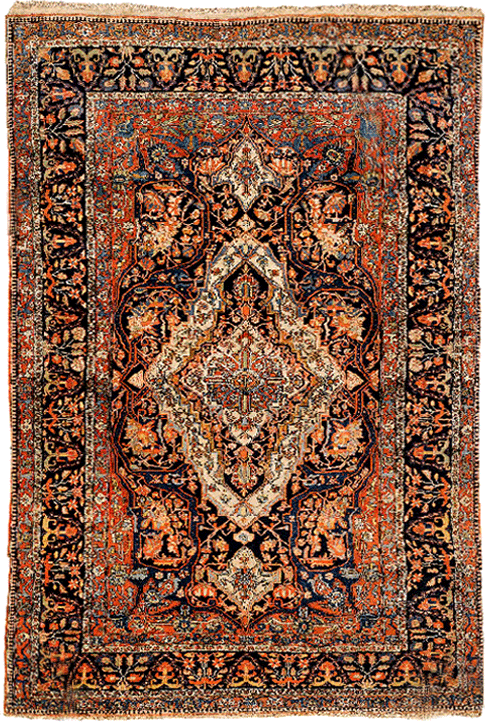 A 'Mohtashem' Kashan rug, Central Persia, circa 1900 - approx. 7ft. 2in. by 4ft. 7in (217 by 138cm.)
Estimate: 4,000 - 6,000 GBP: LOT SOLD: 7,500 GBP - Sotheby's UK: Greenford Park
Recent examples of Kashan antique rugs that have appeared in Sotheby's Fine Oriental Rug auctions include a Late 19th-century Mohtasham Kashan Carpet measuring 15' 11" × 12' 1" as well as a larger-sized, circa 1910, Kashan Kurk Carpet measuring 17' 1" × 10' 1" (note: Mohtashem refers to the name of the workshop while Kurk refers to the type of wool). Though now produced in a variety of places, some of the best Kashans today are from Ardistan, while excellent ones are also produced in Yezd and Kashmar, Khorasan. There are three distinct grades of Kashan starting from the Bazaar quality to the high-end ultra-fine examples (400+ KPSI typically in smaller sizes and silks) - higher knot densities making possible a finer, wider variety of detail (angles, curves etc).

This finely-woven highly-detailed antique Persian Kashan carpet is currently being offered by Nejad Rugs of Doylestown, PA.
Currently Nejad is offering the following antique Kashan rugs for sale:
#3982 Kashan | #987486 Kashan | Dabir Kashan | #22345 Manchester Kashan | #987584 Kashan
#2448 Garden of Paridise Kashan

About: Tabriz Antique Rugs | Heriz Antique Rugs | Mashhad Antique Rugs | Sarouk Antique Rugs | Kashan Antique Rugs
Kerman Antique Rugs | Serapi Antique Rugs | Bidjar Antique Rugs | Karabagh Antique Rugs | Kazak Antique Rugs
Turkeman Antique Rugs | Kurdish Antique Rugs | Farahan Antique Rugs | Darjazin-Hamadan Antique Rugs
Hereke Antique Rugs | Akstafa Antique Rugs | Mudjar Antique Rugs | Chichi Antique Rugs | Dagestan Antique Rugs
Senneh Antique Rugs | Shirvan Antique Rugs | Beluch Antique Rugs | Peking Antique Rugs | Qum Antique Rugs
Nain Persian Rugs | Ming Chinese Rugs | French Aubusson Antique Tapestry