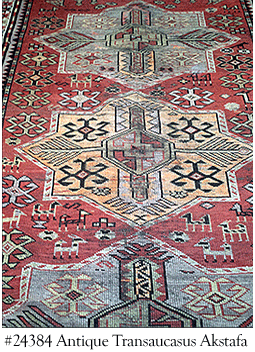 Akstafa Transcaucasus Antique Oriental Rugs
Overview
Akstafa Rugs are one of the sub-categories of the broader category of Caucasian Rugs - sometimes classified with the Shirvan group - and originate from the region (southwest Shirvan) of Azerbaijan in the eastern Caucasus in the proximity of the Caspian Sea. These loosely-woven tribal rugs are often colored in earthen or muted tones with blues, reds, oranges, browns, ivory and even black appearing in the decorative geometric motifs.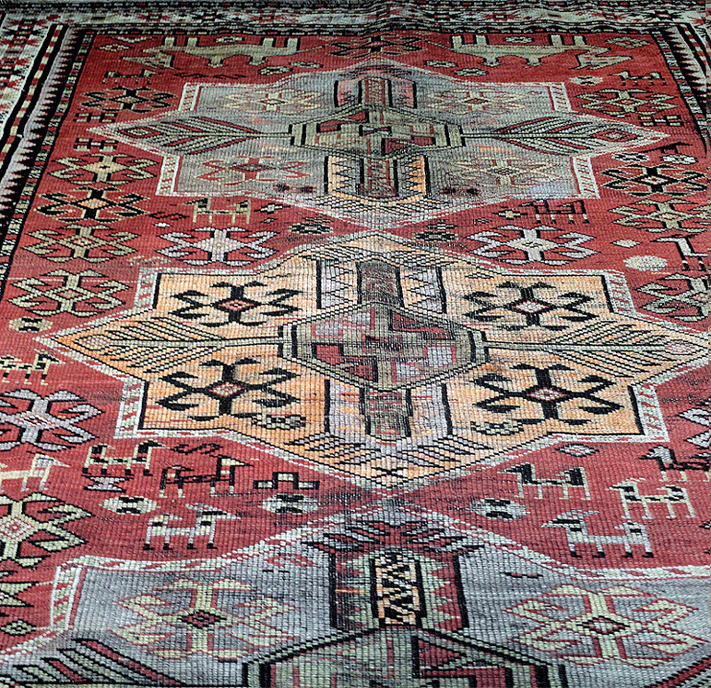 This decorative, large antique Transcaucasian Akstafa woven carpet is currently being offered by Nejad Rugs.
The Antique Akstafa Rug
Traditional Akstafa designs may typically include figures such as geometric-shaped birds inside the field of the rug or small cruciform hooked and/or diamond motifs within a large octagonal or star-shape medallion(s), typically bordered by small geometric flower patterns, animal figures or a combination of design elements. They are woven with the Turkish knot and although they are similar to Shirvan rugs they are often distinguished by a unique geometric peacock-like motif.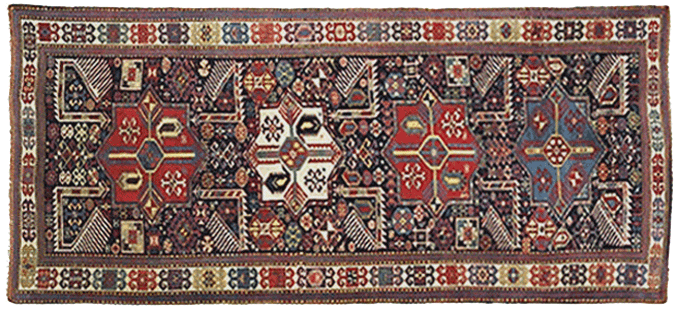 The heraldic emblem-like medallions imbue this Akstafa carpet, offered by Christie's, with a royal character.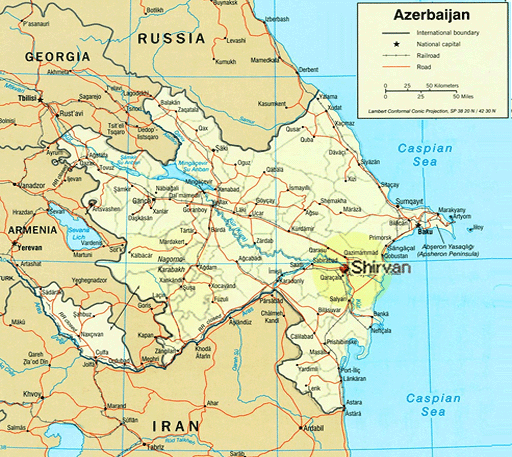 The Rug-Producing Region of Shirvan
The area of Shirvan, where the Akstafa rugs were reportedly made, is a historically-significant, industrially and agriculturally-developed region in the eastern Caucasus stretching between the western shores of the Caspian Sea and the Kura River and is centered on the Shirvan Plain in the Republic of Azerbaijan.
Consumer Notes
The antique Akstafa carpets have a woolen warp and weft with a wool pile and are loosely woven with the Turkish knot. Akstafa rugs have notable similarities to Shirvan - especially in the color palettes used. These rugs are also notable for their size - a ratio of 3:1 length to width is common.
One further note: the assignation or attribution in many cases may be a best-guess proposition especially in the case of older rugs, or rugs that are 100 years of age or more, and secondly, the similarities that exist between some Caucasian rugs, in general, can make the task of identifying the exact place of origin of a rug a challenge. Inconsistencies are observable, for instance Christies lists (at different times) Akstafa rugs originating not only from the Eastern Caucasus, but also Southern Caucasus.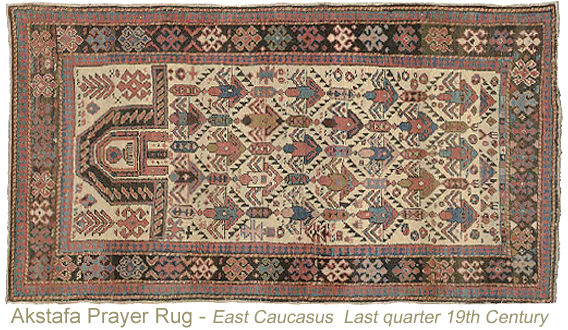 Currently Nejad is offering the following antique Akstafa carpets for sale: #24384 Akstafa


About: Tabriz Antique Rugs | Heriz Antique Rugs | Mashhad Antique Rugs | Sarouk Antique Rugs | Kashan Antique Rugs
Kerman Antique Rugs | Serapi Antique Rugs | Bidjar Antique Rugs | Karabagh Antique Rugs | Senneh Antique Rugs
Bakhtiari & Antique Bakhtiari Rugs | Nain and Antique Nain Persian Rugs | Ziegler Mahal Antique Persian Rugs
Esfahan & Antique Esfahan Rugs | Qum Antique Rugs | Farahan Antique Rugs | Darjazin-Hamadan Antique Rugs
Hereke Antique Rugs | Akstafa Antique Rugs | Antique Gharajeh Rugs | Chichi Antique Rugs | Mudjar Antique Rugs
Kazak Antique Rugs | Shirvan Antique Rugs | Beluch Antique Rugs | Peking Antique Rugs | Kurdish Antique Rugs
Turkeman Antique Rugs | Dagestan Antique Rugs | Flemish Antique Tapestry | Antique Ming Chinese Rugs
French Aubusson Antique Tapestry - after Francois Boucher