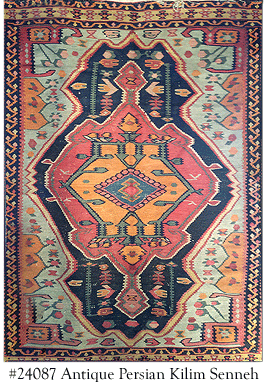 Antique Senneh Oriental Rugs
Overview
Senneh rugs - also spelled Senna - are hand-woven carpets made by the Kurdish peoples (Kurds) who reside in or around the town of Senneh (now Sanandaj) in the province of Khordestan (Kurdestan) in western/northwestern Iran. These pile rugs and kilims, probably the most-sophisticated of the Kurdish rugs, are prized for their delicate motifs and color palettes as well as for their fine weave - among the most finely woven of Persian rugs (with knot counts up to 400 per square inch).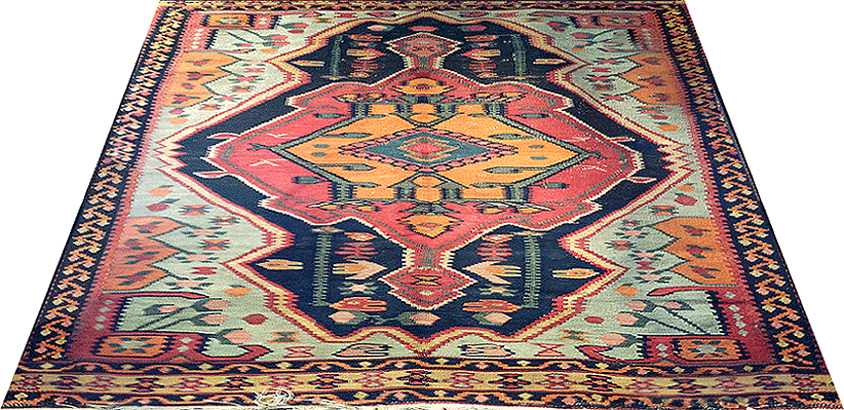 This unique and charming antique Persian Senneh Kilim is currently being offered by Nejad Rugs of Doylestown, Bucks County.
Antique Senneh Rugs and Kilims
The typical design scheme of the Senneh carpet may consist in the use of a geometric or hexagonal-shaped centerpiece medallion, a repeated all-over pattern i.e. Herati, or in the implementation of an iconic figure i.e. Boteh encompassing the entire field of the rug. The Senneh kilim is a slit tapestry (when two wefts meet repeatedly without dovetailing or interlocking) featuring bold, geometric designs with finely-detailed borders continuing around the edges, otherwise considered rare for such weavings. A sampling of the range of diversity found in these carpets can be seen in the examples of fine antique pieces sold at auction by Christie's and Sotheby's (as seen below).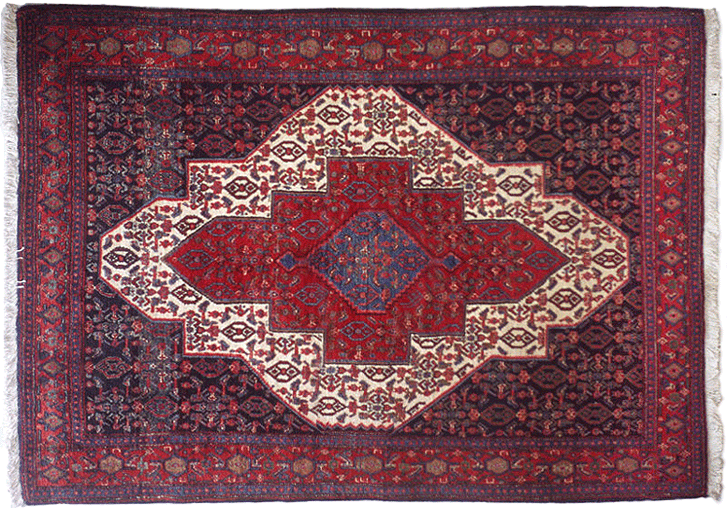 A Senneh carpet with diamond medallion and strong geometric composition - sold at auction by Christie's.

A Senneh Rug West Persia circa 1880 - 6' 8" × 4' 5"
Est. 5000 - 7000 GBP Oriental Rugs & Carpets 7 October 2014 Christie's London

A Senneh Carpet, West Persia circa 1890
approx. 11ft. 5in. by 8ft. 6in.; 349 by 259cm Est. 6,000 - 8,000 GBP [Sotheby's]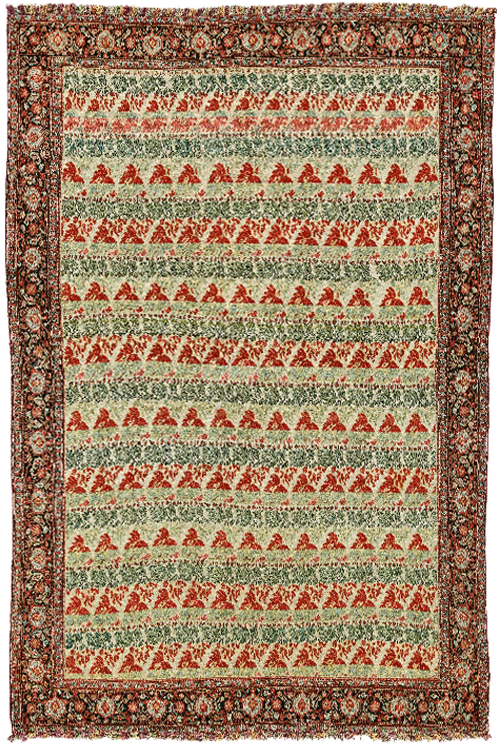 An Unusual Senneh Rug, West Persia - Third quarter 19th century
6ft. 8in. by 4ft. 6in.; 202 by 137cm. Est. 15,000 - 20,000 GBP
Rugs and Carpets 07 november 2017 | 2:30 PM GMT Sotheby's London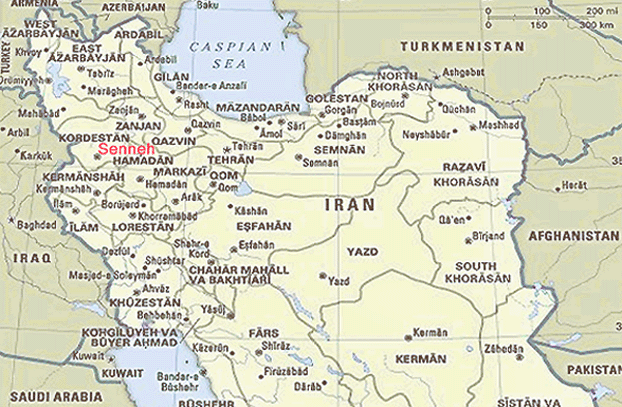 Map showing Senneh (Sanandaj), Kordestan in western/northwestern Iran.
The Rug-Producing Region of Sanandaj
Sanandaj (Senneh), primarily populated by Kurdish people, is the capital of the Kurdistan Province of Iran and is also considered the capital of Kurdish culture. With a population of nearly 400,000, Sanandaj is the 23rd largest city in Iran. The economy is based upon the production of carpets - including the weaving of cotton, as well as animal hide processing, grain and sugar milling and wood and metal fabrication.
Consumer Notes
A typical Senneh carpet may be seen with a patterned field consisting of traditional figures such as herati, boteh or vekili, and may feature a single geometric medallion, or several, one inside the other, rendered in a repeating pattern - each repetition with a different ground colour. Another type of Senneh (seen here, below) - ostensibly produced for export to the European market - featured naturalistic - even realistic - bundles of flowers rendered in richly-colored palettes.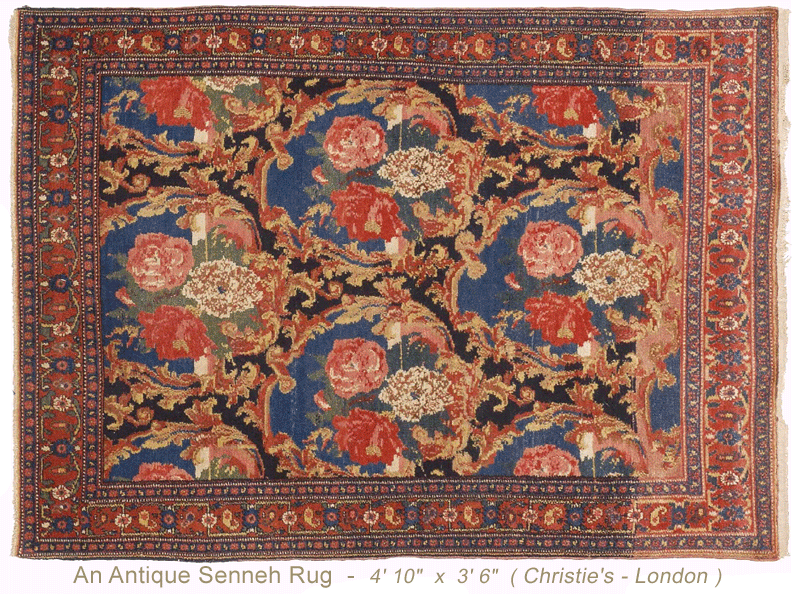 Nejad Rugs is a designer, manufacturer and importer of Oriental, antique Oriental and contemporary rugs
and is a member of ORIA - the National Association of Area Rug Importers.
Currently Nejad is offering the following antique Senneh carpets for sale: #24087 Kilim Senneh c. 1930


About: Tabriz Antique Rugs | Heriz Antique Rugs | Mashhad Antique Rugs | Sarouk Antique Rugs | Kashan Antique Rugs
Kerman Antique Rugs | Serapi Antique Rugs | Bidjar Antique Rugs | Karabagh Antique Rugs | Senneh Antique Rugs
Bakhtiari & Antique Bakhtiari Rugs | Nain and Antique Nain Persian Rugs | Ziegler Mahal Antique Persian Rugs
Esfahan & Antique Esfahan Rugs | Qum Antique Rugs | Farahan Antique Rugs | Darjazin-Hamadan Antique Rugs
Hereke Antique Rugs | Akstafa Antique Rugs | Antique Gharajeh Rugs | Chichi Antique Rugs | Mudjar Antique Rugs
Kazak Antique Rugs | Shirvan Antique Rugs | Beluch Antique Rugs | Peking Antique Rugs | Kurdish Antique Rugs
Turkeman Antique Rugs | Dagestan Antique Rugs | Flemish Antique Tapestry | Antique Ming Chinese Rugs
French Aubusson Antique Tapestry - after Francois Boucher