About Persian Sarouk Antique Oriental Rugs
Overview
The first World Oriental Carpet Exhibition of 1891 in Vienna represents the growing familiarity - both in Europe and throughout the west, especially America - with the hand-woven form of textile art known as the Persian rug. The popularity of any consumer product, however, hinges upon its continued availability (Supply and Demand), so when local supply started to dwindle, replenishment involved something of a mideast-west joint-venture to manage production, shipping and marketing. An influx of British and American firms enlisted local carpet producing facilities for the mass-production of the popular styles of Persian rugs to be sold in the west. By 1883 the British-Swiss company Ziegler & Co had set up offices in Sultanabad - now Arak - the hub of the major rug-producing area which included a small village by the name of - Saruq.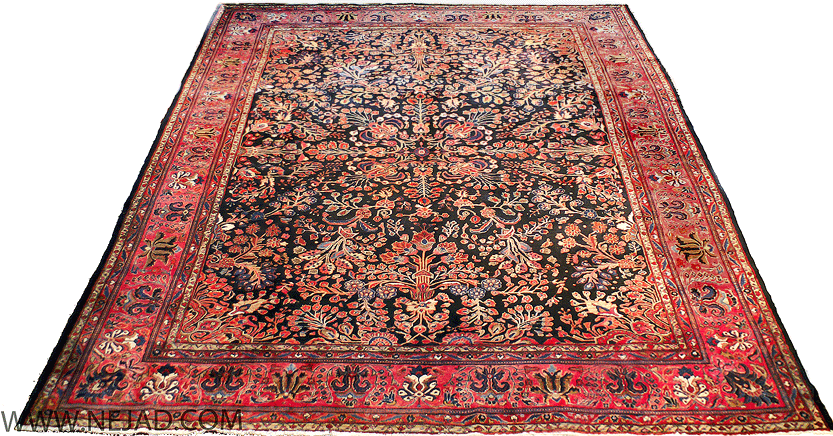 An exquisite example of a large, richly-decorated, Sarough hand-knotted wool carpet produced around the turn of the 20th century.
The Sarough Rug Style
The Sarouk, or Sarough, Rug Style - the typical theme for Sarough carpets - known to the western market as an American Sarouk (not the same as the traditional Sarough) design, consists of loosely-connected richly-colored, opulent floral sprays which radiate symmetrically-outward from a medallion-like central figure - all rendered on a background-field of salmon red. This large, lush, well-wearing and decorative carpet certainly proved to be a successful entry into the American rug-buying market and continues to be a popular choice today.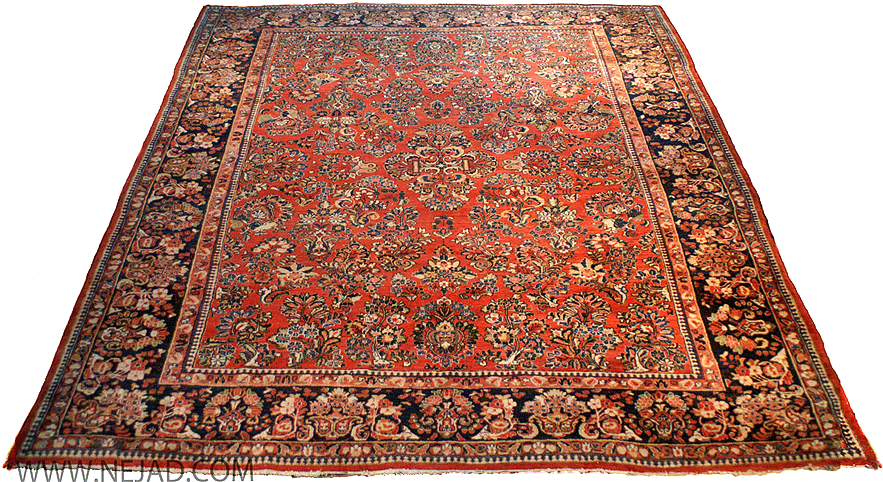 Another large classic-design hand-knotted wool genuine Persian antique Sarouk carpet 8' 8" × 11' 8" c. 1920 - Nejad stock #22200.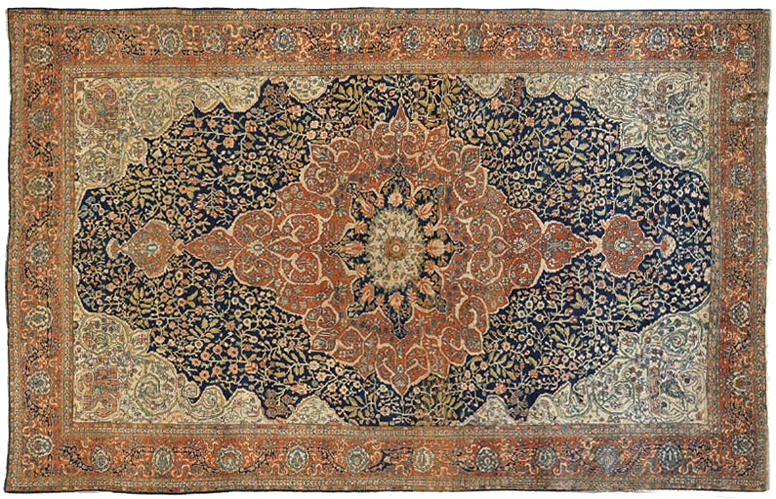 A Sarouk Carpet, West Persia, Circa 1890 19 ft. 6 in. x 12ft. 3in. (592cm. x 373cm.) Christie's, London
The indigo field filled with leafy flowering vine encircling a cusped rust-red medallion with scrolling arabesques and flowering vine around an indigo cusped floral centrepiece, a rust-red pendant above and below, the cusped ivory spandrels similar, in a rust-red rosette and flowering vine border between narrow ivory, rust-red and soft green floral meander minor stripes, a short kilim strip at one end, full pile throughout, overall excellent condition.

Sale 6897 - Oriental Rugs and Carpets - 29 April 2004; Estimate: 5,000 - 8,000 GBP; Price realised: 12,548 GBP;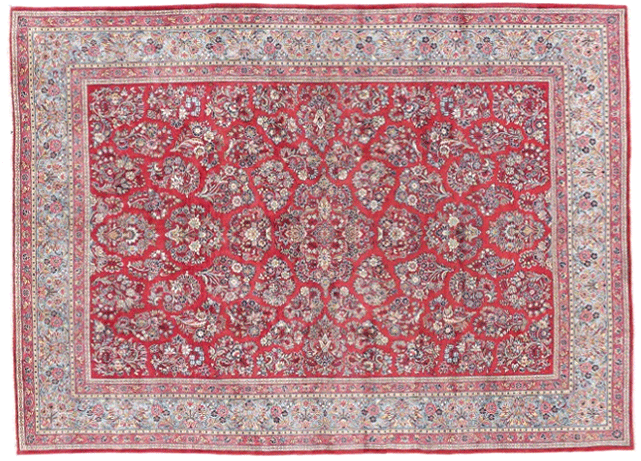 A fine 13' 2" × 9' 10" floral Sarouk carpet that was sold at Christie's auction house in London.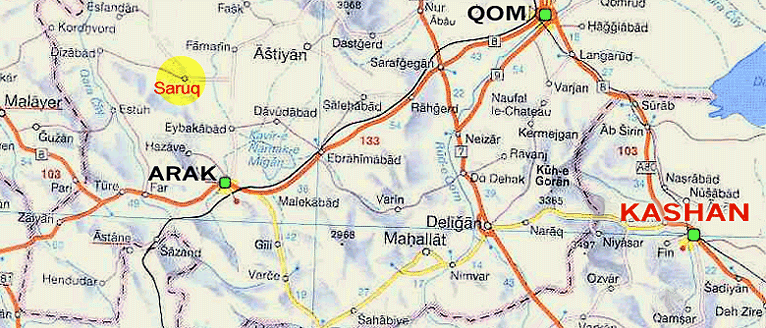 Saruq is located approximately 30 miles north of Arak in Markazi Province with a population of just over 2000.
Saruq, Iran
Yes, Saruq, also known as Qal'ehye Saruq, Qal'ehye Bala, Qal'ehye Bala Saruq, Saruqi and even Surakh, is the same place that the rugs otherwise known as Sarough, Sarouk or Saruk, have been produced for well over a hundred years. The village itself, with a population of just over 2000, is the capital city of Saruqi - or Saruq District (the district population, including the city, is 8,000) - with a subdivision known as Saruq Rural District, in Farahan County, Markazi Province - whose capital city, formerly called Sultanabad and later known as Iraq e Ajam, is Arak. Some of the trade names - names/styles typically recognizable today - for the rugs produced in the Arak area include Ferahan (Feraghan / Fereghan), Sultanabad and Mahal: i.e. some early examples of Sarouks being similar in design to Ferahans (Sarouk-Ferahan) which were produced not far from where Sultanabads (also called Zieglers) were made - while different styles - i.e. Sarouk and Mahal - may be made in the same village etc.
Consumer Notes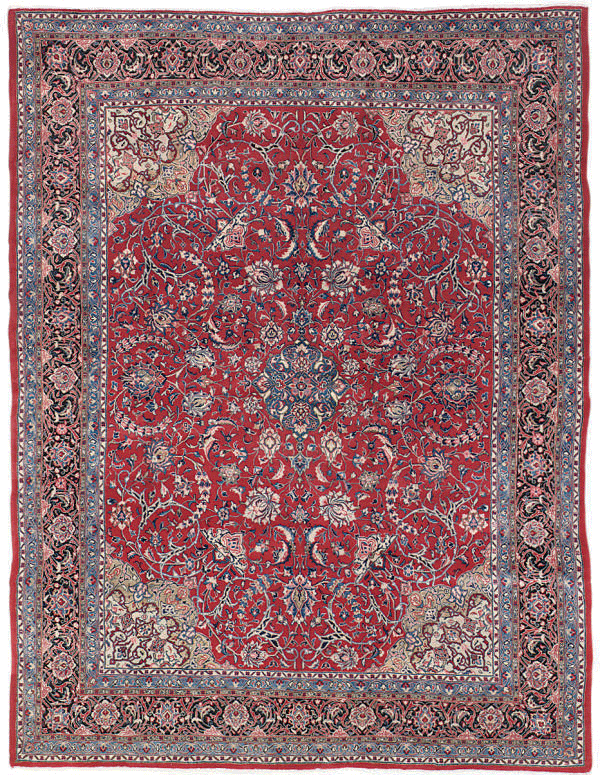 A Sarouk carpet approx: 10 ft. 5 in. x 8 ft. 1 in. (317cm. x 246cm.)
Estimate 600 - 1,000 GBP; Price realised 625 GBP; Christie's London.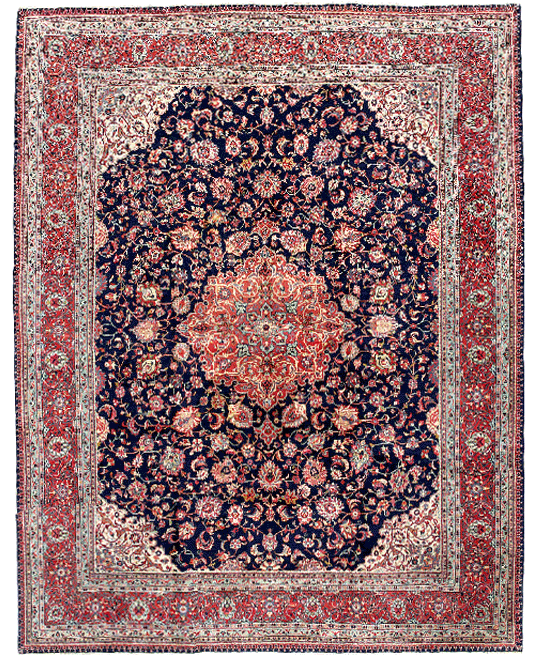 A Sarouk Carpet, West Persia, Circa 1940 approx: 13 ft. 7 in. x 10 ft. 8 in. (414cm. x 324cm.)
Estimate: 1,500 - 2,000 GBP; Price realised: 2,375 GBP; Christie's London.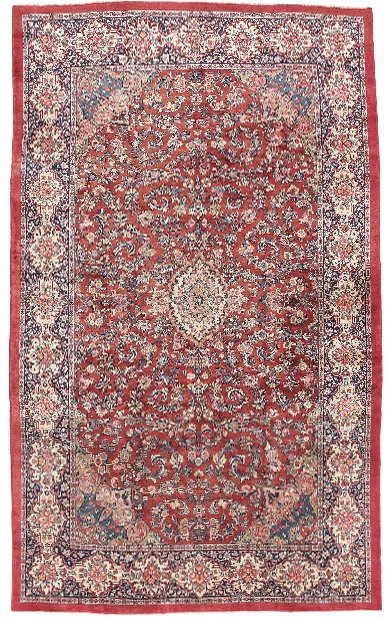 A Sarouk Carpet, West Persia, Circa 1940 approx: 17 ft. 3 in. x 10 ft. 7 in. (525cm. x 322cm.)
Estimate: 2,000 - 3,000 GBP; Price realised: 2,000 GBP; Christie's London.
An antique Sarough rug is considered to be one of the most-luxurious exceptional-quality examples of Persian carpet-making. Noted for their ability to withstand decades of wear, Sarouk rugs were made with a high quality, tough wool that is soft yet durable and feature a heavy, plush pile. Most were room-sized with central medallions and generally displaying floral motifs in multiple shades of ivories, ochres, oranges, greens and browns against a background field of indigo, cream or a pale and/or salmon red. Sarouk rugs can be geometric or curvilinear in pattern and are easily identifiable by their classic florid style - featuring classically-derived themes with some notable variation in individual design elements.

Currently Nejad is offering the following antique Sarough rugs for sale: #987588 Sarouk | #22200 Sarouk


About: Tabriz Antique Rugs | Heriz Antique Rugs | Mashhad Antique Rugs | Sarouk Antique Rugs | Kashan Antique Rugs
Kerman Antique Rugs | Serapi Antique Rugs | Bidjar Antique Rugs | Karabagh Antique Rugs | Senneh Antique Rugs
Bakhtiari & Antique Bakhtiari Rugs | Nain and Antique Nain Persian Rugs | Ziegler Mahal Antique Persian Rugs
Esfahan & Antique Esfahan Rugs | Qum Antique Rugs | Farahan Antique Rugs | Darjazin-Hamadan Antique Rugs
Hereke Antique Rugs | Akstafa Antique Rugs | Antique Gharajeh Rugs | Chichi Antique Rugs | Mudjar Antique Rugs
Kazak Antique Rugs | Shirvan Antique Rugs | Beluch Antique Rugs | Peking Antique Rugs | Kurdish Antique Rugs
Turkeman Antique Rugs | Dagestan Antique Rugs | Flemish Antique Tapestry | Antique Ming Chinese Rugs
French Aubusson Antique Tapestry - after Francois Boucher