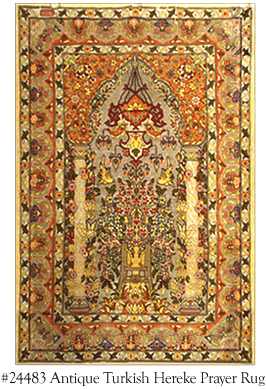 The Antique Turkish Hereke Oriental Rug
Overview
Hereke, a coastal city at the northern edge of Izmit Bay, near Istanbul, is the site of a Turkish royal carpet manufactory that flourished in the 19th century. Staffed with Persian weavers, Hereke produced beautiful, very-finely woven silk carpets of essentially Persian design with all-over floral patterns using metallic threads. These special carpets represent the pinnacle of the Turkish carpet weaving tradition.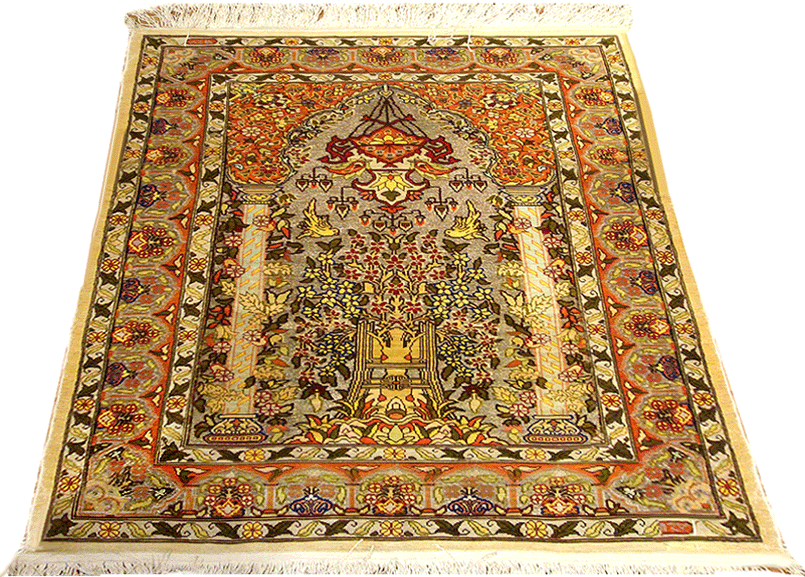 This exquisite, small antique Turkish Hereke woven silk prayer rug is currently being offered by Nejad Rugs.
Antique Hereke Carpets
Known not only for for their elegance and refinement of pattern but meticulous detail and construction these carpets - typically rendered in pastel colors incorporating cloud bands and flowers and/or leaves growing out of urns - could be compared to that of the Persian Kerman rug in appearance. The materials used in production were cotton, wool, silk, and sometimes gold and/or silver thread, with some rugs having a knot density of over 1 million knots per square meter (3 feet, 3.37 inches). A unique double-weft construction method, whereby each knot is tied a second time using a Turkish knot, made these carpets exceptionally durable.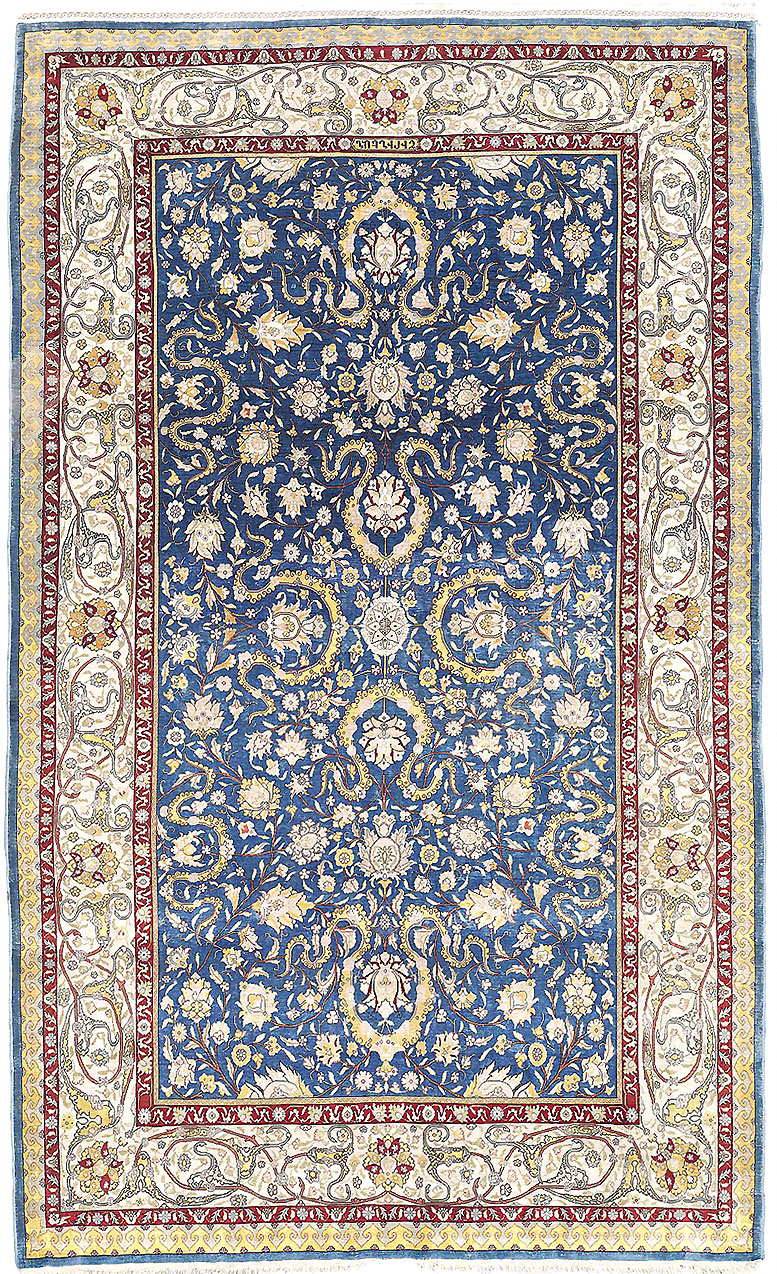 AN EXTREMELY FINE SILK HEREKE RUG, TURKEY CIRCA MID 20TH CENTURY, SIGNATURE 'SHIRINYAN'
approx: 5 ft. by 2 ft. 11 in. (152cm. x 89cm.)
Estimate GBP 3,000 - GBP 5,000 | Price realised GBP 5,625 [Christie's]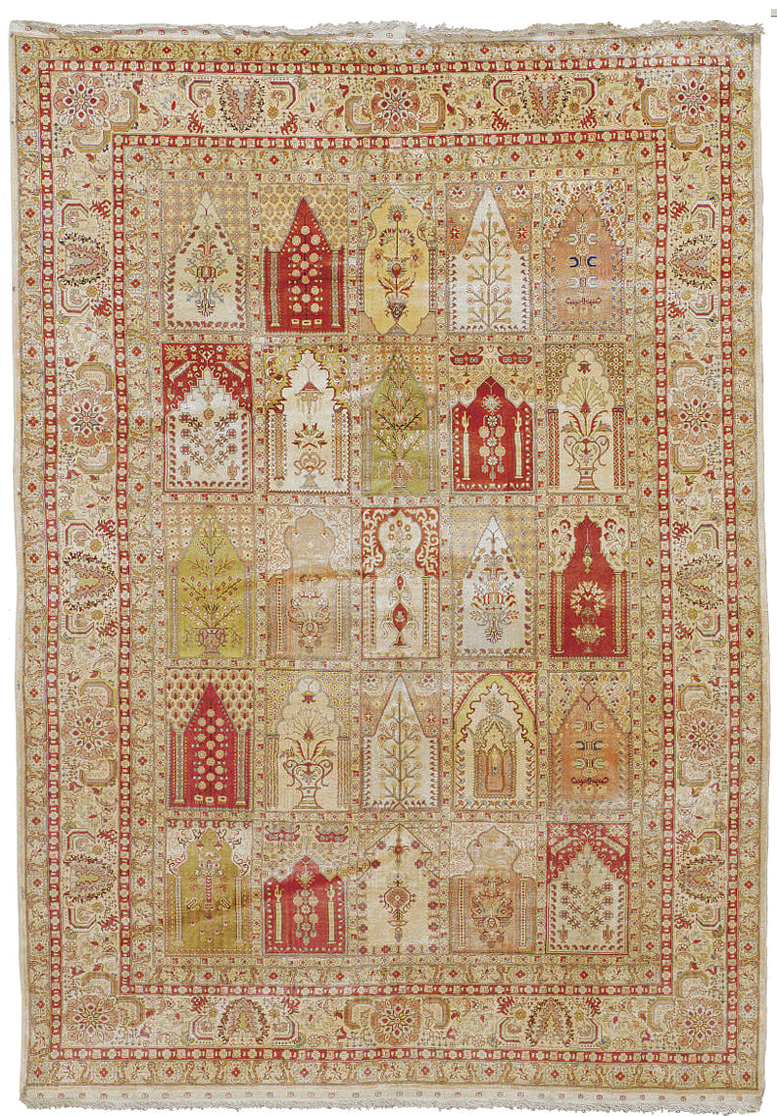 A SILK HEREKE RUG NORTHWEST ANATOLIA, CIRCA 1930
Approximately 9 ft. 11 in. by 6 ft. 10 in. (302 cm. x 208 cm.) With gold metallic highlights
Estimate USD 3,000 - USD 5,000 | Price realised USD 9,375 [Christie's]
The Rug-Producing Region of Hereke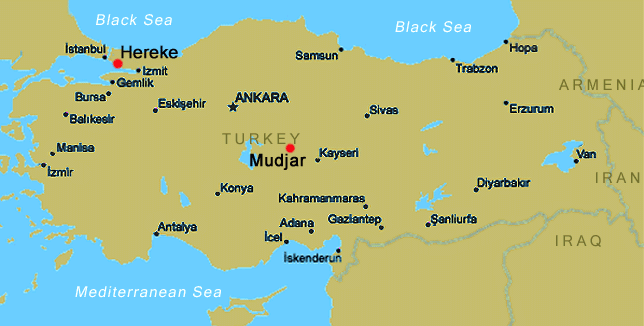 Hereke is a town in Kocaeli province, Turkey, located to the north of the Gulf of Izmit near Istanbul - famed for Hereke carpets. Hereke is a unique weaving center of approx. 20,000 people located at the northern edge of Izmit Bay, near Istanbul. Hereke is recognized for producing some of the finest hand-knotted carpets in the world. Sultan Abdulmecid, Ottoman Emperor, established the Hereke Imperial Factory in 1843 to produce carpets, fabric, upholstery and curtains exclusively for the Ottoman Court. Additionally, in 1920, a state-run carpet-making school was established.
Consumer Notes
According to expert Barry J. O'Connell the difference between a genuine Hereke silk rug and an imitation Chinese-made Hereke copy can be observed in the selvedge of the rug in 2 ways:
In the selvedge (or non-fringe edge of the rug) the Chinese copy has no visible seam while the original Hereke construction has a visible seam-line with a tangible width
The selvedge of the Chinese copy has a depth of only 1 cord while the original Hereke construction has a depth of 4 cords
An oversimplification of this method to detect the difference would be that the Chinese copy has no visible construction seams on the edges while the genuine Hereke does have a visible construction seamline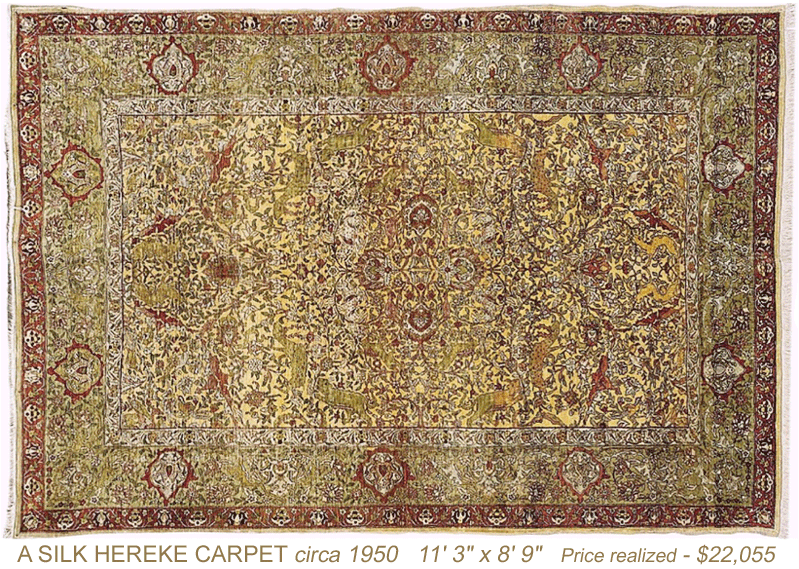 Currently Nejad is offering the following antique Hereke: #2274 Hereke
Nejad Rugs is a designer, manufacturer and importer of fine Oriental carpets
and is a member Of the Oriental Rug Importers Association.

About: Tabriz Antique Rugs | Heriz Antique Rugs | Mashhad Antique Rugs | Sarouk Antique Rugs | Kashan Antique Rugs
Kerman Antique Rugs | Serapi Antique Rugs | Bidjar Antique Rugs | Karabagh Antique Rugs | Senneh Antique Rugs
Bakhtiari & Antique Bakhtiari Rugs | Nain and Antique Nain Persian Rugs | Ziegler Mahal Antique Persian Rugs
Esfahan & Antique Esfahan Rugs | Qum Antique Rugs | Farahan Antique Rugs | Darjazin-Hamadan Antique Rugs
Hereke Antique Rugs | Akstafa Antique Rugs | Antique Gharajeh Rugs | Chichi Antique Rugs | Mudjar Antique Rugs
Kazak Antique Rugs | Shirvan Antique Rugs | Beluch Antique Rugs | Peking Antique Rugs | Kurdish Antique Rugs
Turkeman Antique Rugs | Dagestan Antique Rugs | Flemish Antique Tapestry | Antique Ming Chinese Rugs
French Aubusson Antique Tapestry - after Francois Boucher