About Antique Kazak Oriental Rugs
Overview
At the border of Europe and Asia, situated between the Black and the Caspian Seas, to the west and east respectively, and between Russia to the north and Iran to the south, is the area known as the Transcaucasus - the southern part of the vast Caucasus Mountain range - which includes Armenia, Georgia and Azerbaijan. Just about in the middle, in the northwest corner of Azerbaijan - the country (not the Iranian province) - is the city of Kazak - now Qazax (not to be confused with the country of Kazakhstan - which is on the other side of the Caspian Sea). And of the several subdivisions of the rugs that come under the heading of Caucasian - for the Caucasus Mountains - Kazak is the largest.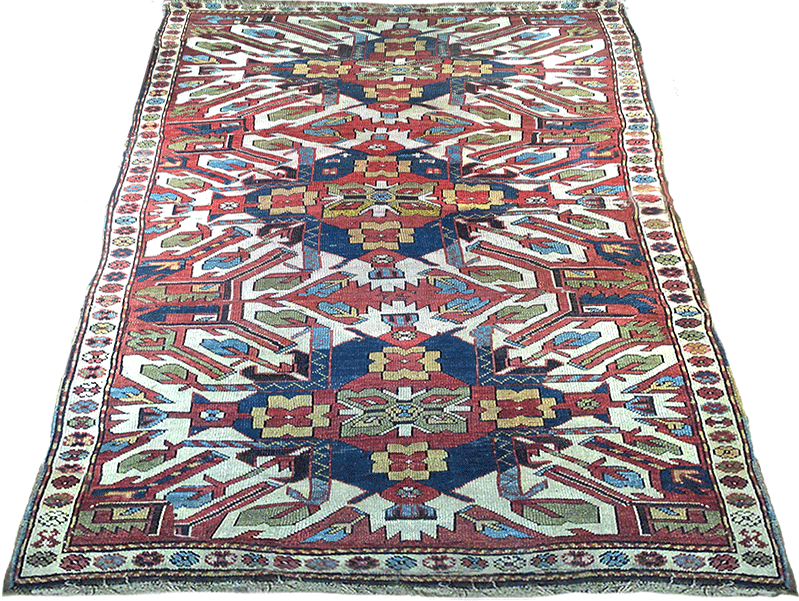 This antique Kazak carpet, a singularly outstanding example of Caucasian rugmaking, is currently being offered by Nejad Rugs.
The Kazak Rug Style
The rugs of the Transcaucasus region - woven using the Turkish symmetrical knot - typically display bold geometric designs in rich, highly-saturated primary colors often accompanied by iconic figures, birds or flowers, or strongly-linear and angular medallions. Known for their distinctive bright blues, reds and ivories as well as their casual appearance and extroverted character, the Kazak carpet may range from more-tribal to more-sophisticated and feature quite complex allover designs or elaborately decorated borders.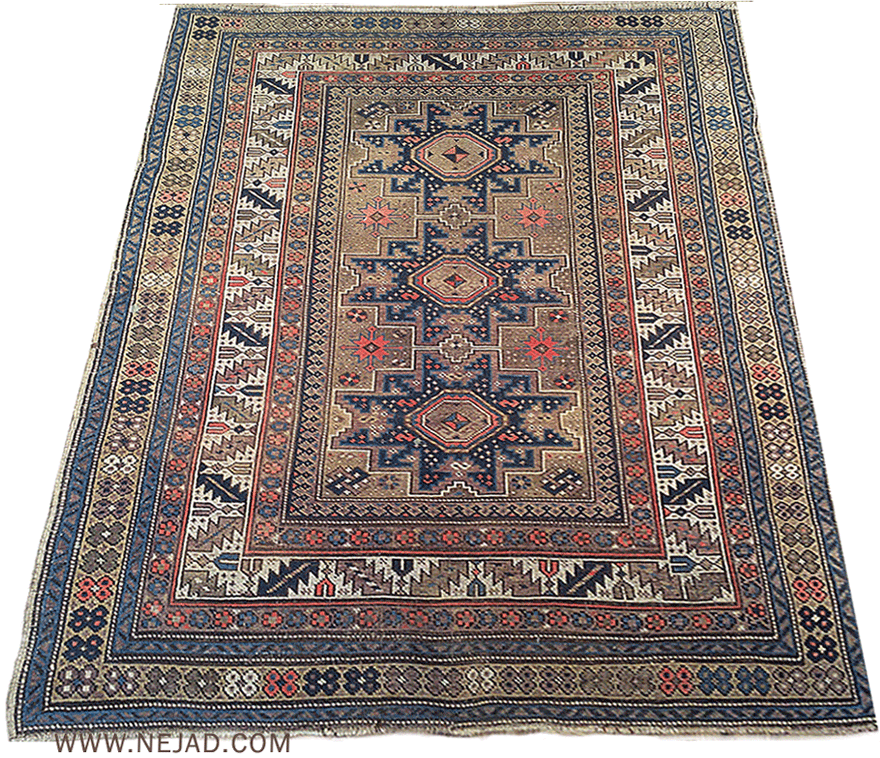 This finely-preserved, beautifully-detailed and understated Caucasian Kazak carpet Circa 1890 is currently being offered by Nejad.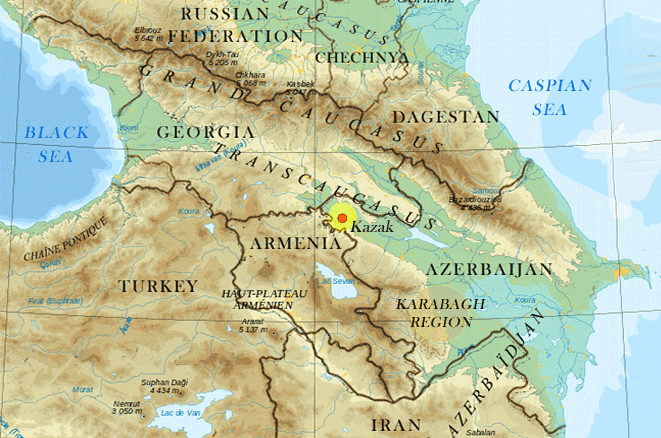 Caucasian rug production spans a wide and mountainous Transcaucasus region and features several different styles.
Kazak, Azerbaijan
Qazax (Kazak), the city, with a total population of approx. 20,000, is the capital of Qazax, the district (called a Rayon), with a total population of approx. 35,000, and sits in a high valley with an elevation of 1,250 feet sandwiched between the mountains of Georgia to the northeast, and Armenia to the southwest.
Antique Caucasian, including Kazak, rugs were primarily village productions woven by historically nomadic peoples from one of the most culturally diverse regions on earth - comprised of several ethnic groups and no less than three distinct language families. Owing to such a complicated milleau thus described, there hasn't necessarily been a definitive concensus as to which of these groups of people were actually making these rugs, but both the Azeri Turks and Armenian inhabitants of the Kazakh area were traditionally involved in rugmaking there.
Consumer Notes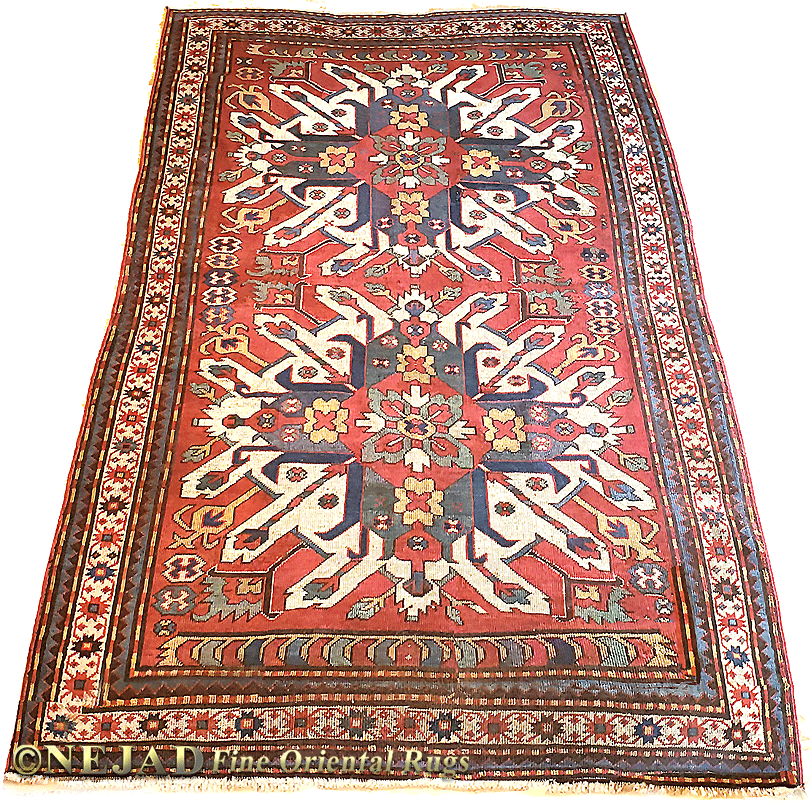 NEJAD #987933 ANTIQUE CAUCASIAN KAZAK CHELABRED - SIZE: 4' 8" × 6' 8" CIRCA-1880 EAGLE KAZAK-KARABAGH DISTRICT
Antique Kazak rugs are particularly sought after for their uniqueness and individual character as well as their authenticity as a uniquely created piece of textile art - whose value is generally determined by overall design appeal and color harmonization as well as condition. The selling price of an antique Caucasian Kazak rug in good condition can range from several hundred dollars for a more-common type to several thousand dollars for a truly one-of-a-kind piece.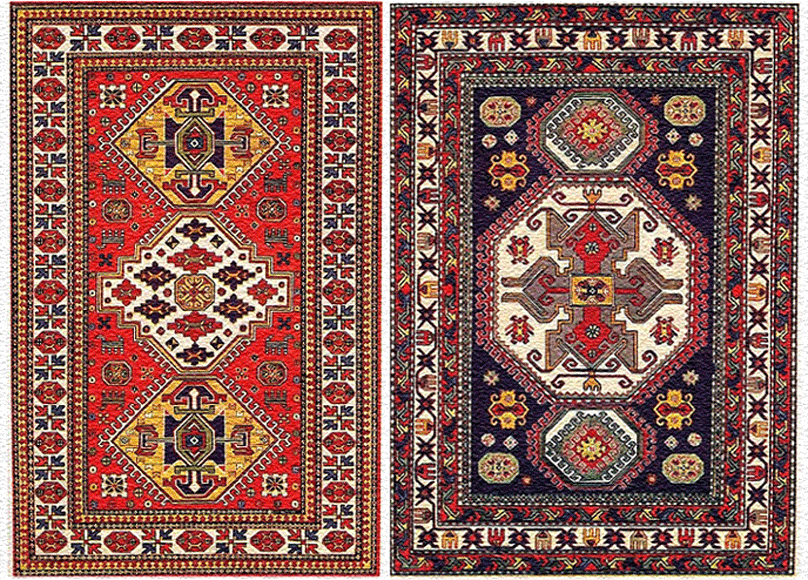 Exceptional examples of Caucasian Kazak rugmaking that feature sharply defined yet elegant, colorful geometric patterns.
From a home furnishing perspective, generally, Caucasian carpets can coordinate well in either a traditional or a contemporary setting.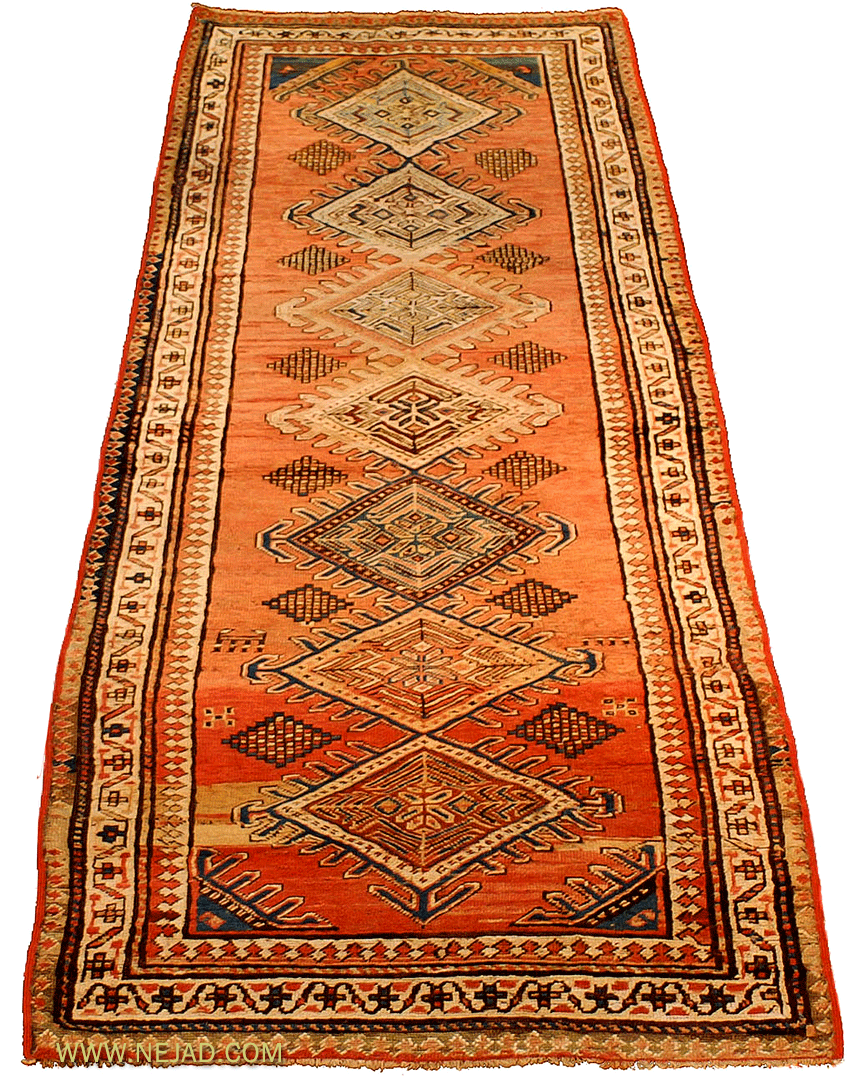 Another top-quality vintage Caucasian Kazak carpet circa 1900 currently being offered by Nejad Rugs of Doylestown, PA.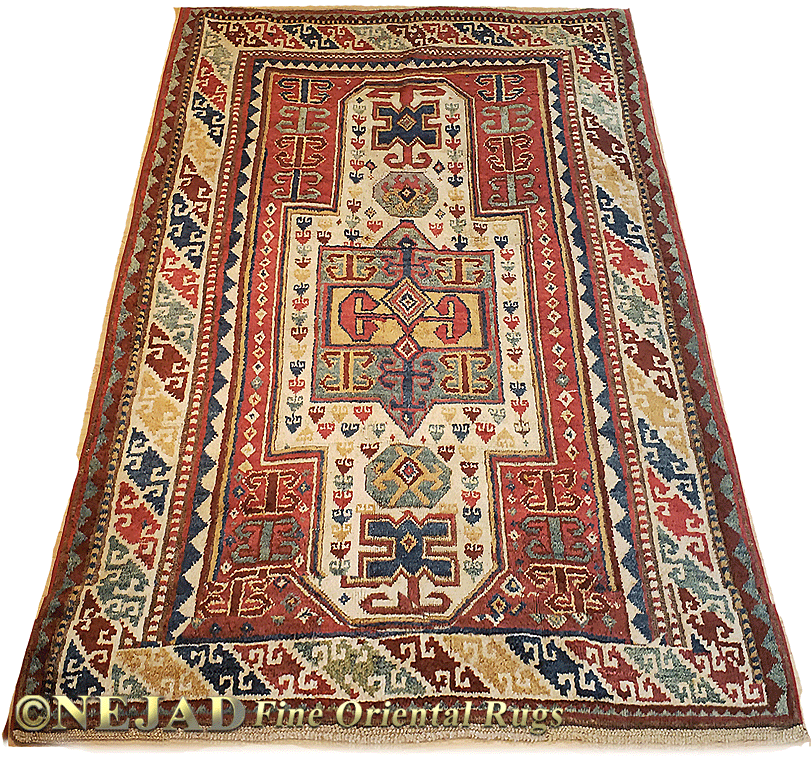 More Antique Rugs ... NEJAD #987932 ANTIQUE CAUCASIAN KAZAK BORDJALOU - SIZE: 4' 11" × 7' CIRCA-1890

Nejad Rugs is an ORIA (Oriental Rug Importers Asociation) member and is a designer, importer & manufacturer of fine Oriental rugs and a dealer and appraiser of fine antique Persian rugs and carpets.

Currently Nejad is offering the following antique Kazak rugs for sale:
#987574 Kazak | #23912 Kazak | #161716 Kazak | #987575 Kazak | Antique Kazak c. 1890


About: Tabriz Antique Rugs | Heriz Antique Rugs | Mashhad Antique Rugs | Sarouk Antique Rugs | Kashan Antique Rugs
Kerman Antique Rugs | Serapi Antique Rugs | Bidjar Antique Rugs | Karabagh Antique Rugs | Senneh Antique Rugs
Bakhtiari & Antique Bakhtiari Rugs | Nain and Antique Nain Persian Rugs | Ziegler Mahal Antique Persian Rugs
Esfahan & Antique Esfahan Rugs | Qum Antique Rugs | Farahan Antique Rugs | Darjazin-Hamadan Antique Rugs
Hereke Antique Rugs | Akstafa Antique Rugs | Antique Gharajeh Rugs | Chichi Antique Rugs | Mudjar Antique Rugs
Kazak Antique Rugs | Shirvan Antique Rugs | Beluch Antique Rugs | Peking Antique Rugs | Kurdish Antique Rugs
Turkeman Antique Rugs | Dagestan Antique Rugs | Flemish Antique Tapestry | Antique Ming Chinese Rugs
French Aubusson Antique Tapestry - after Francois Boucher