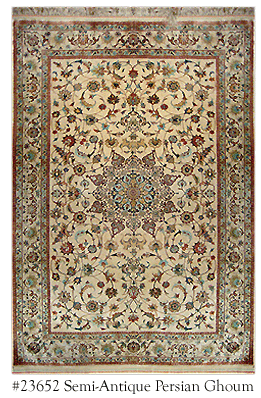 Antique Ghoum ( Qum ) Oriental Rugs
Overview
Qum rugs are typically made of very fine silk pile woven on a wool or cotton foundation and using a Persian type knot. These exclusive carpets are usually highly detailed due to the fineness of the silken thread resulting in ultra high knot densities - as high as one million knots per square meter.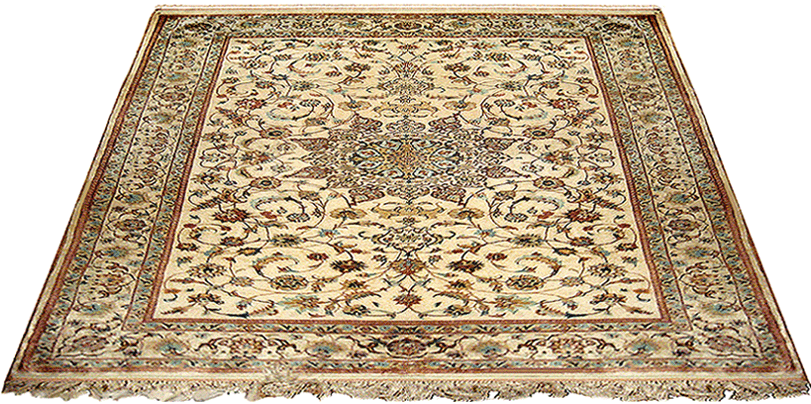 This beautiful, detailed and finely-balanced antique Persian Ghoum hand woven carpet is currently being offered by Nejad Rugs.
The Antique Qum Rug
Common themes found among the diverse archives of Qum carpets include the Tree of Life, pictorial and hunting scenes and floral and garden arrangements featuring botanical figures such as leaves, flowers and vines often consisting of elaborate and intricate concentric designs that can be visually stunning.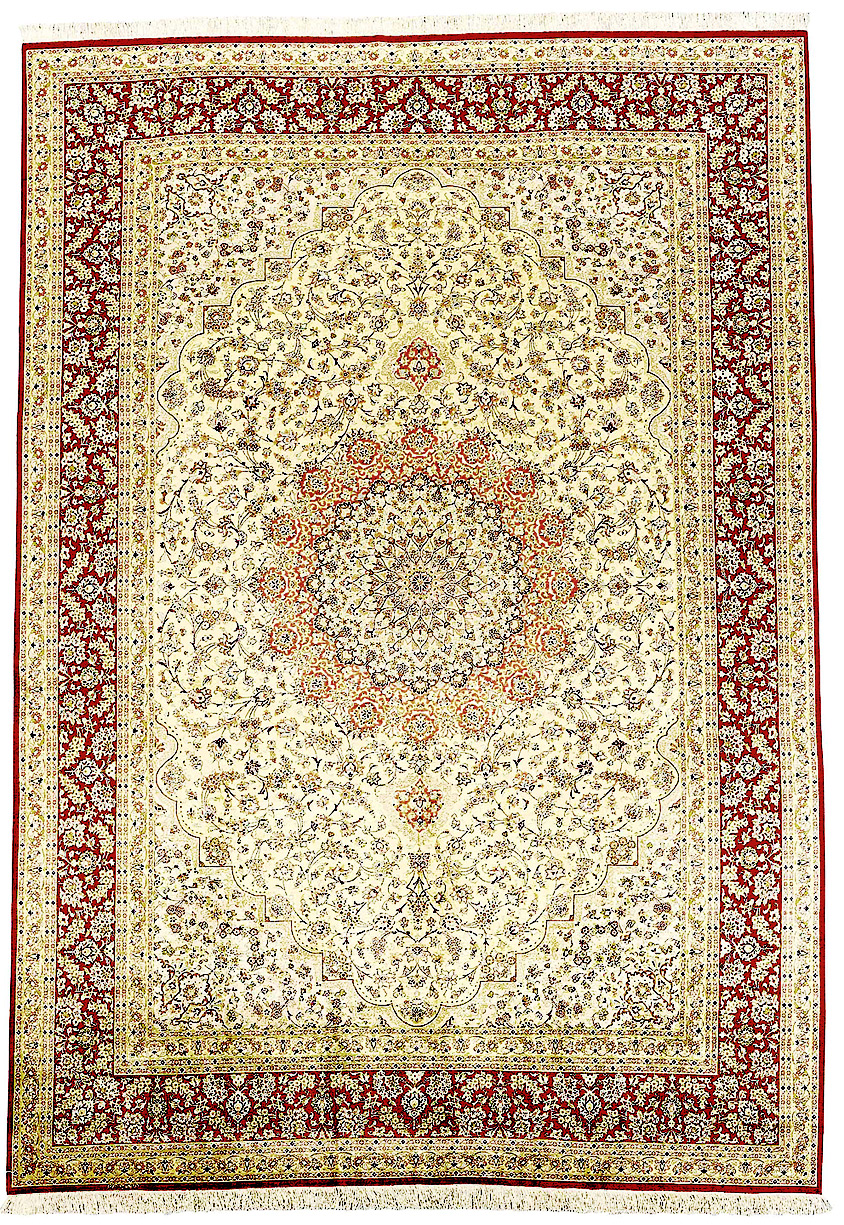 EXTREMELY FINE SILK QUM CARPET, CENTRAL PERSIA CIRCA SECOND HALF OF 20TH CENTURY
SIGNATURE, 'JAVADI' - approx: 11 ft. 8 in. x 7 ft. 11 in. (354cm. x 241cm.)
Estimate GBP 15,000 - GBP 20,000 | Price realised GBP 22,500 [Christie's, London]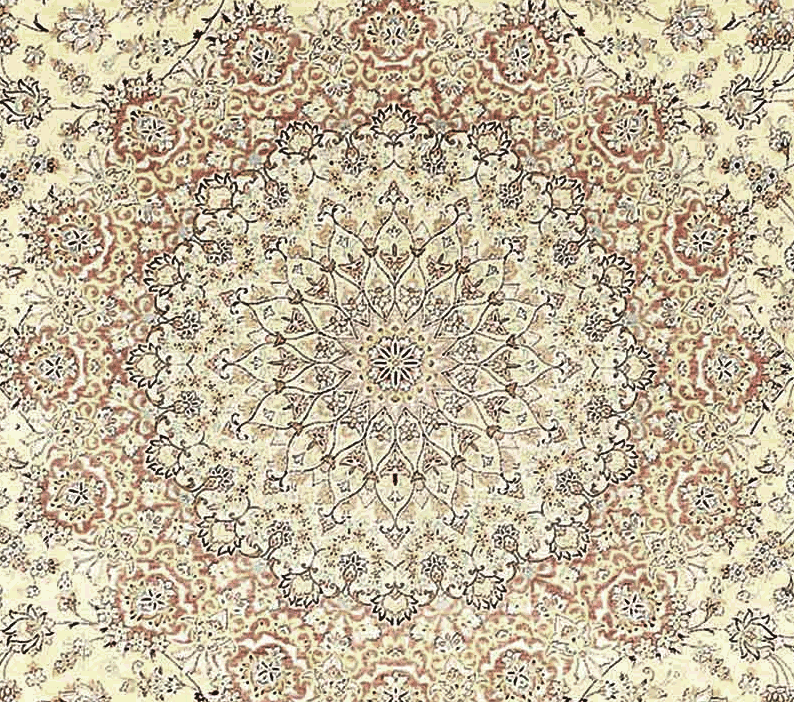 MEDALLION DETAIL - EXTREMELY FINE SILK QUM CARPET (Above)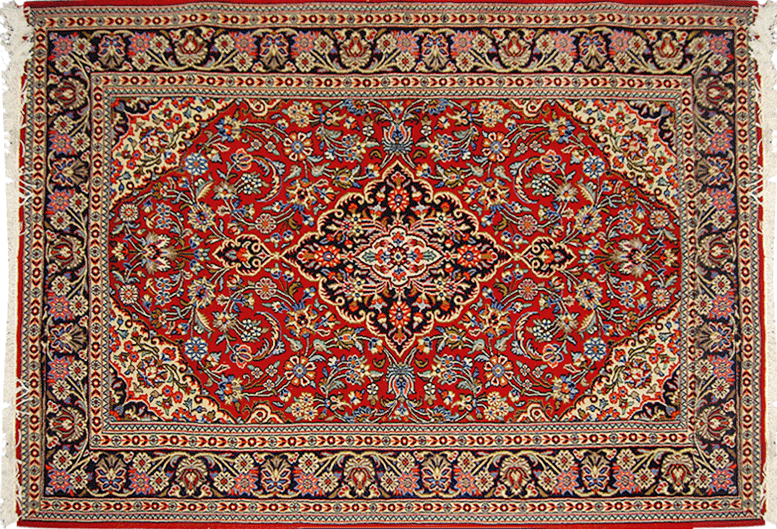 This richly-embellished highly-detailed Qum carpet (above) was sold at auction by Christie's of London.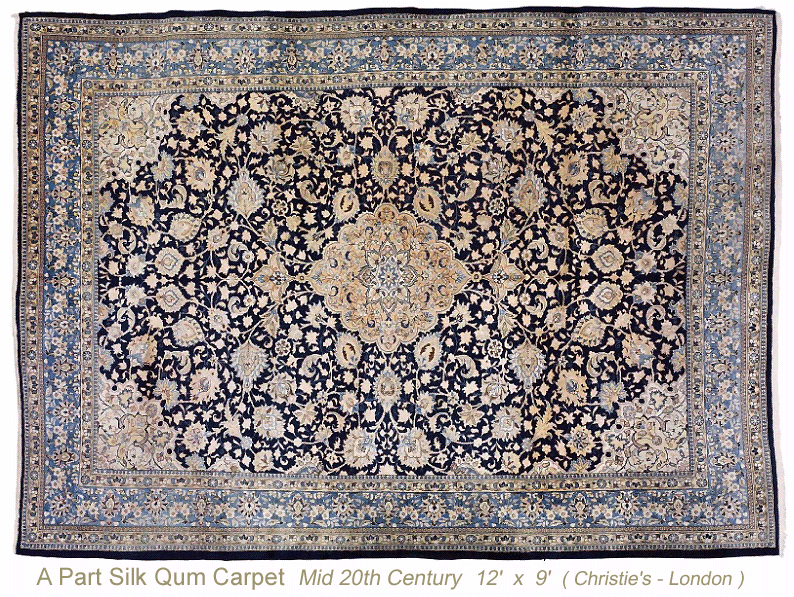 The Rug-Producing Region of Qum, Iran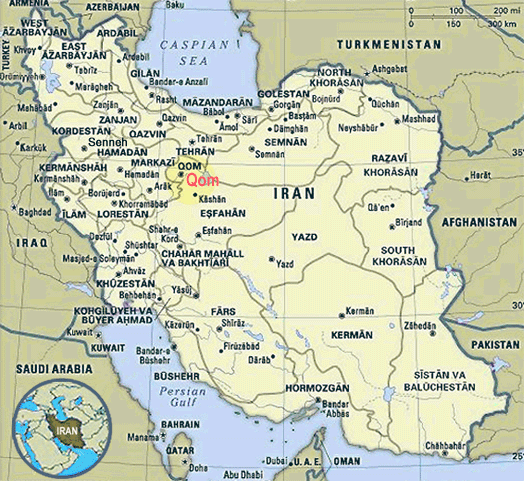 Qum - also spelled Ghoum (Qom, Quom, Ghom) - is the 7th largest city in Iran with a population of more than one million people. One of Iran's holiest cities, Qum is the largest center for Shia scholarship in the world. It is also both the cultural hub and scientific capital of Iran and has developed into an industrial center notable for the distribution of petroleum and petroleum products, and the natural gas pipeline from Bandar Anzali to Tehran.
Consumer Notes
Because of exquisite nature and fineness of these carpets - as well as their relatively small sizes - they are often hung vertically like a tapestry: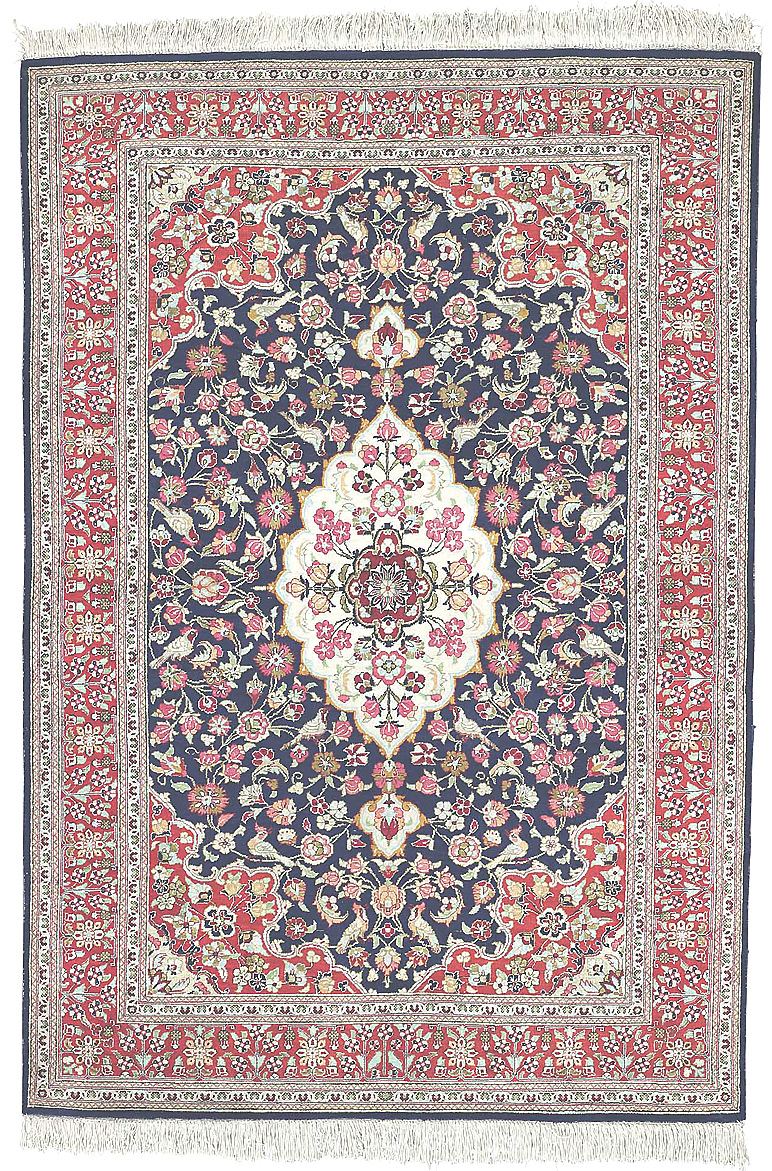 An Extremely Fine Silk Qum Rug - approx: 4 ft. 11 in. by 3 ft. 4 in. (150cm. x 102cm.) [Christie's]
Currently Nejad is offering the following antique Ghoum carpets for sale: #23652 Ghoum
Nejad Rugs is a designer, manufacturer and importer of fine Oriental carpets
and is a member Of the Oriental Rug Importers Association.

About: Tabriz Antique Rugs | Heriz Antique Rugs | Mashhad Antique Rugs | Sarouk Antique Rugs | Kashan Antique Rugs
Kerman Antique Rugs | Serapi Antique Rugs | Bidjar Antique Rugs | Karabagh Antique Rugs | Senneh Antique Rugs
Bakhtiari & Antique Bakhtiari Rugs | Nain and Antique Nain Persian Rugs | Ziegler Mahal Antique Persian Rugs
Esfahan & Antique Esfahan Rugs | Qum Antique Rugs | Farahan Antique Rugs | Darjazin-Hamadan Antique Rugs
Hereke Antique Rugs | Akstafa Antique Rugs | Antique Gharajeh Rugs | Chichi Antique Rugs | Mudjar Antique Rugs
Kazak Antique Rugs | Shirvan Antique Rugs | Beluch Antique Rugs | Peking Antique Rugs | Kurdish Antique Rugs
Turkeman Antique Rugs | Dagestan Antique Rugs | Flemish Antique Tapestry | Antique Ming Chinese Rugs
French Aubusson Antique Tapestry - after Francois Boucher