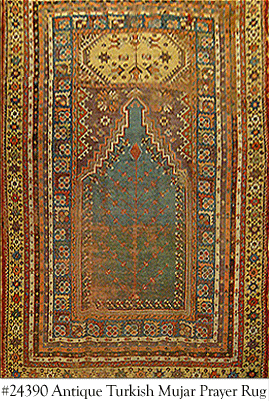 About Antique Mujar Oriental Rugs
Overview
The term Mujar Mudjar or Mujur rug has become synonymous with the term Prayer Rug and refers to the prayer rugs handwoven in Mucur, a village in central Turkey, the designs of which have been compared to those on the stained-glass windows of medieval European cathedrals.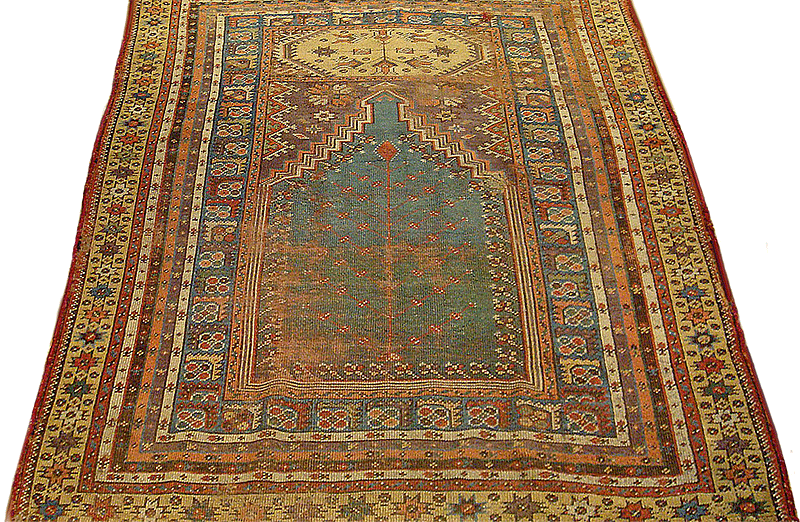 A fine representative sample of the Turkish prayer rugs - this antique carpet is currently being offered by Nejad Rugs.
The Antique Mujar Rug
Mudjar - Mucur, or Mujar - Rugs are mainly prayer rugs with a distinctive mihrab stepped and topped with a geometrically figured pole and surrounds with wide symmetical borders. The mihrab field is typically a deep red or an earthen tone, while the colorful geometric border patterns are rendered in yellows, violets, oranges and ivory. The weave is moderately coarse with 40-100 Turkish knots per square inch.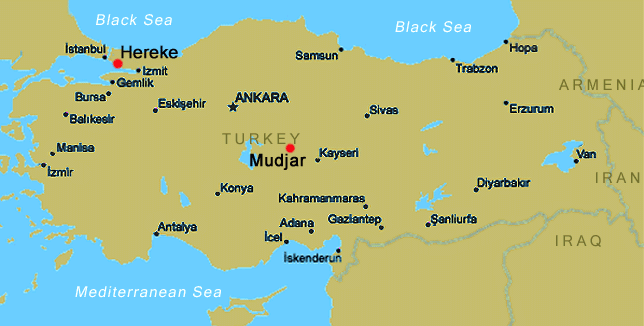 The Rug-Producing Region of Mujar
Mucur (Mudjar, Mujar) is a district of the province of Kirsehir located in the central Anatolian region of Turkey with a population of under 30,000. At an elevation of approximately 300 feet, Mucur resides over the North Anatolian Fault - an active earthquake zone.
Consumer Notes
The following Mujar prayer rug (sold at auction at Christie's, below) - over 150 years of age - appears to be in very good to excellent condition.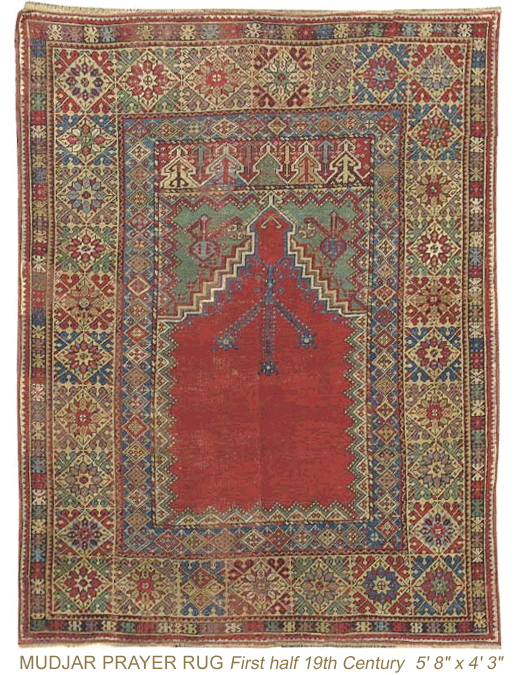 Currently Nejad is offering the following antique Mujar carpets for sale: #24390 Mujar


About: Tabriz Antique Rugs | Heriz Antique Rugs | Mashhad Antique Rugs | Sarouk Antique Rugs | Kashan Antique Rugs
Kerman Antique Rugs | Serapi Antique Rugs | Bidjar Antique Rugs | Karabagh Antique Rugs | Senneh Antique Rugs
Bakhtiari & Antique Bakhtiari Rugs | Nain and Antique Nain Persian Rugs | Ziegler Mahal Antique Persian Rugs
Esfahan & Antique Esfahan Rugs | Qum Antique Rugs | Farahan Antique Rugs | Darjazin-Hamadan Antique Rugs
Hereke Antique Rugs | Akstafa Antique Rugs | Antique Gharajeh Rugs | Chichi Antique Rugs | Mudjar Antique Rugs
Kazak Antique Rugs | Shirvan Antique Rugs | Beluch Antique Rugs | Peking Antique Rugs | Kurdish Antique Rugs
Turkeman Antique Rugs | Dagestan Antique Rugs | Flemish Antique Tapestry | Antique Ming Chinese Rugs
French Aubusson Antique Tapestry - after Francois Boucher