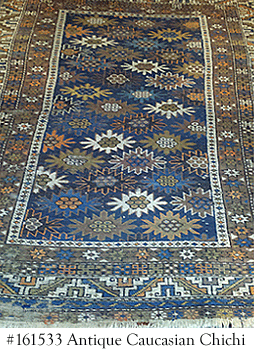 Antique Chichi Oriental Rugs
Overview
Chichi - or Chici - refers to a category of Cuacasian tribal carpets that originate from the area near Kuba in Azerbaijan along the western shores of the Caspian Sea - traditionally a major rug-producing area. These rugs were produced by weavers of either the indigenous Lezgian (Legzi Ethno-Linguistic group) or by the ethnic Chechnyan (Chechen) peoples who had migrated eastward to Kuba in Azerbaijan.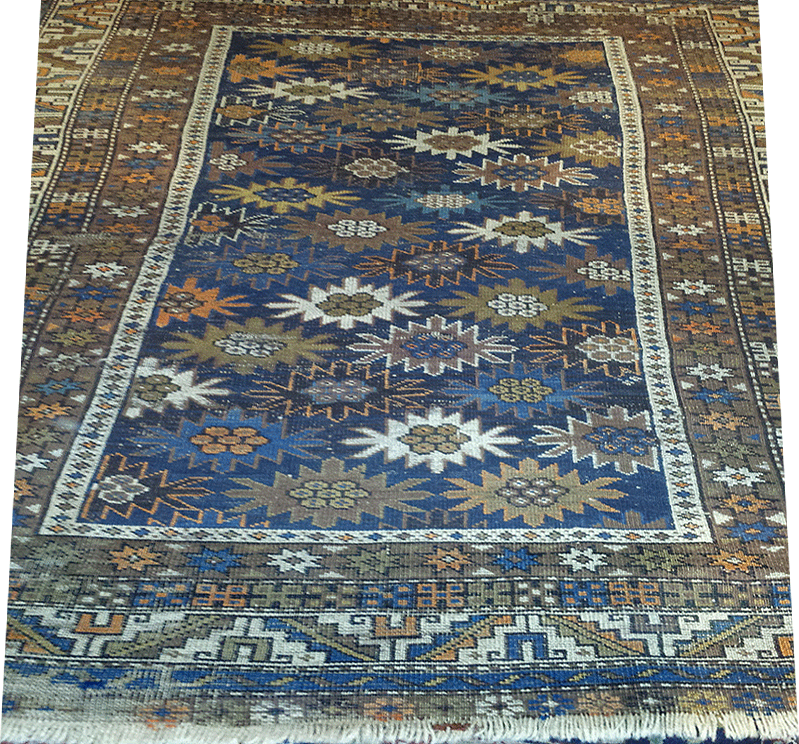 With a color palette reflecting the colors of earth and sky, this large antique Caucasian Chici woven carpet is currently being offered by Nejad Rugs.
The Antique Chici Rug
Chichi, or Chici, rugs typically feature an all-over mosaic pattern of large rosettes or rows of octagons crowded on a blue or red field and flanked by a series of wide symmetrical, geometric-patterned borders - almost Eoropean in character - that are equally prominent in the design scheme. These rugs were woven in a cluster of villages in the vicinity of the coastal city of Kuba in Azerbaijan, located in the eastern Caucasus along the Caspian Sea.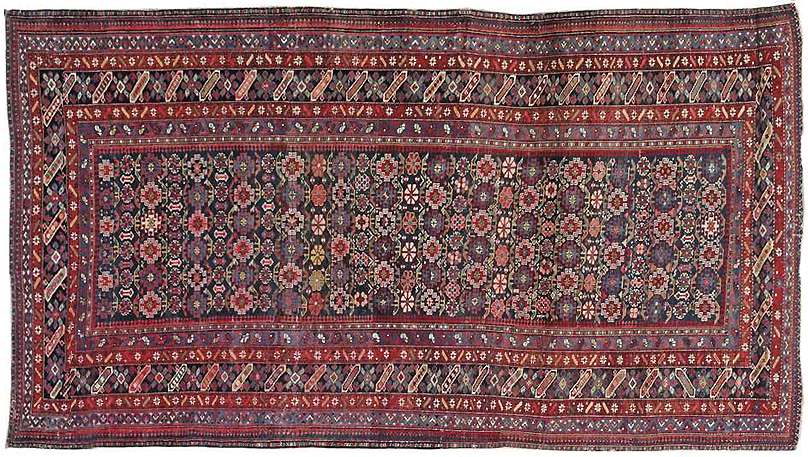 With its rosette-saturated deep red field and diagonal bars on the borders, this antique woven Chichi carpet, which was sold
at auction by Christies, displays the hallmark characteristics of the Chici rug style.
The Rug-Producing Region of Kuba - Quba - in Azerbaijan
Formerly part of Iran and, historically, the Persian empire, Azerbaijan, or The Republic of Azerbaijan, is strategically situated at the crossroads of Eastern Europe and Western Asia in the Transcaucasus region between Iran (to the south) and Russia (to the north). Rich in oil, natural gas and minerals, including gold, silver, iron, copper, titanium, chromium, manganese, cobalt and molybdenum, Azerbaijan is one of the world's major suppliers of oil - currently contracted with 13 oil giants including Amoco, BP, Exxon, Mobil and Lukoil. During WWII the Russian military relied 100% on gas supplied from the refineries of Baku on the Caspian Sea.
Azerbaijan features a vast variety of landscapes - with over 50% of the topography consisting of mountainous terrain - and equally diverse climate zones - with temperatures that range from near-minimal (-27.4°F) to absolute maximum (114.8°F). With a subtropical climate in the foothills and plains, nearly 50% of Azerbaijani land is allocated to agriculture including crops such as green vegetables, grapes, cotton, tobacco and medicinal herbs as well as grain, potato and beets. The raising of livestock and the production of dairy products and wine are also important adjuncts to the socio-economic status-quo, as is the maintaining of a sustainable Caspian fishing industry.
Consumer Notes
The Chichi carpet - among the most popular types of Kuba rugs - is coveted by collectors. Among the several rug styles identified as Caucasian or Transcaucasian, Chichi rugs are notable for the fact that not only are they among the more finely knotted rugs of this genre (60 - 120 Turkish knots per square inch), but many of these carpets have a cotton foundation and, although usually small, include a greater diversity of sizes with lengths ranging up to 12 feet.

Currently Nejad is offering the following antique Chici carpets for sale: #161533 Chici


About: Tabriz Antique Rugs | Heriz Antique Rugs | Mashhad Antique Rugs | Sarouk Antique Rugs | Kashan Antique Rugs
Kerman Antique Rugs | Serapi Antique Rugs | Bidjar Antique Rugs | Karabagh Antique Rugs | Senneh Antique Rugs
Bakhtiari & Antique Bakhtiari Rugs | Nain and Antique Nain Persian Rugs | Ziegler Mahal Antique Persian Rugs
Esfahan & Antique Esfahan Rugs | Qum Antique Rugs | Farahan Antique Rugs | Darjazin-Hamadan Antique Rugs
Hereke Antique Rugs | Akstafa Antique Rugs | Antique Gharajeh Rugs | Chichi Antique Rugs | Mudjar Antique Rugs
Kazak Antique Rugs | Shirvan Antique Rugs | Beluch Antique Rugs | Peking Antique Rugs | Kurdish Antique Rugs
Turkeman Antique Rugs | Dagestan Antique Rugs | Flemish Antique Tapestry | Antique Ming Chinese Rugs
French Aubusson Antique Tapestry - after Francois Boucher