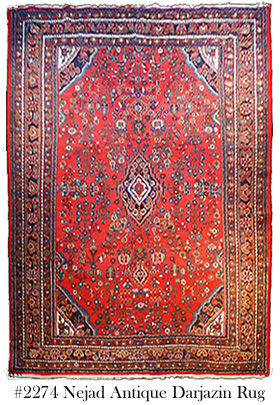 About Antique Darjazin-Hamadan Oriental Rugs
Overview
The Persian service of ILNA news agency has recently reported that women account for up to 95% of the 70,000 traditional rug weavers working in Iranís northwestern province of Hamadan, according to industry expert Mahmud Khazandi. In addition to 10 major rug weaving complexes in Hamadan Province, there are around 30,000 in-house workshops currently operational in the region - which includes, in the County of Razan, a village with a population of no more than 3,000 located in the district of the same name - Darjazin.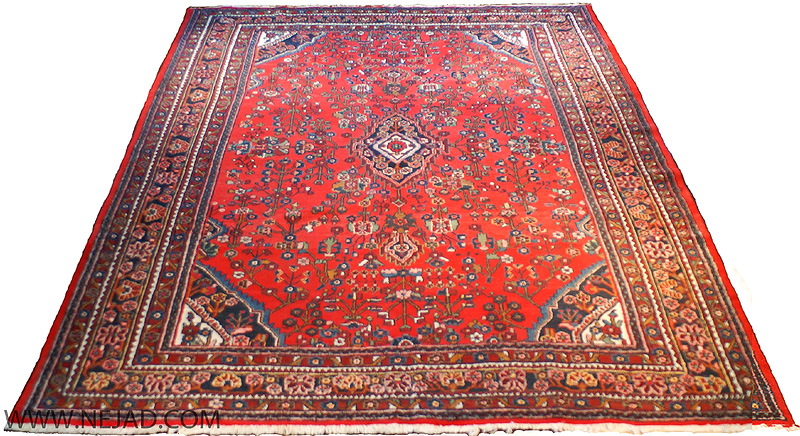 An exquisite, finely-balanced, large 8' 9" × 12' antique Persian Darjazin woven carpet currently being offered by Nejad Rugs.
Antique Darjazin & Hamadan Rugs
What is most striking about the antique Darjazin carpet pictured above is not only the harmonious color and classic design but the intensity of the cherry red background. All the elements are working to complement one another the perfectly balanced borders and border leading, the appropriately-understated medallion, the rich color palette of reds, blues, ivory and amber, and last but not least, the corner spandrels that balance and provide a perfect counterpoint to the overall composition.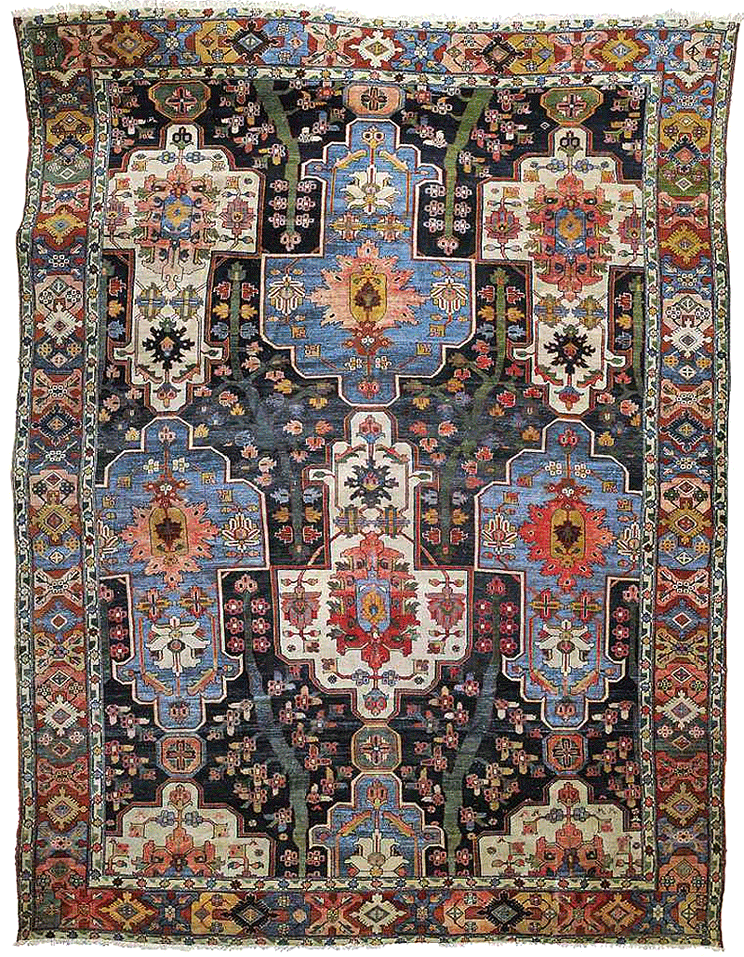 A HAMADAN CARPET WEST PERSIA, CIRCA 1900 - 14ft. 4in. by 10ft. 10in. (437cm. x 330cm.)
Estimate GBP 2,500 - GBP 3,500 | Price realised GBP 5,625
The design copied from a 17th Century Khorassan tree carpet, slight localised wear, slight loss at each end, backed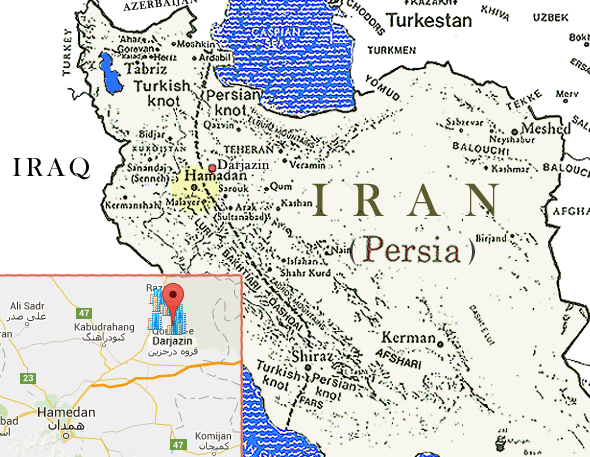 The Rug-Producing Region of Hamadan
Hamadan (Hamedan) is a city situated in the western part of Iran, 300 kilometres west of Teheran. It is one of the worlds oldest cities and a carpet trading hub - with carpets manufactured in the hundreds from nearby villages and cities. The rug designs of the Hamadan region in general have been less affected by western influence than other adjacent rug producing regions. The best of these carpets are sold under their own names such as Nahavand, Tuiserkan, Malayer or Darjazin (Darjezin), while the more commercial rugs from this area are marketed under the generic label Hamadan.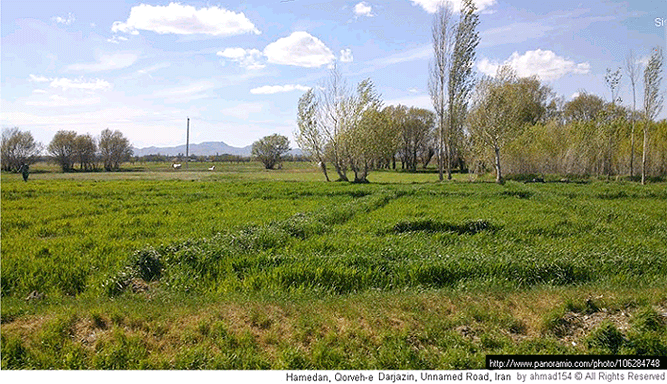 Panoramic view along an unnamed village road in the rural district of Darjazin in Hamadan Province, Iran.
Consumer Notes
Due to the sheer volume of output for rugs from this category, individual characteristics of the carpets produced by literally thousands of weavers, as expected, varies from workshop to workshop. Although medallion as well as all-over patterns invariably occur, one of the patterns most-commonly found is the Herati. Colors often include different shades of indigo blue and madder red.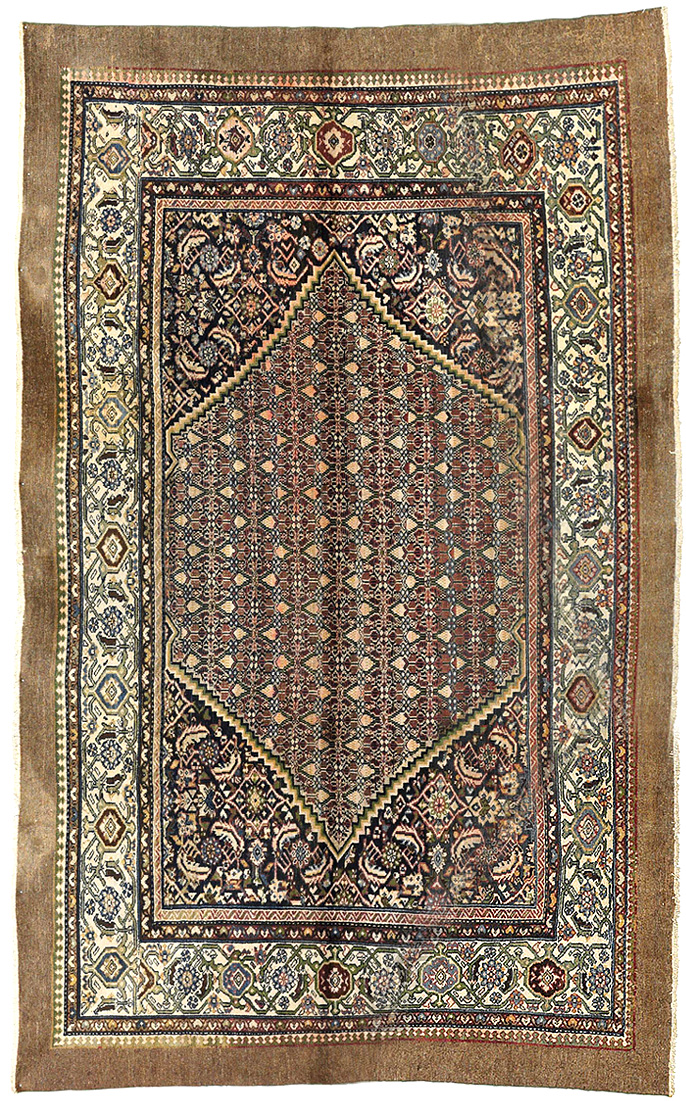 An Antique Hamadan Carpet - approx: 11ft. 9in. by 7ft. 2in. (357cm. x 218cm.) - Christie's
As compared to the common cotton warp that is now standard, the older Hamadan carpets produced before 1920 were often tied on a woolen warp - only using the finest grade of wool for the pile. The widespread use of synthetic dyes for carpet wool didn't begin until the 1960s and, hence, these younger carpets may not be able to duplicate the luminosity and purity of color of their predecessors.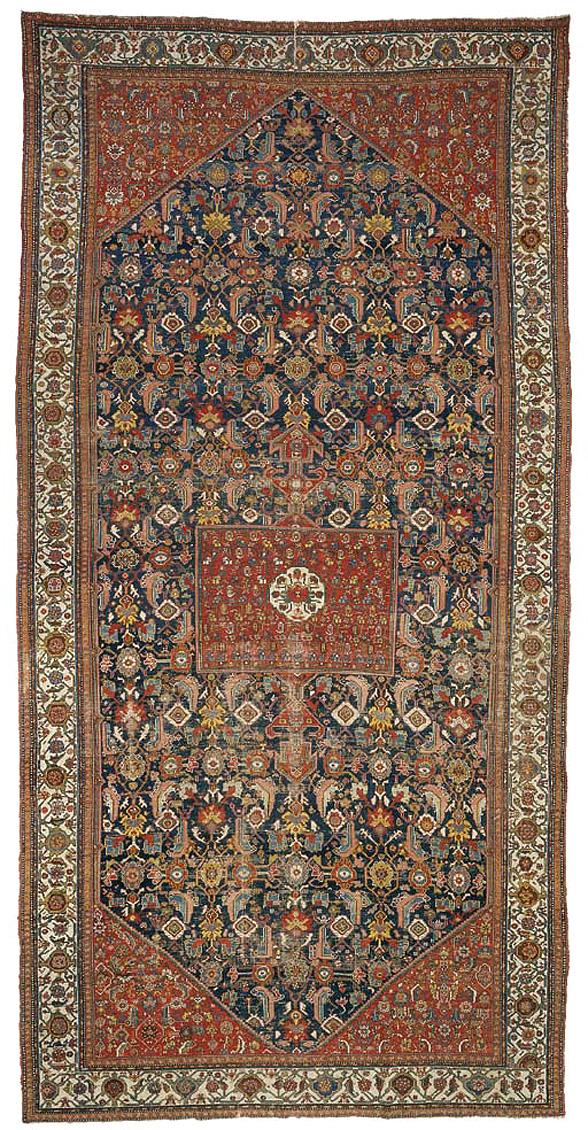 A HAMADAN CARPET WEST PERSIA, CIRCA 1890
Estimate GBP 5,000 - GBP 8,000 | Price realised GBP 11,400 [Christie's]
The indigo field with a large scale herati pattern around a central rectangular medallion with boteh vine enclosing an ivory flowerhead, the rust-red spandrels similar, in an ivory angular turtle-palmette and flowering vine border between rust-red and chocolate-brown minor stripes, localised areas of wear 24 ft. 3in. by 12 ft. 3in. (739 x 373 cm.) - Christie's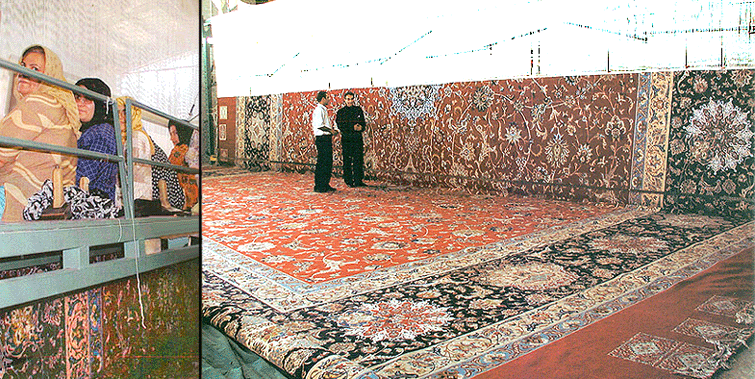 Ali Nejad, president of Nejad Rugs, inspects progress on one of the world's largest handmade wool rugs, while on the other side of the loom (above left) sit some of the most highly skilled weavers selected for such a project.
Currently Nejad is offering the following antique Darjazin carpets for sale: #2274 Darjazin


About: Tabriz Antique Rugs | Heriz Antique Rugs | Mashhad Antique Rugs | Sarouk Antique Rugs | Kashan Antique Rugs
Kerman Antique Rugs | Serapi Antique Rugs | Bidjar Antique Rugs | Karabagh Antique Rugs | Senneh Antique Rugs
Bakhtiari & Antique Bakhtiari Rugs | Nain and Antique Nain Persian Rugs | Ziegler Mahal Antique Persian Rugs
Esfahan & Antique Esfahan Rugs | Qum Antique Rugs | Farahan Antique Rugs | Darjazin-Hamadan Antique Rugs
Hereke Antique Rugs | Akstafa Antique Rugs | Antique Gharajeh Rugs | Chichi Antique Rugs | Mudjar Antique Rugs
Kazak Antique Rugs | Shirvan Antique Rugs | Beluch Antique Rugs | Peking Antique Rugs | Kurdish Antique Rugs
Turkeman Antique Rugs | Dagestan Antique Rugs | Flemish Antique Tapestry | Antique Ming Chinese Rugs
French Aubusson Antique Tapestry - after Francois Boucher