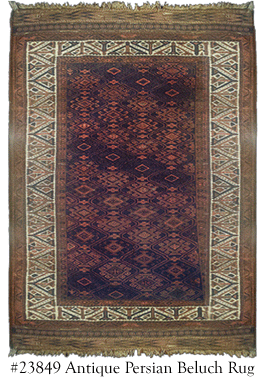 Antique Beluch Oriental Rugs
Overview
The Beluch (Baloch, Beluchi) are a widely-scattered nomadic people consisting of smaller tribes with varied ethno-linguistic origins and who mainly inhabit the geo-political sub-divisions of Iran, Pakistan and Afghanistan across a vast area otherwise known as Balochistan.
The term Beluch Rugs refers to a particular group of carpets woven primarily by the Beluch tribes of northeast Iran in the province of Khorasan. This group may also include rugs produced in southwest Turkmenistan by Baluch nomads who migrated across the borders into Turkmenistan primarily in the mid 19th century, and where they remain a small minority (30,000).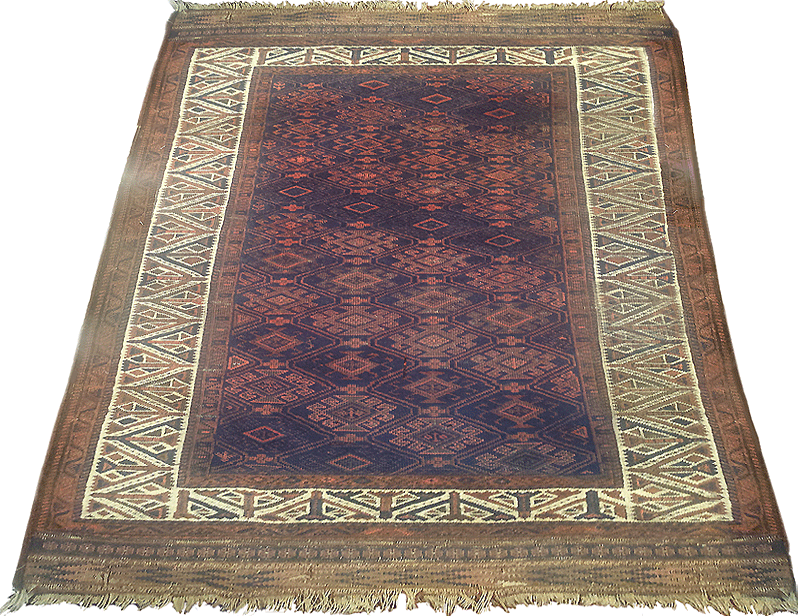 This charming antique Persian Beluch woven carpet of muted tones (above) is currently being offered by Nejad Rugs.
The Antique Beluch Rug
Beluch rugs are quite different from other Turkoman (from Turkmenistan) rugs in that the entire rug, including the foundation of the rug, is often made of wool and the design scheme, which typically includes a repeted figure or pattern, omits the otherwise commonly-used gul motif. The themes found in Beluch carpets are typically geometric or linear and consist of rectangular, hexagonal and octagonal-like solid or outlined figures rendered in repeated or alternating rows and columns - sometimes diagonally juxtaposed.

These rugs were organically tinted using natural plant and vegetable dyes including reds, blues, violets and light browns - the color of natural camel hair. The woven pile of these tribal rugs is fairly coarse - 60-100 Persian knots per square inch (KPSI).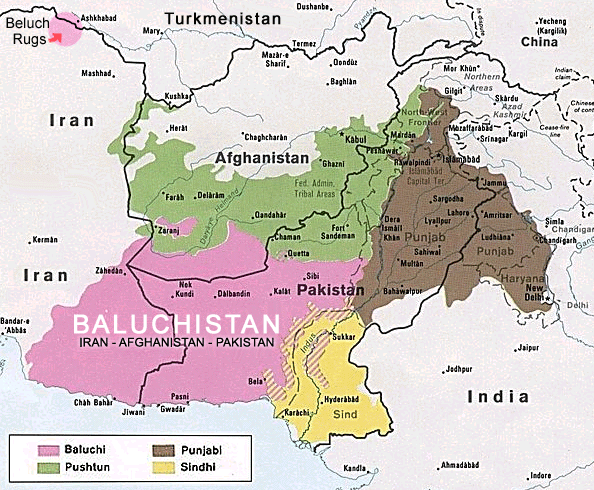 The Rug-Producing Region of Beluchistan (Balochistan)
Balochistan, Pakistan - a province of Pakistan, Balochistan, Afghanistan - part of southern Afghanistan, and Sistan & Baluchestan - a province of Iran, together make up the vast expanse of the sparsely-populated region occupied by the Baluch People. A population of upwards of 15 million inhabits a total area of approximately 240,000 sqare miles (roughly equivalent in size to the state of Texas but with half the population density) and comprises both Pakistan's and Iran's largest provinces by area.
The landscape of Balochistan is composed of barren, rugged mountains and dry, but fertile land. The land on the Iranian and Afghan sides of this region is mostly barren and receives little rainfall and hence - the most sparsely populated. The economy of the region is based largely upon the production of natural gas, mining, manufacturing, agriculture, fishing, the raising of livestock as well as the production of carpets. In the southern desert area dates and oranges are cultivated.
Consumer Notes
A detail worth noting is the finishing of the edges of the Beluch rugs - similar to the construction method of the Hereke carpets, there is 4 cord thick selvedge that can be up to ½" wide.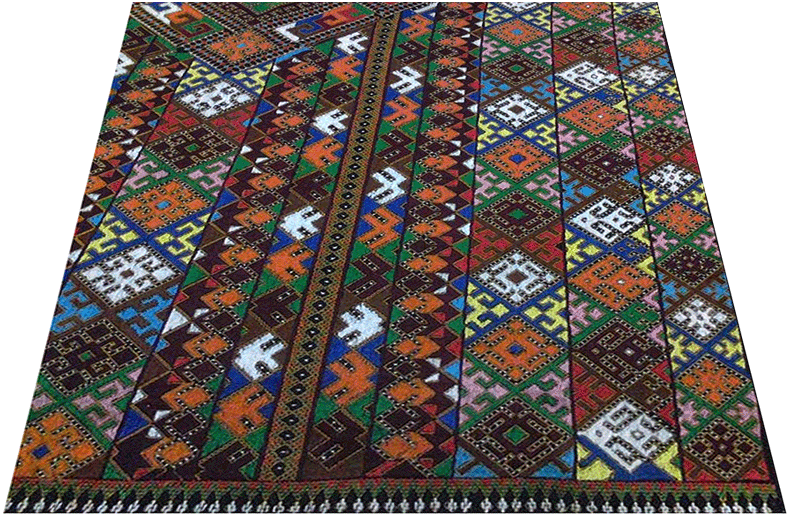 Underappreciated in a modern world of machine-made fabrics - an impressive example of Beluch hand-woven textile artistry.
Currently Nejad is offering the following antique Beluch carpets for sale: #23849 Beluch


About: Tabriz Antique Rugs | Heriz Antique Rugs | Mashhad Antique Rugs | Sarouk Antique Rugs | Kashan Antique Rugs
Kerman Antique Rugs | Serapi Antique Rugs | Bidjar Antique Rugs | Karabagh Antique Rugs | Senneh Antique Rugs
Bakhtiari & Antique Bakhtiari Rugs | Nain and Antique Nain Persian Rugs | Ziegler Mahal Antique Persian Rugs
Esfahan & Antique Esfahan Rugs | Qum Antique Rugs | Farahan Antique Rugs | Darjazin-Hamadan Antique Rugs
Hereke Antique Rugs | Akstafa Antique Rugs | Antique Gharajeh Rugs | Chichi Antique Rugs | Mudjar Antique Rugs
Kazak Antique Rugs | Shirvan Antique Rugs | Beluch Antique Rugs | Peking Antique Rugs | Kurdish Antique Rugs
Turkeman Antique Rugs | Dagestan Antique Rugs | Flemish Antique Tapestry | Antique Ming Chinese Rugs
French Aubusson Antique Tapestry - after Francois Boucher