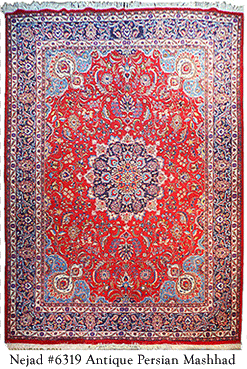 About Persian Mashhad Antique Oriental Rugs
Overview
In the valley of the Kashaf River near Turkmenistan, between the two mountain ranges of Binalood and Hezar-masjed in the northeast corner of Iran is located one of Iran's oldest centers of carpet weaving - Mashhad. Situated squarely on the ancient Silk Road, Mashhad - capital of Razavi Khorasan Province - is famous for the production of carpets that are considered, by some, the pinnacle of Persian rugmaking. Today, carpet manufacturing in Mashhad is extensive and typically, large carpets with medallions are hand-woven employing traditional methods using the superior wool (esp. noted for its softness) from nearby Khorasan.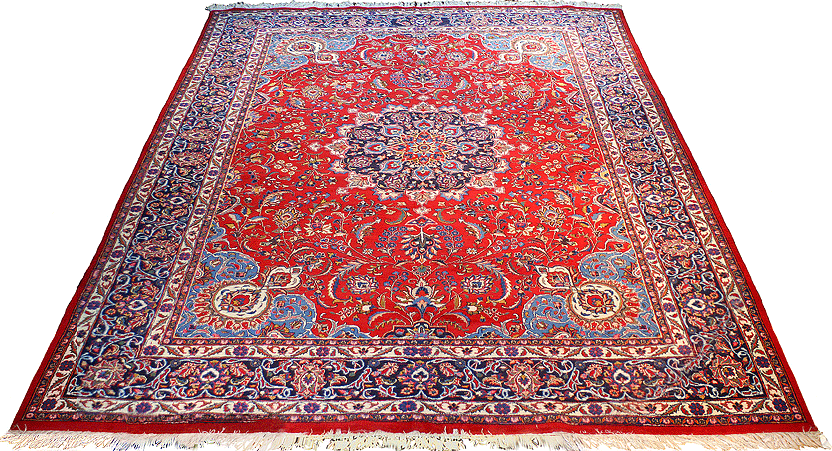 A magnificent example of the large, finely-woven carpets produced in the city of Mashhad, Iran in the early part of the 20th century.
The Mashhad Rug Style
The Mashhad Rug Style - the typical theme for Mashhad carpets - consists of a richly ornate field populated by floral or botanical figures classically-set in a curvelinear (oval-like) framework - at its center a circular-shaped, often jewel-like medallion. This round center medallion can be either a geometric or more free-form pattern - set off by either a lighter-colored intricate outlining or bounded by a halo-like ring of smaller figures like points of light. The number of knots, or knot density, typically found in an antique Mashhad carpet - although it could be much higher (up to 1000 KPSI or more) - ranges from 120 KPSI up to 475 KPSI with the Persian, or asymmetric, knot type.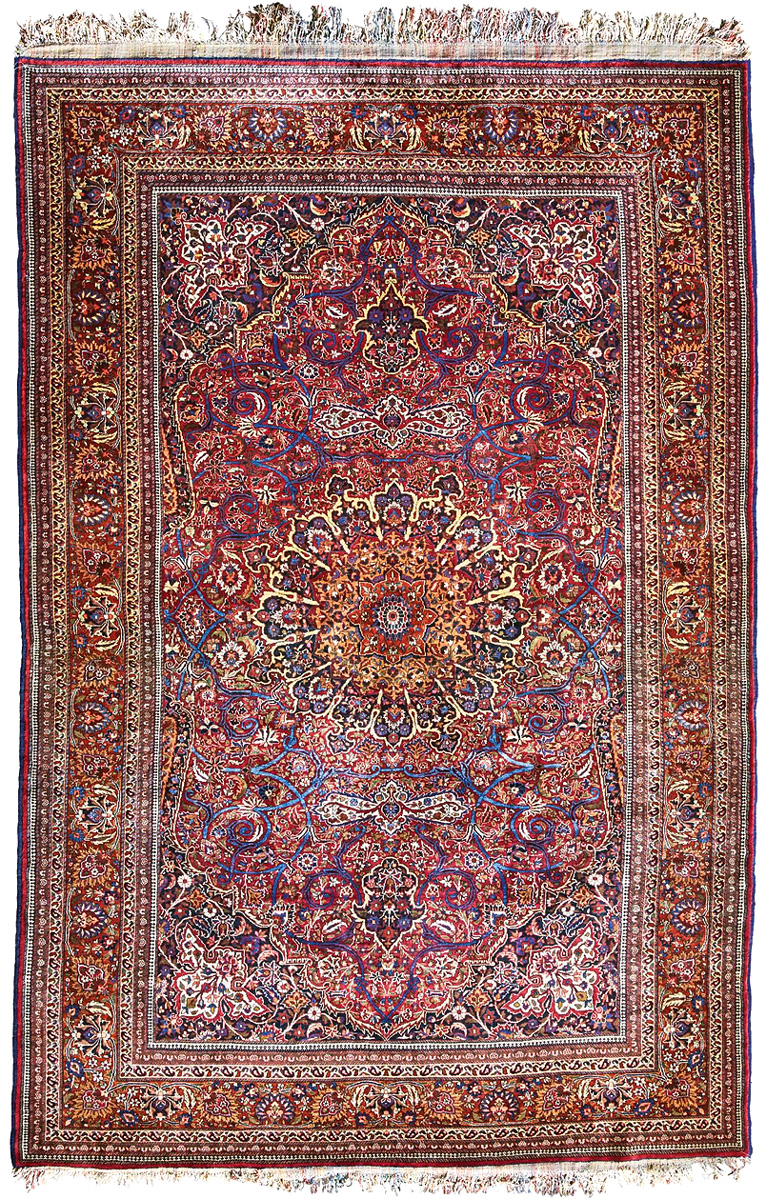 A Rare Silk Mashad Rug, Northeast Persia circa 1930 - approx. 6ft. 7in. by 4ft. 5in.; 204 by 137cm
Knot density: V: 12/cm; H: 9/cm - With approximately 108 knots per square centimetre
the total knot count for this fine rug is in excess of 3,000,000 knots.
Estimate 40,000 - 60,000 GBP | LOT SOLD. 43,750 GBP
Rugs and Carpets 07 November 2017 | 2:30 PM GMT Sotheby's London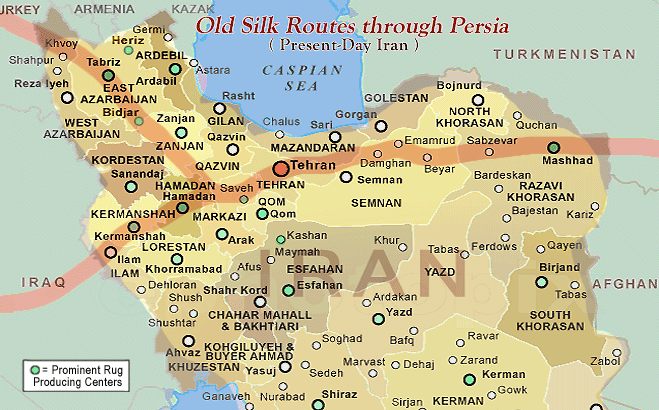 The Old Silk Routes (from Istanbul to Xian, China) through Persia showing the prominent rug-producing cities of Iran today.
On the Silk Road
Though it was Once Upon a Long, Long Time Ago that the Silk Road - as an oasis to the weary traveller - passed through Mashhad, interestingly enough, with more than 55% of Iran's hotels located here today, that Mashhad, as in times past, is the country's major hub of travel and tourism. Business and commerce still flourish as well - from automobile, chemical, steel and non-metallic mineral production to precious stones and metals, from foodstuffs (dry fruits, teas, salted nuts, saffron) to perfumes and religious souvenirs, from electronics and computer technologies to leather goods, handicrafts and textiles - including carpets and rugs.
Consumer Notes
Some of the greatest examples of early 20th century carpetmaking feature works commissioned by the Pahlavi Shahs and produced in the workshops of the Amoghli Brothers in Mashhad and include the magnificent and ultra-finely detailed carpets that decorate the Niavaran and Sa'dabad Palaces in Tehran.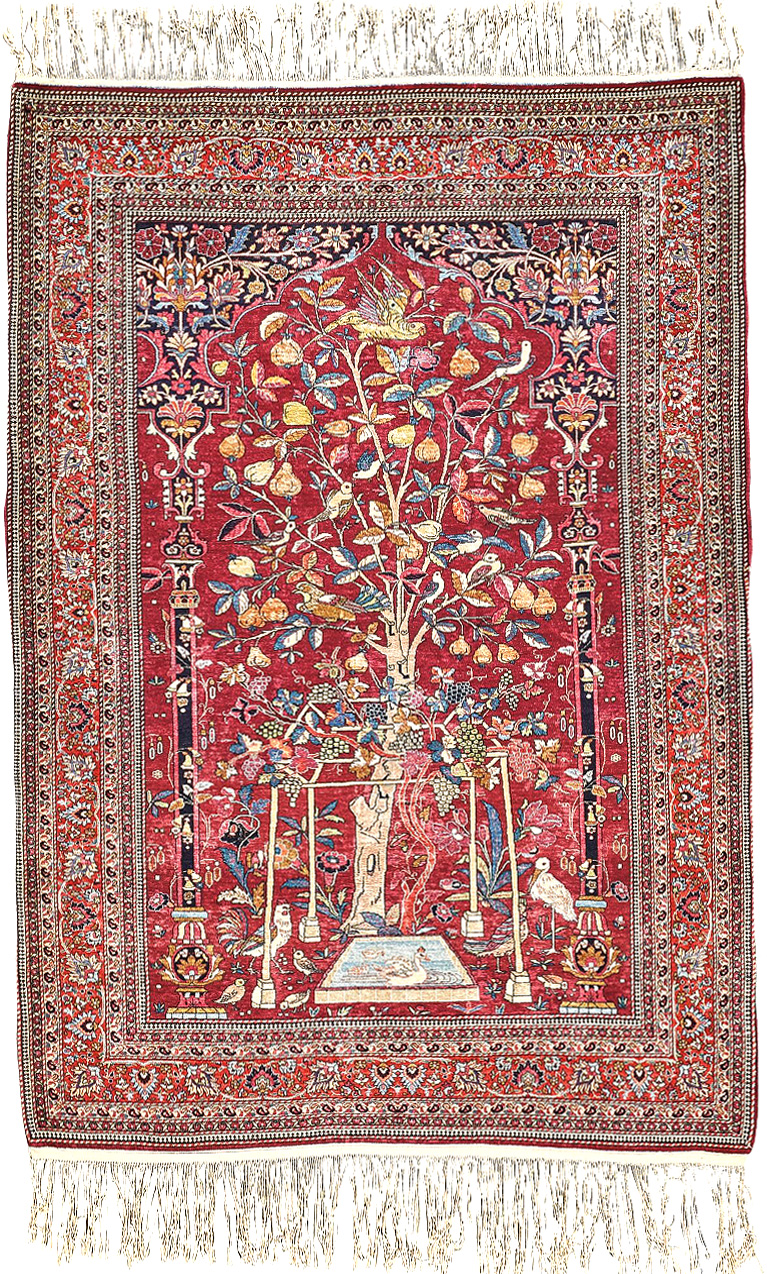 A Fine Part-Silk Mashad Rug, North Persia circa 1900 - from the collection of Abdi Roubeni
approx. 6ft. 6in. by 4ft. 7in.; 200 by 141cm - - Density: knot count 9 H/9 V per cm
Estimate 35,000 - 45,000 GBP | LOT SOLD. 37,500 GBP
01 November 2016 | 2:00 PM GMT Sotheby's, London
This beautiful rug with silk birds, centred by a tree adorned with silken pears, seems to have taken its inspiration from the charming scenery presented in the Kirman rugs being produced at a similar time to the design of Fursat Shirazi. Shirazi was a miniature painter whose cartoon has been repeated only a handful of times in the Kirman workshops at the turn of the 19th century. It is very unusual to see this design being produced in nearby Tehran, especially as the weaver has included the rather sweet scene of the swan pond and suspended grapes within the scenery. - Sotheby's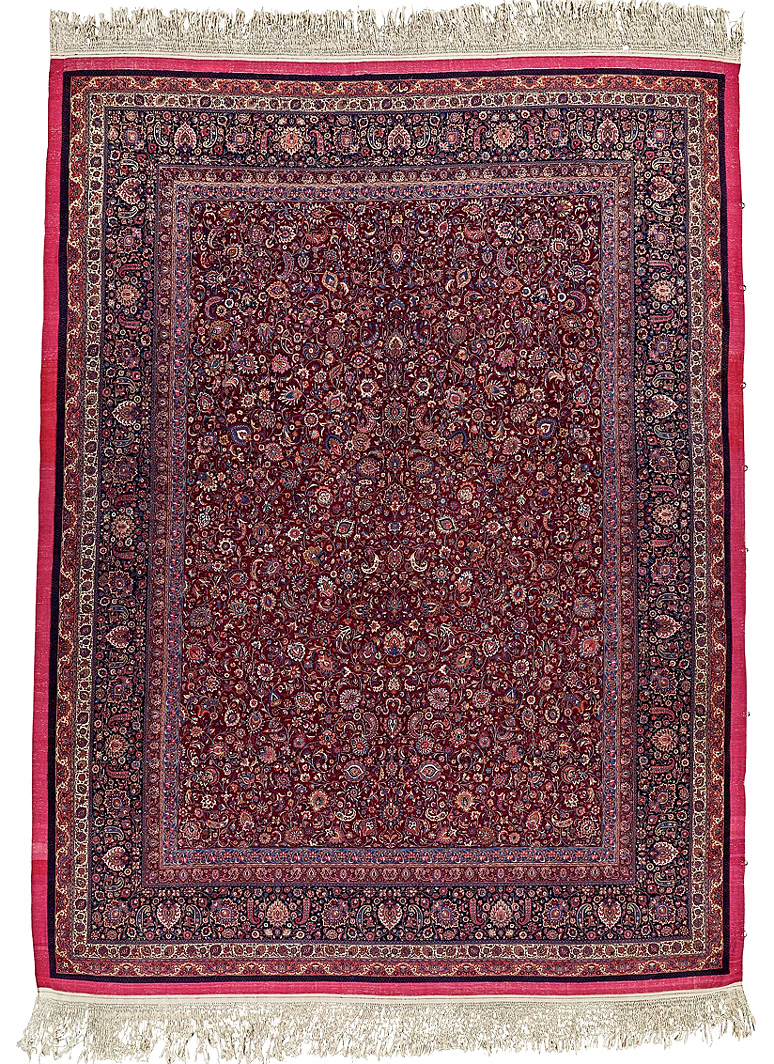 Unusually fine Saber Mashad Carpet, Northeast Persia - second quarter 20th century, with inscription 'Saber'
approximately 13ft. 11in. by 10ft. 6in.; 425 by 321cm - This carpet has an unusually
high knot density for a work of such proportions - in excess of 20,000,000 (20 million)
At the turn of the 20th century there was a resurgence of grand, highly refined, carpet weaving in Mashad; Abbas-qoli Saber is one of the master weavers who pioneered the revival of workshops producing superior quality pieces. A former student of the great master Amoghli, Saber was renowned for his skill and completed commissions both for Eastern and Western officials. The carpets he produced have a richness of palette, using the finest of wools, and are inspired from great classical carpets of the past. - Sotheby's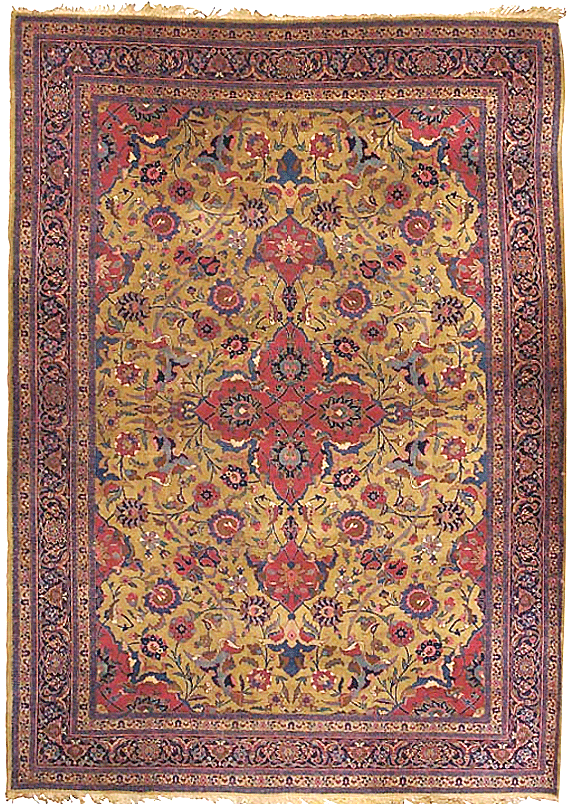 A MASHAD CARPET FIRST QUARTER 20TH CENTURY
Estimate EUR 2,500 - EUR 3,500 | Price realised EUR 2,629 [Christie's]
The shaded camel field, with scrolling floral vine issuing palmettes, centred by a tomato-red quatrefoil
medallion with palmette pendants, localised areas of wear, some minute stains 462 cm. x 341 cm.
Currently Nejad is offering the following antique Mashhad rugs for sale: #6319 Antique Mashhad


About: Tabriz Antique Rugs | Heriz Antique Rugs | Mashhad Antique Rugs | Sarouk Antique Rugs | Kashan Antique Rugs
Kerman Antique Rugs | Serapi Antique Rugs | Bidjar Antique Rugs | Karabagh Antique Rugs | Senneh Antique Rugs
Bakhtiari & Antique Bakhtiari Rugs | Nain and Antique Nain Persian Rugs | Ziegler Mahal Antique Persian Rugs
Esfahan & Antique Esfahan Rugs | Qum Antique Rugs | Farahan Antique Rugs | Darjazin-Hamadan Antique Rugs
Hereke Antique Rugs | Akstafa Antique Rugs | Antique Gharajeh Rugs | Chichi Antique Rugs | Mudjar Antique Rugs
Kazak Antique Rugs | Shirvan Antique Rugs | Beluch Antique Rugs | Peking Antique Rugs | Kurdish Antique Rugs
Turkeman Antique Rugs | Dagestan Antique Rugs | Flemish Antique Tapestry | Antique Ming Chinese Rugs
French Aubusson Antique Tapestry - after Francois Boucher