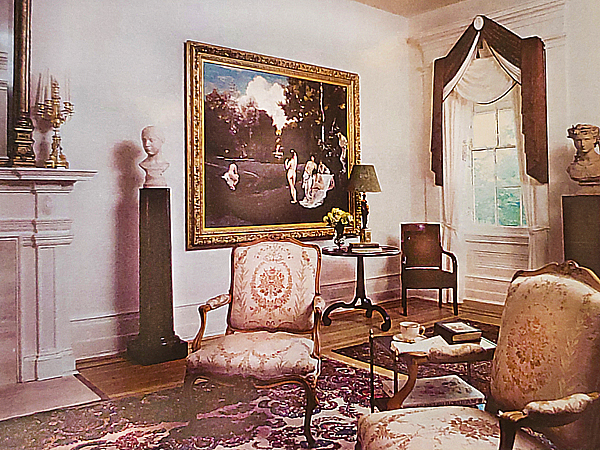 Representational Landscape Oil Painting in Gilded Frame wth
Nejad's Antique Persian Kerman Rugs and Scalamandre Silk Fabrics
on Antique French Chairs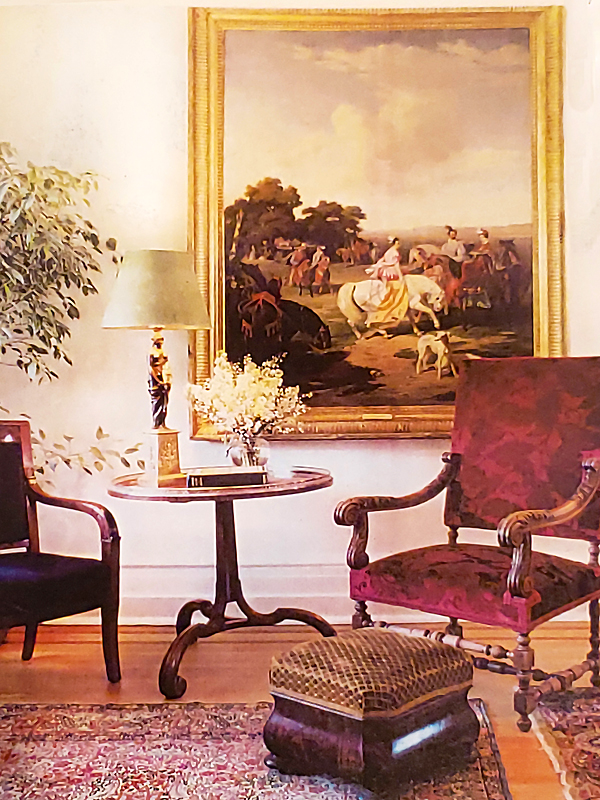 Representational Landscape Oil Painting in Gilded Frame wth Nejad's
Antique Persian Kerman Rugs and Scalamandre Velvet Fabrics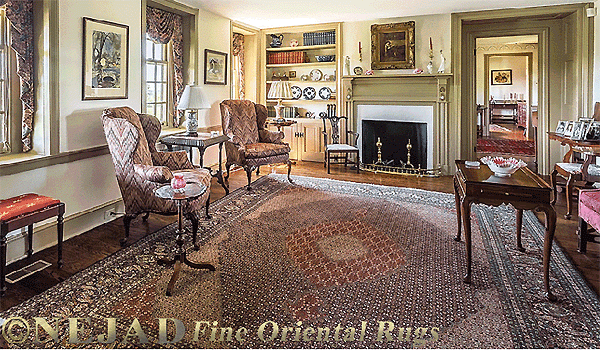 Classic Luxury of the Traditional Kind
This impressive, room sized, Mahi Tabriz
genuine Persian rug from Nejad Rugs of
Doylestown PA. Among the most classic of
Tabriz rug designs, the Mahi – or fish –
design works especially well here with the
furnishings and framed art pieces that
surround it. Shop Nejad's extensive
inventory of investment-quality rugs.
The Renaissance – or the Italian Renaissance – of the 15th-16th centuries –
represents a transition from the medieval to a revival of classical, humanist learning
including Greek art and architecture. Leonardo, Michelangelo, Raphael and Titian
are some of the most well-known names associated with this period in art.
The Northern Renaissance, 14th-15th century. featured artists such as Albrecht Durer,
Van der Weyden, Hans Memling, Jan Van Eyck, Hans
Holbien the Younger and Lucas Cranach the
Younger. Rug styles that work well with this
style of painting include rugs with Persian
classical design elements such as Tabriz, the
floral Kashans and more-formal Nain and Qom
rugs as well as gold Kerman or red Herati rugs
with all-over design. European rugs such as
French Aubusson and Savonnerie rugs as well.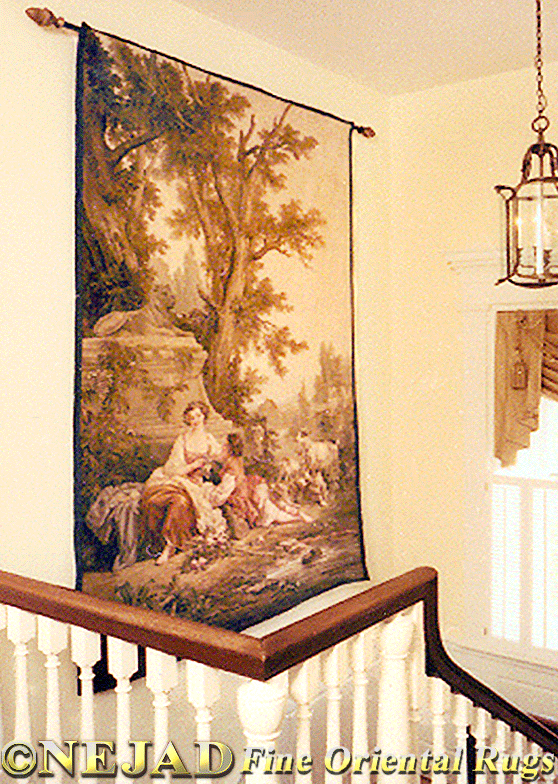 [The Boucher Tapestry – Croc Pere & Fils & A.
Jorrand.] Aubusson tapestry design c. 1900 by
Antoine Jorrand after the painting La Marotte
(1759) by Francois Boucher.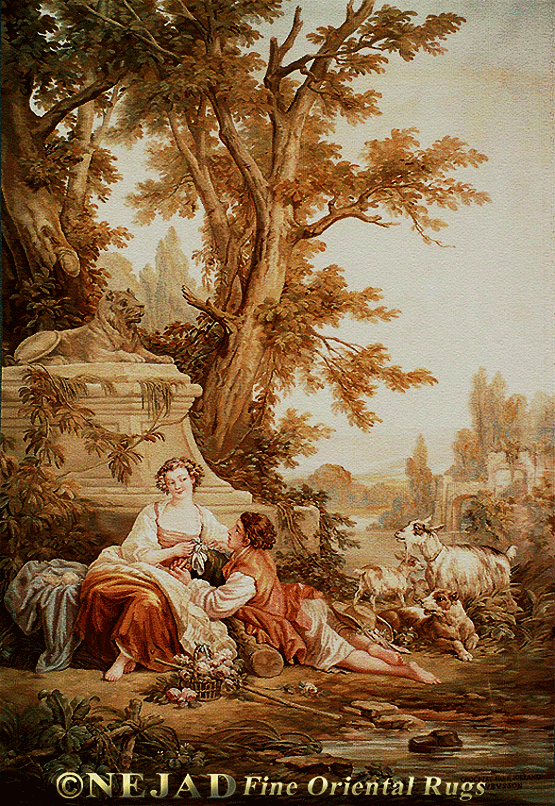 The Aubusson Tapestry (above) is modelled from
the Francois Boucher painting La Marotte (La
Musette – 1759), The painting is in the Museum
at the Palace of Versailles
(At least 2 different versions of this
painting by Boucher exist).
The resurgence in the production of
decorative monumental tapestry occurred in
late 19th-early 20th Century France under
the direction of artist and template-designer
Antoine Jorrand – the first son of one of the
founders of the Aubusson production facility.
Production of tapestries after the type
produced over a century earlier – but now
featuring reproductions of classic 18th
century artworks – was launched.
Less-formal than the Louis XIV style,
Late Baroque and Rococo (1730's France)
features ornamental scrolling, graceful
lines and curves and pastel colors with
compositional elements modelled after nature
using flowers and oriental motifs. Perhaps
the most-celebrated painter and decorative
french artist of the 18th century is Francois
Boucher (1703-1770). Boucher was a painter,
draughtsman and engraver known for his
voluptuous and idyllic classical themes,
decorative allegories and pastoral themes.
Boucher was influenced by his predecessor
Jean Antoine Watteau (1684-1721) – the
drawings in particular – and especially the
trois crayon technique of using sanguine,
black and white chalks on toned background.
Remarkably, Boucher's first major commission
involved the production of engravings of over
a hundred of Watteau's drawings. Boucher
excelled in all facets of 2-dimensional art
including the cartoons executed for the
Beauvias Tapestry works (Chinoiserie). Rugs
styles suggested for Baroque artwork are rugs
featuring pastel shades predominantly from the
French styles Savonnerie and Aubusson plus
Mahal, Sultanabad, Kashan, Arts & Crafts and
probably some of the more elegant Tabriz rugs.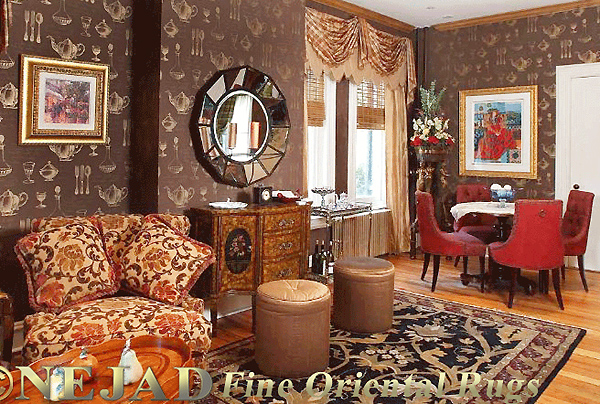 This T027 Modern Agra from the Nejad
American Home Classic Collection is a
dark-colored with gold accents versatile
rug that can be used with many art styles.
An artistic, literary, musical and
intellectual movement, Romanticism
– or Romantic Painting – originated in
Europe toward the end of the 18th century
as a reaction against the formality and
regimentation of the past and was at its
peak in the approximate period from 1800
to 1850. Some of the artists associated
with this movement are Delacroix (Liberty
Leading the People), Gericault (Raft of
Medusa) and Goya (the Third of May).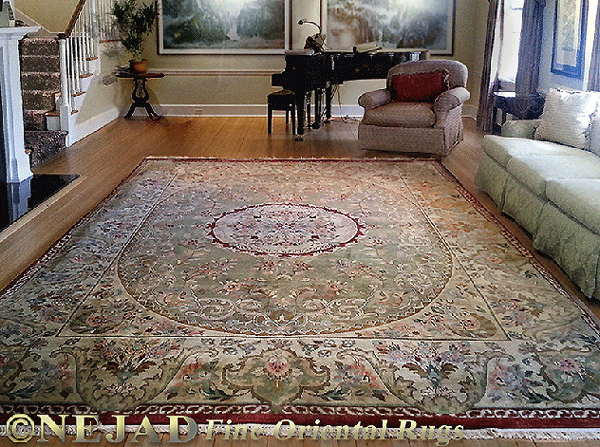 Large M001 Sage Gold Elegant Savonnerie
rug inspired by 17th and 18th century
classical French design featured in
Nejad client living room.
For more information about this rug
Large M001 Sage Gold Elegant Savonnerie
rug inspired by 17th and 18th century
classical French design featured in
Nejad client living room.
For more information about this rug
One of the most versatile painters as well
as commercially successful, artists in history,
Sir Peter Paul Rubens masterfully combines
old-style Italian Renaissance with the Italian
Baroque. His heroic canvasses represent all
genres – History and Relgious painting,
Landscapes, Animal painting and of course his
magnificent portraits.
The linear, geometric styles of Serapi,
Heriz, Sultan Abad, Mahal and Caucasian
are wonderful complements to both classic
Renaissance, Romantic, Rococo and Baroque,
History Painting as well as Surrealist,
Abstract and Modern Art.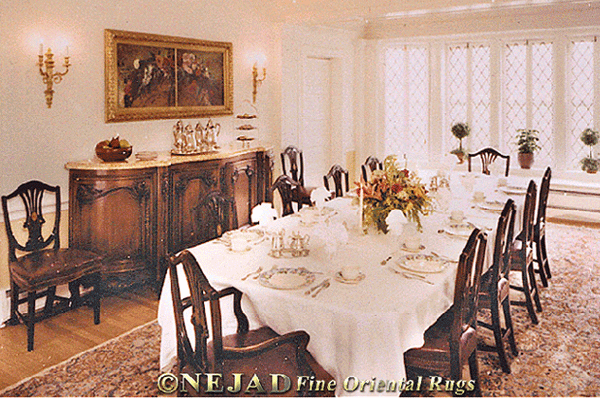 This remarkable, absolutely gorgeous,
genuine Persian Antique Kerman room-sized
area rug creates the perfect, classically
elegant, backdrop for the monochromatic
color scheme in this formal dining room.
Expressionism was a popular, modern
post-19th century movement that featured
the subjective portrayal of reality –
employing distortion to evoke emotionally
based reactions – in order to create a
desired mood. Some of the well known
artists associated with this style – as well
as Abstract Expressionism – include Pablo
Picasso (1881-1973 Spain), Egon Schiele
(1890-1918 Austria), Willem DeKooning
(1904-1997 USA), Paul Klee (1879-1940 Swiss),
Marc Chagall (1887-1985 Russia), Amedeo
Modigliani (1884-1920 Italy), Edvard
Munch (1863-1944 Norway).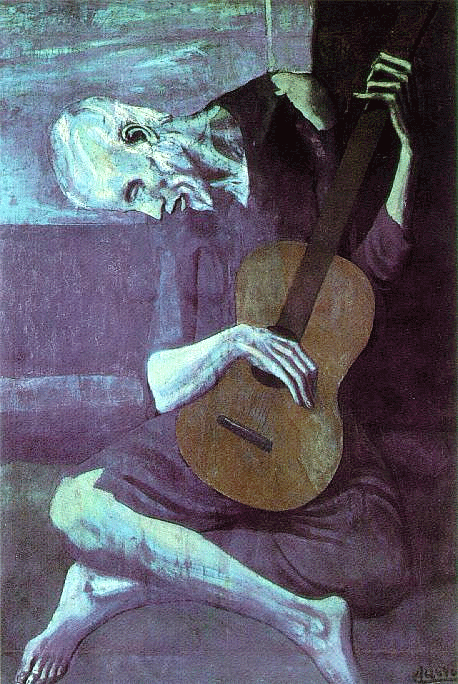 Before Cubism! – The Old Guitarist (1903)
by Pablo Picasso in what was considered
his Blue Period (also under the category
Expressionism).
Perhaps the most influential artist of the
20th century, Pablo Picasso, painted in
his own unique style – later dubbed Cubism.
Although related, the re-assembling of
elements and use of geometric shapes are
what distinguish Cubism from Expressionism.
Other notable Cubists include Georges
Braque (1882-1963), who co-developed this
creative – or re-creative – method with
Picasso.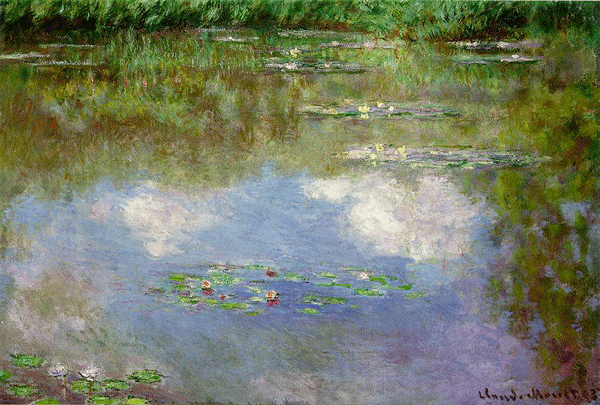 The prolific French artist, Claude Monet,
is probably the most important and most
influential of the Impressionists. Known
for his paintings of water gardens and
flowers, Monet's work ranged from
seascapes to landscapes to genre painting.
Impressionism is one of the most important
and popular movements in art history featuring
many famous artists and is also associated
with the Plein Air – outdoor – painting
technique. It is the style of painting
developed in 18th-century France and is
characterzed by somewhat flattened form
featuring visible brushstrokes, unblended
color and the bare impression of form, but
most-importantly, with an emphasis on the
accurate depiction of natural light. Other
artists in this category include Renoir,
Degas, Corot, Pisarro, Cassatt and Morisot
and to a lesser extent Manet. Esfahan, Agra,
Serapi, Sultan Abad and Kashan might be the
best rug style options for this art genre.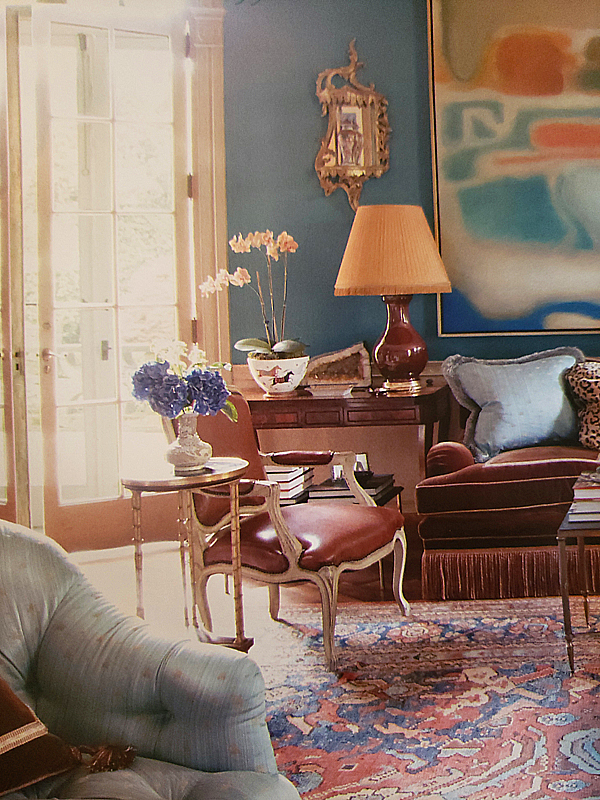 Abstract Expressionist modern art with exceptional Serapi rug
Edouard Manet, though more-often associated
with Realism, is nonetheless considered a
pivotal figure in the Impressionist movement.
One of the most innovative and influential
artists in history, Manet's work at the time
was cutting-edge and considered controversial
– frequently cited by the Paris Salon for
either violating their rigid stylistic
guidelines or for the inappropriateness of his
subject matter! Manet paved the way for other
Impressionists – Monet, Renoir,
Degas, Morisot, Cassatt, Corot and Pissaro
– to establish their own exhibitions.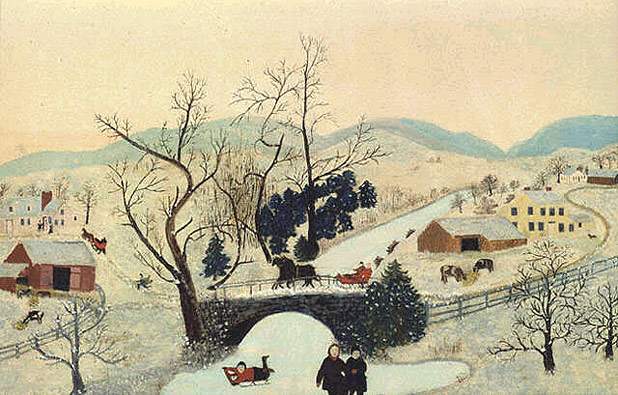 Everyone has heard of her, but has anyone
actually seen her work? Anna Mary Robertson
"Grandma" Moses was an American Landscape
Painter whose work featured charming and
nostalgic illustrative scenes of American
life. Remarkably, she did not start
painting until she was 77 and looking to
"keep busy and out of mischief" after her
husband passed away.
Naive art is usually defined as visual art
that is created by a person lacking formal
art training. Grandma Moses (1860-1961)
was raised on a farm in upstate New York
where her father encouraged her to draw on
old newsprint. Married at 27, she moved to
a farm in Virginia, where she raised five
children. Her paintings were originally
sold at country fairs, and in 1939,
several of her paintings were purchased by
a collector. Soon after, Hallmark attained
the rights to reproduce her paintings on
greeting cards.
Post Impressionism, Neo Impressionism
and Pointilism are related, late 19th –
early 20th century movements that include
French artists such as Paul Cezanne, Paul
Gauguin, Georges Seurat and Vincent van Gogh.
The difference between Impressionism and
Post Impressionism is the trend toward
abstraction and distortion in the latter,
derivative style.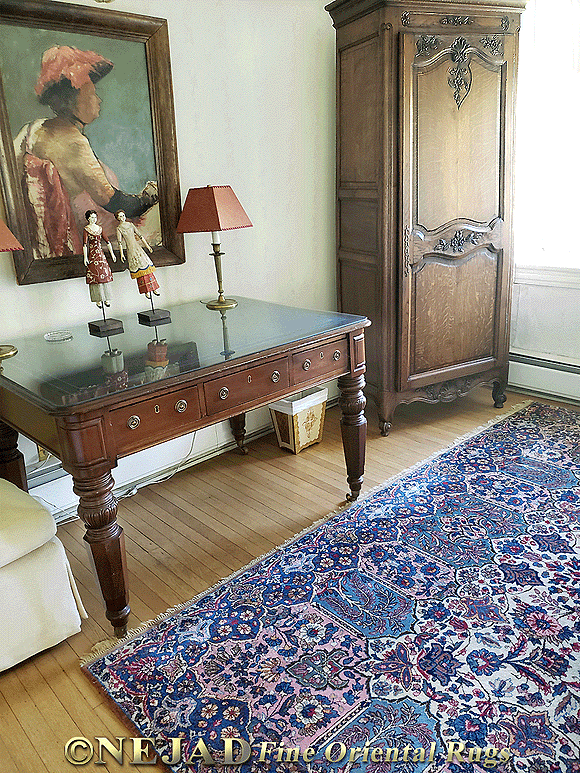 The soft muted tones of ivory, blues, rose
and greens of classical Persian Kerman rugs
works beautifully with the classic styles of
oil painting featuring Impressionism,
Romanticism, Landscapes and Still Lifes as
well as the period furniture seen here.
Kerman rugs offer an impressive range
of often elaborately-detailed yet unique
designs rendered in harmonious, muted color
schemes – including golds, muted reds (Damask),
indigo, antique ivory, khaki and bluish-grays. These are rugs
that truly justify the use of the term 'Floor
Art' or 'Art for the Floor'. Designs range
from vase, striped, to all-over to a large
medallion format and may feature dense floral
or botanical patterns.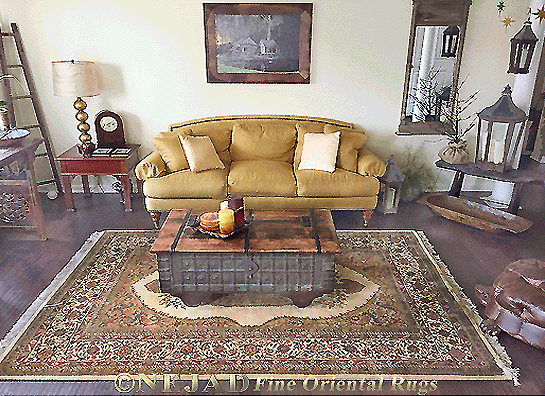 This unique and distinctive Mohtesham
Kashan rug from Nejad Rugs of Doylestown
is one of the more conservative of Persian
carpet styles and adheres to a traditional
format featuring large center medallion
embellished with stalks of foliage and elegant
floral flourishes as well as the dark rich
color contrasts of navy, rust and ivory
reflected in the framed artwork.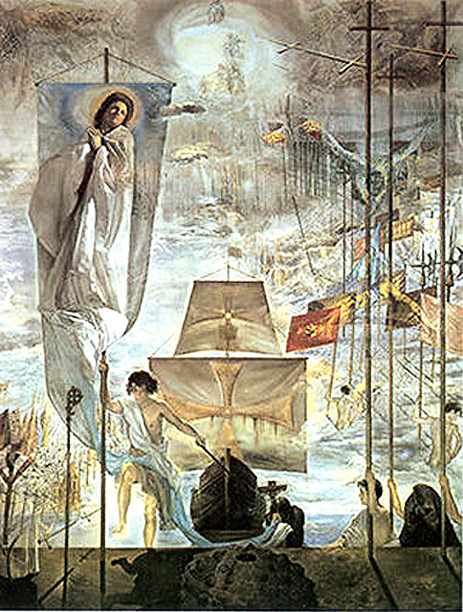 Over 14 ft high and 9 ft wide – the
seldom-seen painting The Discovery of America
by Christopher Columbus. Painted in 1958-9 it
is surely a stylistic departure for Dali and
one that today could raise concerns of
political incorrectness – especially in America.
As Picasso is to Cubism – Dali is to
Surrealism. The name Salvador Dali (1904-1989)
is inextricably linked with Surrealism – as
its inventor. Rejecting the rational in art,
Dali instead aimed to channel the unconscious
mind to unlock the power of imagination. Thus
his subjects are full of imagery drawn from
Freudian symbolism and his own extravagent
imaginings – works that invoke a hypnotic,
even hallucinogenic energy.
First definied by British curator Lawrence
Alloway (who invented the term in 1955) to
describe a new form of art – Pop Art became
the dominant movement in early 1960s American
art. Short for popular art – the movement
presented a challenge to traditions of fine
art as it sought to elevate common household
objects – and even consumer products – to the
level of fine art! Notable works of this
genre include Andy Warhol's depiction of
cultural and commercial icons – subjects such
as silk-screened graphic images of Marilyn
Monroe and Campbell's Soup Cans as well as Roy
Lichtenstein's comic book-type
illustrations formally framed as fine art.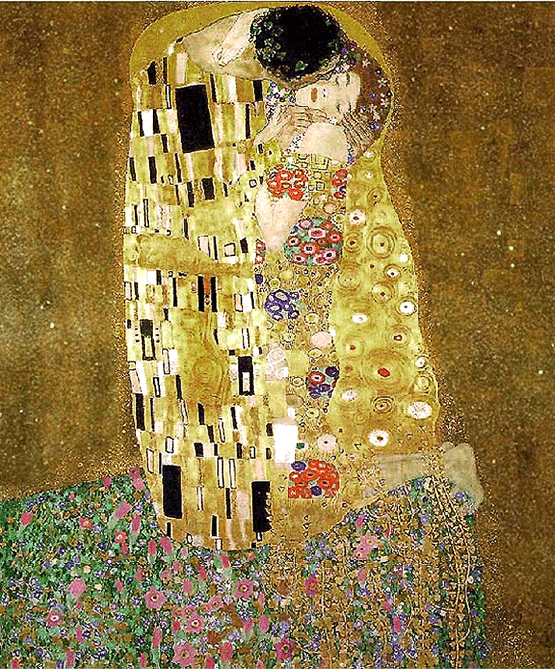 The Kiss by late-19th early-20th century
French Symbolist artist Gustav Klimt. The
figures merge, bedecked in a dazzling array
of gilded and highly-structured rectangle
and rosette shapes – symbolizing the
masculine and the feminine, male and female.
Symbolist Art ascribes or infers subliminal
meaning – such as love, death or sin as
metaphor – i.e. for woman, animal, hero etc. –
more of a search for the profound in the form
of the mystical, the supernatural, the
spiritual and the representation of truth
rather than adherance to a specific style.
Important members of this movement include
Gustav Klimt (1862-1918), Gustave Moreau
(1826-1898), Odilon Redon (1840-1916) and
Edvard Munch (1863-1944).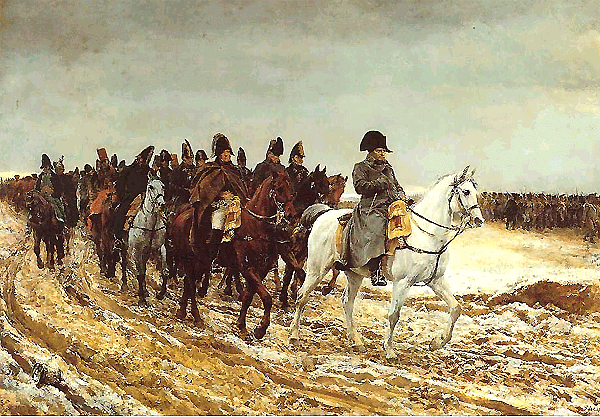 Hostory Painting featuring Napoleon's
Last Stand in France 1814 by Ernest Meissonier.
Delacroix considered Meissonier the greatest
living painter in France!
The term History Painting was introduced by
the French Royal Academy in the 17th century.
In the hierarchy of art genres, History
Painting – known as the "Grande Genre" –
included classical, religious, mythological,
literary and allegorical themes, occupied the
top position – above portraiture, genre,
landscape and still life painting. French
artist Eugene Delacroix (1798-1863) –
'Liberty Leading the People' – was one of the
most vigorous of the Romantic history painters – .
Other exponents of this class were Paul
Delaroche (1797-1856) and Jean Louis Ernest
Meissonier (1815-1891) renowned for his
illustrative historical military paintings
that featured Napoleon.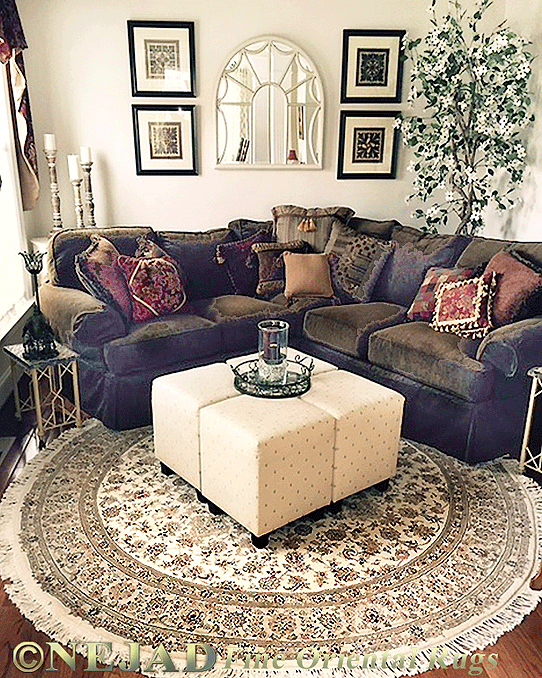 This charming Silk and Wool round rug is a
perfect focal point for the miniature framed
set of paintings and sofa that accompany it.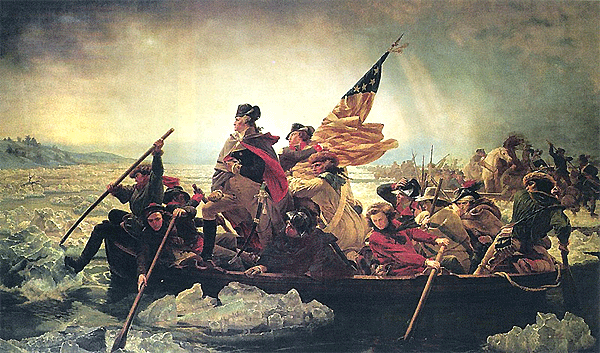 Washington Crossing the Delaware (Christmas
Eve-1776) by Emanuel Gottlieb Leutze –
Painted 75 years after the actual event
… in Germany!

Classic parlor setting in Doylestown estate
home in Bucks County PA featuring exceptional furnishings including classic
antique sculpture and large paintings framed in
gold leaf – all design elements effectively
pulled together by the classic room size
antique medallion rug.
Developed particularly in 17th century
Netherlands, Genre art – or Genre Painting –
is the portrayel of events from everyday
life such as domestic, interior, inn, and
street scenes. – whether real or imagined
were, typically, pastoral scenes of peasant
life or drinking in taverns, and tended to be
relatively small in scope. Franz Hals was
renowned for such representations. In England,
Hogarth's modern moral satires were a
different type of genre.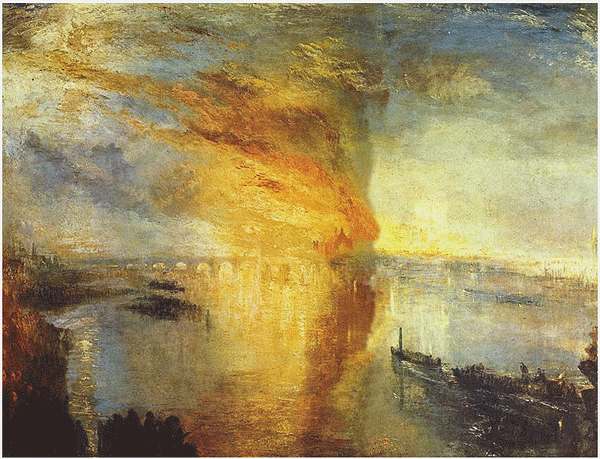 It was the British artist J M W Turner
who began to elevate Landscape Painting to
other genres through the masterpieces he
produced in the 19th century.
The influential J. M. W. Turner (1775-1851),
is known for his expressive colorisations,
imaginative landscapes and turbulent marine
paintings. Before the influence of Turner,
Landscape Painting was ranked below history,
portrait, and genre painting. Artists such as
Van Gogh, Monet, Constable and Corot made
further progress in the genre of Landscape
Painting. Though labelled a Romantic, Turner's
enigmatic, atmospheric renderings paved the
path to abstraction – i.e. Abstract
Expressionism – and his work foreshadows
later movements such as Impressionism.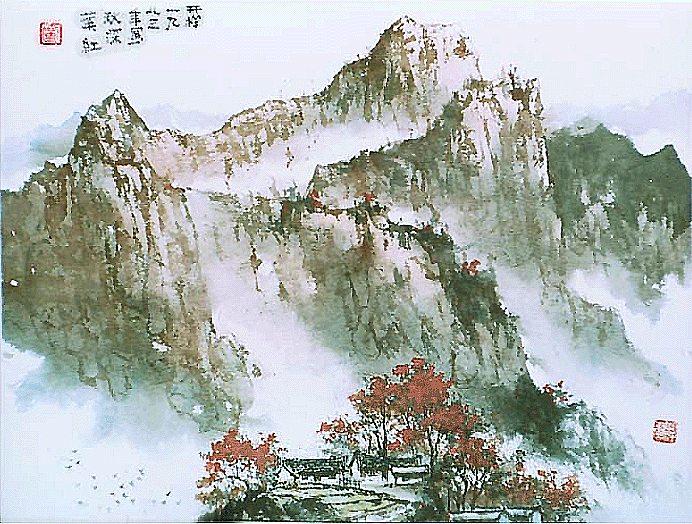 The protege of China's most important painter
Xu Beihong, Lu Kaixiang was the first head of
the China Art Council under Chairman Mao.
Lu's artworks, consisting of mostly dramatic
landscape paintings, are on display throughout
China and have been exhibited in the United
States as well.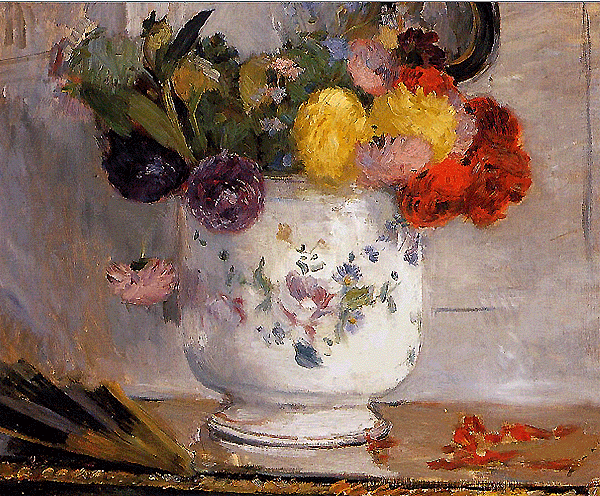 'Dahlias 1876' Berthe Morisot (1841-1895)
Morisot was an Important Impressionist and
sister-in-law to Edouard Manet. Impressionism,
Flower Painting and Still Life Painting are
all related categories.
Minimalism and Abstract Expressionism are
popular modern art movements represented
by artists Mark Rothco (1903-1970), and
Jackson Pollock (1912-1956) – and others.
Rothco is a leading exponent of the
Abstract Expressionist movement and is known
for his abstract color field paintings which
feature large rectangular swaths of color.
Jackson Pollock is known for his technique
of dripping, splashing and stippling
various-colored pigments onto the canvas –
creating dense multi-layered, improvised
random effects.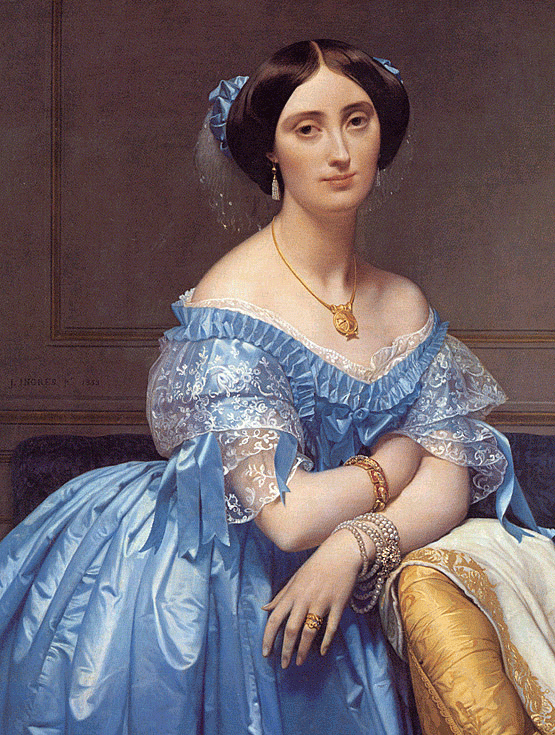 The Princesse de Broglie 4 ft x 3 ft portrait
by Jean August Dominique Ingres (1853)
Neoclassical, stylized portrait by Ingres
features, despite the near-photographic
realism, deliberate yet subtle distortion
that would influence later painters such as
Picasso.
The 15th century Flemish portraitists Jan
van Eyck (1390-1441), Roger van der Weyden
(1400-1464) and Hans Memling (1433-1494) made
significant progress in the attainment
of a heightened sense of realism. From the
16th century to the present there are numerous
portraits among the masterpieces of European
painting. Da Vinci, Rubens, Van Dyck, Titian,
Gainsborough, Rembrandt and Ingres.
Jean August Dominique Ingres was a staunch
proponent of academic orthodoxy and tradition,
most notably, the Italian Renaissance and, in
particular, Raphael. Ingres is known for his
portraits – both painted and drawn – of a very
fine quality and accurate likeness. These works
included some strategic stylistic distortion
that foreshadow Picasso.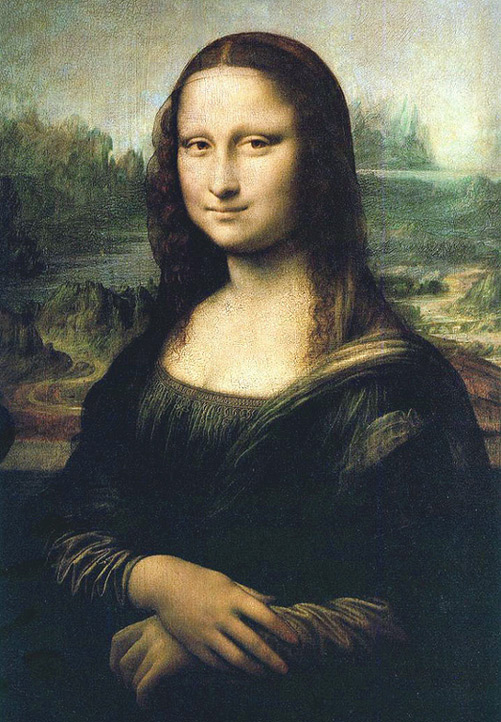 Hans Holbein the Younger's (1497-1543) mastery
of line and ability to achieve uncanny
likenesses commended him – from Germany – to
the English court in London. He portrayed in
both paintings and drawings the portraits of
a considerable segment of Tudor society
including, famously, King Henry VIII himself,
and, perhaps infamously, Anne of Cleves.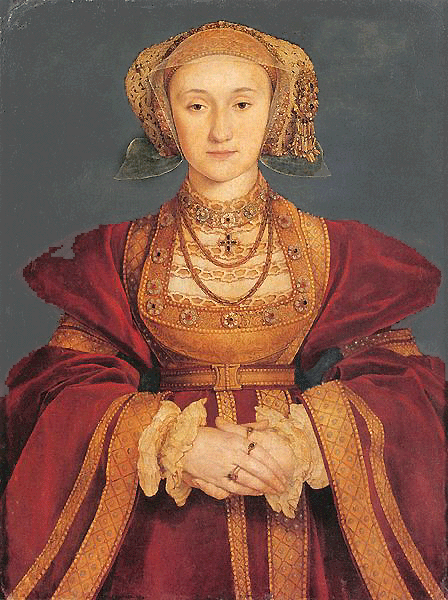 As part of his jub-description as official
court painter to Henry VIII, and to assist
Henry in determening her suitability as
potential bride, Holbein was dispatched to the
continent to offer his pictorial report on the
young German Duchess Anne of Cleves. Holbein
returned with something significantly more
than a mere description – his painting of the
Duchess is considered nothing less than a
masterpiece of Portrait Painting.
Anne's tenure as queen, however, was
short-lived and the marriage subsequently
anulled. She thus became known thereafter
as "the King's Beloved Sister."
Note: The soon-to-be ex-Queen Consort of
England, Anne of Cleves, manages to escape
with her head still attached while Holbein's
otherwise well-intended 'oil and tempera
on parchment' likeness bears witness to
the likelihood that it may not have been
the most lovely of heads, after all.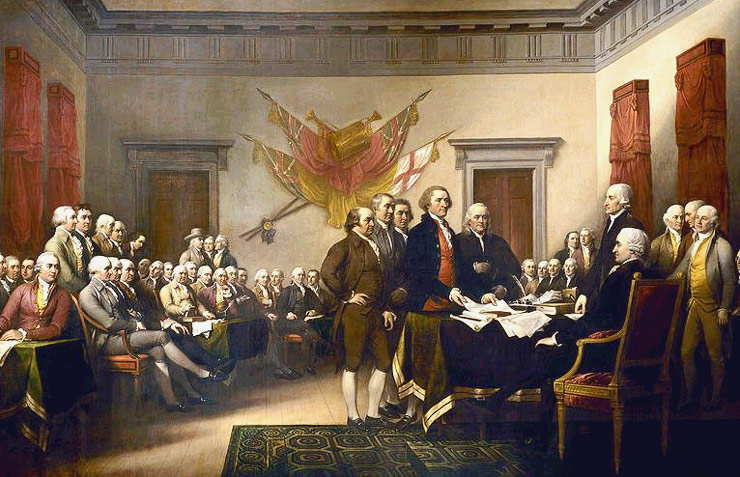 The painting 'The Declaration of Independence'
wasn't begun until a full 10 years after the
historically significant event. American
artist John Trumbull was commissioned with the
daunting task of individually tracking down
(and painting) each of over 40 subjects – i.e.
Adams and Franklin – in London, Jefferson – in
Paris etc. etc. – a task taking over (wait for
it) 3 decades to complete.
Note: During this time (1789) in Paris –
at the start of the French Revolution –
the famed French sculptor Jean Antoine
Houdon completed his impressive marble
portrait bust of Thomas Jefferson.
(If possible, proving the excellence of
Trumbull's work)
The Declaration of Independence is a
12 ft by 18 ft oil on canvas painting by
American artist John Trumbull depicting
the presentation of the draft of the
Declaration of Independence on June 28,
1776. This ambitious work, which included
47 portraits of the members of the first
Continental Congress, was completed by
1820 and currently hangs in the United
States Capitol Rotunda.
The 17th century was a great age of
portraiture in Europe. Flemish artists Peter
Paul Rubens (1577-1640) and his protege
Anthony Van Dyck (1599-1641) were influenced
by Italian painting – especially the Venetians,
especially portraits, and especially Titian
(1490-1576). Both Rubens and Van Dyck can be
viewed in two distinct aspects – there is the
Baroque painter of the more-subjective
treatment of religious themes vs the
more-objective aproach toward the portrait
commission. The elegance and refinement of
Van Dyck's art certainly dominated the period
of England's greatest excellence in the
portrait and inflenced the portraits of Sir
Peter Lely (1618-80) and Sir Godfrey Kneller
(1646-1723).
The 18th century produced an informality
and intimacy that Europe had previously not
known. The portraits done in outdoor settings
painted by Thomas Gainsborough (1727-1788) and
Sir Joshua Reynolds (1723-92) feature the
freshness of the English countryside.
The 19th century, was more varied-less
restricted in style as seen in the romantic
portraits of Sir Thomas Lawrence (1769-1830).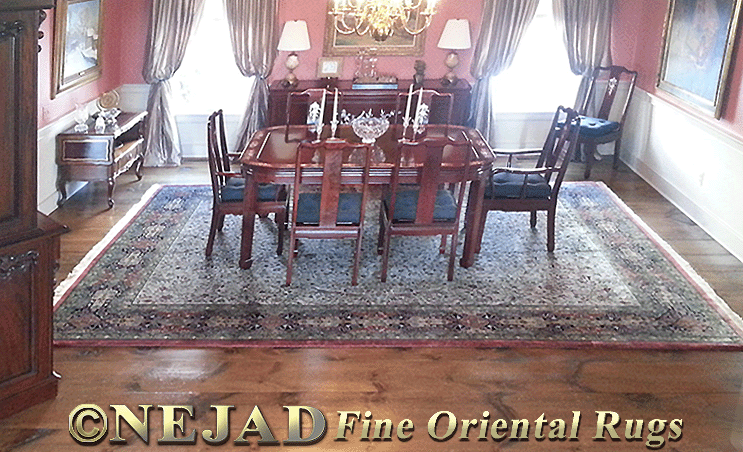 The Hunt Tabriz Rug 12 ft x 15 ft from the
Nejad Signature Masterpiece Collection M013
(Ivory – Navy – Emerald) This room size fine
hand-knotted rug with all-over design features
stately elegance and provides perfect
atmosphere to show formal and realistic
artwork such as Portrait and History Painting.
Academic Art is the style of painting,
drawing and sculpture produced under the
influence of 18th and 19th Century European
universities – or academies – generally, but
more specifically, it refers to the art and
artists influenced by the standards of the
French Academy des Beaux-Arts, which practiced
under the movements of Neoclassicism and
Romanticism, and the art that followed these
two movements, in the attempt to synthesize
both of their styles – as best reflected by
the paintings of William Adolphe Bouguereau.
Otherwise referred to as "academism" –
or "academicism" – this style of
representational art is both influenced by
and can be definitively traced to the
Italian and northern European Renaissance.
The first academy of art was founded in
Florence in 1563 by the Medici (Cosimo de'
Medici) where students learned the art of
drawing and heard lectures on anatomy.
In 1648 the Academie Royale de Peinture et
de Sculpture was founded in France, and
later became (famously) the Academie des
Beaux-Arts (School of Fine Arts).
A controversy developed among the members that
dominated artistic attitudes for the rest of
the century (and beyond). This battle of styles
was a conflict over whether Peter Paul Rubens
or Nicolas Poussin was a suitable model to
follow. Followers of Poussin, called
Poussinistes, argued that line, because of
its appeal to the intellect, should dominate
art while followers of Rubens, called
Rubenistes, argued that color should dominate
art, because of its appeal to emotion.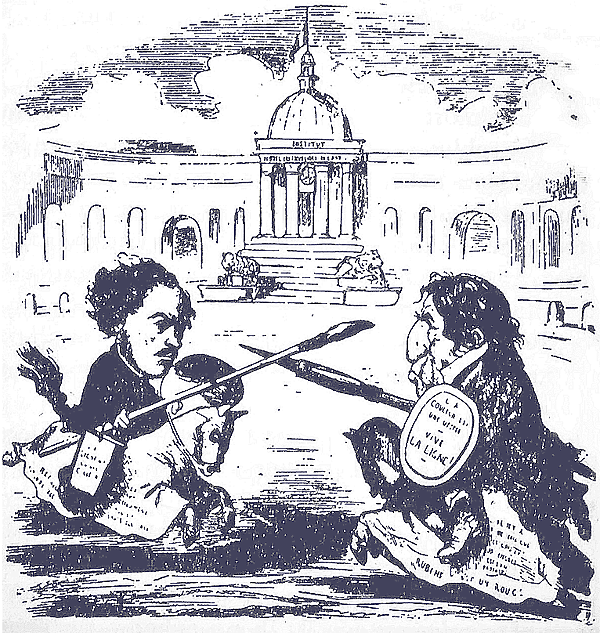 Color VS Line features Artists Delacroix (left)
– representing Romanticism and the use of Color
– VS Ingres (right) – representing
Neoclassicism and the use of Line – The two
effectively Squaring off in the ongoing battle
to gain validation and vindication for their
particular viewpoint.
This debate was revived in the early 19th
century, under the movements of Neoclassicism –
typified by the artwork of Jean Auguste
Dominique Ingres, and Romanticism – typified
by the artwork of Eugene Delacroix. Debates
also occurred over whether it was better to
learn art by looking at nature, or to learn by
looking at the artistic masters of the past.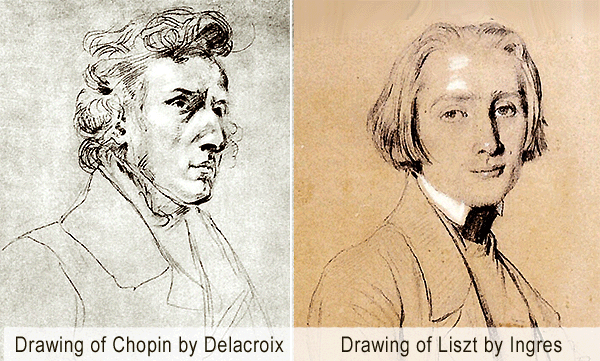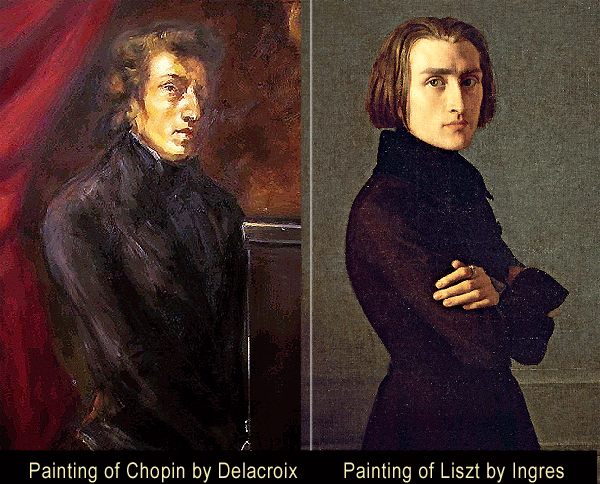 Since the onset of the Poussiniste-Rubiniste
debate many artists worked between the two
styles and by the 19th century the ideal in
academic art became the synthesis of the line
of Neoclassicism with the color of Romanticism.
One artist after another was claimed by
critics to have achieved such a synthesis.
Prominent academic artist William Adolphe
Bouguereau commented that the trick to
being a good painter is "seeing color and
line as the same thing."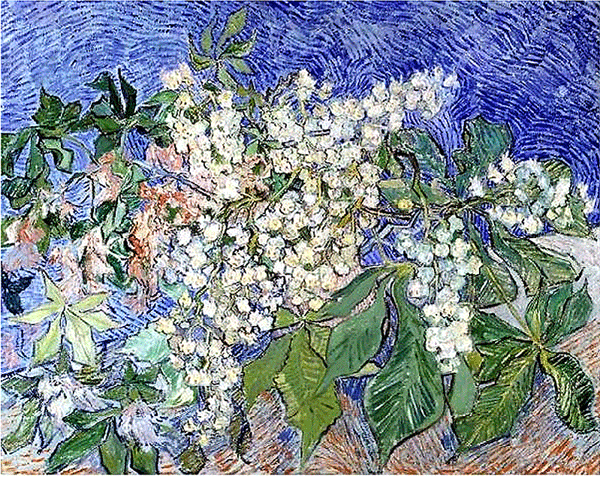 Vincent Van Gogh was famed for his bold,
dramatic brushwork of hue-saturated,
thickly-laid pigment which conveyed a
sense of vibrancy and movement.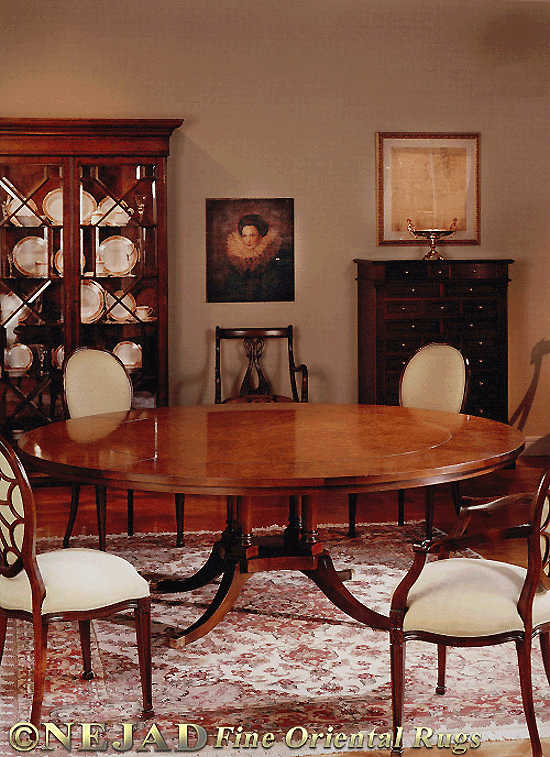 Perfect together! Furniture by Molon and
Rug by Nejad – The ivory field in this
Nejad classic medallion rug reflects the
color of the chairs while the color of the
wood in the furniture is reflected in the
medallion and border colors of the rug.
Towards the end of the 19th century,
academic art had reached it's height.
Exhibitions were held frequently at the
Paris Salon where thousands of paintings were
displayed in "Salon Style" – hung from just
below eye-level all the way up to the ceiling.
In terms of turnout, these exhibitions were
sensational events – as much a social affair
as an artistic one – that attracted thousands
of visitors. Some of the leading and
commercially successful painters of this
Academic Art world were William Adolphe
Bouguereau (1825-1905), Alexandre Cabanel
(1823-1889) and Jean Leon Gerome (1824-1904).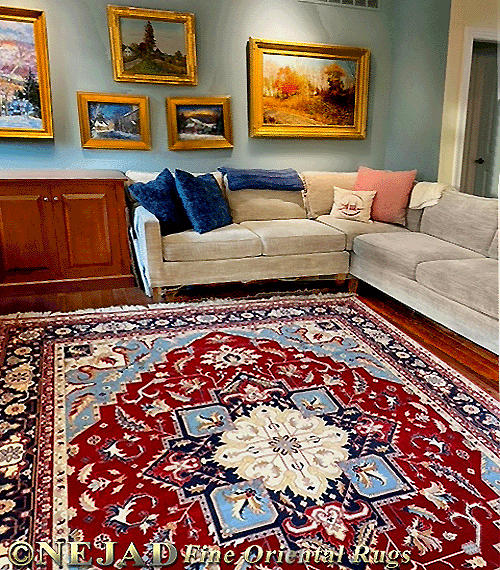 This interior living room setting achieves
a harmonious, color-coordinated effect as
the colors featured in the several paintings
on the wall are reflected in the bright and
colorful Heriz Oriental Persian rug. Even the
blonde color of the wood frames is picked up
in the border color of the rug.
The typical Heriz rug design consists of a
basic geometric pattern and features a
prominent, diamond-shaped medallion – all set
in a vibrant, strongly-contrasting color
scheme ranging from highly-saturated reds and
brilliant greens (often with a blue background
color in the spandrel) to black, navy, ivory
or gold outlining. The linear geometric styles
of Serapi, Heriz, Sultan Abad, Mahal and
Caucasian are wonderful complements to both
classic Renaissance, Rococo and History
Painting – as well as Surrealism, Abstract
Art and Modern Art.
If you are looking to furnish your new
or refurbished home with classic design
oriental rugs – whether a single rug or
several rugs – you can get the best deal
Now and shop a huge selection of thousands
of rugs – in stock! Visit our Doylestown
Showroom at 1 North Main Street at the
corner of Main And State Street in the
center of the Doylestown Historic District
or call 215-348-1255. Visit our website at
www.nejad.com