About Chinese Ming Rugs
Overview
The classical carpets of China were virtually unknown in the west until the early 20th century, first gaining official recognition in the United Sates at the 1903 St. Louis International Exhibition where an entry was awarded first prize. In 1908, reportedly, well over a thousand Chinese rugs were sold at auction in New York City alone. With western interest now kindled, substantial efforts were made to transform the handicraft of rug weaving into a major industry. By the 1920s, the so-called Peking and Tiensin style rugs were successfully produced and marketed according to the specifications of American importers.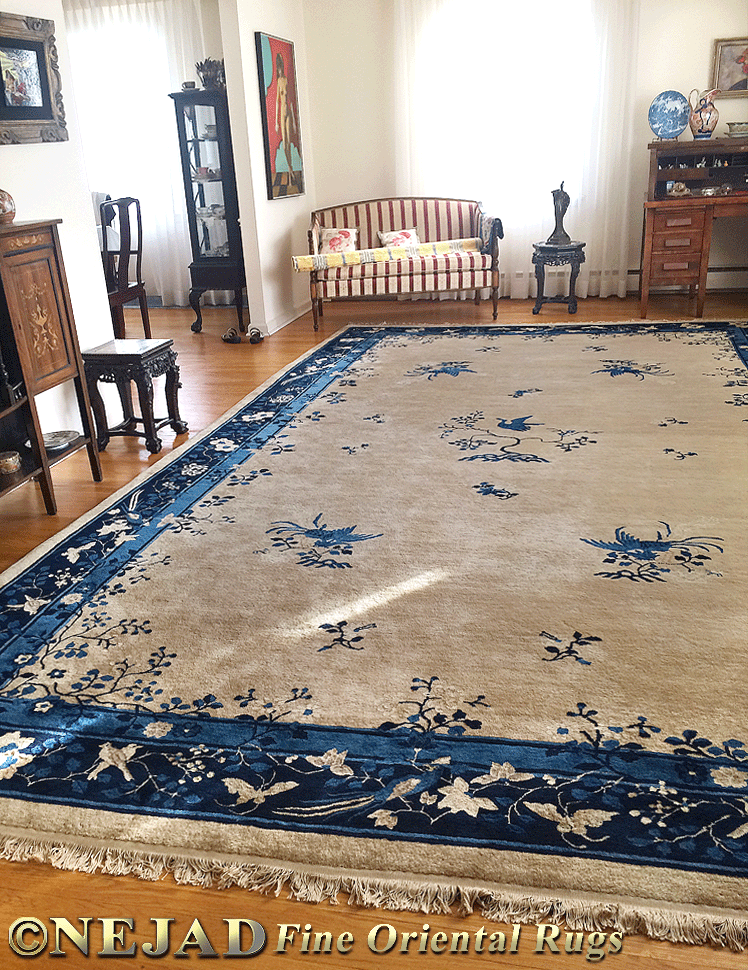 Nejad's antique Chinese Ming oriental rug Circa 1910 in classic colors of gold, blue and navy ( Size: 9' × 13' ).
Instrumental in the development of the art of rug weaving to the high aesthetic levels attained by Chinese craftsmen was, not only the patronage of the native noble and upper classes, generally, but the imperial rulers of the Ching and Ming Dynasties, particularly. Today the Chinese rug industry essentially consists of highly-skilled weavers following traditional, centuries-old hand-weaving methods and techniques, but using modern production facilities and equipment - with some manufacturers having up to several hundred looms. Principal cities of carpet manufacture and export include Beijing, Tianjin, Qingdao, Shanghai, Dalian, Nanjing, Hangzhou, and Baoding.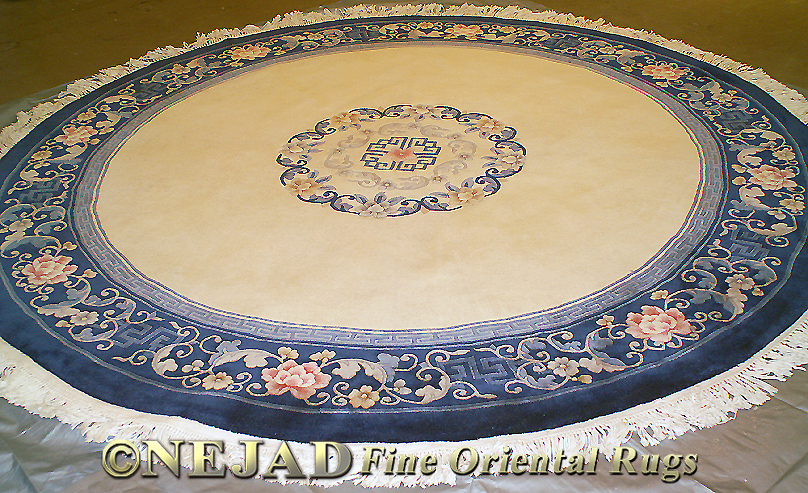 The above 8' exquisite China Ming 90Line fine-woven 8' Round Ivory & Navy rug from Nejad's extensive inventory
A Distinctive & Unique Style
The Ming Rug Style - typical theme for the Ming carpet - and stylistically the most indigenous to Chinese culture, are rugs generally featuring a central medallion on an open or covered solid-color field of traditional and often stylized motifs and symbols, such as lotus flowers, dragons, assorted wildlife, vases and graphic icons based on Chinese calligraphic characters within a framework consisting of a simple, or geometric, wide border. Less typical are floral designs inspired by either the Tientsin-style rugs of the 1920's featuring all-over patterns, or the 18th-19th century flatwoven Aubusson style rugs typified by a central medallion surrounded by florid detail.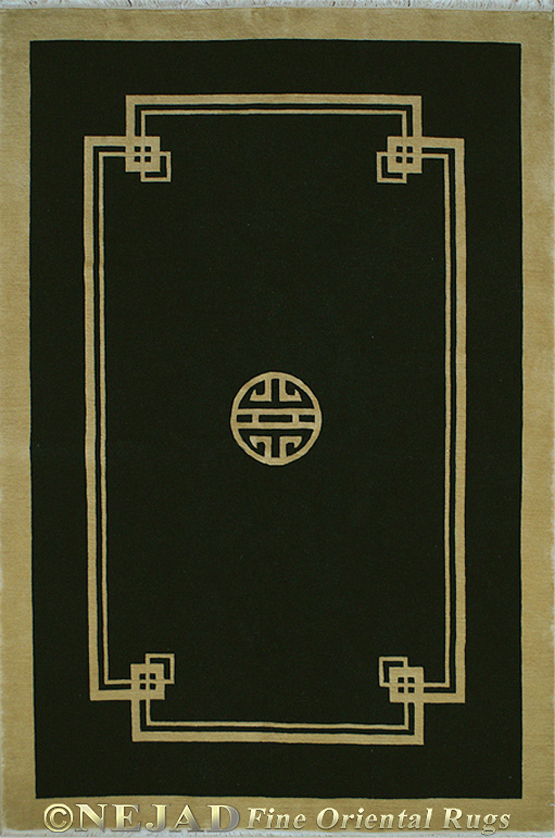 Nejad's 6' × 9' Traditional 60113BKGO Black & Gold Chinese Shu Rug with Lu (wealth) Medallion
Although illustrated examples in the catalogue of the American Art Association show several vintage rugs in pristine condition, possibly fewer than six hundred classical Chinese carpets survive today. The world's largest collection currently resides at the Palace Museum in Beijing and features nearly a hundred pieces - mainly examples from the Ming Dynasty. Other notable locations where antique Asian carpets are on display include the Metropolitan Museum of Art in New York City and the Textile Museum in Washington D.C.
Rugs Sold at Auction from Christie's and Sotheby's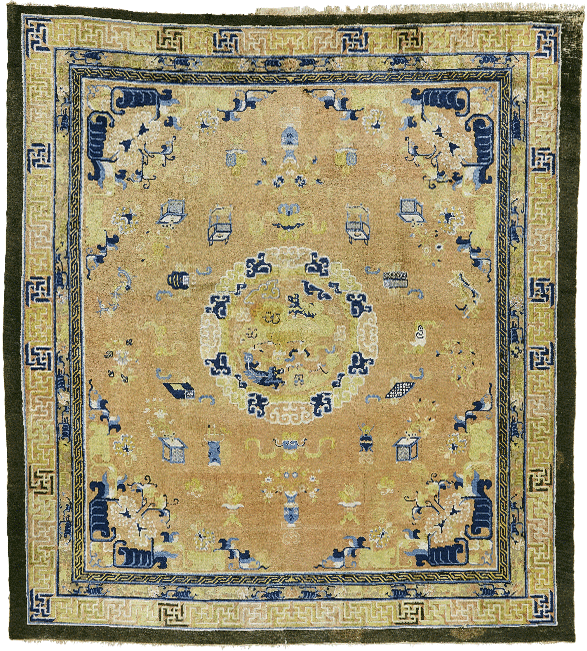 The Thyssen-Bornemisza Lion-Dog and 'Hundred Antiques' Medallion Ninghsia carpet, West China
Qing dynasty, second half 18th century approximately 387 by 353cm; 12ft. 9in., 8ft. 4in.
ESTIMATE: 25,000 - 40,000 GBP LOT SOLD. 50,000 GBP
Rugs and Carpets 06 November 2018 | 2:30 PM GMT SOTHEBY'S London
https://www.sothebys.com/en/auctions/ecatalogue/2018/rugs-sale-l18872/lot.96.html
The austerity of the cloud-collar medallion is here rendered as clearly-stylised clouds with a definite attempt at creating a 3-dimensional rendering through colour. The formality seen in earlier productions has here given way to a greater sense of naturalism, as seen in the rendition of the leafy flower sprays in the corners and the minor border. This development illustrates the shift in aesthetics under the Quianlong emperor (1736-1796) and would have complemented the greater emphasis on floral decoration in the other decorative arts, seen during his reign. The field is decorated with some of the Four Gentlemanly Accomplishments: the chessboard, books, paintings and with a brush holder with brush, scroll and flywhisk, amongst flower baskets and vases.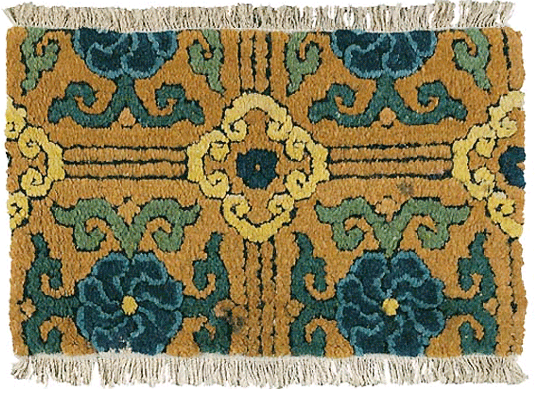 A MING CARPET FRAGMENT GREATER CHINA, SECOND HALF 16TH CENTURY
2ft. 3in. × 1ft. 6in. (68.5cm. × 45.5cm.) The mustard-yellow field divided into panels containing "western lotus"
issuing hooked vine framed by a lattice linked by open quatrefoil, silk warps, minute stains, otherwise full pile
Oriental Rugs & Carpets CHRISTIE'S London | 18 October 2001
https://www.christies.com/lotfinder/Lot/a-ming-carpet-fragment-greater-china-second-3049221-details.aspx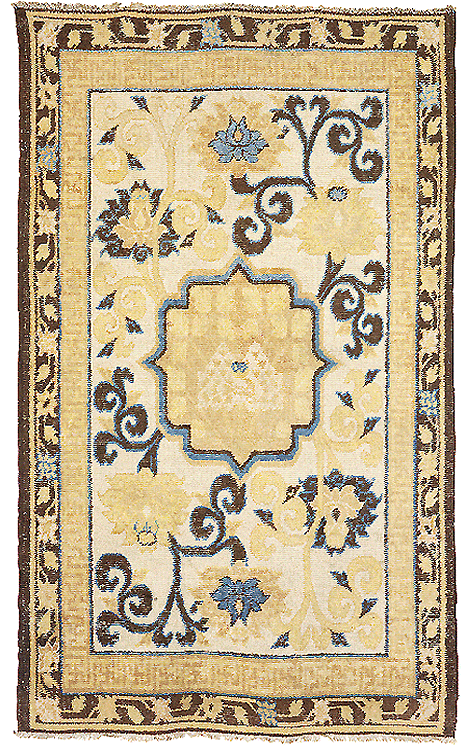 A CHINESE RUG LATE MING DYNASTY, FIRST HALF 17TH CENTURY
7ft.1in. × 4ft.4in. (215cm. × 132cm.) Light touches of wear, corroded brown with associated
repiling, localised repiling in field, both ends rewoven, selvages rebound
Estimate GBP 25,000 - GBP 30,000 Price realised GBP 27,500 ($35,000 USD)
Provenance: Private Swiss Collection Bought in China between the years of 1904-1910
https://www.christies.com/lotfinder/Lot/a-chinese-rug-late-ming-dynasty-first-5118887-details.aspx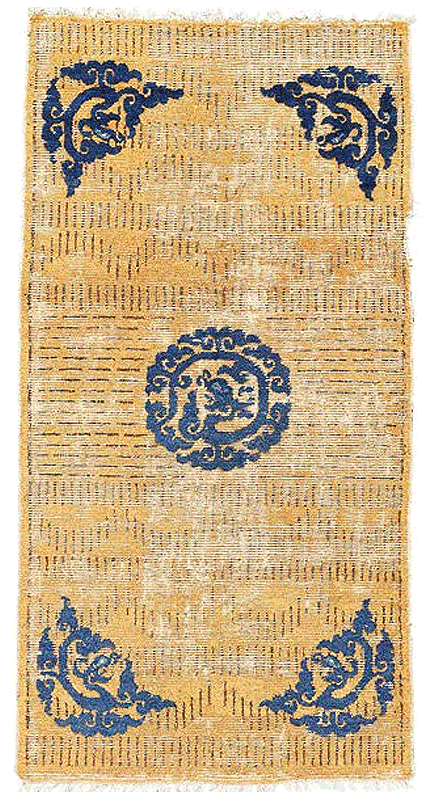 A NINGXIA RKO RUG NORTH CHINA, LATE MING DYNASTY, FIRST HALF 17TH CENTURY
Unevenly worn, corroded dark brown, selvages slightly frayed, one side missing
a few knots, ends secured 4ft. 11in. × 2ft. 6in. (150cm. × 76cm.)
Estimate GBP 20,000 - GBP 30,000 Price realised GBP 35,000
https://www.christies.com/lotfinder/Lot/a-ningxia-rko-rug-north-china-late-5666002-details.aspx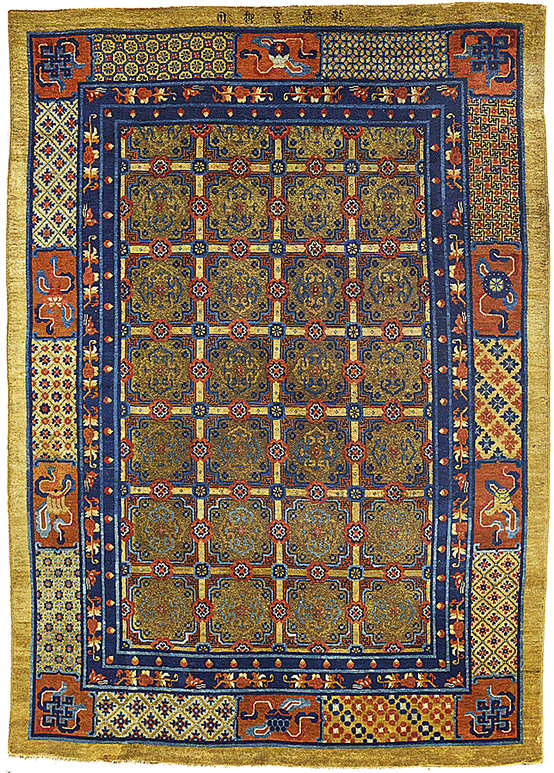 A Chinese silk and metal thread brocaded dais carpet Qing Dynasty (1644-1911), circa 1800
inscribed For Imperial use in the Palace of Heavenly Purity
approximately 261 by 186cm; 8ft. 6in. by 6ft. 1in.
Rugs and Carpets 06 November 2018 | SOTHEBY'S London Estimate: 50,000 - 80,000GBP
http://www.sothebys.com/fr/auctions/ecatalogue/lot.54.html/2018/rugs-sale-l18872
Origins: An Important and Rare 13th Century Mongol Empire Carpet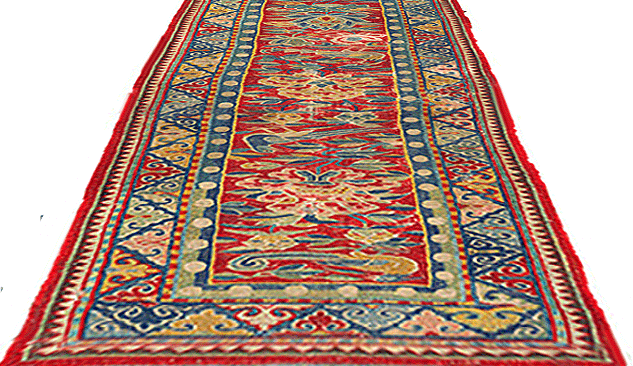 [ VIEW DETAIL 13-14TH CENTURY MONGOL EMPIRE CARPET ]



Rare Carpet from the Mongol Empire Late 13th - Early 14th Century Flateoven Wool Approx 8' × 2.7' Central Asia
https://www.christies.com/features/Mongol-Textile-5861-1.aspx

The early 13th century Mongol invasion of Northwest China established, within a half century, the largest continuous land empire ever to exist - stretching from Hungary to Korea. Mongol ruler Gengis Khan resettled weavers along the 4,000 mile-long Silk Route, eventually forming three major centers of textile production - Besh Baliq in the Tarim Basin corridor, Hongzhou and Xunmalin near modern Beijing. The above Mongol Empire carpet is thought to be the sole-surviving example of Mongol influence on the region's art and trade and provides, as well, a definitive representative of the state-of-the-art of textile weaving several centuries ago.
Chinese Symbols Used in Textile Art (and their Meanings)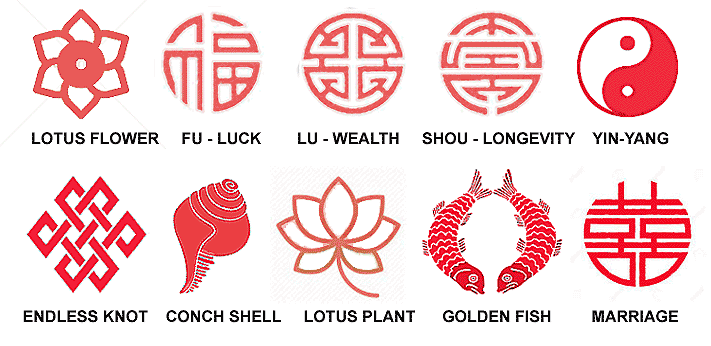 The lexicon of symbols found in Chinese textile art includes the Eight Auspicious Symbols listed below:
The Conch Shell considered to be the original horn-trumpet, the conch shell represents enlightenment
The Endless Knot represents eternity as well as the ultimate unity of everything
The Two Golden Fish - represent both fertility and abundance and symbolize the auspiciousness of all sentient beings in a state of fearlessness and without danger of drowning
The Lotus Flower represents the purity of body, speech, and mind. Although the lotus has its roots in the mud at the bottom of the pond, its flower lies immaculate above the water. The lotus flower icon may have 4, 8, 16, 24, 32, 64, 100, or 1,000 petals
The Jewelled Parasol symbolizes the canopy of the sky and represents the protection from harmful forces and illness
The Treasure Vase represents health, longevity, wealth, prosperity & wisdom
The Wheel of the Law symbol represents truth and order and the fundamental principle of Kharma
Victory Banner is a symbol representing victory over pride, and as a military standard of ancient warfare, victory overcoming the fear of death
Other motifs often seen in Chinese pile rugs and carpets include The Pearl which signifies purity and perfection, the Swastika which in the east means good luck, the Closed Vase representing peace and harmony and The Dragon which was especially symbolic of strength, power and majesty and a motif exclusively associated with the Emperor.

AN IMPORTANT AND RARE IMPERIAL DOUBLE-DRAGON CARPET WANLI PERIOD (1573-1619)
Estimate USD 600,000 - USD 800,000 Price realised USD 665,000
the tan ground with two sinuous dragons, one blue and one yellow, chasing a flaming pearl
surrounded by clouds, scrolling vines and chrysanthemums, missing original borders
Approximately 14 ft. 9 in. × 10 ft. 4 in. (450 cm. × 315 cm.)
Provenance: Anonymous sale; Sotheby's New York, 22 September 1993, lot 219
https://www.christies.com/lotfinder/Lot/an-important-and-rare-imperial-double-dragon-carpet-5855149-details.aspx
Consumer Notes
Today's consumer has a wealth of patterns and colors to choose from both in pile and flat-woven Chinese rugs. Some of the most popular design categories of Chinese pile carpets available today include antique-style, floral, contemporary-design and Sino-Persian. Hand-woven in China, the Sino-Persian rugs are based on the most-celebrated and best-selling Persian rug designs throughout history, namely: Tabriz, Kashan, Sarouk and Kerman.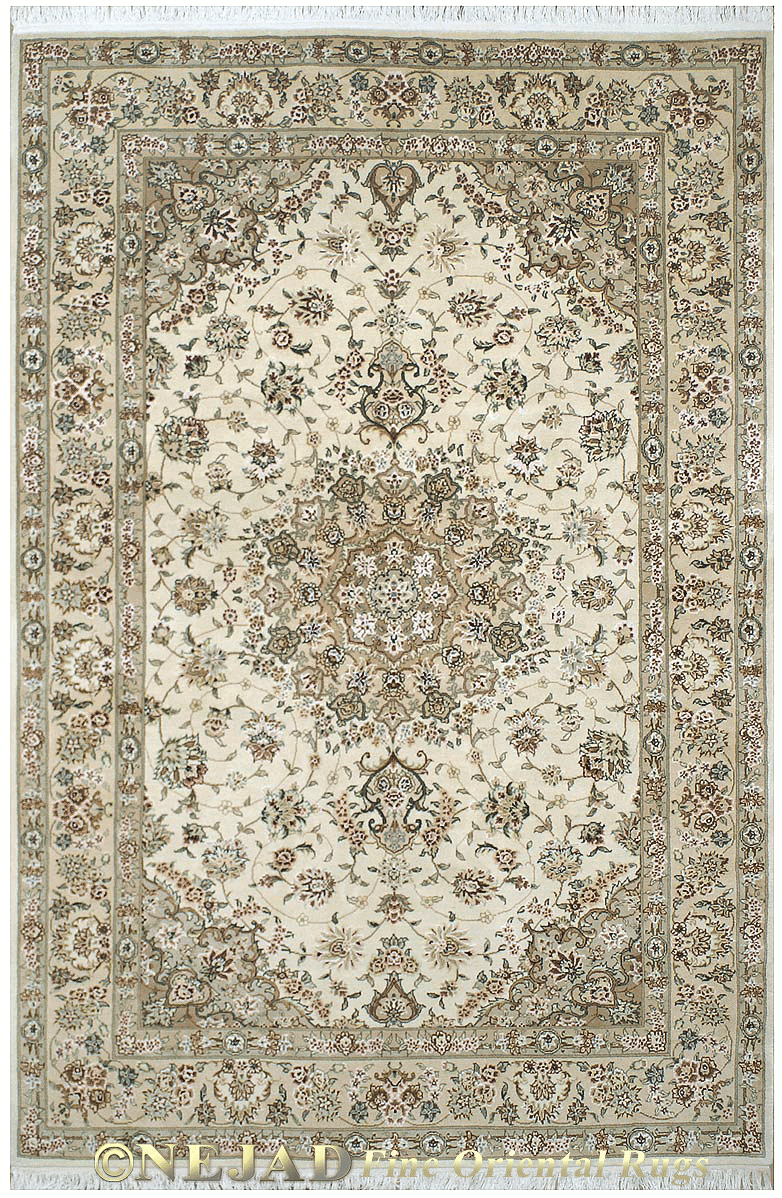 Impressively-detailed Sino Persian Tabriz Carpet from the Nejad Silk & Wool Collection available in lengths up to 13½'.

The contemporary Chinese rug color-palette is keyed to match and complement current American decorative and designer trends and ranges from pastel shades to vibrant jewel tones. Carving or incising of the pile in order to produce depth and shading in the rug detail is a unique feature sometimes seen in Chinese carpets. The line-count system for determining the fineness of the weave is also unique to China, with most pieces ranging in quality from 120 to 300 lines - averaging 200 lines (approximately 278 knots per square inch - or KPSI).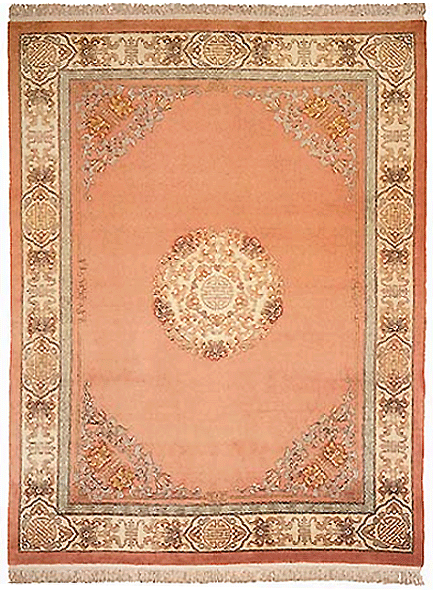 Traditional-Style Chinese Medallion Rug with Contemporary Color Palette



About: Tabriz Antique Rugs | Heriz Antique Rugs | Mashhad Antique Rugs | Sarouk Antique Rugs | Kashan Antique Rugs
Kerman Antique Rugs | Serapi Antique Rugs | Bidjar Antique Rugs | Karabagh Antique Rugs | Kazak Antique Rugs
Turkeman Antique Rugs | Kurdish Antique Rugs | Farahan Antique Rugs | Darjazin-Hamadan Antique Rugs
Hereke Antique Rugs | Akstafa Antique Rugs | Mudjar Antique Rugs | Chichi Antique Rugs | Dagestan Antique Rugs
Senneh Antique Rugs | Shirvan Antique Rugs | Beluch Antique Rugs | Peking Antique Rugs | Qum Antique Rugs
Bakhtiari & Antique Bakhtiari Rugs | Gharajeh (Karaja) Antique Rugs | Ziegler Mahal Antique Persian Rugs
Nain and Antique Nain Persian Rugs | Ming Chinese Rugs | Esfahan and Antique Esfahan Rugs
Antique Flemish Tapestry | French Aubusson Antique Tapestry after Francois Boucher