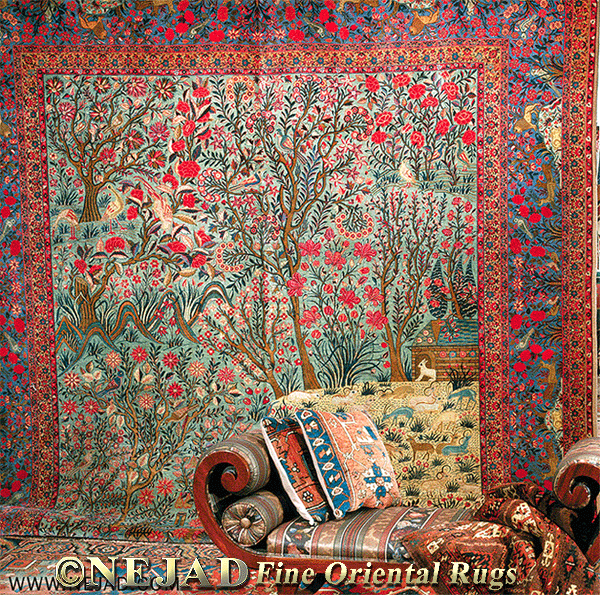 Unique One of a Kind 10 ft. X 13 ft. Heirloom Kashan Dabir Genuine Antique Persian Rug c. 1920 Nejad Rugs – Doylestown
Like their famous counterparts in western art history such as Italian master Titian,
Flemish Master Rubens and Dutch master Rembrandt, the history of Persian carpet
making boasts its own list of renowned old masters such as Mohteshan (kashan),
Habibian (Nain), Jamshidi (Qom) and Haji Jalili (Tabriz), who, through their
innovative genius and creativity, elevated the craft of oriental rug weaving to
that of a bona-fide art form – thus insuring the reputation of the Persian rug as
the finest in the world.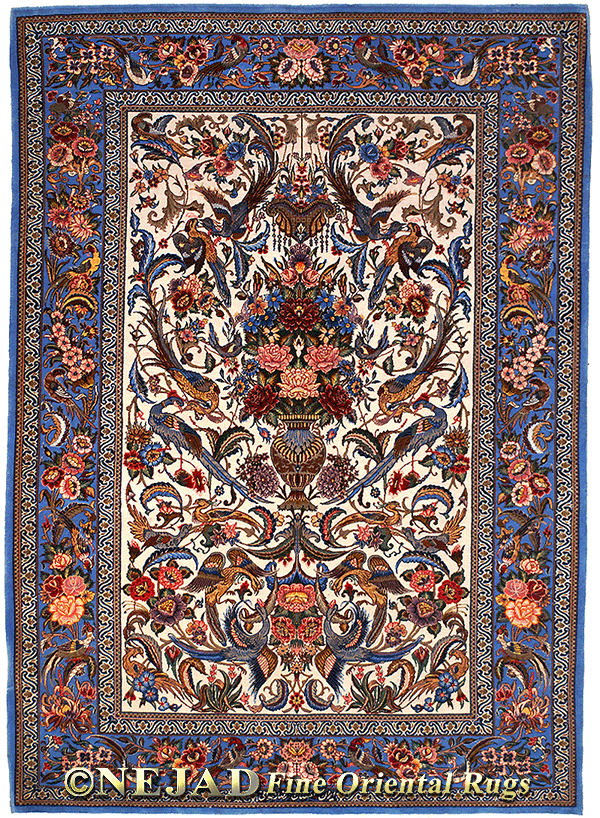 Silk Persian Esfahan Rug – Nejad Rugs – Designers, Manufacturers & Importers, Doylestown PA
Steeped in tradition and history, the antique Persian rug has achieved a revitalized
status as a desirable investment because they have not only weathered the storm of
fluctuating markets and, as an investment commodity, have withstood the test of time.
In addition to their appeal as investments, antique rugs remain what they have
traditionally been, objects of art that beautify and embellish the home and improve
the overall quality of life.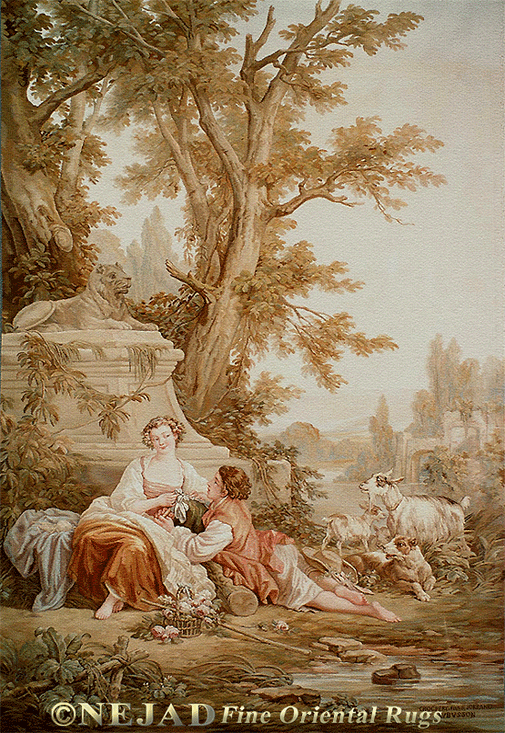 French Aubusson Tapestry c. 1900 (after the painting La Musette by Francois Boucher)
Unlike modern and mass-produced or machine-made rugs, a quality Persian rug will
increase in value as it ages. The current market reflects a trend markedly favorable
to the seller whereas the estimated value of a rug at auction can be greatly
exceeded – doubled tripled or more – by the actual sale price. Of course, not all
Persian rugs have such windfall potential for the seller but a fine Persian rug –
especially a 1-of-a-kind or particularly rare piece – typically increases in
value over time.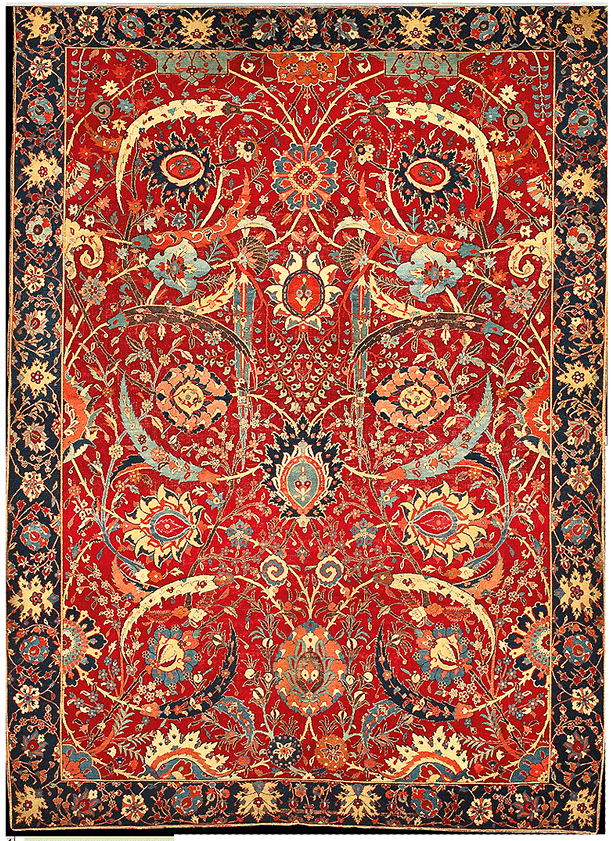 This 16th century Persian Kerman Sickle-Leaf Vase Carpet sold for over 3X the
estimated value – Sotheby's, New York
In determining the investment value of an oriental rug some of the most desirable
and sought-after qualities to be considered are color – Is the color vibrant
yet harmonious? Some of the exceptional quality Persian rugs have a full color
palette of up to 30 colors. Pattern – Is the overall design fluid, balanced,
curvelinear? The innovation of the Persian knot allowed for more finely detailed,
gradual transitions in the pattern. Originality – Is the rug unique or rare?
Quality 1-of-a-kind rugs, especially older ones, have certainly increased in value
and are desirable as an investment commodity. Age – How old is the rug? The most
valuable antique Persian rugs were woven during the late-19th to early 20th
century in the period before commercial production known as the 2nd Golden Age of
Persian Weaving. Authenticity – Is the rug a genuine Persian rug? Persian rugs are
often imitated but very high quality Persian rugs are usually only 3 – 6 mm in
thickness and always include fringes; additionally, some carpets are signed and/or
labelled. Quality – some of the measurables include overall quality of the wool,
the dyes and craftsmanship and especially the fineness of the weave. A fine quality
wool or silk Persian carpet may feature a knot density of 400 KPSI or more with
often over a million knots.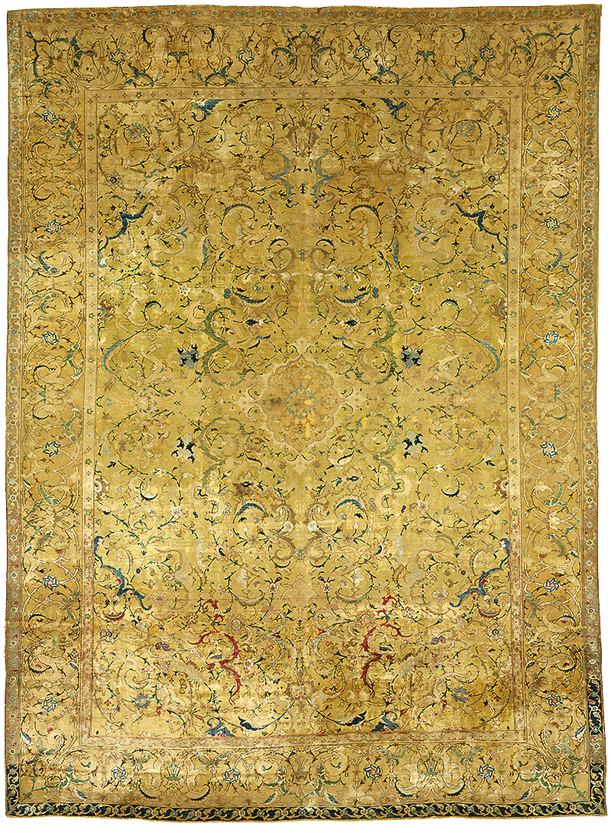 7 ft. 7 in. X 5 ft. 7 in. Silk Isfahan Rug 16th Century Safavid Dynasty – Christie's
Advantages of Owning a Persian Oriental Rug –
Beauty – Aesthetic Value of a Textile that is truly a Work Of Art
(Adding color, texture and cohesive design to any interior –
Style – Always in style – Enhances room & furniture, Adds Color and
Helps to Organize Space (Ties Together Interior Design Elements)
Comfort – Oriental Rugs are an upgrade to overall quality of life
and should be on any Home Improvement list – Besides visual appeal
Oriental rugs can soften and cushion steps
Quality – Craftsmanship – 100% Made By Hand – Hand-woven using Tradional
Methods (Hand Knotted by expert weavers using centuries old technology)
100% Natural – Made With Organic Fiber and Materials environmentally
and eco=friendly – made of all-natural wool fibers that contain a bacteria-resistant
fatty acid
Longevity – Quality Construction and Materials insure Long Life
Expectancy – Many rugs last over 100 years in excellent condition
Resale Value – a good investment – Retains its value and increases
in value with age – When Properly Maintained an Oriental rug offers a
Good Return On Investment
Safety – Sound Absorbent – Dampens Echo (especially on Stairwells)
Staircase Rug Runners improve mobility and visual access and clarity
for people and pets – Flame resistant
Heirloom – Can Stay in Family for Generations while increasing in
value over time
Insulation – Helps to Lower Heating Costs (Especially with larger
room-size wool rugs)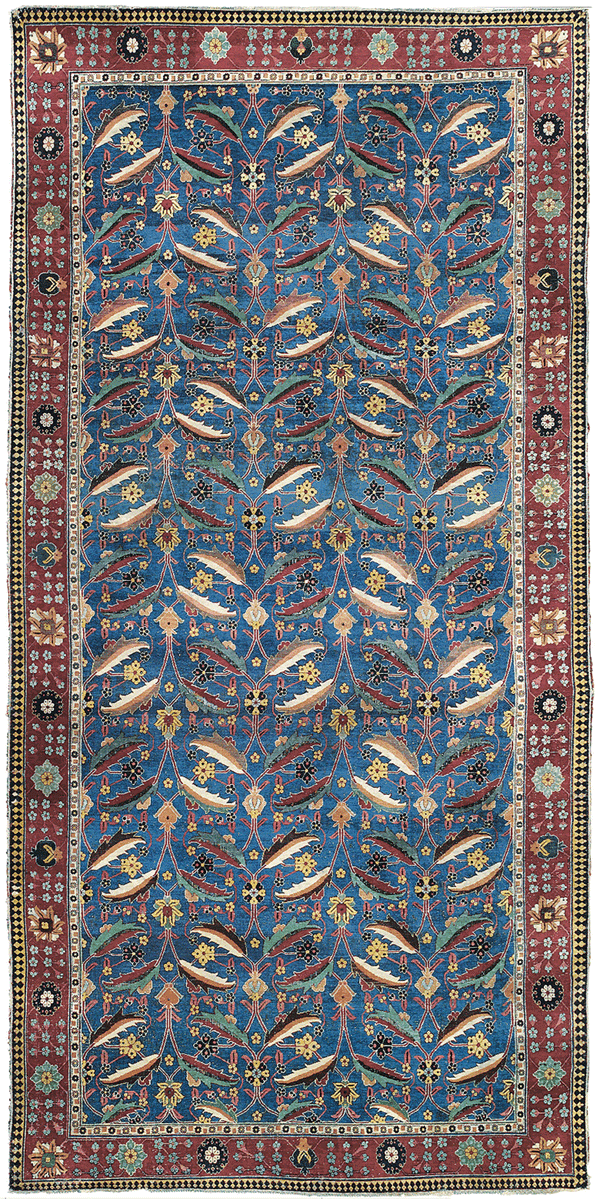 11 ft. X 5 ft. Mid-17th Century Kirman 'Vase' Carpet $9.5M – Christie's, London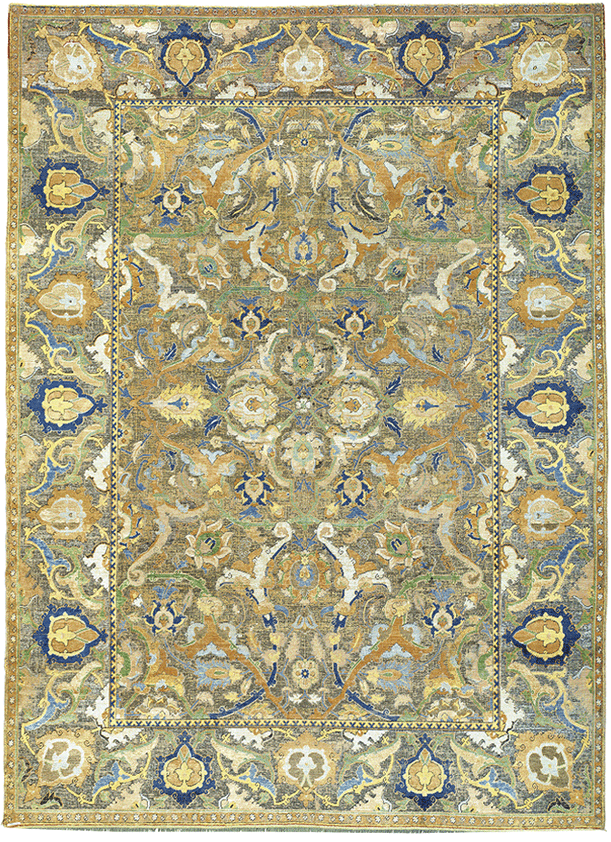 'Polonaise' Isfahan Silk & Metal Thread Carpet – 17th Century – Christie's
"… the weavers of Kirman in the 17th century are considered the most inventive and
influential in the history of the Persian carpet." – Christie's