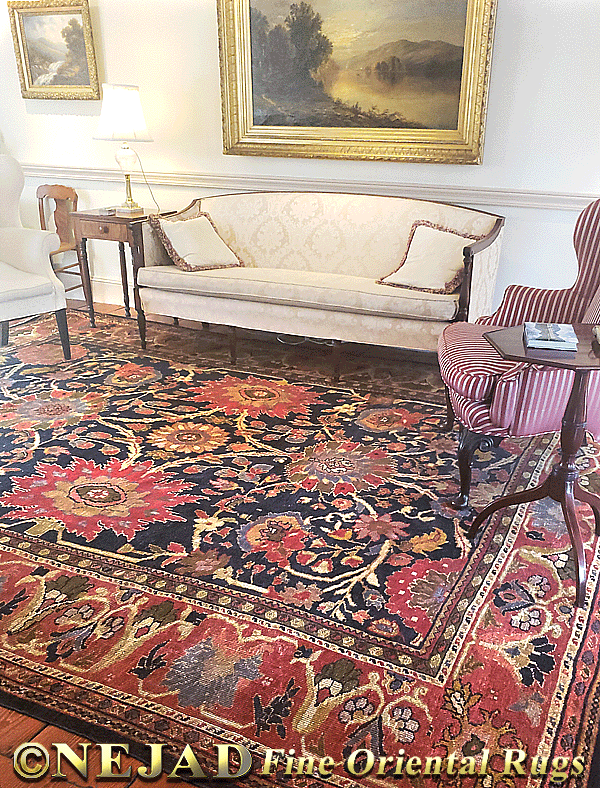 Genuine Persian Antique Ziegler Sultan Abad Rug in Nejad client Living Room in
Philadelphia Suburb Stone House
This beautiful, investment-quality, genuine Persian antique Ziegler Sultan Abad
oriental carpet circa 1890 prominently displayed in the living room of this
suburban Philadelphia stone home represents the height of Persian carpet weaving
as an art form and the skillful blending of eastern and western design elements,
traditional vs popular, trendy colorations and the artistic with the practical.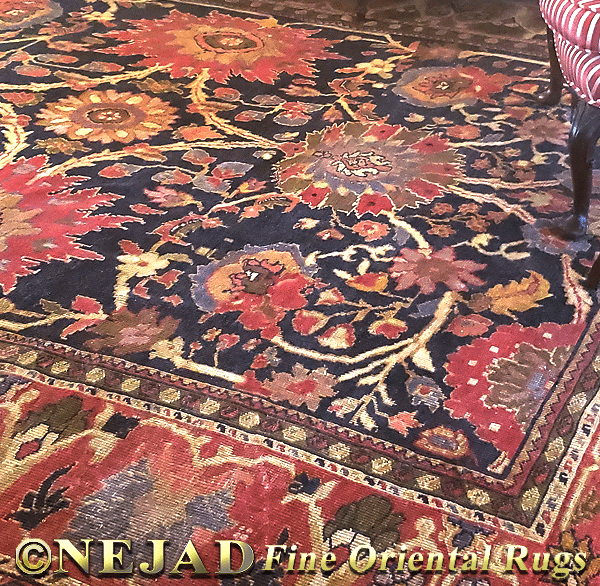 Detail of Genuine Persian Antique Ziegler Sultan Abad Rug in Philadelphia
client Living Room in Philadelphia Suburb Stone House
The late-19th – early-20th century period represents the transition from the
Second Golden Age of Persian Carpet Weaving to the full-scale production of
commercial rugs for export from Persia (present-day Iran) to the west.
According to the Encyclopedia Iranica the major catalyst for this trend was
both the successful introduction of the Oriental carpet at the world's great
fairs and major museum exhibitions (i.e. the Vienna World Oriental Carpet
Exhibition of 1891) and the growing international demand directly linked with
the increasing strategic importance of the Middle East to the industrialized
nations.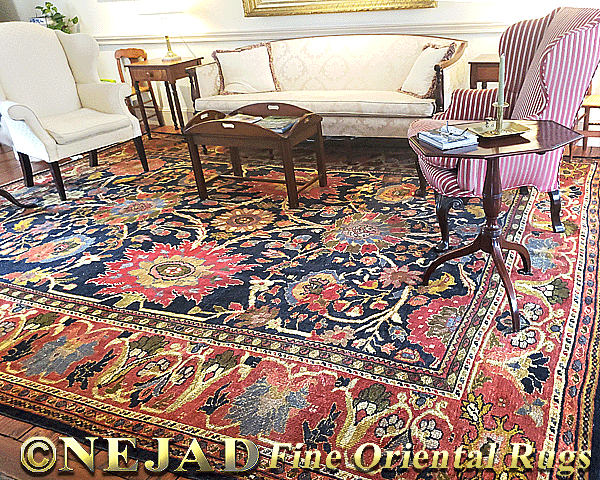 Detail of Genuine Persian Antique Ziegler Sultan Abad Rug in Philadelphia
client Living Room in Philadelphia Suburb Stone House
While an influx of western firms enlisted local carpet producing facilities
for the mass-production of the popular styles of Persian rugs for export to
London and New York, the British-Swiss firm Ziegler & Co had set up offices
(by 1880) in Sultanabad – now Arak – the hub of the major rug-producing area
and from whence the now-famous Ziegler carpet has it's origins. Those original
rugs – produced by Ziegler & Co. from late-19th to early-20th century –
represent state-of-the-art Persian craftsmanship and innovative design and, as
such, are highly prized by collectors. As none of the carpets produced for
Ziegler and Co. bear logos or inscriptions, factors such as overall quality of
execution and weave, rug-size, knot-type, age and, when applicable,
provenance can determine authenticity. Ziegler antique rugs are typically found
in the 10 ft. X 14 ft. size range with knot-counts usually ranging around 120
KPSI (knots per square inch) and may feature either Turkish or Persian knots.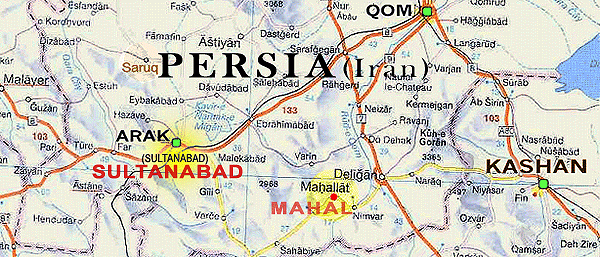 Map of Persia (Modern-day Iran) showing Arak Sultanabad, Sarouk and Mahallat
Sultanabad (Arak) is located in the nearby vicinity of the rug-producing towns of
Saruq (Sarouk, Sarough) and Mahallat (Mahal), for which the Sarouk and Mahal
(Ziegler Mahal) rugs, respectively, are named. While the term Sultanabad
(Sultan Abad) has come to distinguish the oldest and highest-quality genuine
Persian Ziegler Mahal carpets, Sultanabad rugs themselves may also be referred
to as "Zieglers".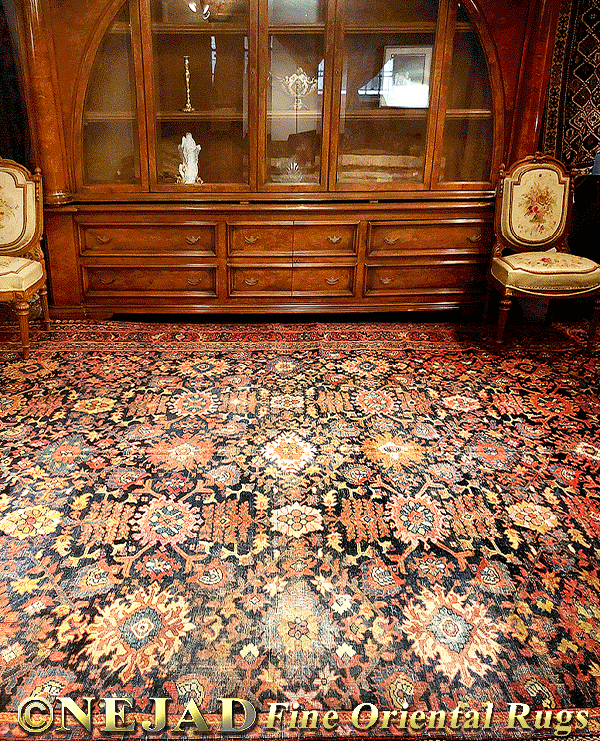 Nejad is offering this investment-quality 17 ft. 3 in. x 10 ft. 2 in. Antique Ziegler Mahal
carpet made in Western Persia circa 1890
Ziegler & Co. had not only established a presence by 1883 – the very inception of the
export industry – but was instrumental in shaping how rugs would be produced in Iran
and what rugs would be woven in the Mahal/Sultanabad region for the next 50 years.
The company's designs were essentially westernized versions of traditional Persian
designs – a synthesis of eastern and western style where traditional Persian color
palettes, designs and sizes were modified to the specifications of Western retailers.
In addition to its workshops in Tabriz and Sultanabad, the company had offices in
Tehran, Isfahan and Shiraz. Finished carpets for delivery were processed at Ziegler's
facility in Sultanabad, where the rugs were inspected and packaged for shipment to
New York and London.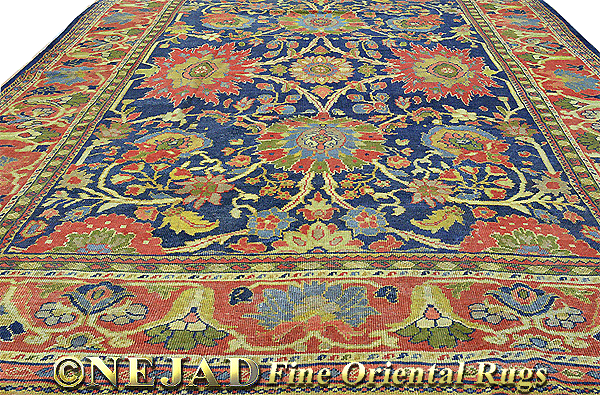 Nejad Rugs Investment-quality 13 ft. 4 in. x 10 ft. 5 in. Antique Ziegler
Mahal carpet made in Western Persia circa 1890 – SOLD
The typical Ziegler Mahal carpet – may feature an ornate floral center with corner
medallions on a plain ground, or lightly-colored field with subtly-contrasting overall
design including scrolling vine-work patterns and palmetto-like figures (but not herati
or boteh patterns) – or delicately arranged flower motifs rendered in muted pastel colors
on a darker navy or rust field. Attributes of the ideal Mahal carpet include originality,
artistry and especially, from the interior decorator's standpoint, both versatility and
compatibility – they compliment the finest interiors and other works of art. Thus they
are considered to be among the finest 19th/early 20th-century antique rugs due to both
their long-term investment and unique aesthetic value.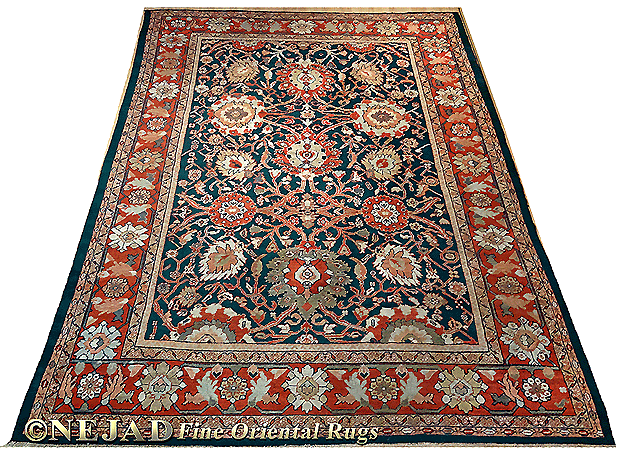 This spectacular 9 ft. 2 in. x 12 ft. 5 in. Persian Antique Ziegler Sultanabad
carpet #987935 is currently being offered by Nejad Rugs
What continues to make Ziegler Sultanabad and Mahal rugs a favorite with leading
high-end interior designers is the uniqueness of the design and colors. As seen
in Architectural Digest and Veranda in featured estates, the large-scale design
elements and rich color palettes used in both formal and casual settings create
an informal yet luxurious and timeless decor. Designers also favor Ziegler Sultan
Abad and Mahal antique rugs because they beautifully complement rooms featuring
upscale, high level art by holding their own without competing with the collector's
paintings.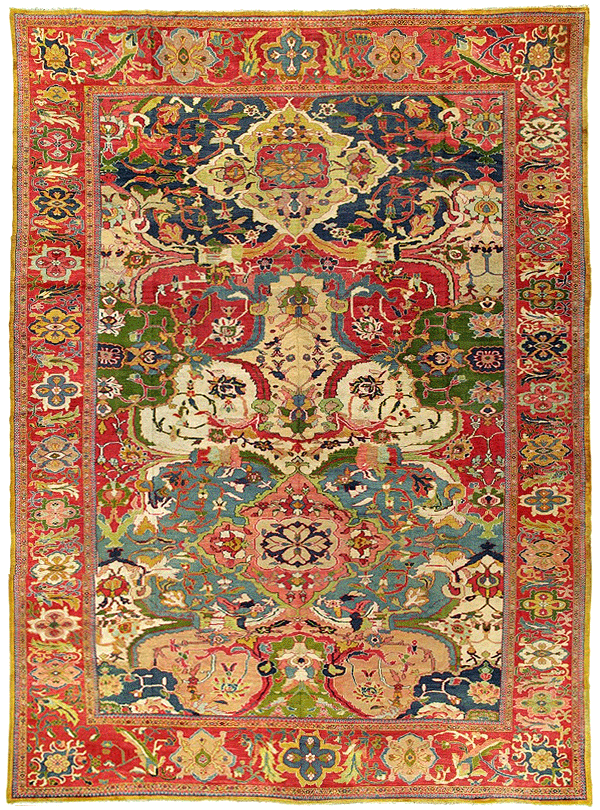 A large 21 ft. 9 in. x 14 ft. 6 in. Ziegler Mahal carpet, Sultanabad district, West Persia,
circa 1890. Christie's, London (Oct. 2017)
Art of the Islamic and Indian Worlds Including Oriental Rugs and Carpets
Today, due to short supply and corresponding increased demand, the best Mahal and
Sultanabad rugs have become quite hard to find in the current market and, hence, a
genuine Ziegler carpet, especially a larger sized piece can fetch a premium price at
auction. Additionally, the Ziegler Mahal rug design has proved to be such an enduring
success that it is still copied by many reproduction carpet manufacturers today. That
both antique-style as well as modern-design carpets are being produced (esp. in India
and Pakistan) and also marketed and sold under the name 'Ziegler' constitutes a
consumer "heads-up". Although referred to as "Ziegler Carpets" (whether spelled
'Zeigler' or 'Ziegler'), these rugs, of course, are neither genuine antique rugs nor
affiliated with the long since disbanded Sultanabad-based carpet firm Ziegler & Co.
in any way whatsoever. Buyer beware!
See more Genuine Persian Antique Rugs
Visit Nejad Rugs Doylestown Showroom at 1 North Main Street to view an
impressive collection of genuine Persian antique rugs
or call 215-348-2355