About Persian Bakhtiari Rugs
Overview
Imagine a culture that can trace it's roots back to antiquity - a nomadic people that has inhabited the same region for nearly that entire period of time - and who can lay claim to being the largest and most purely Iranian of all the Persian tribes and, furthermore, whose spoken language is closely related to the oldest known forms of Persian. Although most known today for their textile production and, more specifically, for both the beauty and the quality of the rugs they make ... that is just a small part of the story.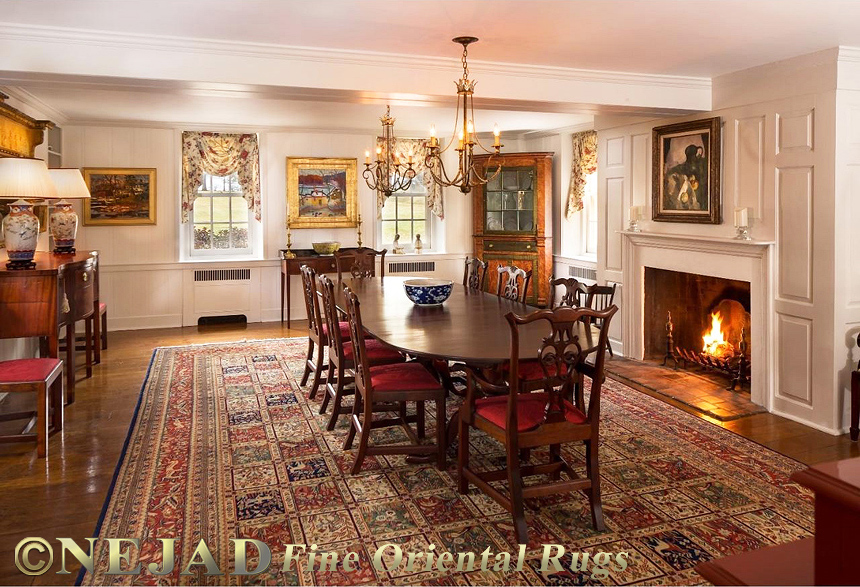 Nejad's magnificent large 12' × 18' Persian Bakhtiari hand-knotted wool carpet is the centerpiece of New Hope estate dining room.
A Distinctive & Unique Style
The Bakhtiari Rug Style - typical theme for Bakhtiari carpets - is as unique and individualistic as the peoples who are attributed with it's creation. Bakhtiari rugs can be readily identified by their typical repeated rectilinear floral or garden-inspired patterns. Of these, perhaps the most well-known of the Bakhtiari rug designs is the Khesti (shown above and here). In this pattern the rug field is geometrically sub-divided into symmetrical squares or rectangles that feature contrasting imagery and color schemes - each compartment elegantly rendered with finely detailed portrayals of both animals and plant life.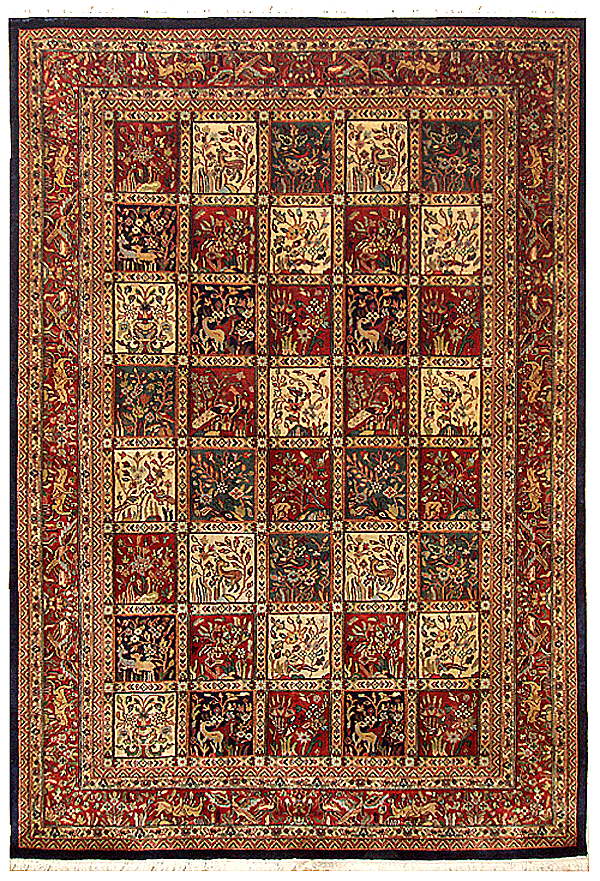 Bakhtiari hand-knotted wool carpet features a motif of richly-decorated repeated squares.
[Nejad Signature Masterpiece Collection #M010MTMT]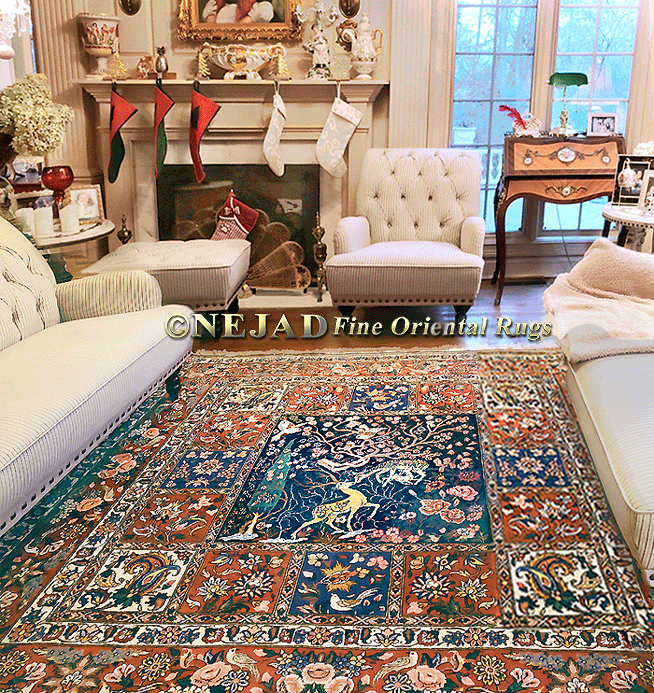 Nejad's unique and colorful Persian Bakhtiari rug features a motif of repeated squares richly-decorated
with animal and plant life and that surround an impressive square medallion.
Squares ... and Diamonds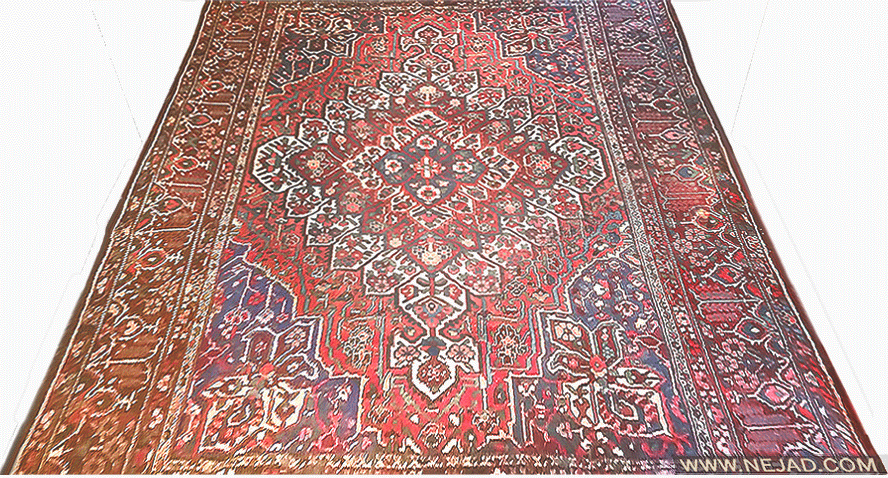 Room-size 12' 2" × 16' 1" Persian Bakhtiari Garden rug with diamond-shaped medallion c. 1940 (very good condition)
is currently being offered by Nejad Oriental Rugs of Doylestown, PA.
Another Bakhtiari noteable design, a variation on the repeated squares Khesti motif (above), features the field of the rug layed out in an overall lattice scheme and populated with repeated diamonds rather than squares. Of the first two examples shown below, the rug on the left, replete with bold pattern and vibrant color palette, has a more tribal appearance, while the adjacent rug to it's right, in contrast, has both a more sophisticated and subdued color scheme and design.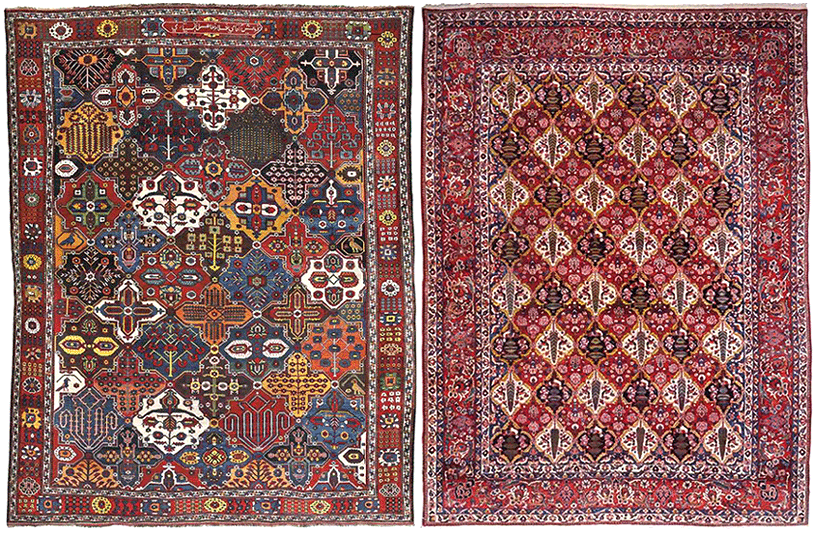 These Bakhtiari rugs, offered by Christie's, New York, feature a repeated diamond motif within a lattice design framework.
Bakhtiari carpets may also feature either a center medallion or an all over design motif - which typically includes floral ornament, but not usually a curvelinear design. The Bakhtiari rug below (on the left) was artfully conceived as an overall lattice-like arrangement that is rather cleverly disguised by the free form detailing of the surface design - giving the rug an all-over design appearance rather than a geometric one, while the rug on the right (below) features an unusually shaped florid medallion superimposed over a telescoping diamond architecture.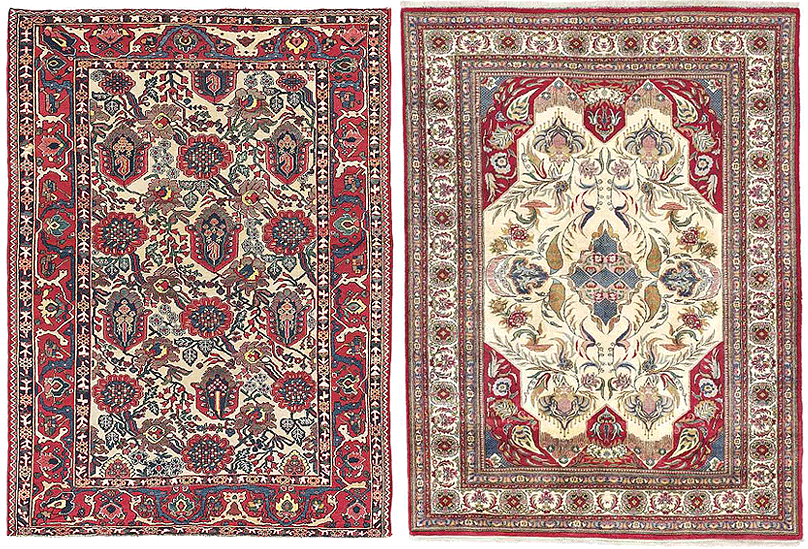 View Underlying Structural Concept
View Underlying Structural Concept
( MouseOver ) ( MouseOver )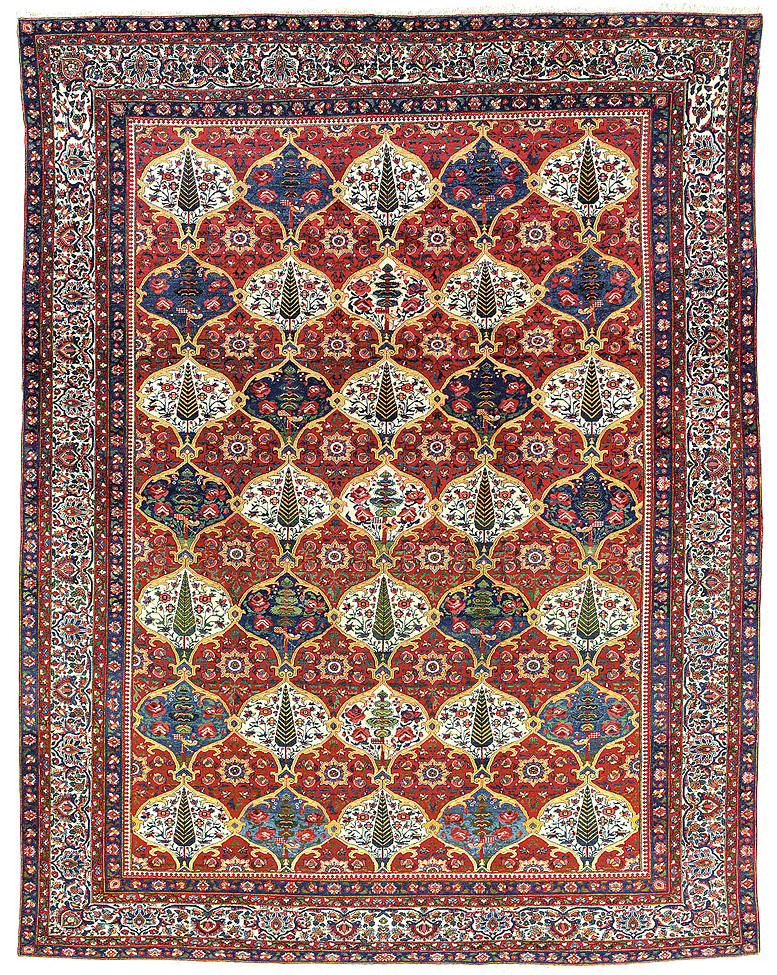 A BAKHTIARI CARPET WEST PERSIA, CIRCA 1900
13ft. 7in. x 10ft. 8in. (420cm. x 332cm.) - Overall excellent condition
Estimate GBP 8,000 - GBP 12,000 | Price realised GBP 10,000 [Christie's]
Nejad's Gallery Rug Collection features extraordinary one of a kind handmade rugs from all over the world
including this Garden Bakhtiari carpet featuring multi rectangular-shaped sections.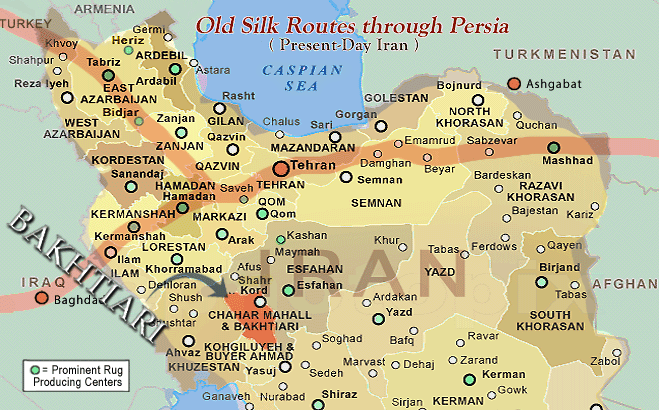 Cahar Mahal and Bakhtiari, Iran


The Baktiari community has adapted its migratory way of life to the harsh and peculiar climate of the central Zagros Mountain region
The Bakhtiari tribe inhabits - and where their migratory cycle encompasses - an area approximately 25,000 square miles (67,000 sq. km) straddling the Central Zagros Mountain range in western Iran. The sustenance of their numerous sheep, cattle, or goat herds necessitates a seasonal migration with their livestock from the high plateau pastures west of the city of Esfahan, where they spend the summer, to the lowland plains in the province of Khuzistan for winter grazing.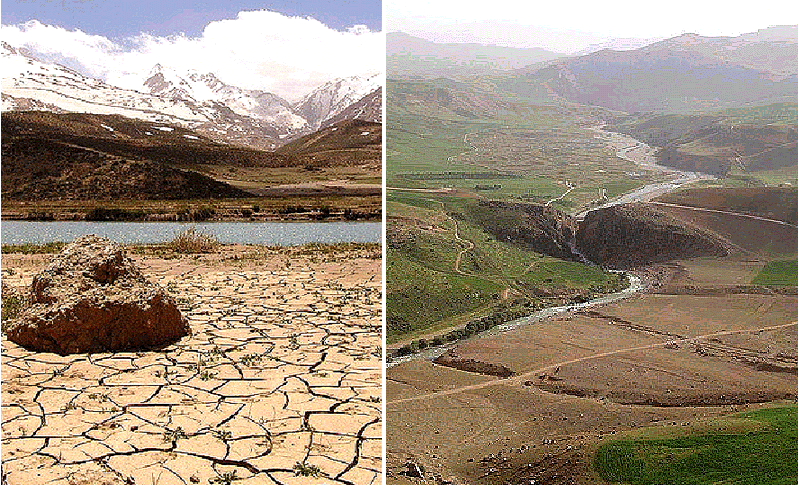 They migrate from the high plateau pastures west of Esfahan, in summer, to the lowland plains of Khuzistan for winter grazing.
In this epic movement of people and animals across harsh and dangerous mountainous terrain there is always the inherent risk of facing unpredictable, potentially disastrous, conditions - such as the danger of early snowfall, flooding mountain rivers, and/or lack of grazing. Typical scenarios include crossing turbulent rivers on inflated goatskin rafts or hoisting animals on cables suspended over deep water or gorges. These combined hazards customarily took a heavy toll, but in recent years the government has assisted in improving the safety of the migration route by building bridges and setting up fodder supplies at strategic points along the way.
A Nomadic People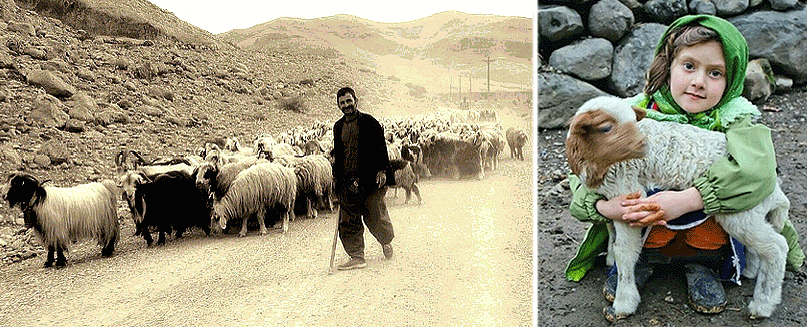 The nomadic Bakhtiari live within the tribal territory called the Baktiari Country, a vast area stretching from the Dez river and Ram Hormoz on the west to Daran and the outskirts of the capitol city Shahrekord on the east. Rugged individualists who embody longstanding cultural imperatives, their epic migration is among the most impressive and spectacular to be witnessed anywhere. This seasonal migration is necessary because of the prevalence of cold and snow in the North Khorasan Province from October to April and heat and drought in the Semnan Province from May to September, as well as the exhaustion of the pastures after several months of intensive grazing. Thus nomadism remains the only feasible strategy for the efficient pursuit of livestock raising in this region.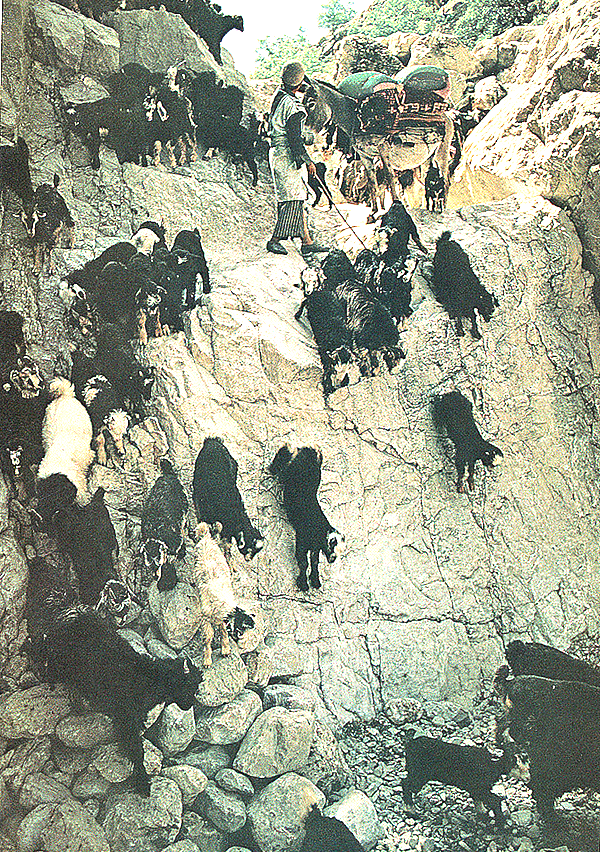 Of their estimated 800,000 population, one third or more of the Bakhtiari tribe are nomadic pastoralists while the majority are settled agriculturists who inhabit the many towns and villages in Cahar Mahal in the Faridan district down to Esfahan, and in Khuzistan down to Ahvaz. This more sedentary and settled faction of the Bakhtiari tribe was more suited to adopt the pursuit of commercial rug weaving that required larger looms that would otherwise be impractical to frequently tranport.
Consumer Notes
Bakhtiari carpets are traditionally constructed on a cotton foundation (warp) using wool (weft) taken from the herds of the producing tribe - resulting in unique carpets that differed depending upon the varying characteristics of the wool (from dull to lustrous). However, and even though the rugs are still woven by hand, the industry today is more regulated with regards to the sourcing of wool and dyes and thereby can produce a more consistent quality product.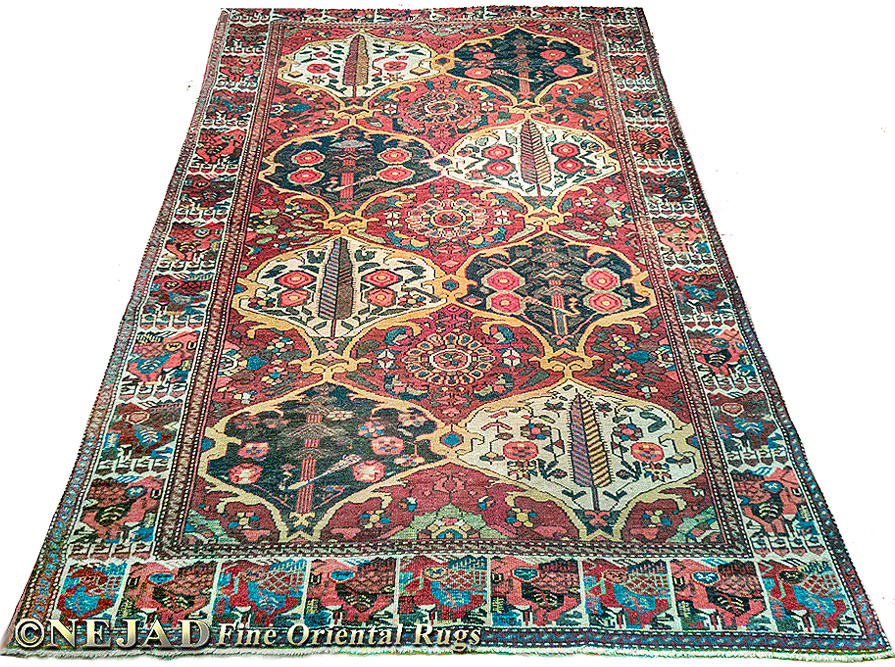 Brilliant fine-quality 4' 8" × 7' 5" genuine Persian Bakhtiari hand-woven antique carpet c. 1910 - Nejad stock #987728.
The terms Hori, Saman and Bibibaff may be used to indicate grade or quality of a hand made carpet (rather than merely as a geographical reference): the Hori carpet - typically of looser weave but generally acceptable quality - is considered enty-level and more widely affordable; Saman pieces are rated next in line above Hori, while the best carpets with the highest knot density - and typically woven by the most-experienced (older) craftswomen - are referred to in the trade as Bibibaff and are top of the line.

Nejad's Bakhtiari rug #M010MTRT is offered in 10 different sizes (including squares) as well as runners up to 24'.
The Nejad Signature Masterpiece Collection features strikingly beautiful high quality hand woven rugs in both traditional and transitional designs - each rug is masterfully hand-knotted using superior quality New Zealand semi-worsted wool featuring 100% Wool pile.These high fashion designer rugs can transform any living space into a fabulously inspired interior. The Bakhtiari M010MTRT rug from Nejad is available in runners ranging from 6' up to 24', both 8' 6" × 8' 6" and 6' × 6' square sizes, and standard rectangular sizes from 4' × 6' up to 12' × 18'.

Currently Nejad is offering the following Bakhtiari rugs for sale:
Nejad model #M010MTRT Khesti Bakhtiari rug | 12.2' × 16.1' Antique Persian Bakhtiari Garden rug c. 1940

About: Tabriz Antique Rugs | Heriz Antique Rugs | Mashhad Antique Rugs | Sarouk Antique Rugs | Kashan Antique Rugs
Kerman Antique Rugs | Serapi Antique Rugs | Bidjar Antique Rugs | Karabagh Antique Rugs | Kazak Antique Rugs
Hereke Antique Rugs | Akstafa Antique Rugs | Mudjar Antique Rugs | Chichi Antique Rugs | Dagestan Antique Rugs
Senneh Antique Rugs | Shirvan Antique Rugs | Beluch Antique Rugs | Peking Antique Rugs | Qum Antique Rugs
Bakhtiari & Antique Bakhtiari Rugs | Gharajeh (Karaja) Antique Rugs | Ziegler Mahal Antique Persian Rugs
Turkeman Antique Rugs | Kurdish Antique Rugs | Farahan Antique Rugs | Darjazin-Hamadan Antique Rugs
Persian Nain & Antique Nain Rugs | Ming Chinese Rugs | Persian Esfahan & Antique Esfahan Rugs
Antique Flemish Tapestry | French Aubusson Antique Tapestry after Francois Boucher