Flemish Tapestry
By the 16th century the business of the buying and selling of tapestries was conducted, in large part, in France and Flanders and the Flemish towns of Oudenaarde, Brussels, Geraardsbergen and Enghien had become centers of European tapestry making - other limited production centers were Antwerp, Bruges, Grammont, Alost, Lille, and Tournai. For the next hundred years Flemish tapestries were arguably the most important productions of that medium - many intact specimens from this era demonstrating an intricate detail of both pattern and color embodied in painterly compositions, and often of a monumental scale. Flemish weavers were recruited throughout Europe and were invited to Spain, Italy, France, Germany, and where, initially, both the weavers and designers in these countries were Flemings.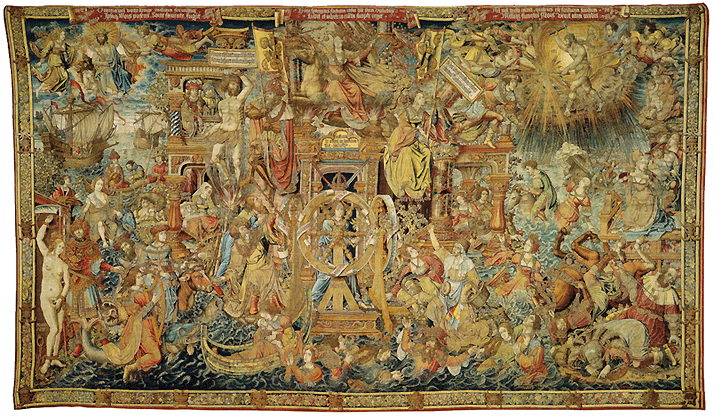 'FORTUNA' - A 16th CENTURY LARGE FLEMISH TAPESTRY AFTER BERNARD VAN ORLEY
from a 9-piece set of the Honors tapestries, woven in the workshop of Pieter d'Enghien van Aelst circa 1520 Brussels After Bernard van Orley (c. 1491/1492-1542); Height: 496 cm (16.2 ft); Width: 860 cm (28.2 ft)
Collection: Patrimonio Nacional, Royal Palace of La Granja de San Ildefonso; SOTHEBY'S, London
Historically, Flanders is notable for its impressive achievements in the decorative arts and architecture - especially with respect to painting and tapestry production. The style of Brussels Renaissance, and later Baroque, tapestry is most typically characterized by the designs of renowned Flemish artists such as Peter Paul Rubens and Bernard van Orley. As one of the leading innovators of 16th-century Flemish tapestry design, van Orley - called "the Raphael of the Netherlands" - is credited with adapting the Italian stylistic attributes of monumentality and sculptural relief to Flemish tastes and tradition. No less influential on the Brussels 17th century tapestry industry were the designs and compositions - featuring mythological and religious themes - of master Antwerp painter Peter Paul Rubens.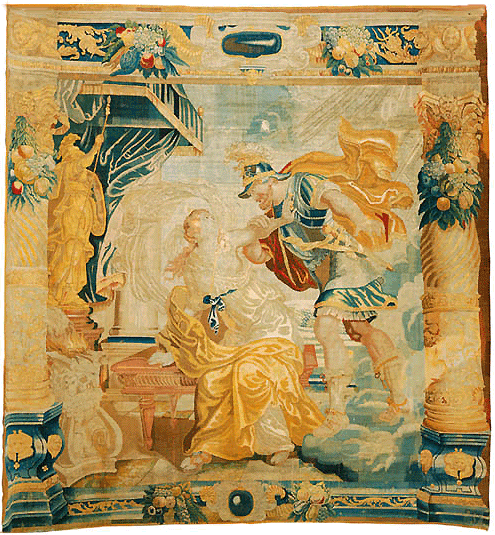 A BRUSSELS MYTHOLOGICAL TAPESTRY Mid-17th Century,
after a cartoon by Peter Paul Rubens
Estimate: GBP 10,000 ($11,161.00) - GBP 15,000 ($16,741.50) | Price realised: GBP 14,950 ($16,687.26)
From the series The Life of Decius Mus, depicting Mars and Rhea Silvia within a stylised architectural background consisting of two Solomonic columns with foliate and fruiting capitals. Woven in wools and silks, with a brown and beige outer-slip, areas of re-weaving 12 ft. 8 in. x 12 ft. 3 in. (385 cm. x 372 cm.)
Provenance: Purchased by Consul General Karl Bergsten, (d.1953) from Bernheimer, Munich, in 1917; CHRISTIE'S, London
By late 15th century, Brussels had acquired a reputation for its production of so-called Golden Carpets (tapis d'or) which referred to the considerable amount of gold thread woven into the tapestry. During this period, not only were tapestries held in higher esteem than paintings, but were usually more expensive, as well. Owing to such factors as papal and imperial (courts of Spain and Austria) patronage, as well as the exemplary skill of its weavers, tapestry making in Brussels became so lucrative during this period that protectionist policies were enacted to protect against forgery.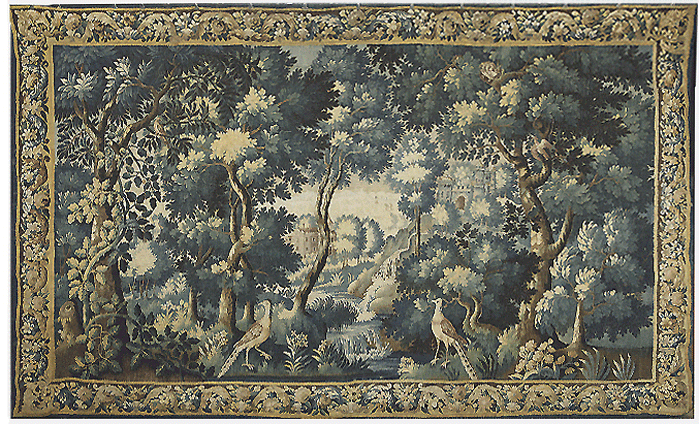 A FLEMISH VERDURE TAPESTRY LATE 17TH CENTURY
Estimate: EUR 6,000 ($6,696.95) - EUR 8,000 ($8,927.97) | Price realised: EUR 13,750 ($15,344.93)
Woven in wools and silks, depicting two birds in a wooded landscape and a city in the background,
with floral border, reweaving and patching 234 cm. high x 386 cm. wide; CHRISTIE'S, London
Verdure Tapestry
One of the most distinctive types of tapestry weavings produced in Flanders at this time were the verdures of Enghien and Oudenaarde. Verdure, or garden, tapestry, not to be confused with Millefleur (Thousand Flowers) - a kind of tapestry characterized by a backdrop motif of many small flowers - is a type of tapestry that incorporates design elements based on plant forms and that typically features a scenic garden or countryside landscape setting. In the 16th century, such tapestries with formal designs derived from foliage had become immensely popular, and by the later part of the 17th century, plush wooded landscape scenes were featured with simulated gilded frames (alentours). The French tapestry factories of Aubusson and Lille are also renowned for their production of verdures.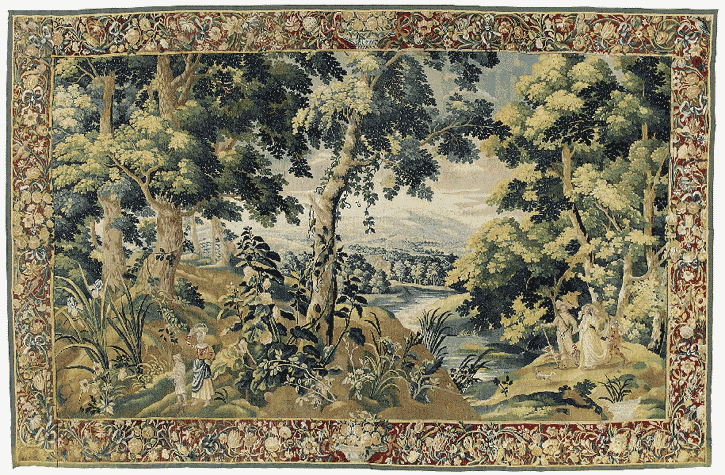 A FLEMISH VERDURE TAPESTRY SECOND HALF 17TH CENTURY
Estimate: GBP 7,000 ($7,813.43) - GBP 10,000 ($11,162.05) | Price realized: GBP 12,500 ($13,949.62)
Woven in silks and wool, depicting a pastoral scene with a courtly couple in a wooded landscape with peasants and a château in the background 9 ft. 8 in. x 14 ft. 6 in. (295 cm x 442 cm.); CHRISTIE'S, London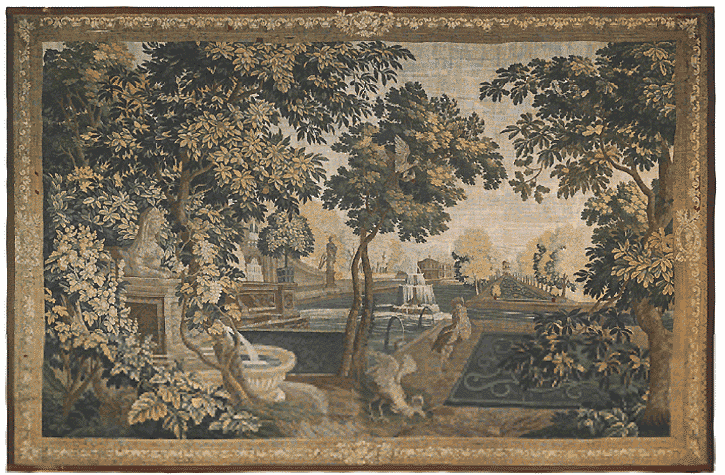 A FLEMISH VERDURE TAPESTRY AUDENARDE, FIRST HALF 18TH CENTURY
Estimate: GBP 8,000 ($8,927.76) - GBP 12,000 ($13,391.64) | Price realized: GBP 13,125 ($14,646.84)
Woven in silks and wools, depicting a landscape with exotic cranes flanked by trees, within a picture frame border with medallions to the center of each side, and within a later brown outer slip, limited areas of reweaving 9 ft. 5 in. x 14 ft. 8 in. (288 cm x 447 cm.); CHRISTIE'S, London
Materials and Techniques
Although wool has been the material most widely used for making both the warp (length-running threads) and weft (width-running threads), wool has often been used in combination with linen, cotton or silk threads for the weft. These materials - including metals such as gold or silver - made possible greater variety, detail and contrast of both color and texture. For example, light-coloured silks could be used to create pictorial effects of tonal gradation and the sheen of silk thread was often used for highlights or to give a luminous effect when contrasted to the heavier, darker-colored woolen threads.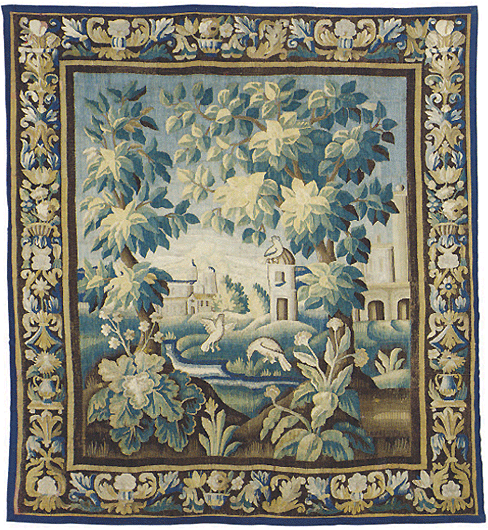 A FRENCH VERDURE TAPESTRY, AUBUSSON, SECOND HALF 17TH CENTURY
Estimate: USD 3,000 - USD 5,000 | Price realized: USD 5,250
108in. (274cm.) high, 96in. (244cm.) wide; CHRISTIE'S, London
The subtle graduations of color and sophisticated designs encountered in the paintings of artists such as Rubens and Boucher posed new problems for the tapestry weaver, now making it necessary for them to learn to "paint" with a bobbin. To this end hundreds of new dyes were developed for both wool and silk, so as to help render more accurately the almost imperceptible tonal modulations in the original painted artwork.
Flanders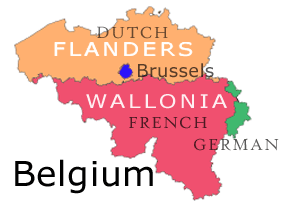 The Flemish Region of Belgium, Flanders, occupies the entirety of the northern half of the country and is one of Belgium's three distinct political-linguistic regions - including Wallonia and the capital city Brussels. Since the Middle Ages, Flanders has figured prominently in European history and cities such as Ghent, Bruges, and later Antwerp made it one of the richest and most urbanized parts of Europe. From trading, and weaving (including tapestry), the wool of neighbouring areas into cloth for both domestic use and export, the economy modernised rapidly - subsequently developing into one of the centers of the industrial revolution and today is at the forefront of the global economy.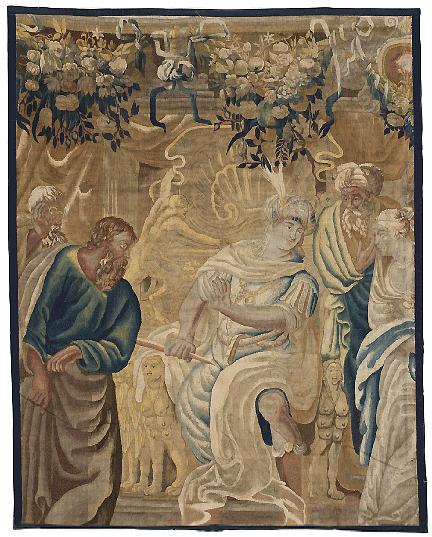 A FLEMISH BIBLICAL TAPESTRY MID-17TH CENTURY
Estimate USD 4,000 - USD 6,000 | Price realized USD 4,375
Depicting an enthroned king flanked by attendants and below floral swags, within late blue outer guard borders, reduced in size, areas of re-weaving 8 ft. 7 in. (262 cm.) high, 6 ft. 10 in. (209 cm.) wide
Provenance: Anonymous Sale; Christie's, New York, 29 September 1999, lot 192.
Consumer Notes
Tapestry has traditionally been percieved as a luxury art afforded mostly by the wealthy, and the fine wool tapestries produced in thriving textile towns such as Brussels, Belgium and Arras, France were sold to decorate the sumptuous palaces and castles of Europe. In France, few of these tapestries, however, survived the French Revolution as hundreds were burnt to recover the gold thread that was often woven into them. The term Arras is still sometimes used today to refer to a rich tapestry no matter where it was woven.