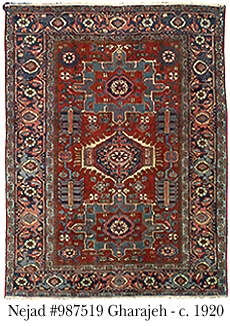 About Persian Gharajeh Antique Oriental Rugs
Brief Overview
Gharajeh rugs, also called Karadja or, more commonly, Karaja rugs, are hand woven heirloom textiles that were produced in or near the village of Qarajeh, Heris (Heriz), northeast of Tabriz in the Karadagh region of Iran - just south of the Azerbaijan border in the Iranian province of East Azerbaijan. The carpets from this area - i.e. Karaja rugs - display very unique design attributes that distinguish them from other Northwestern Persian (Iranian) rugs and carpets. Although these carpets typically display strong rectilinear - even geometric - design tendencies, they may exhibit stylistic patterns that may be derivative of, or similar to, other rug styles - namely the Heriz style (i.e. the Heriz medallion specifically).

An investment-quality antique Fine Persian Gharajeh (Karaja) Carpet Rust/Navy 4.7' × 6.1' Circa 1920 offered by Nejad Rugs.
This hand woven heirloom features 3 Heriz-style medallions and exqisite geo-linear detailing.

Weave pattern (KPSI) w/ Close-up - Underside of antique fine Persian Gharajeh (Karaja) rug Rust/Navy 4.7' × 6.1' c. 1920.
The Gharajeh Rug Style
One of the more commonly seen patterns, or typical theme for Gharajeh carpets shows three large geometric medallions - centrally located in the field of the rug - that are somewhat similar to those of Heriz, or even Caucasian, carpets. This central medallion may typically have a latch-hooked contour and differ in colour from the two others - and those typically can be based on a figure such as an eight-pointed star. Gharajeh rugs may be loosely categorized into two distinctive groups:
The first group is typified by a row - or rows - of medallions
The second group frequently use a significant amount of light blue
Otherwise the color palette can range from somewhat somber - with indigo blue or madder red field - to intense with stark contrasting colors including oranges, greens and white.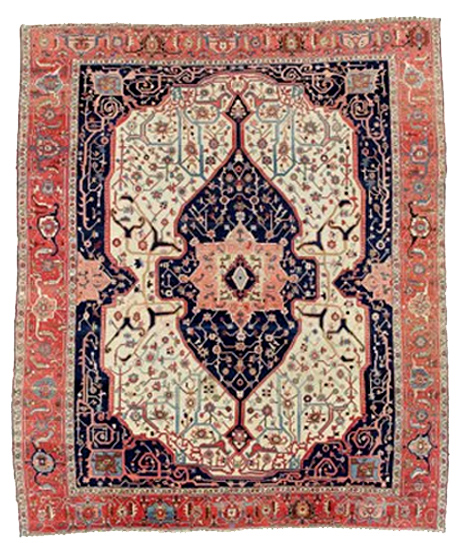 A 14ft. 5in. × 12ft. (439cm. x 366cm.) Karaja Carpet North West Persia, Circa 1890
Light even overall wear, a couple of surface marks, minor loss at either end
Estimate £8,000 - £12,000; Price realised £7,500 [Christie's, London]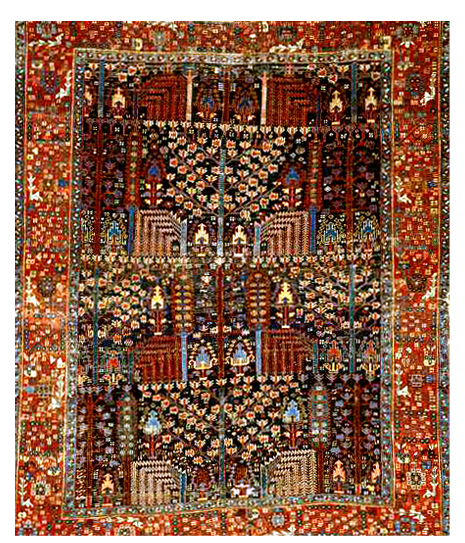 Gharajeh (Karaja) carpet with Bid Majnu-n, or "weeping willow" design -
a combination of weeping willow, cypress, poplar and fruit trees in rectilinear form.
The Province of East Azerbaijan
Up to 35% of all Iranian carpets are produced in East Azerbaijan and annual production comprises more than 70% of Iran's carpet exports - currently there are about 66,000 carpet production units in the province, employing some 200,000 people. Other industries in East Azerbaijan include oil refinery and petrochemical processing facilities, glass, paper, steel and copper manufacturing, chemical, pharmaceutical and food processing as well as vehicle and machinery production. East Azerbaijan also has some of Iran's prestigious universities including: University of Tabriz, Sahand University of Technology and Tabriz University of Medical Sciences.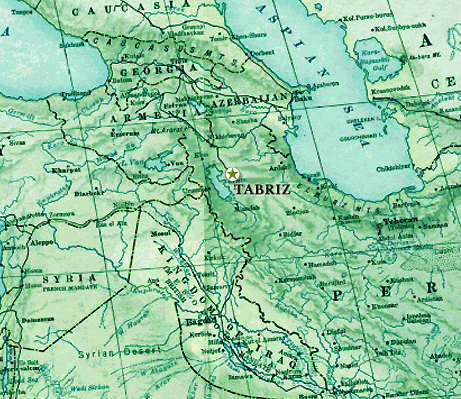 Situated between the provinces of East and West Azerbaijan, Lake Urmia, along with its once approximately 102 islands,
is protected as a national park by the Iranian Department of Environment. At its greatest extent, Lake Urmia
was the largest saltwater lake on earth with a surface area of approximately 2,000 sq mi.
East Azerbaijan Province is one of the 31 provinces of Iran with area approx 18,000 sq mi and population of approx 4 million. It is located in Iranian Azerbaijan, bordering with Armenia, the Republic of Azerbaijan and Ardabil, West Azerbaijan, and Zanjan Provinces. The capital of East Azerbaijan is Tabriz. East Azerbaijan is one of the richest regions of Iran in natural minerals with more than 100 mines currently in operation. Additionally, UNESCO has two Biosphere reserves there - one in Lake Urmia and the other at Arasbaran.
The Village of Qarajeh, Heris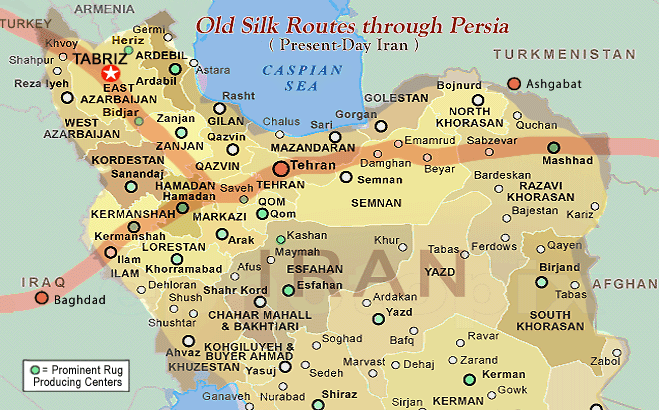 Moving westward from Asia through Persia - from Hamadan to Tabriz and further northwest to Turkey -
the Old Silk Routes pass through the rug-producing area of Qarajeh, East Azerbaijan.
Qarajeh is a village located in Khvajeh District, Heris County, East Azerbaijan Province, Iran - at the northwestern extremity of the Heriz weaving area, near Tabriz. At the 2006 census, its population was 1,081, with 215 families. The rug style itself i.e. Gharajeh, named for this area, is also known as Karaja, Karadja, Gharadjeh or Qaraajeh.
NOTE: The city of Karaj is located near Tehran and has a population of 4 million.
Consumer Notes
Antique Gharajeh (Karaja) carpets are usually of excellent quality and sizes typically range from mid-size - 4' × 6' to 8' × 10' - to room-size - 10' × 18'. These rugs are all wool and symmetrically-knotted and feature a finely-woven, long pile and intense color palette.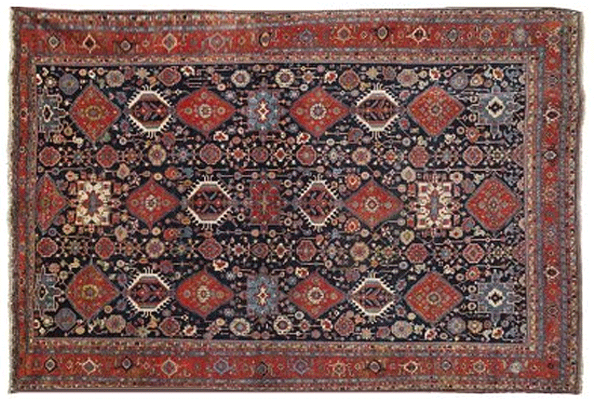 Karaja Rug 17' 3" &times 11' 8" Northwest Persia, Circa 1910 (Good pile, a few small areas of repiling)
Estimate £5,000 - £8,000; Price realised £9,375 [Christie's, London]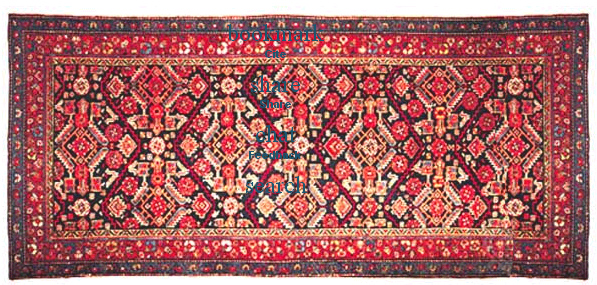 Late 19th century Karaja rug from Iran; Philadelphia private collection [photograph, Otto E. Nelson]
The Iran Carpet Company was founded in 1935 to oversee the export of carpets and to insure quality standards by establishing an inventory of carpet designs so as to copyright them thus preventing machine-made rugs from usurping the market. It also established a policy that 80% of profits would be set aside to improve the quality of living conditions of weavers i.e. assisting with the purchase of looms, raw materials, and other necessities and guarantee higher wages, elimination of child labor and better working conditions. These measures were expected to increase carpet prices 25%.

Although data on employment is based on estimates, it is possible to identify three general trends during the 20th century:
A steady growth in overall employment in the carpet industry reflecting the growth of the industry itself.
The proportion of rural workers in the labor force increased, so that by 1930 75% of all carpet workers were located in rural areas.
Females have always played a predominant role in carpet weaving and now represent approx. 80% of the labor force.
The Tabriz Loom is the most common type of vertical loom used in Northwestern Iran and allows for weaving of carpets up to twice the length of the loom. The warps are continuous and pass around behind the loom - the warp tension obtained with the use of wedges. The weaver sits on a fixed seat and when a portion of the carpet has been completed, the tension is released, the finished section of the carpet is thus pulled around the lower beam and upwards on the back of the loom.

Nejad Rugs is a designer, manufacturer and importer of Fine Persian Oriental rugs accessible through an extensive online catalog. Currently Nejad is offering the following antique Gharajeh rugs for sale:
#987519 Persian Gharajeh (Karaja)


About: Tabriz Antique Rugs | Heriz Antique Rugs | Mashhad Antique Rugs | Sarouk Antique Rugs | Kashan Antique Rugs
Kerman Antique Rugs | Serapi Antique Rugs | Bidjar Antique Rugs | Karabagh Antique Rugs | Senneh Antique Rugs
Bakhtiari & Antique Bakhtiari Rugs | Nain and Antique Nain Persian Rugs | Ziegler Mahal Antique Persian Rugs
Esfahan & Antique Esfahan Rugs | Qum Antique Rugs | Farahan Antique Rugs | Darjazin-Hamadan Antique Rugs
Hereke Antique Rugs | Akstafa Antique Rugs | Antique Gharajeh Rugs | Chichi Antique Rugs | Mudjar Antique Rugs
Kazak Antique Rugs | Shirvan Antique Rugs | Beluch Antique Rugs | Peking Antique Rugs | Kurdish Antique Rugs
Turkeman Antique Rugs | Dagestan Antique Rugs | Flemish Antique Tapestry | Antique Ming Chinese Rugs
French Aubusson Antique Tapestry - after Francois Boucher