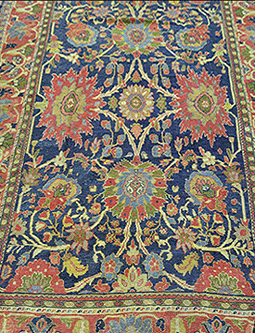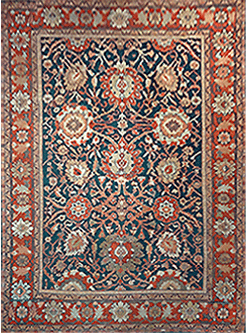 #987725 Antique Persian Zeigler Mahal #22294 Antique Persian Zeigler Mahal #987935 Antique Ziegler Sultanabad
Ziegler Mahal & Ziegler Sultanabad Persian Antique Rugs
Overview
The first World Oriental Carpet Exhibition of 1891 in Vienna represents a growing familiarity - both in Europe and America - with the art of the hand-woven Persian carpet. When an ever-growing demand from those new markets exceeded a dwindling supply base - replenishment involved something of a mideast-west joint-venture to manage and invigorate production. An influx of British and American firms enlisted local carpet producing facilities for the mass-production of the popular styles of Persian rugs for export to London and New York. By 1883 the British-Swiss company Ziegler & Co had set up offices in Sultanabad - now Arak - the hub of the major rug-producing area which included a small village by the name of Mahallat - from whence the Ziegler Mahal carpet has it's origins.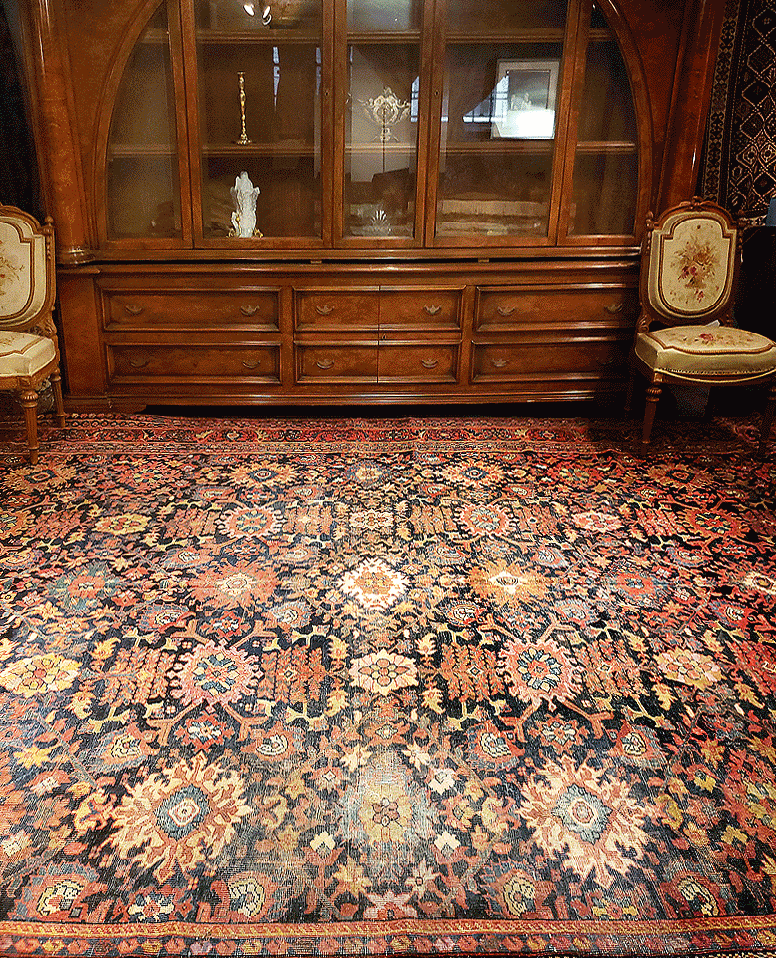 Nejad is offering this investment-quality 17' 3"' × 10' 2" Antique Ziegler Mahal carpet made in Western Persia circa 1890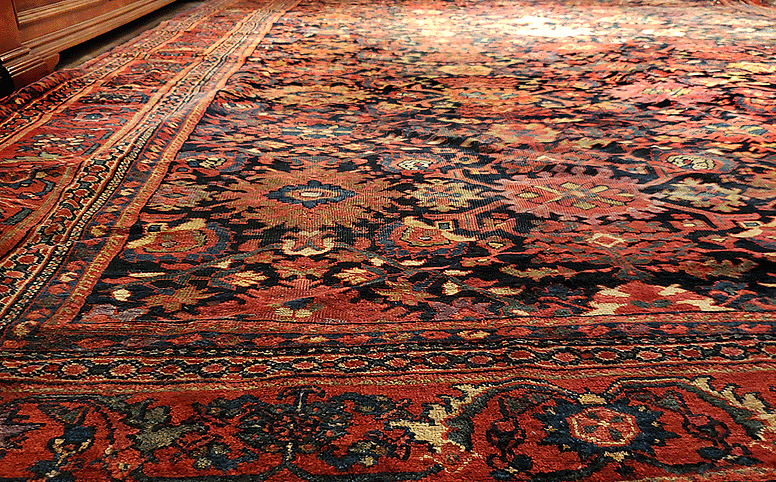 Alternate view of above Antique Persian Mahal rug ( Navy / Rust ) made in Ziegler workshop Western Persia circa 1890
The Mahal Rug Style
The Mahal Rug Style - a typical Ziegler Mahal carpet - may feature an ornate floral center with corner medallions on a plain ground, or lightly-colored field with subtly-contrasting overall design including scrolling vine-work patterns and palmetto-like figures (but not herati or boteh patterns) - or delicately arranged flower motifs rendered in muted pastel colors on a darker navy or rust field. Attributes of the ideal Mahal carpet include originality, artistry and especially, from the interior decorator's standpoint, both versatility and compatibility - they compliment the finest interiors and other works of art. Thus they are considered to be among the finest 19th/early 20th-century antique rugs due to both their long-term investment and unique aesthetic value.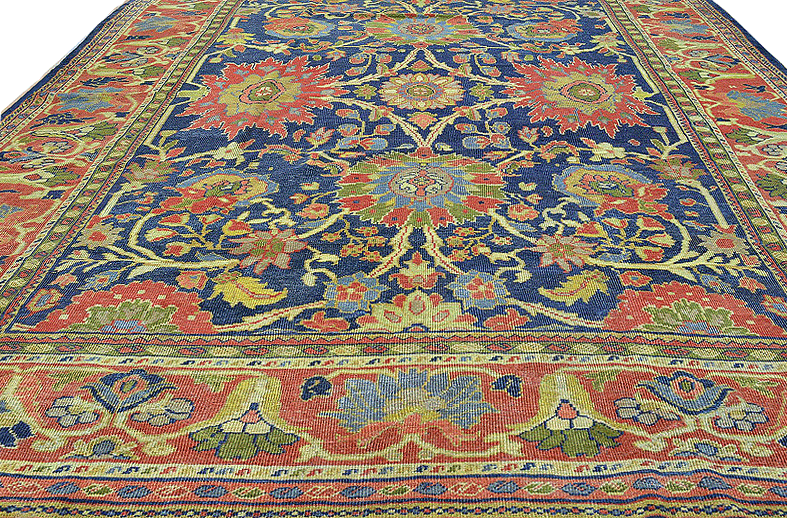 Nejad Rugs is offering this investment-quality 13' 4" × 10' 5" Antique Ziegler Mahal carpet made in Western Persia circa 1890.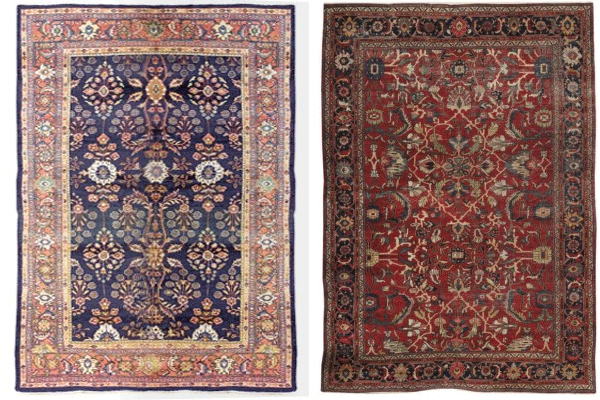 10' 9" × 5' 10" Antique Mahal rug Christie's £960 13' 1" × 9' 5" Antique Mahal rug Christie's £2,250
The Persian Rug Boom
According to the Encyclopedia Iranica ...
... the major catalyst in the Persian carpet boom was a growing international market for these products, directly linked with the increasing strategic and commercial importance of the Middle East to the industrialized nations. Factors contributing to the popularization of both antique and contemporary Oriental carpets included the great world's fairs and major museum exhibitions, the contemporary Arts & Crafts movement in England and comparable phenomena in Europe, and resulting changes in furnishing fashions. The growing purchasing power of the Western middle classes fueled this demand.
The Rug Producing Area of Sultanabad
An area with a tradition of rug-weaving, the city of Arak (Sultanabad), from late-19th until mid-20th century, was Iran's most important center of carpet production for the export market. Due to it's strategic location on the Tehran-Bagdad trade route, as well as built-in cottage industry comprised of experienced craftsmen, Sultanabad was ideally situated to serve as headquarters and base of operations for the multinational Anglo-Swiss firm, Ph. Ziegler & Company.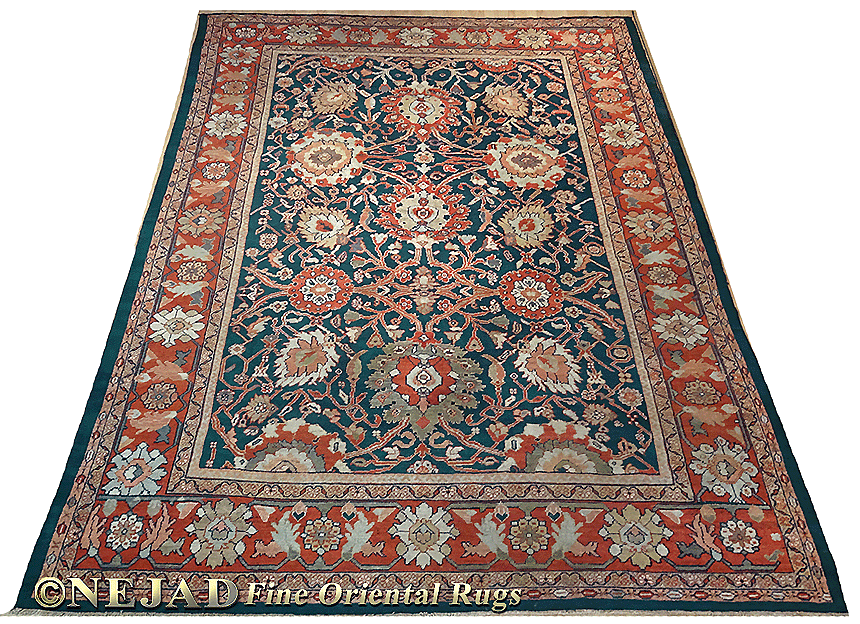 This spectacular 9' 2" × 12' 5" Persian Antique Ziegler Sultanabad carpet #987935 is currently being offered by Nejad Rugs
Sultanabad (Arak) is located in the nearby vicinity of the rug producing towns of Saruq and Mahallat, for which the Sarouk and Mahal (Ziegler Mahal) rugs, respectively, are named. While the term Sultanabad has come to distinguish the oldest and highest quality Mahal carpets, Sultanabad rugs themselves may also be referred to as "Zieglers".

18' 2" × 13' 11" antique Sultanabad Christie's $10,625 6' 7" × 4' 2" antique Sarouk rug Christie's £875
Ziegler & Co. and the Ziegler Mahal Carpet
Ziegler & Co. had not only established a presence by 1878 - the very inception of the export industry - but was instrumental in shaping how rugs would be produced in Iran and what rugs would be woven in Sultanabad for the next 50 years. The company's designs were essentially westernized versions of traditional Persian designs - a synthesis of eastern and western style where traditional Persian color palettes, designs and sizes were modified to the specifications of Western retailers. In addition to its workshops in Tabriz and Sultanabad, the company had offices in Tehran, Isfahan and Shiraz. Finished carpets for delivery were processed at Ziegler's facility in Sultanabad, where the rugs were inspected and packaged for shipment to New York and London.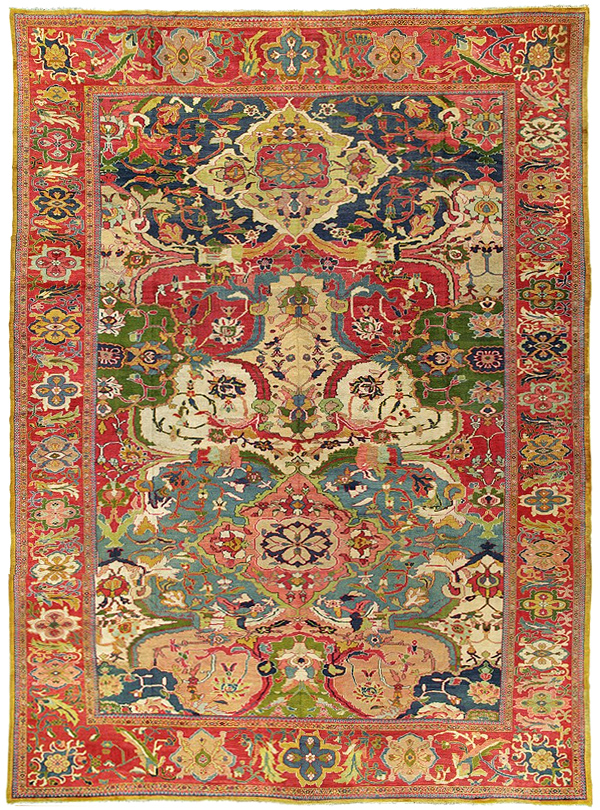 A large 21' 9 " × 14' 6" Ziegler Mahal carpet, Sultanabad district, West Persia, circa 1890.
Christie's, London (Oct. 2017) Art of the Islamic and Indian Worlds Including Oriental Rugs and Carpets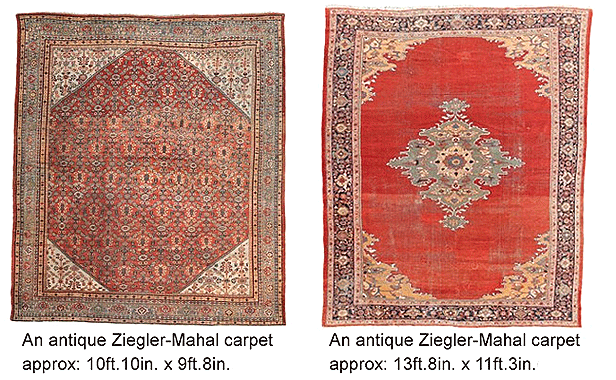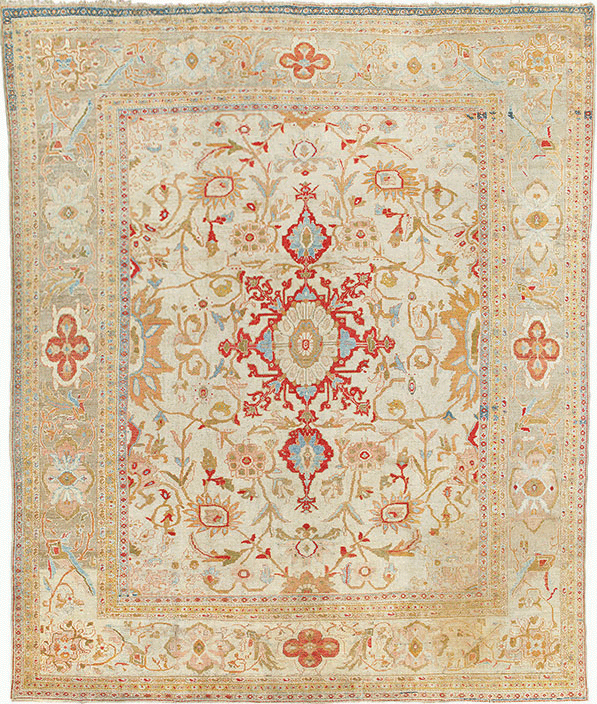 A Ziegler Carpet 15ft. x 12ft. 4in. (456cm. x 376cm.), Sultanabad District, West Persia, circa 1890.
Estimate: £12,000-18,000; Price realised £23,750 - Christie's London.
Consumer Notes
Original Ziegler (Ziegler Mahal) carpets - produced by Ziegler & Co. from late-19th to early-20th century - represent state-of-the-art Persian craftsmanship and innovative design and, as such, are highly prized by collectors. As none of the carpets produced for Ziegler and Co. bear logos or inscriptions, factors such as overall quality of execution and weave, rug-size, knot-type, age and, when applicable, provenance can determine authenticity. Mahal antique rugs are typically found in the 10' x 14' (foot) size range with knot-counts usually ranging around 120 KPSI (knots per square inch) and may feature either Turkish or Persian knots.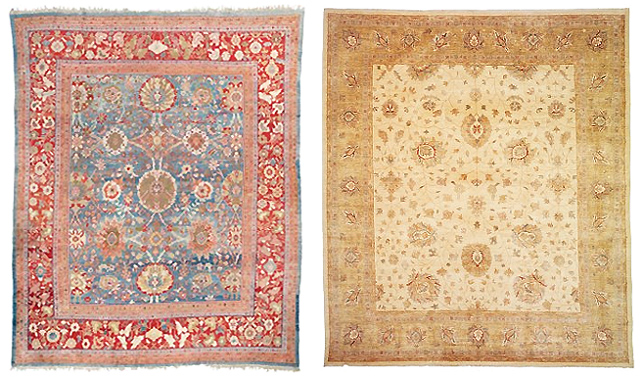 The price fetched on an antique rug can vary according to factors such as rarity, age and overall condition.

Left, above: 15' 10" × 13' 4" Ziegler Carpet, Sultanabad District, West Persia, circa 1880.
The sky blue field with overall design of large scrolling palmettes, within a wide tomato red border
of similar design, between triple minor stripes, overall very good condition
Estimate: £20,000 - £30,000; Price realised £47,500 [Christie's, London]

Right, above: approx: 13' × 11' 7" fine North-West Persian carpet of Ziegler design.
Estimate: £1,200 - £2,200 Price realised £3,250 [Christie's, London]
The Ziegler Mahal rug design has proved to be such an enduring success that it is still copied by many reproduction carpet manufacturers today. That both antique-style as well as modern-design carpets are being produced (esp. in India and Pakistan) and also marketed and sold under the name 'Ziegler' constitutes a consumer "heads-up". Although referred to as "Ziegler Carpets" (whether spelled 'Zeigler' or 'Ziegler'), these rugs, of course, are neither genuine antique rugs nor affiliated with the long since disbanded Sultanabad-based carpet firm Ziegler & Co. in any way whatsoever.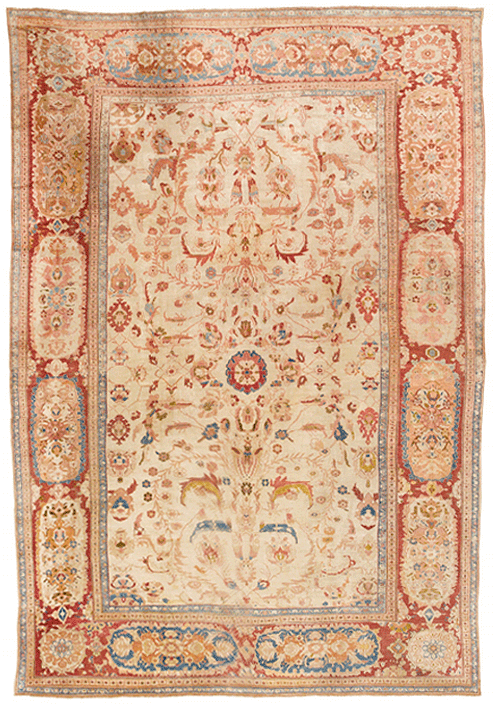 A Ziegler Mahal carpet, central Persia, late 19th century, 19' 5" × 13' 5"
Estimate $40,000 - $60,000 USD; Lot sold: $37,500 USD
Due to increased demand, the best Mahal rugs have become very hard to find in the current market and, hence, a genuine Ziegler carpet, especially a larger sized piece (such as the examples shown above and below), can fetch a premium price at auction (as indicated).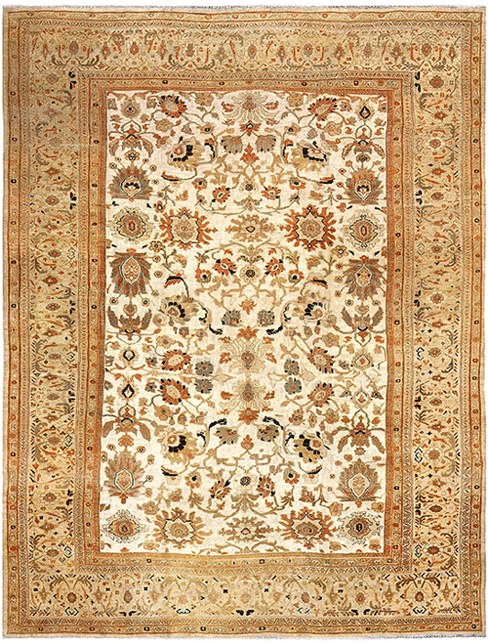 A Ziegler Mahal carpet, Central Persia, approximately 16ft. 5in. by 12ft. 2in. (5.03 by 3.71 m.) circa 1880
[ The Freud Museum; Christie's London, May 3, 2001, lot 100 ]

Notable antique Ziegler carpets in famous collections include a large carpet (above) that had been owned by Sigmund Freud and that sold for $92,000 in 2001.

Currently Nejad is offering the following antique Ziegler Persian rugs for sale:

#987725 Mahal | #22294 Mahal | #987935 Sultanabad



About: Tabriz Antique Rugs | Heriz Antique Rugs | Mashhad Antique Rugs | Sarouk Antique Rugs | Kashan Antique Rugs
Kerman Antique Rugs | Serapi Antique Rugs | Bidjar Antique Rugs | Karabagh Antique Rugs | Senneh Antique Rugs
Bakhtiari & Antique Bakhtiari Rugs | Nain and Antique Nain Persian Rugs | Ziegler Mahal Antique Persian Rugs
Esfahan & Antique Esfahan Rugs | Qum Antique Rugs | Farahan Antique Rugs | Darjazin-Hamadan Antique Rugs
Hereke Antique Rugs | Akstafa Antique Rugs | Antique Gharajeh Rugs | Chichi Antique Rugs | Mudjar Antique Rugs
Kazak Antique Rugs | Shirvan Antique Rugs | Beluch Antique Rugs | Peking Antique Rugs | Kurdish Antique Rugs
Turkeman Antique Rugs | Dagestan Antique Rugs | Flemish Antique Tapestry | Antique Ming Chinese Rugs
French Aubusson Antique Tapestry - after Francois Boucher

Previous Page | Antique Persian Rugs | Nejad Home | Contact Nejad

Nejad Rugs · 1 North Main Street · Doylestown, PA 18901 · 215-348-1255