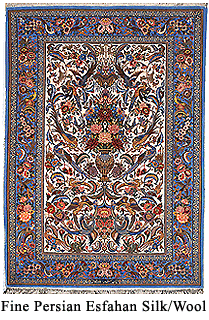 About Oriental & Antique Persian Esfahan Rugs
Overview
Surprisingly or not, of the top-ten most valuable rugs ever offered and sold at international auction - at least three of those ten have been carpets made in the city of Esfahan (Isfahan). Not surprisingly these valued carpets, especially the vintage pieces, are considered by many rug insiders and afficionados to be among the worlds most sought-after and finest examples of the high art of Persian carpet weaving. These magnificent carpets were produced over 300 years ago during the Golden Age of Persian Carpet Weaving in the once-dazzling and then world-famous capital city of ancient Persia - Isfahan, Iran.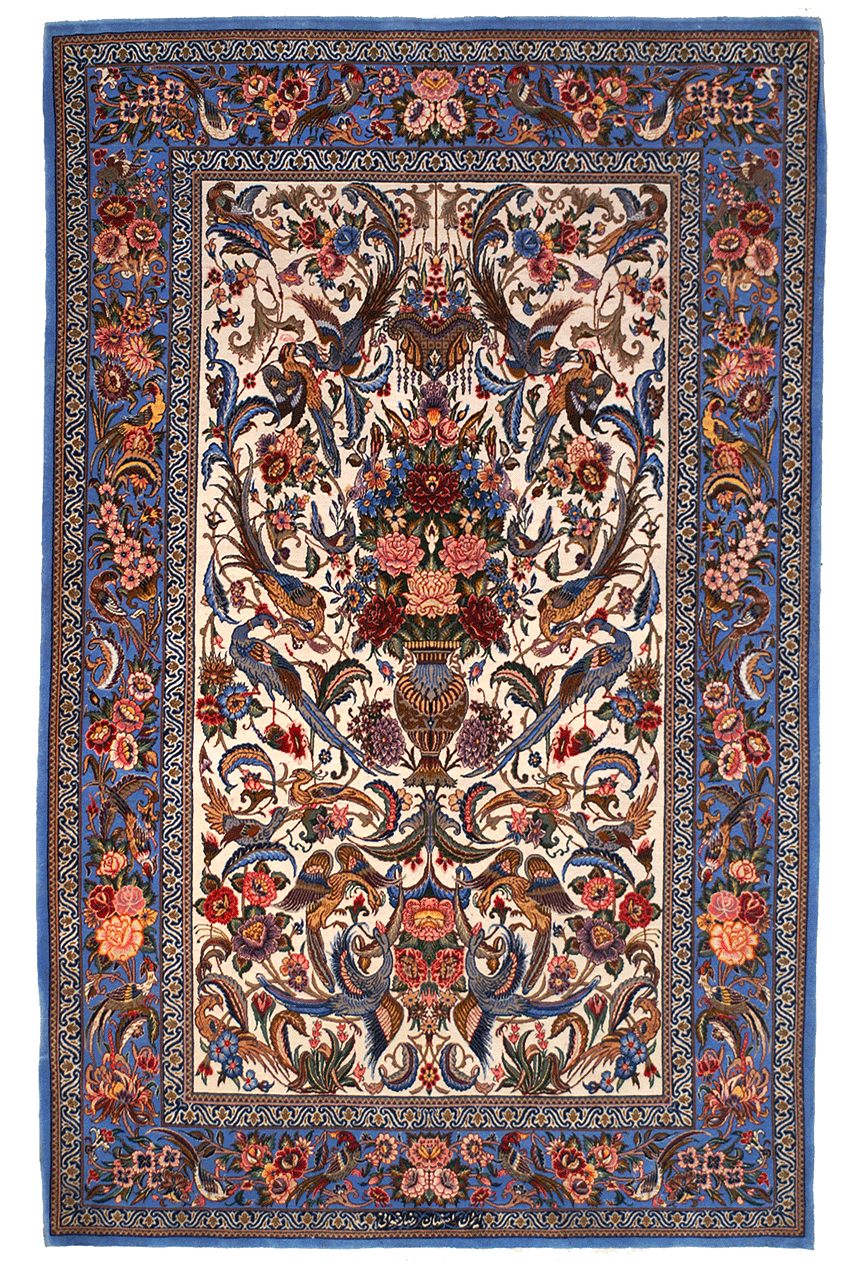 In the realm of intricate, innovative, subtle curvilinear embellishment and stained-glass-like luminosity -
the finest Esfahan rugs are rarely surpassed.
The Esfahan Rug Style
Traditionally, the typical theme for Esfahan carpets - or the style of rug most-readily identifiable as Esfahan features a central medallion surrounded by a network of interlacing vines or flowers, the patterns curvilinear and exquisitely-intricate including vase, garden, tree of life and scrollwork colorfully set on an ivory field. These rugs are of an overall excellent quality - the very finely woven woolen pile often accented with silk and/or metal detailing. The knot type is asymmetrical (Persian) and the knot density (KPSI) may be as high as 600 or more. The pile is close-cropped - adding clarity to the surface design. The rugs woven in this city are, as a whole, some of the best and most valuable in the world.
Esfahan Rugs Sold at Auction by Christie's and Sotheby's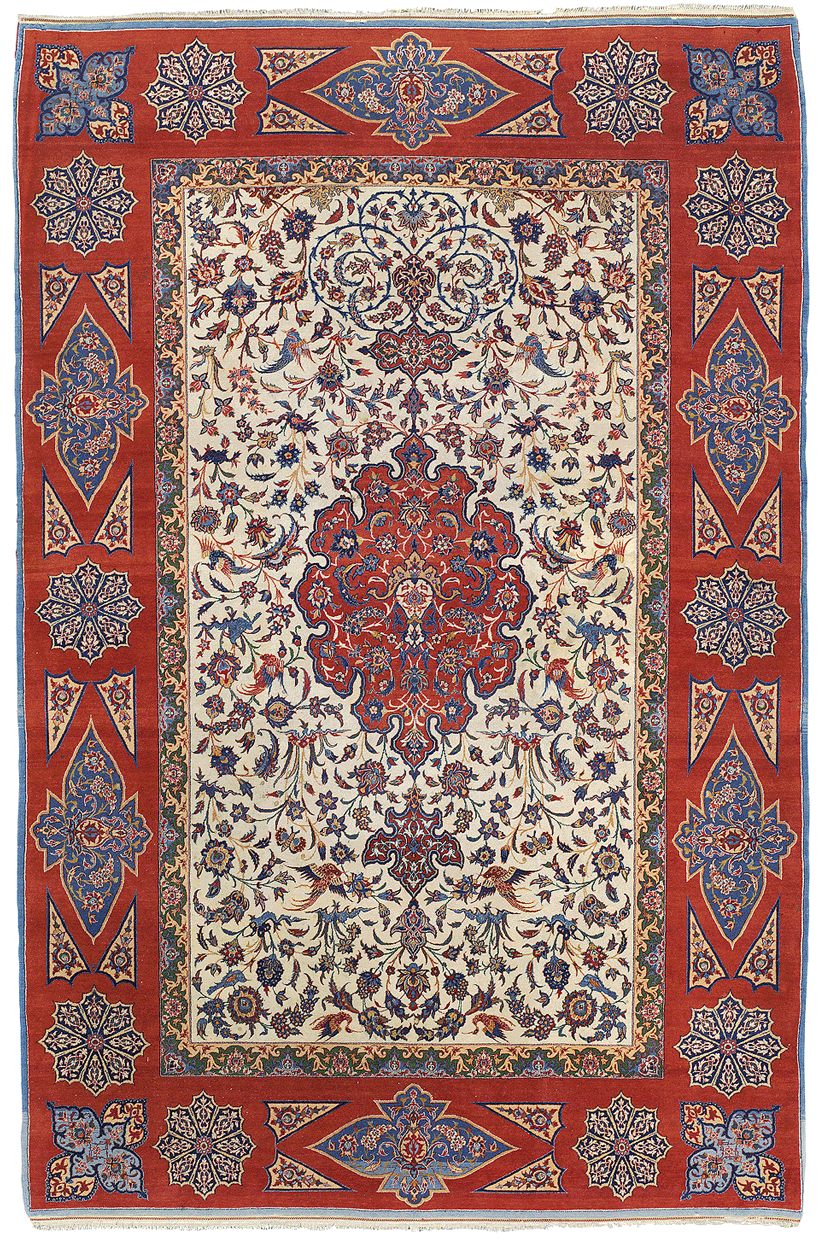 AN ISFAHAN RUG CENTRAL PERSIA, CIRCA 1930
Estimate GBP 3,000 - GBP 5,000 | Price realised GBP 3,125 [Christie's]
Finely woven, overall very good condition 7ft. 6in. × 4ft. 11in. (229cm. x 150cm.)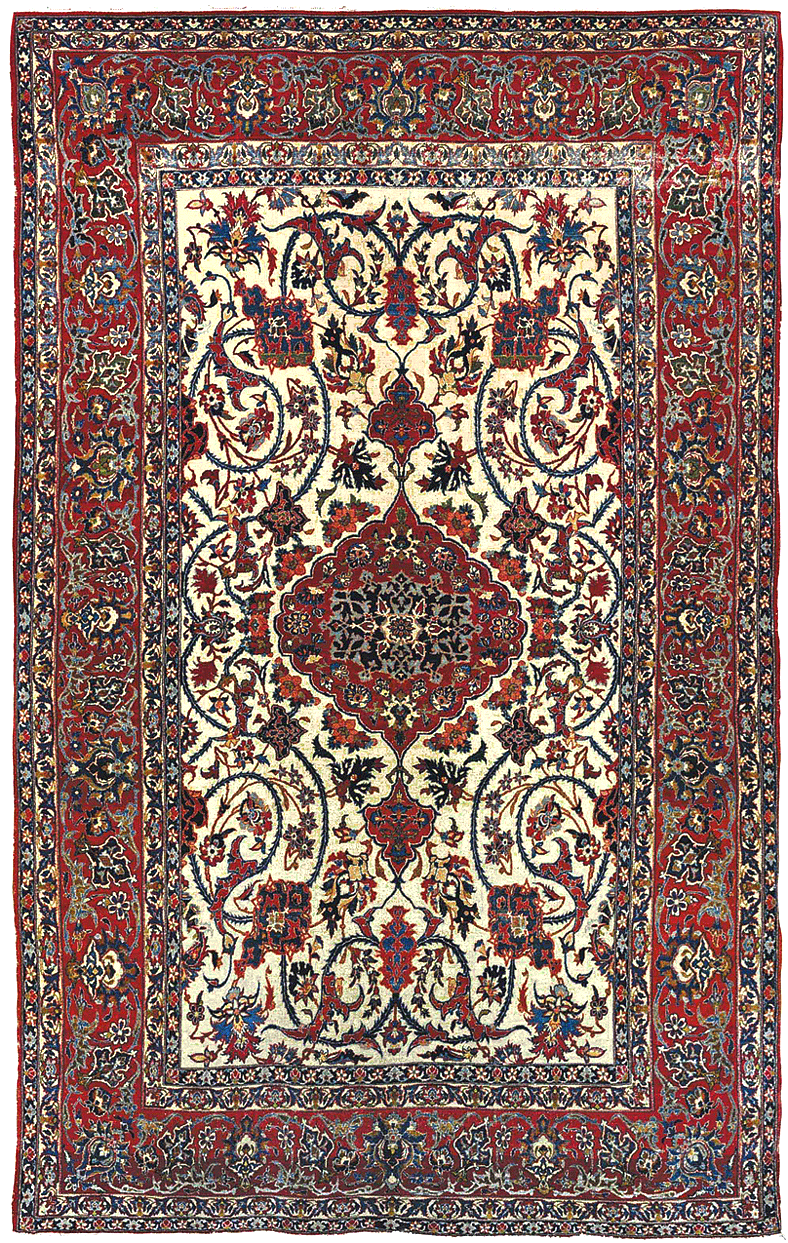 AN ISFAHAN RUG CENTRAL PERSIA, CIRCA 1930
Estimate GBP 1,500 - GBP 2,000 | Price realised GBP 1,750 [Christie's]
A few small areas of uneven wear, selvages slightly frayed in places; Approx. 7 ft. 7 in. × 4 ft. 10 in.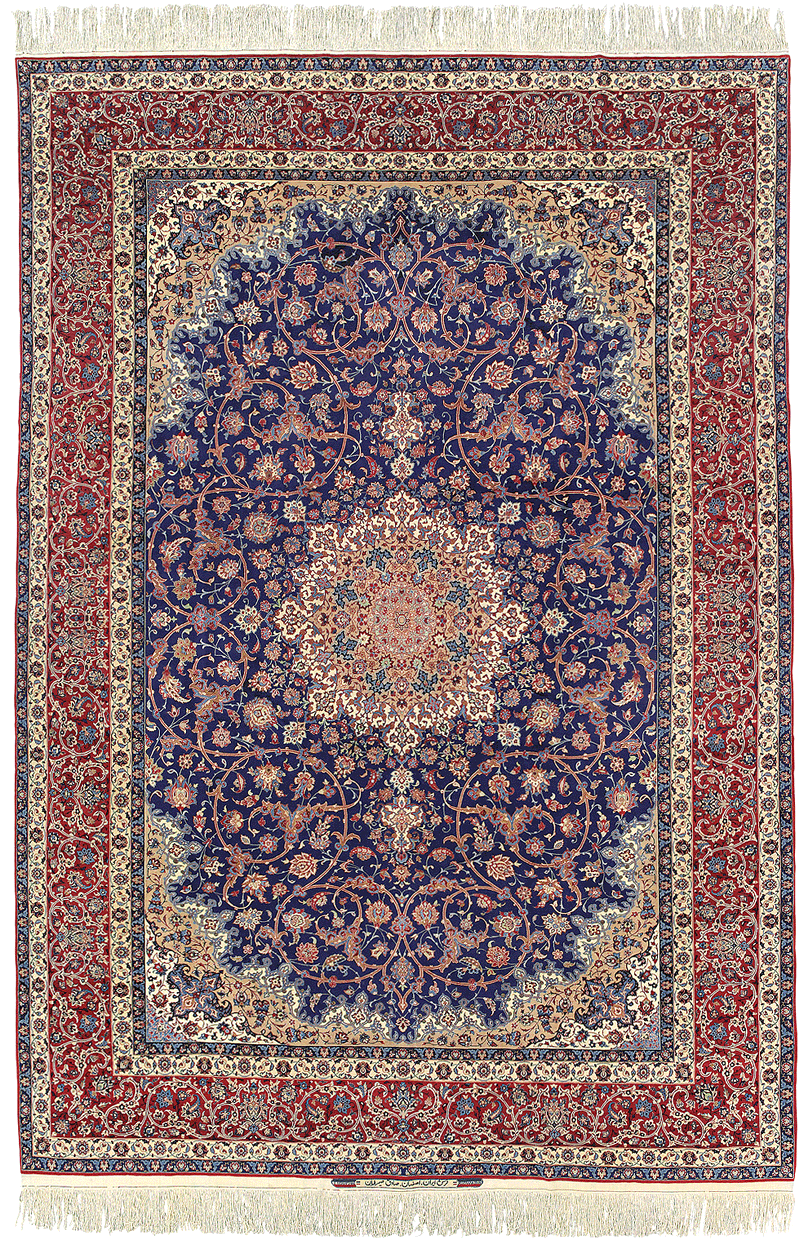 AN ISFAHAN CARPET SIGNED SADEQ SEIRAFIAN, CENTRAL PERSIA, CIRCA 1940
Estimate GBP 16,000 - GBP 20,000 | Price realised GBP 35,000 [Christie's]
Finely woven on silk warps, overall excellent condition 12 ft. 2in. × 8ft. 5in. (370cm. x 262cm)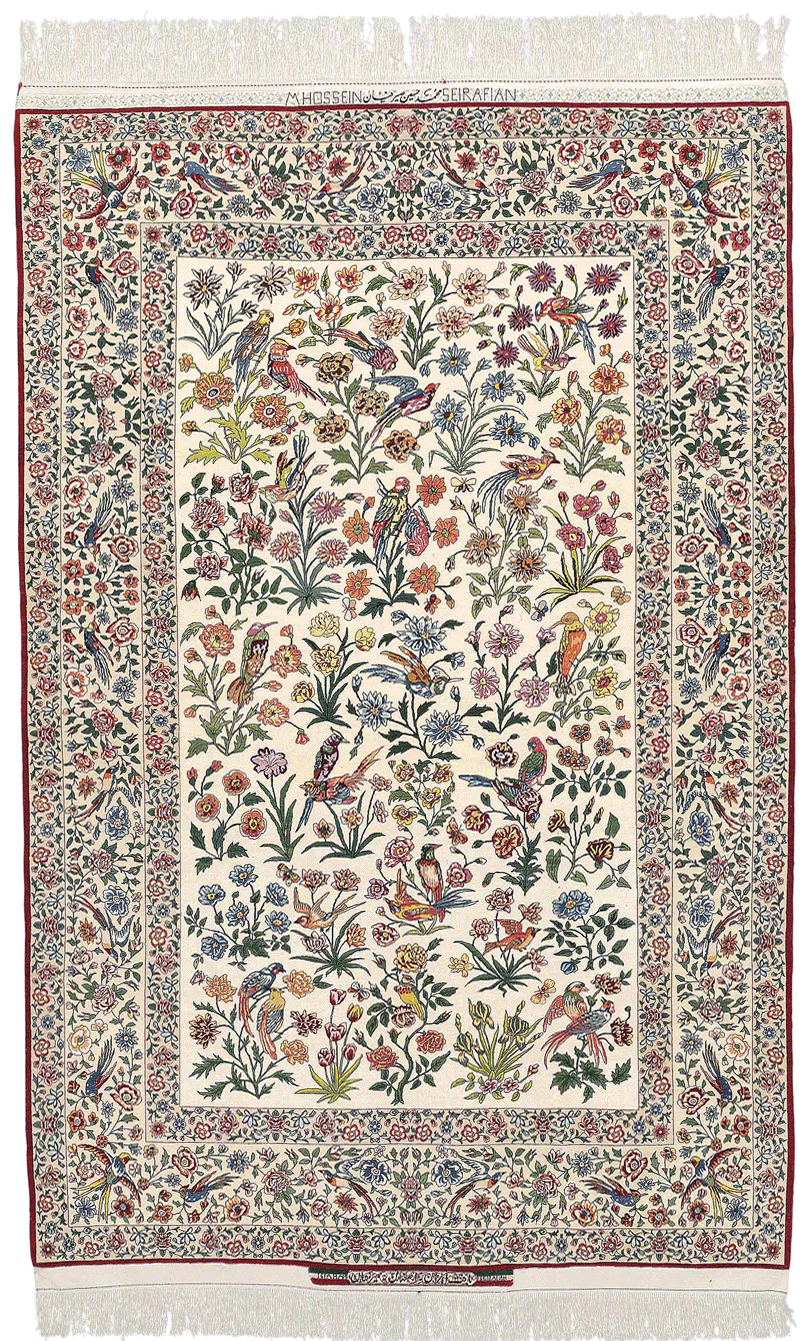 AN ISFAHAN RUG SIGNED M. HOSSEIN SEIRAFIAN, CENTRAL PERSIA, CIRCA 1950
Estimate GBP 8,000 - GBP 10,000 | Price realised GBP 15,000 [Christie's]
Finely woven, overall excellent condition 8ft. 2in. × 5ft. 3in. (247cm. x 160cm.)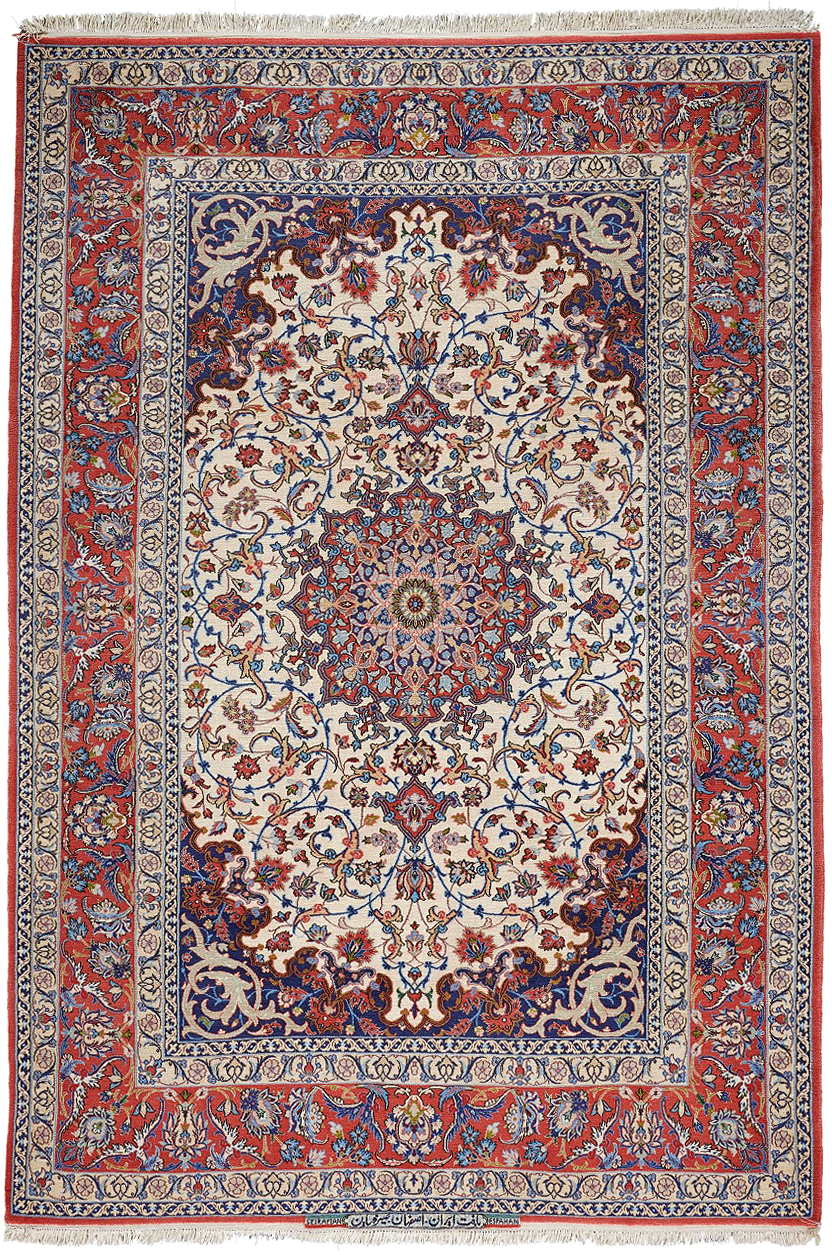 A part silk Seirafian rug, Isfahan, Central Persia second half 20th century
inscribed 'Woven in Iran, Isfahan, Seyrafiyan' - approximately 8ft. 3in. × 5ft. 10in.
Estimate 4,000 - 6,000 GBP | LOT SOLD. 5,625 GBP [Sotheby's]
The $4½ Million Dollar Esfahan Rug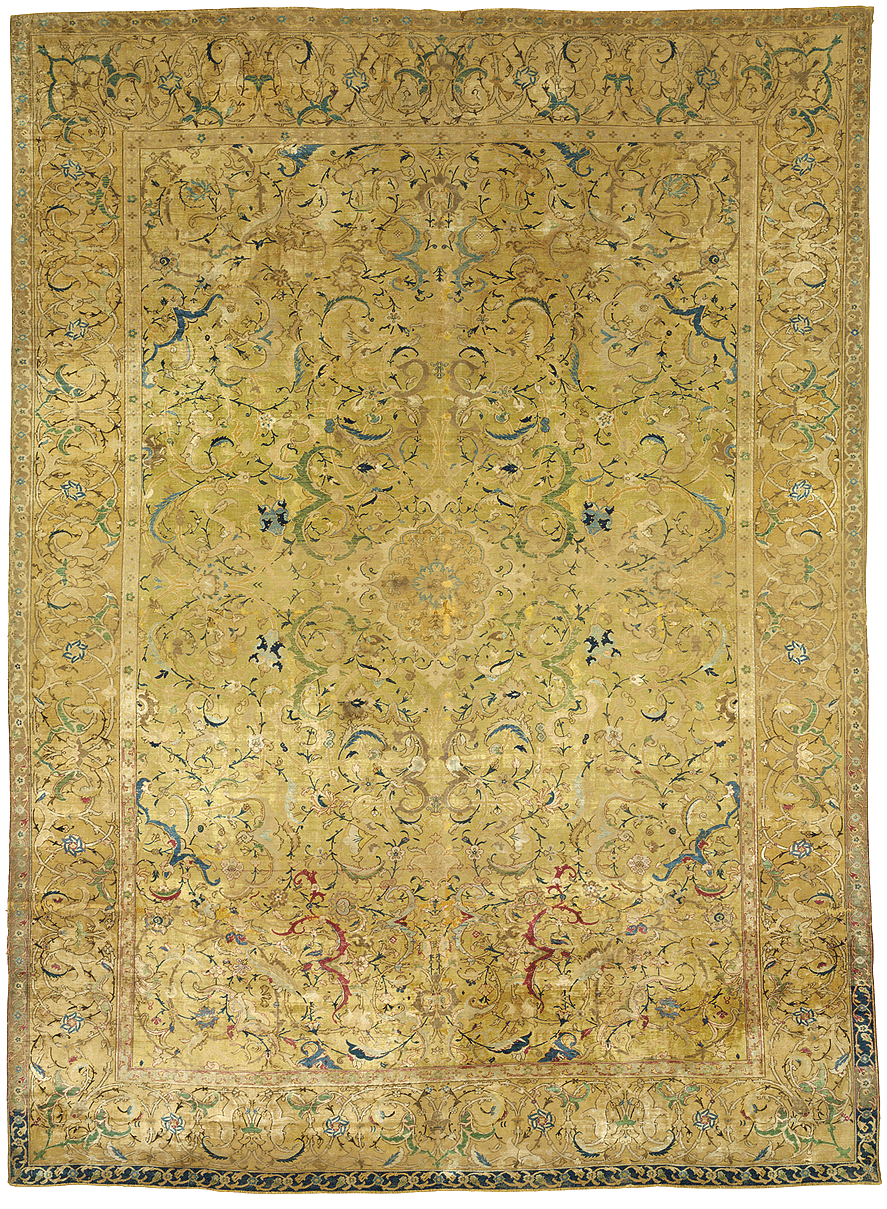 A SILK ISFAHAN RUG CENTRAL PERSIA, CIRCA 1600 Late 16th Century Safavid Dynasty
Estimate: USD $1,000,000 - USD $1,500,000 | Price realised: USD $4,450,500 [ Christie's 2008 ]
Approximately 7 ft. 7 in. × 5 ft. 7 in. (231 cm. x 170 cm.)

This Silk Isfahan Rug (above) from the Doris Duke and the Newport Foundation Collection is one of
the Top-Five most expensive carpets and the most valuable Isfahan rug ever sold at auction
Currently there are 3 Esfahan rugs listed in the Top-8 most Valuable rugs sold at auction.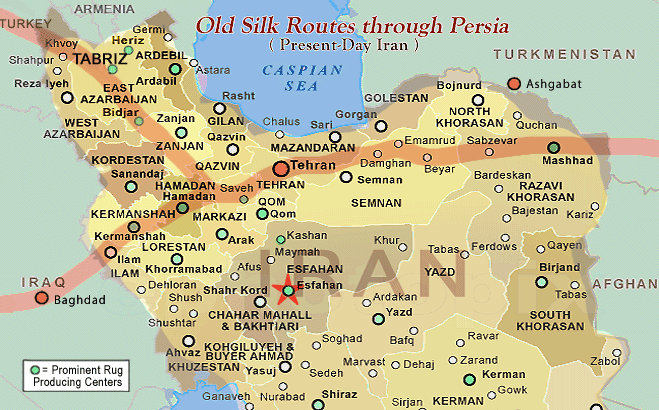 Esfahan, Iran
During the period when Esfahan (Isfahan) was the capital city, the reign of Shah Abbas, 1588-1629, ('Abbas the Great' - Safavid Dynasty) marks a peak of Persian artistic achievement comparable to that of the European Renaissance. Under his directives and patronage, carpet weaving became a major industry, and fine Persian rugs began to appear in the homes of wealthy European merchants. In the fields of architecture, manuscript illumination, bookbinding, and ceramics, the work of the period of Abbas is without equal; in painting it is among the most notable in Persian history.

This period also marked the transformation of the provincial city of Isfahan into a global metropolis and multicultural mecca: importing Armenian artisans and traders, welcoming Catholic monks and Protestant merchants. Religious tolerance was extended to both the Jewish and Zoroastrian communities who had lived there for centuries. The population now included Europeans, Turks, Chinese and Indian ethnicities. During Abbas' reign Isfahan was larger in area than London and more cosmopolitan than Paris. The city's opulence and grandeur inspired the slogan "Isfahan is half the world."
Consumer Notes
Most 'Polonaise' carpets were woven in brightly coloured silks on a cotton warp and silk weft foundation and incorporated gold and/or silver metal-thread which would have made their appearance both dazzling and brilliant. The absence of distinct lines, the lack of figural representations and an overtly baroque treatment of the individual details are other defining characteristics. The absence of a single ground colour is replaced by curvaceous planes defined by scrolling stems in-filled with different coloured silks and gold and silver coloured metals. These harmonious and balanced compositions, although Persian inspired, were not however typical of Persian tastes but clearly corresponded to those of the West.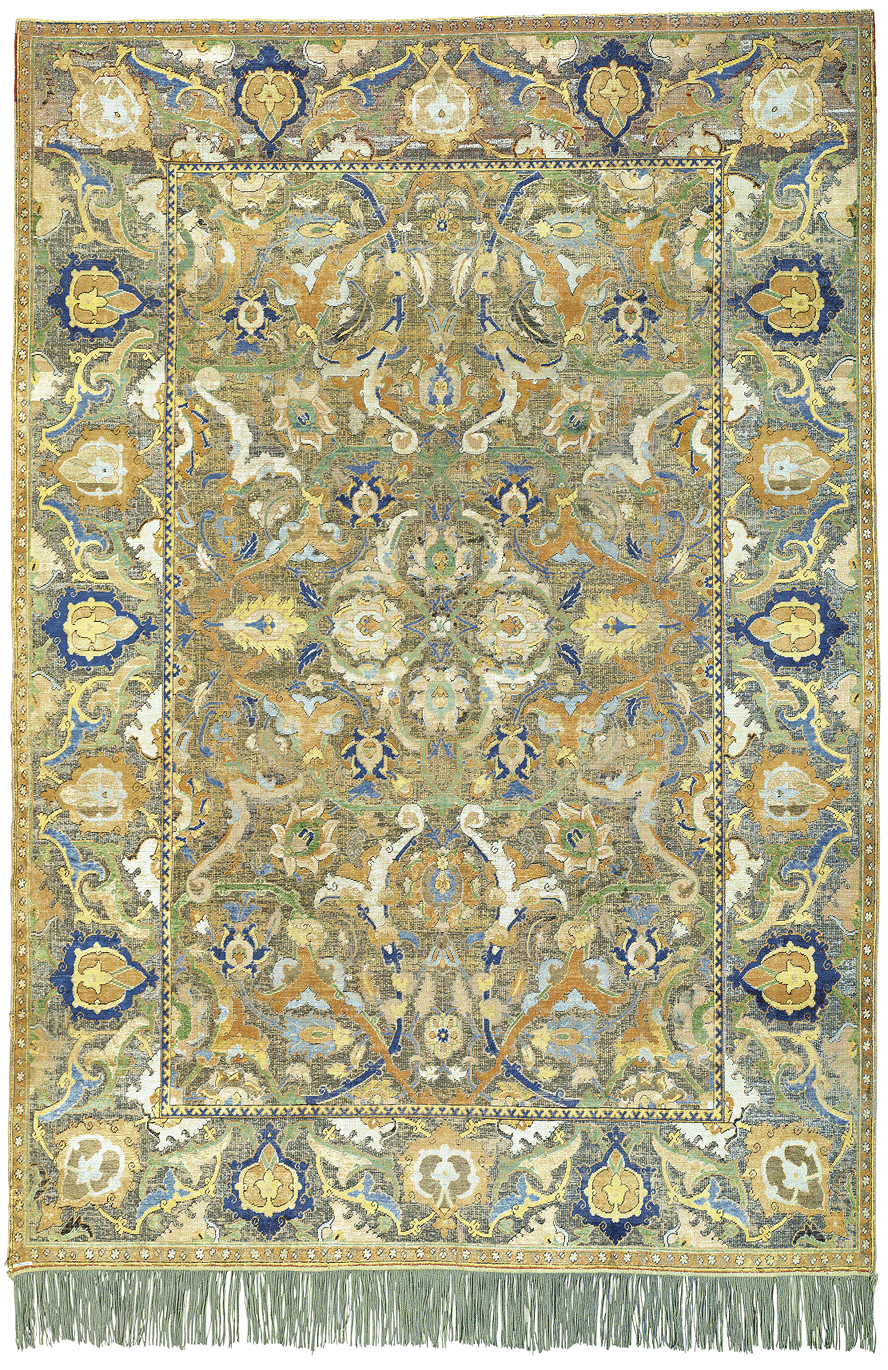 AN IMPORTANT SAFAVID SILK AND METAL-THREAD 'POLONAISE' CARPET -
ISFAHAN, CENTRAL PERSIA, FIRST QUARTER 17TH CENTURY
Estimate: GBP 600,000 - GBP 800,000 | Price realised: GBP 3,895,000 [Christie's]
Remarkably good silk pile throughout, corroded silver metal - thread, a small spot repair in the centre,
original fringes at one end, overall very good condition 6 ft. 7 in. × 4 ft. 6 in. (205cm. x 141cm.)
Woven during the golden age of Safavid art, it is only befitting that 'Polonaise' rugs with their silk, gold and silver-thread epitomize this era to many scholars and collectors today, who view these rugs with an appreciation equal to that of the European travellers visiting the Persian court during the first half of the seventeenth century. - Christie's
Nejad Rugs is a designer, manufacturer and importer of Oriental, antique Oriental and contemporary rugs
and is a member of ORIA - the National Association of Area Rug Importers.


About: Tabriz Antique Rugs | Heriz Antique Rugs | Mashhad Antique Rugs | Sarouk Antique Rugs | Kashan Antique Rugs
Kerman Antique Rugs | Serapi Antique Rugs | Bidjar Antique Rugs | Karabagh Antique Rugs | Kazak Antique Rugs
Hereke Antique Rugs | Akstafa Antique Rugs | Mudjar Antique Rugs | Chichi Antique Rugs | Dagestan Antique Rugs
Senneh Antique Rugs | Shirvan Antique Rugs | Beluch Antique Rugs | Peking Antique Rugs | Qum Antique Rugs
Turkeman Antique Rugs | Kurdish Antique Rugs | Faraghan Antique Rugs | Darjazin-Hamadan Antique Rugs
Bakhtiari & Antique Bakhtiari Rugs | Antique Gharajeh (Karaja) Rugs | Ziegler Mahal Antique Persian Rugs
Nain and Antique Nain Persian Rugs | Ming and Antique Ming Chinese Rugs | Esfahan Persian Rugs
Antique Flemish Tapestry | French Aubusson Antique Tapestry - after Francois Boucher